16 DIY Astronaut Costume Ideas For Kids
Creating your DIY astronaut costume can be a cosmic adventure that's easier than you may think, and making them doesn't necessarily require fancy materials.
DIY Astronaut Costume

You can let your creativity soar as high as the stars, and before you know it, you'll have a stellar astronaut costume that will spark your admiration and fuel dreams of space adventures.
You can start with an all-white sweatsuit that will serve as the spacesuit base. Silver duct tape can create designs mimicking NASA's suits or add metallic identity badges. For the helmet, you can repurpose an old bike helmet, covering it with aluminum foil for that shiny metallic look. Baking foil tubes can serve as oxygen tanks; latex gloves will compose the perfect astronaut gloves. All this fun can be done with minimal effort.
DIY Astronaut Costume For Halloween
The DIY Astronaut Costume for Halloween combines creativity and fun, transforming your little one into an astronaut ready to conquer the spooky space. Not only does this costume make a stellar appearance at any Halloween event, but it also accelerates the imagination into a world beyond our own.
Materials and Making:  This DIY astronaut costume starts with a homemade helmet using a balloon, light paper, and Mod Podge. Add fun details with paint and vinyl stickers. The suit is a white jumpsuit decked out with decals cut out using a craft cutter and heat-transfer vinyl. Spray paint and quick details finish off this out-of-this-world look.
How To Make An Astronaut Costume
The DIY Family Space Costume is a flighty version of a space-themed ensemble that is easy to assemble and adaptable for every family member. The family space costume idea is versatile enough to accommodate the number of family members while maintaining its colorful, fun, and celestial spirit.
Materials and Making: Create fun DIY space-themed costumes using sweatsuits, craft foam, and paint. For an astronaut, adorn a sweatsuit with space patches and make a "jet pack" from silver-painted soda bottles with felt flames. For a rocket ship costume, attach foam circles and fins to a dress and add foam fire to shoes. For the solar system, glue-painted foam balls and a mini wreath on a blue t-shirt to capture the planets in vivid colors.
Barbie Astronaut Costume
Create a delightful DIY Astronaut costume for your toddler that sparks imagination and playfulness. This homemade costume suits not only Halloween but also every day dress-ups. An excellent tool for pretend play, the costume simply turns a child's space exploration dreams into a reality.
Materials and Making: A DIY Barbie Astronaut costume can be crafted from a white sweatshirt, pants, helmet, neck gaiter, and gloves. Add blue and silver tape to represent suit patterns, then trim off the bottom cuffs from the pants. Use felt to create patch dials, and apply with a hot glue gun, adding blue rhinestones for gleam. Cover any helmet holes with 2" white dot stickers. Lift off to a fun-filled Halloween!
Super Easy Kids Astronaut Costume
The Super Easy Kids Astronaut Costume is an affordable and quick-to-make option for children who dream of becoming astronauts. The suit is designed to be worn over a child's coat, ensuring both warmth and comfort. With its simplicity and the ability to make adjustments as needed, this costume will surely spark intergalactic adventures in your little ones' minds.
Materials and Making: Begins with a painter's suit, modified to fit over a child's winter coat. PVC adapters are painted and integrated into the suit to mimic couplings, while a cut and heated bucket lip serve as the neck ring. The suit arms have cut-off PVC drain/sewer caps for wrist rings. All elements are securely fastened with white duct tape and hot glue. To elevate the look, NASA patches are glued onto the suit, and aluminum tape is wrapped around the neck and wrist rings for a metallic touch. Finish the outfit with snow boots for a convincing space adventurer look.
DIY Astronaut Costume How To Make It For Kids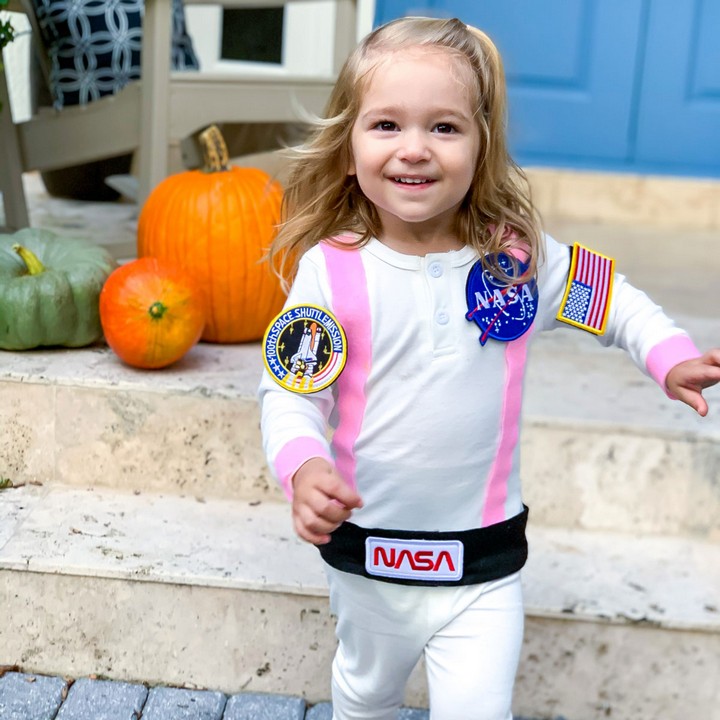 Unleash your child's space dreams with a homemade astronaut costume. Ideal for dressing up and Halloween, this costume opens the door to imaginative play. Easy to put together, it's a creative project that transforms preschoolers into astronauts, offering hours of fun and interactive play.
Materials and Making: This DIY Astronaut Costume begins with cutting felt into strips and gluing these onto a shirt and pants for detailing. A black felt belt is created around the shirt's bottom. NASA-themed patches are then added for authenticity. Rockets are made by spray-painting plastic water bottles and adding flame shapes cut from felt. Bottle rockets are attached like a backpack using black felt straps.
How To Make An Astronaut Costume For Halloween
Transform your little space explorer into an astronaut with a fun and easy DIY Astronaut Costume this Halloween. The main focus of this costume is on the jet pack that is created with the materials already present in your home. It converts your child's daily outfit into a cute astronaut that is ready to fly through trick-or-treating adventures.
Materials and Making: To make a DIY astronaut costume, first, gather 2" Foil Tape, Duct Tape, Pipe Insulation, Braided Tube, a Cardboard Box, two Smart Water Bottles, and some felt. Begin by covering a box with foil tape for the jet pack, followed by empty water bottles covered in duct tape serving as fuel tanks. Add braided tubing for fuel lines, and use pipe insulation for the jetpack's handle. Accessorize with felt cut into flame shapes affixed to the bottles.
Rocket Astronaut Costume
Create a unique astronaut costume with a twist, perfect for kids. This DIY project takes a standard astronaut suit and transforms it with the addition of fake legs and a jetpack. The result is a visual delight that gives an illusion of the child flying in a rocket, perfect for sparking their space-faring dreams.
Materials and Making: Create a Rocket Astronaut Costume by modifying an astronaut outfit with fake legs that slip onto a child like a shirt. The faux legs have fabric flames for a rocket-blasting effect. A DIY jetpack, made from spray-painted oat canisters with plastic cup tops and NASA logo graphics, is attached to the suit with nylon straps. Red shoes complete the illusion of a child rocketing off into space.
How To Make An Astronaut Costume For A Child
This DIY idea merges craft creativity with playful imaginations aspiring for the moon. The Astronaut Costume for Children perfectly depicts childlike dreams and practical fun. Be it a fitted white suit or simple white clothes, the costume is flexible and customized as desired. Add realistic features like the NASA logo or an American flag for a super space touch!
Materials and Making: Craft a child's astronaut costume with simple materials. Start with a paper mache or bucket helmet adorned with tin foil. Construct an oxygen rucksack using painted plastic bottles and corrugated tubes. The spacesuit can be white clothes or a fitted suit, embellished with printed NASA logos. Pair it with grey Wellington boots for the complete astronaut look.
DIY Space Robot Costume
This homemade Space Robot Costume takes its cue from every child's love for intergalactic adventure. The farmability of the costume, combined with its low cost and aesthetic robotic appeal, make it a stand-out choice for Halloween or themed parties.
Materials and Making: Creating a DIY Space Robot Costume is easy and fun. Inspired by a child's love for robots, this costume starts by crafting a box that fits comfortably around the body. Begin by cutting a large hole for the head, and two smaller ones for the arms, cover the whole with silver, and add chimney pipes for the arms and legs. Add an already-existing robot mask, and your space robot costume is ready!
Make A Baby Astronaut Costume For Halloween
The Baby Astronaut Costume perfectly combines fun and charm, offering an excellent home-created option for an exciting Halloween. This outfit inspires space science dreams in your little one, making their Halloween unique and versatile, all while keeping them adorably cute.
Materials and Making: Make a charming baby astronaut costume easily this Halloween. All you need is a pair of kids' coveralls, which can be customized by adding space–themed patches showing a remarkable historical figure such as Sally Ride.
DIY Light-up Astronaut Jet Pack
This DIY Light-Up Astronaut Jet Pack, inspired by the first-ever all-female spacewalk, adds a colorful, active, and fun element to any astronaut outfit. Specifically meant for young children, its lightweight design and LED lights are ideal for a full night of Halloween fun.
Materials and Making: Fashion your DIY Light-Up Astronaut Jet Pack from some household items! Repurpose an empty oatmeal box and plastic juice containers as the jet pack. Fix them together using a glue gun, add straps made from ribbon, and coat them with silver spray paint. For a final sci-fi touch, install an LED lighting system under a black stripe!
Astronaut Costume
This Astronaut Costume cleverly uses everyday items, transforming them into an extraordinary outfit. It's a fantastic option for young, aspiring astronauts dreaming of exploring space, even just in their imagination. Showcasing creativity and resourcefulness proves that an exciting and enjoyable costume doesn't need a big budget.
Materials and Making: Prepare an affordable astronaut costume for your child using easily available materials. Start with a cheap helmet; decorate it with white and silver duct tape. Use printed pictures from the internet as patches. The backpack is simply an old box, all covered in duct tape. This DIY project is cost-effective and great for creative play!
DIY Kids Flying Astronaut Halloween Costume
The DIY Kids Flying Astronaut Halloween Costume is a fun and creative project, perfect for young fans of outer space. The costume showcases faux legs and flames from the rocket, giving the illusion that your child is being propelled by the jetpack a fun highlight of this DIY costume!
Materials and Making: The DIY flying astronaut costume involves four components. First, a flame skirt is crafted from an old orange t-shirt and triangle fabric. Second, a rocket pack is made from cardboard and duct tape. Next, 'fake' legs are created with pool noodles and cardboard. Finally, these pieces are assembled with a purchased space suit and red/orange shoes. It's a fun, imaginative DIY project!
DIY Cardbaord Astronaut Helmet
The DIY Cardboard Astronaut Helmet, designed by Zygote Brown, allows kids to engage themselves in imaginative space play without becoming billionaires. For a visual guide, a concise video is provided showcasing how the Cardboard Astronaut Helmet is made. The process is made to be a fun and sustainable DIY challenge.
Materials and Making: Making a DIY Cardboard Astronaut Helmet is a craft lover's delight. You can make your helmet with items including cardboard, a circular clear plastic bottle, jeans buttons, a craft blade, scissors, a hot glue gun, and a printable Astronaut Helmet Template (available on the website). Plus, the link also contains a video for your assistance.
DIY Astronaut & Planet Earth Costume
The DIY Astronaut and Planet Earth Costume is a creative project perfect for celebrations with a global theme. Whether it is a costume competition, Halloween party, or any other festive occasion, the costumes Impress everyone with their creativity and detail!
Materials and Making: Create an 'out of this world' Astronaut and planet Earth Costume using a white jumpsuit with added patches for the astronaut. Use 12-inch paper lanterns covered in papier-mâché for the helmet and planet headpiece. The astronaut helmet requires a larger opening, while the Earth headpiece needs to be attached to a headband. Finish by painting and adding a small spaceship using hot glue.
Kids Astronaut Costume
The Easy DIY Space Helmet project offers a fun and simple way to enhance your child's astronaut costume. This creative addition elevates role play for events like World Book Day, encouraging children to dive deeper into their imaginations and character explorations.
Materials and Making: Building a DIY Space Helmet requires a large balloon, plaster bandages, a bowl, a craft knife, paint, draft excluder, silicone glue or glue gun, and a doorstop. First, create a plaster hemispherical shell on the inflated balloon. Pop the balloon, level the base, and cut a gap for the visor. Add draft excluder for padding, paint, and attach a doorstop as an antenna.
DIY Captain America Costume Ideas For Kids: Imagine yourself standing proudly, holding a shield, feeling strong and brave as if you've become your favorite superhero – Captain America.
DIY Fairy Costume Ideas:  Add some fairy magic to your home with these fantastic DIY fairy costume ideas. There are so many costume options available that you'll find endless ways to personalize a princess costume for your child, or even yourself, for the next party.
DIY Animal Costume Ideas:  If you're planning a Halloween costume for your kids or just looking for a fun way to spend the afternoon, these DIY animal costume ideas will definitely impress.