13 DIY Penguin Costume Ideas For Waddle Dance
Try these fun, easy, and gender-neutral DIY penguin costume ideas for a quick getup of a complete friend's colony. They are great to show the same black-and-white look of these birds – and maybe you together even join in a waddle dance! Toddlers, kids, teens, and adults, these homemade penguin costumes will be great for all ages with examples of required adjustments. From hoodie penguins to full-body outfits or even cardboard penguins you'll find many variations for DIY penguin costumes ideas and material choices, each with its own artistic twist.

How To Make A Penguin Costume?
Here are some tips ton how to DIY penguin costume:
Start with all-black clothing, like a black flexible sweatshirt and sweatpants, for the penguin's body. To make the sleeves look like the flipper, you can use shirt with the longer and more-width sleeves and then sew the cuffs to give a feel of the flippers. But it the neck hole should be enough stretchable to take off and wear the shirt easily through this.
Cut a piece of white felt or fabric into oval to make the penguin's belly. Then, attach it to the front of the sweatshirt using fabric glue.
For the penguin's beak, you can use a small, orange cone or plain triangle or make a stuffed one from orange felt fabric.
Attach the beak to an elastic headband (if 3d or stuffed) or a black ski cap. You can also attach the penguin eyes.
You can also attach the flipper shapes to the shoulder sides. Alwasy make sure you do the things in proper size.
You can also wear the diving shoes in black color.
Penguin Costume For toddler
Much more than just a charming accessory, this beautifully handcrafted Penguin Costume stands on its own as a unique, fun, and characterful choice for any festive occasion. Made out of cozy, warm fleece, it's perfect for keeping your little one snug during colder months or outdoor events.
Materials and Making: The Penguin costume begins with black, white, and orange fleece yardage cut into shapes to form the body, wings, and feet of the penguin. The costume's body is stuffed with batting, and a black zipper secures the back. The wings are attached to the body, featuring elastic for securing around the child's arms. The hat is made separately with cut-out fleece shapes for the beak and eyes, and the feet are stuffed with batting for a plump, penguin-like appearance.
Penguin Costume For toddler
Reusability shines through this design, as the elements can be easily removed after the event without ruining the jacket. Ideal for World Book Day, this costume brings stories to life, fostering a love for reading and imaginative play in children. Light on effort, heavy on enjoyment!
Materials and Making: The Simple Penguin Costume is made using a black hooded jacket, and white and orange felt. White felt shapes are attached to the front of the jacket to emulate a penguin's belly. An orange felt triangle forms the beak on the hood. Stitching, fabric glue, or fusible webbing can be used for attachment. Black trousers complement the outfit.
Easy Kid Penguin Costumes
Whether for Halloween, a costume party, or a school play, this Penguin suit is an opportunity for creativity, family fun, and unforgettable adorable photos. As they are made with simple T shits thus they can be made with minimal effort and cost!
Materials and Making: The Easy Kid Penguin Costume uses black t-shirts, white felt, orange foam, and red ribbon. Cut the penguin's tummy and eyes from white felt, and create the beak by layering foam sheets with red ribbon for the tongue. Craft eyelashes using a black foam insulation noodle and cardstock pupils. Lastly, glue all elements onto the t–shirt using a glue gun, and add a red wired ribbon on the shoulder for a final touch.
Complete Penguin Getup
Unleashing the spirit of the Antarctic in your home is simpler than ever with this delightful DIY Penguin Costume. Ideal for Halloween, costume parties, or any penguin-themed celebration, this DIY costume idea is a great way to ignite creativity.
Materials and Making: This DIY Penguin Costume can be made with black and white felt or fleece, yellow felt, and 16-gauge wire. Start by cutting felt based on your size and sewing the body. Create details like the eyes and beak on the hood using felt and wire. Assemble the body, attach the hood, and your penguin costume is ready.
DIY cardboard Penguin Costume
This DIY project makes fantastic use of Amazon Smile boxes to create a penguin Halloween costume, adding a new twist to recycling. Fun, affordable, and easily assembled within an hour, including drying time, it's a no-sew and hassle-free way to bring smiles to your little penguin this Halloween season.
Materials and Making: The DIY Penguin Costume involves crafting with empty Amazon boxes and simple materials like felt and acrylic paint. The boxes are tailored to the child's size, painted, and made into a body and wings. The penguin face is drafted on a piece of the box and decorated. The costume is complemented with cardboard-felt feet and a red bow tie.
Penguin And Toucan Costume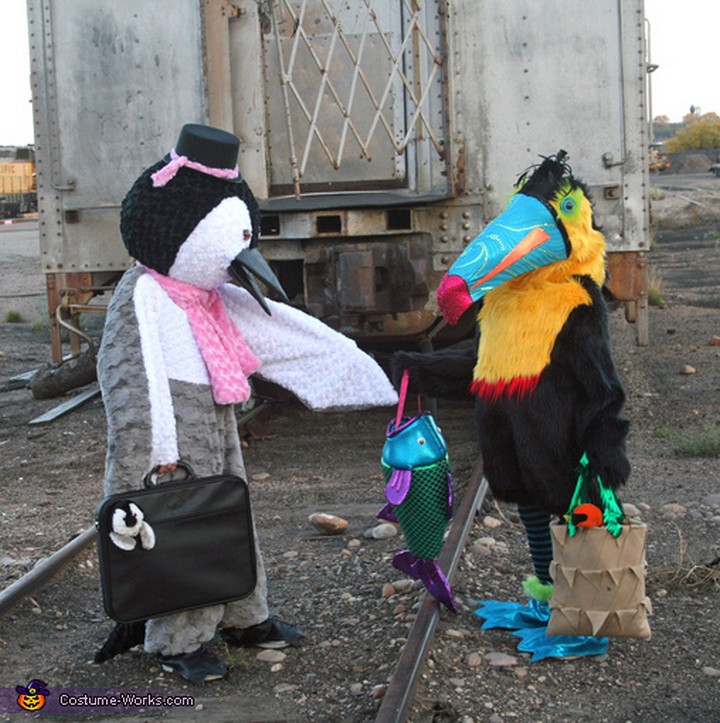 If you're seeking inspiration for making your homemade Halloween costumes, look no further! This endearing Penguin and Toucan Costumes creation by Brenda is the perfect amalgamation of creativity and charm. The perfect duo of festive charm, fun and creativity for siblings.
Penguin Costume: This costume was designed using a baby penguin model. It was made from swirl fur and ½ inch foam for the wings. The head was made of Styrofoam, with a foam-reinforced faux leather beak and feet. Eyes were custom, with a fabric-cut face. It was completed with a top hat, scarf, and a fish bag.
Toucan Costume: The beak of this costume was its focus, made sturdy with foam and decorated with colourful spandex and jewels. The bird's body was pattern-altered, with a pillow sewn into its front. A bag resembling a palm tree made of teal spandex, and green fur feet completed the costume.
DIY Kids Penguin Costume For Halloween
Unleash creativity by transforming ordinary stuff and a little imagination into this cute DIY penguin costume for your kid this Halloween. Turn a plain Fruit of the Loom zip-up hoodie into a fun penguin outfit, inspired by your child's fondness for penguins. Plus, your kid can wear it as a regular jacket!
Materials and Making: The DIY Penguin Costume is made using a standard Fruit of the Loom zipped hoodie. The eyes are crafted from felt and the beak is made from leftover sweatshirting interfaced with medium interfacing. The belly is white fabric, shaped and sewn around the hoodie pockets, reducing their size but keeping their functionality. The costume doubles as an everyday jacket.
Rock Hopper Penguin Costume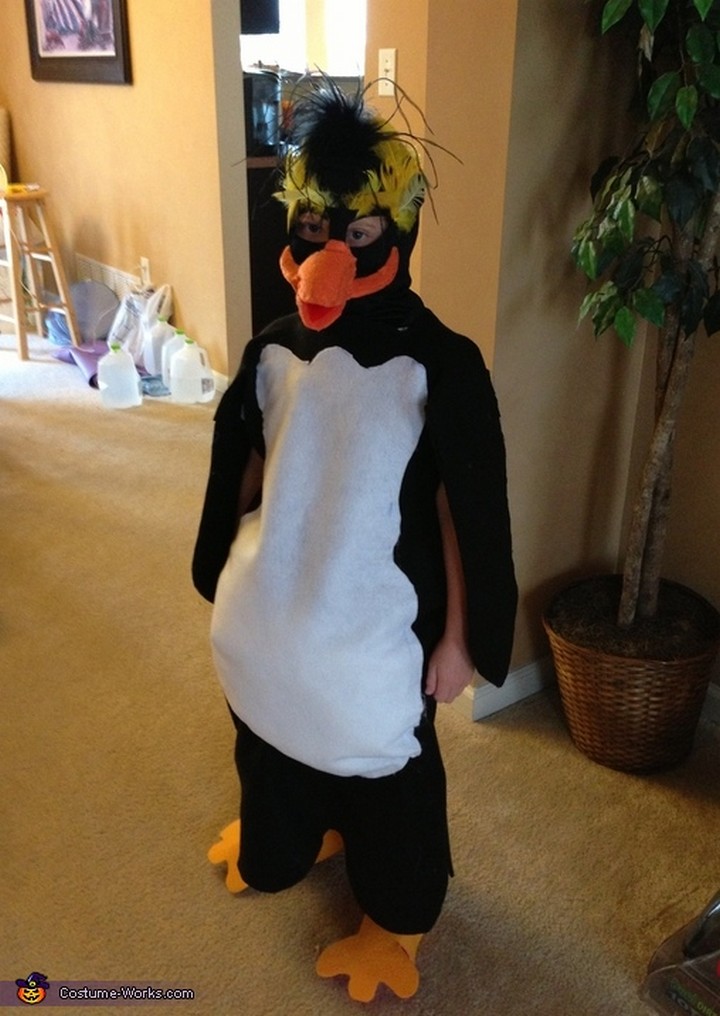 Imagine creating a DIY penguin costume for your child. Perfected in its marine aesthetic, this out-of-the-box idea adds excitement to any occasion. The joy your child would experience dressing as their favourite animal is immeasurable. It's a simple craft project that promises priceless memories.
Materials and Making: The Rock Hopper Penguin costume was crafted from black and white felt and small orange squares for the beak and shoe covers. The mask, made from a stripped dollar store fabric ninja mask, was enhanced with feathers, a felt-covered poster board for the beak, and padding. The stuffed white belly, the fingerless gloves, and the flippers gave it the penguin feel, all assembled using a glue gun. The costume also included a fish loot bag.
Penguin Baby Costume
Why not include your child in the Halloween celebration with this DIY costume? It is made with thick fleece materials and also has a beanie that not only gives this costume an elegant look but also keeps them warm, cozy, and toasty!
Materials and Making: The Cute Penguin Baby costume can be created handmade by Leanne for her daughter's first Halloween. The costume material of choice was warm fleece, crafted using her sewing machine. This penguin costume choice was inspired by her older daughter's suggestion. The costume was not only cosy for cold Halloween nights but also adorable for a visit to the zoo.
DIY Cardboard Polar Bear And Penguin Costumes
Dive into the spirit of creativity by crafting DIY Cardboard Polar Bear and Penguin costumes. A fantastic project to explore your artistic side, these costumes made from simple cardboard stand out in any setting. Easy to create and environmentally friendly, they're perfect for any celebratory occasion!
Materials and Making: This DIY Penguin Costume is made using a cardboard cut into a penguin shape. A black felt body is glued to the cardboard and an inner body is cut from white felt. Cardboard feet and wings are covered with orange felt and added. The face is made from pink felt cheeks, black eyes, and an orange beak made of felt.
DIY Macaroni Penguin Costume
Take delight in crafting a DIY Macaroni Penguin costume, the perfect family Halloween ensemble. With an easy-to-follow tutorial, you can transform a simple black hoodie and white t-shirt into a fun penguin costume adorned with silly orange feather tassels. Ideal for any dress-up occasion, this homemade costume is sure to be a hit!
Materials and Making: The DIY Macaroni Penguin costume is constructed using a black hoodie, a white T-shirt, orange felt, and feathers. White fabric is cut into an oval shape and sewn onto the hoodie's front, and two felt triangles, adorned with feathers, are affixed to the hoodie's top to replicate a penguin's signature look. This costume, easy to create, is versatile for occasions like Halloween parties or dress-ups.
More Collections For Costume