13 DIY Animal Costume For Kids
Whether you're dressing up your kids for Halloween or want a fun afternoon, these DIY animal costume ideas will surely please. With creativity and crafty skills, you can turn some ordinary items around the house into adorable costumes for your favorite little ones.
DIY Animal Costume Ideas

With plenty of DIY animal costume ideas, we have endless possibilities to exercise your creative skills and show your love for kids more excitingly. So why wait for? Get the supplies in hand, follow our guidelines, and you can easily design a special, unique costume that reflects your child's personality. Each costume you will make, and each decoration you attach will allow you to create an exciting, learning-rich, and, most importantly, enjoyable experience for kids to look like their favorite animal and stand awe-inspiring at the next Halloween party! So, it's time to get your hands busy, let your creativity shine, and head on to a magical adventure of homemade animal costumes!
Animal Dress Up Costumes
You can make your child a homemade animal costume for any occasion, have fun! They are a great way to entertain your children and allow them to bring their imagination to life. While these costumes may not be made for the rainforest or running around in the woods, you can still have fun dressing up and playing with them at home. The best part is that you make your little ones feel very special, which we all value in life!
Homemade Halloween Costumes Butterfly
One of life's most deep pleasures is seeing a child's innocent delight mixed with a butterfly's supernatural beauty. This costume combines these two beauties into a single picture. You only need a charming butterfly mask adorned with a delightful antenna with pom-poms, a pretty pink dress, and some golden shoes. Let your darling child flutter and fly around the party, shining brightly in the garden setting, and be the heart of the event in this charming dress. Just use a smooth fabric to make the butterfly wings.
Moth Costume
On Halloween night, become the star of the show with our fun Moth Costume. The Larger bird feathers act as the fake antennae. Large goggles stand in for the moth's bright eyes that shine in the dark. The furry jacket will be warm enough to provide energy like a moth. For the moth's wings, we've got you covered with a large, dyed sheet. Wear this Moth Costume and enjoy the night just like a moth, becoming the king of Halloween. Enjoy the thrill of flying high and shining bright in this special costume.
DIY Bat Costume
Are you looking to visit a fun-filled Halloween night party with your little ones? Try this easy DIY Bat Costume. Perfect for "trick or treating" or dark school events, this costume is super comfortable and simple to make. All you need are black tights, a full-sleeve shirt, and black gloves. But what makes this bat costume stand out from the crowd is its spooky bat headband and flying cape that remind everyone of Batman. As soon as you enter the Halloween party, you'll be the star of the show known as the Batboy or Batgirl, keeping the Halloween spirit alive.
Snail Costume
Transform your little one into a speedy snail this Halloween with our adorable Snail Costume. This is Perfect for a candy collection on Halloween night; this costume promises buckets of fun and loads of candies. Watch as your child, dressed in this innovative dress, redefines the snail's pace, charming everyone around into forgetting how slowly a snail moves. Constructed from economical and light kraft paper, this costume is as attractive as it is pocket-friendly. The costume's crowning glory is a unique signal catcher adorned with pair of balls at the end, all set to catch the sweet signals of candy calls. With our Snail Costume, prepare for a Halloween night filled with joy, giggles, and many treats.
DIY Bee Costume
Bring the buzz this Halloween with this lovely DIY Bee Costume. Just like a bee spreads sweetness with honey, your little dear will charm everyone with her sweetness in this characterful costume. Her eyes will twinkle like shiny drops of honey, charming everyone around her and collecting smiles in return. The distinctive bee wings in the marketplace enhance the costume's appeal. Additionally, the costume's crowning charm is the antenna crown, symbolizing the sweetness of the honey bee. Watch as your sweetheart distributes joy and sweetness dressed in Bee Costume, replicating the inviting appeal of Halloween.
DIY Unicorn Costume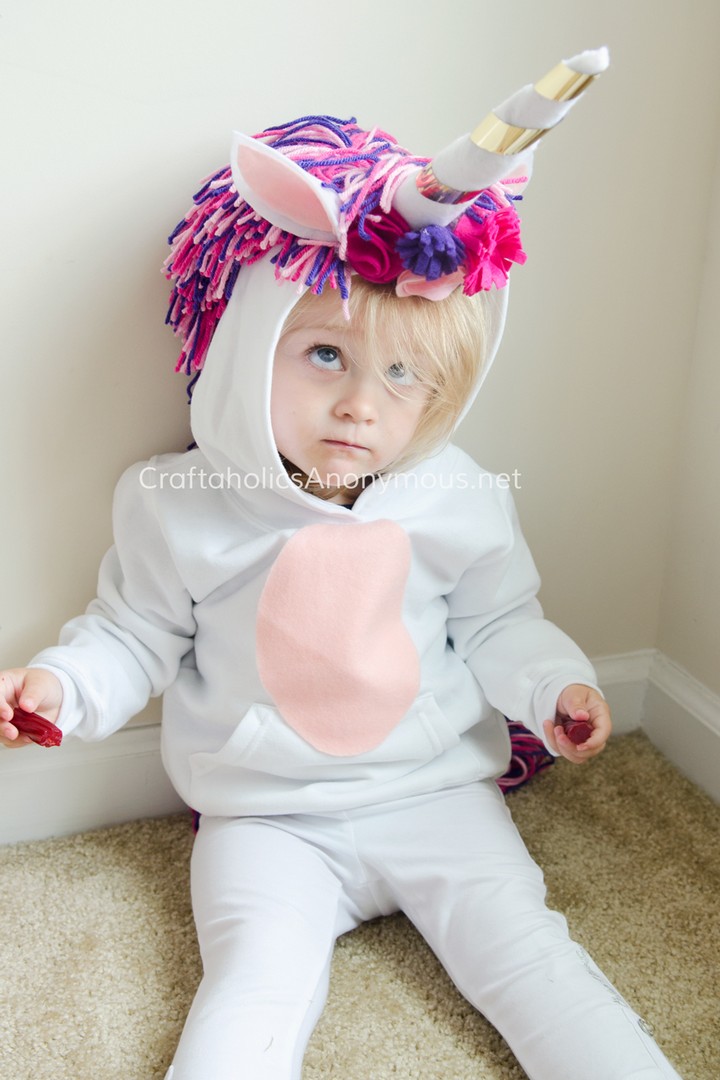 This costume is Perfect for the little dreamers who wish to display their favorite fantasy creature in the real world. This costume will prepare them to fly and spread a kaleidoscope of colors during special Halloween nights. Creating your own is a color picnic. All you need is a pure white hoodie with leggings to keep them warm and cozy, soft ears, a dazzling wooly horn, and your choice of colorful yarns to complete the look. Adding artificial blooms to your head will make your little flowers more cute!
Sew An Easy Parrot Costume
Make a colorful splash with Scarlet Parrot Costume at your next Halloween or themed party. Not only does it make an astonishing Halloween getup, but it's also perfect for school plays or any event that could use a burst of color. The bright red, yellow, green, and blue combinations perfectly capture a scarlet parrot's bold, striking look, ensuring the wearer becomes the center of attention. The feature of this costume is its feather-trimmed cape, which gives a vibrant finish. While the parrot face hat, complete with a long beak, adds a dash of realism to boy and girl alike. So, why wait?
DIY Cardboard Fox Costume For Kids
Fulfill your child's wish with our fantastic DIY Cardboard Fox Costume. Often found in myths, the cunning fox has captured the hearts of many, making it a fan favorite among children who wish to have one as a pet. While the idea of domesticating a fox might remain a dream, you can still bring a smile to your child's face with this easy, budget-friendly costume option. You only need some readily available, low-cost cardboard and a little creativity. Draw and cut out triangles to make texture to give the costume its signature fox fur. Once you've put the final touches on your child's new fox look, they'll be ready to rush off to their next party, playdate, or Halloween festivity.
Cowboy And Horse
Saddle up for a Wild West adventure this Halloween with our DIY Cowboy and Horse costume. Perfect for your little sheriff in training, this unique outfit will give them the courage to guard their town against the spooky forces at play. You don't need to be a sewing expert to build your custom costume. The crafting materials are simple to find. Using common household items like cardboard boxes to construct the horse your budding cowboy will climb.
Additionally, you can easily assemble a cowboy outfit with clothes your child already has. To finish off the costume and add an original touch, don't forget to include the essential sheriff's badge. So, let them take the reins this Halloween and celebrate in Western style.
Finding Dory Hank The Octopus Costume
Dive into the deep and exciting world of the ocean with our Finding Dory-inspired Hank the Octopus Costume. This costume is perfect for your little marine life enthusiast or performance requiring an ocean theme; this costume takes inspiration from the beloved animated film. Best of all, crafting this friendly octopus costume is simpler to prepare as a last-minute outfit. You'll only need a women's XL hoodie. Cut one-half of it into several pieces, shaping them as the octopus's tentacles. Fill these newly formed tentacles with wool to create a plush, harmless effect like the movie's character. In the end, add a pair of big eyes to the hoodie, and your child will be ready to spray fun at any event.
Simple Flamingo Costume
Inspired by the beautiful style that sets flamingos apart in the natural world, this costume is perfect for a fun playdate or a party. The Flamingo Costume boasts a vibrant pink color and a cape cleverly cut into two halves at the back, allowing your child to "flap" their wings easily. The cape includes a distinctive textured design for an added touch of realism. An adorned hat features the flamingo's standout characteristics to complete the look, shooting everyone away to a tropical paradise.
How To Make A Bear Costume
This Bear costume is Perfect for your little candies lover; it makes their "trick or treating" twice as sweet. The loveable bear, known for its fondness for honey, makes an adorable character for any child to mimic. In addition to its delightful charm, this furry bear costume also serves a practical purpose. It's warm and snug, ensuring your child stays cozy and protected, even on the chilliest of nights.
Easy Kid's Zebra Costume With Free Mask Template
Perfect for school assignments or a playful afternoon at home, this zebra outfit is as fun as it is educational. It's simple yet gorgeous and comprises a striped vest and a complementary hoodie decorated with the zebra's signature stripes. The hanging stripes enhance the realism of the attire, giving a realistic impression of a zebra's fur. Your little one can wear this costume for a school project, themed parties, or pretend to play at home.
More Fun Costume Ideas To Follow:
DIY Thor Costume Ideas: Thinking about taking on the persona of Thor for your costume event? If you're still working on your hammer-throwing skills, don't worry. We've got a list of DIY Thor costume suggestions to assist you in embracing your inner superhero. So why wait? Let's get started!
DIY Mr.Potato Head Costume Ideas: Our amazing DIY Mr. Potato Head costume ideas are best to have you stealing the show at any party! These inventive and enjoyable costumes are easy to make and won't burn a hole in your pocket. So, get ready to impress with these affordable and creative costume ideas!
DIY Cowgirl Costume Ideas: Bring your inner cowgirl out with do-it-yourself cowgirl costume ideas, perfect for Halloween or any dress-up event! These costumes are easy to create and budget-friendly, ensuring you can bring your cowgirl spirit to life without breaking the bank!
DIY Fairy Costume Ideas: With these versatile DIY fairy costume ideas, capture the amazing world of fairies in your own attire. With many options, there's no limit to the unique and personalized fairy look you can conjure for your little princess or even yourself at the upcoming party. Let's create some magic!