12 DIY Snowman Costume Ideas To Look Fluffy Anywhere
Creating a DIY snowman costume is a fun and imaginative way to get into the festive spirit, whether for a holiday party or a playful winter photoshoot. These charming snowman costumes can surely melt hearts and bring smiles to everyone around you!
Easy DIY Snowman Costume Ideas

These easier DIY snowman costume ideas will be great for making fun and unique additions to your costume set. Both kids and adults can put their hands on these beautiful costumes. There are several options for customization, like changing the color scheme using black and white spots, but surely every of the given inspirational ideas will suit best to experience the flair of making snowmen.
How TO Make A Snowman Costume?
Start by dressing in all white with a long-sleeved shirt, white pants, or leggings. To create the iconic snowman shape, stuff some polyester filling or lightweight material around your waist to create a round appearance. Attach three large black felt or fabric buttons down the front of your shirt to resemble the snowman's coal buttons.
Don't forget to add a cheerful red or green scarf, a classic black top hat, and perhaps a pair of twig-like arm extensions made from brown pipe cleaners or cardboard. Paint an adorable carrot nose and rosy cheeks using face paint or makeup for the final touch.
Halloween Snowman Costume
The Halloween Snowman Costume is an adorable, innovative, and family-friendly idea for upcoming festive events. Key features include three black pom-poms for buttons, a playful carrot-shaped nose, and a charming white mask. The outfit promises a delightful touch to celebrations as small fluff slowly drops off, creating a jovial 'melting snowman' effect that kids love.
Materials and Making: To create a snowman costume, a cheap white sweatsuit was bought and sprayed with adhesive. Pillow stuffing was added all over and coated with iridescent glitter. Three black pom-pom buttons were attached. A white mask with a plastic carrot nose and a decorated top hat were added to finish the look.
Kids DIY Snowman Tutu
Imagine a little girl twirling in a cloud-like tutu that portrays the classic snowman shape. A medley of white and black evokes the essence of a classic snowman, while a pop of color from the scarf adds an element of whimsy. The costume's main attraction, besides its visual appeal, is its mobility.
Materials and Making: Start by making a white tutu using tulle and elastic ribbons. Pair it with a white leotard, and attach black felt circles as buttons. Use white tights, boots, and a scarf to complete the look. A felt hat serves as the perfect accessory. This snowman outfit is fun, festive, and easy to make!
How To Make An Olaf Costume On A Budget
Materials and Making: Creating an Olaf costume is relatively simple and cost-efficient. Begin with a white cap and use black, white, and orange felt to create facial features like Olaf's eyes, eyebrows, and carrot–like nose, all affixed with a hot glue gun. Top off the hat with pipe cleaners for hair. Black circles of felt glued onto a white shirt simulate buttons, and this, paired with black sweatpants, completes the costume.
Frozen Olaf Costume
The Frozen Olaf Costume is a delightful image of everyone's favorite snowman from the hit movie, "Frozen". This costume captures the festive spirit of Olaf, featuring a chubby body, a white hat adorned with his iconic features, round black eyes, an arched pair of eyebrows, and a large carrot-shaped nose.
Materials and Making: Craft your own Olaf costume easily and affordably. Construct an expressive headpiece with butcher paper and duct tape, adding batting and fleece for realistic texture. Use craft foam to shine light through Olaf's eyes and a fleece scrap for his signature nose. The body requires encircling a hula hoop with layers of tulle and fleece for that snowman fluff! Lastly, add clothing to prevent tulle itching for ultimate comfort. This is a DIY Frozen costume project for all ages!
DIY Maternity Snowman Costume
The DIY Maternity Snowman Costume is a cute and festive idea that uses the baby bump as the main feature, turning it into a snowman. With easy-to-find materials and a quick 45-minute build, this costume is a fun and simple project for expecting mothers.
Materials and Making: Begin with a large white shirt and trace on the snowman's face and buttons. Cut these shapes from black and orange felt and fix them onto the shirt with a hot glue gun. Complete the snowman theme with a headband, felt-crafted hat, tied scarf, and black leggings.
No Sew Snowman Apron
Want to encourage your child to cook? Then this DIY costume idea is what you need. It is designed for kids to wear while baking cookies or participating in other festive culinary activities.
Materials and Making: Make a no-sew snowman apron using Kunin Classicfelt, a hot glue gun, and ribbons. Create a pattern by tracing your child's body on butcher paper; cut out the snowman shape from white felt. Draw and cut out the eyes, nose, mouth, buttons, and scarf from colored felts. Attach these felt pieces and a pair of felt mittens to the apron. Ribbons tied at the back complete the costume.
Once There Was A Snowman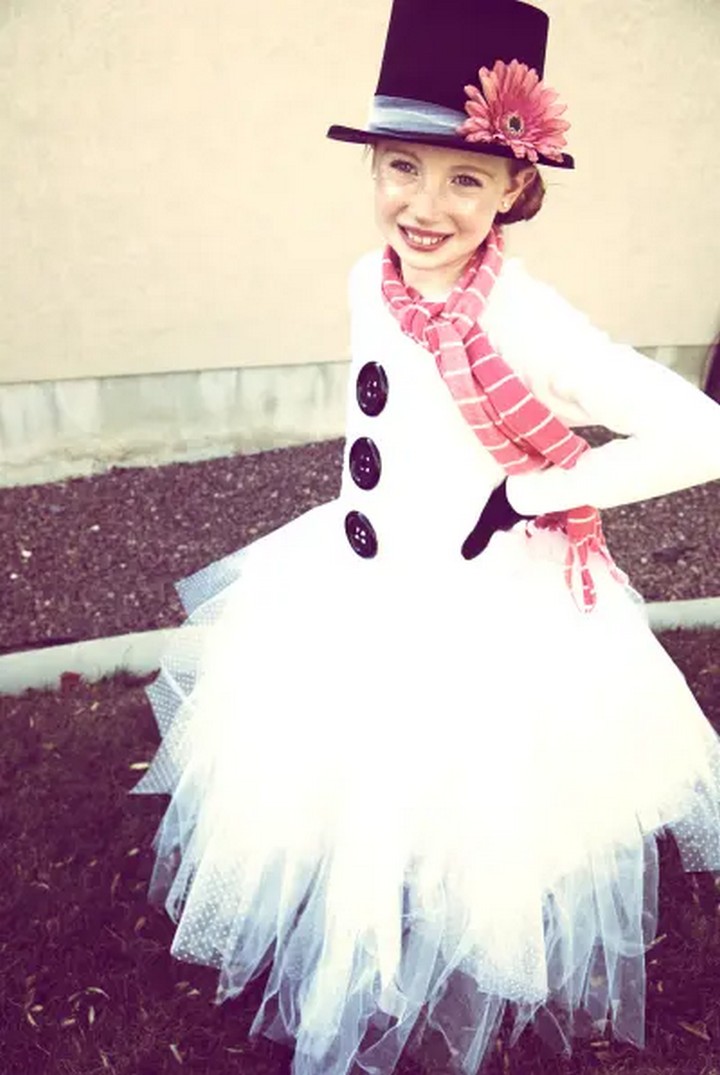 This DIY costume idea signifies a unique, creative, and feminine approach to Halloween costumes. Its centerpiece is a handmade white tulle skirt glimmering with hints of glitter. Paired with a white cardigan boasting oversized snowman buttons, the look is tied together with a decorative top hat and a vivid scarf.
Materials and Making: This unique DIY Snowman Halloween Costume features a fluffy white tulle skirt, large snowman buttons on a white cardigan, a Partyland top hat adorned with extra tulle and a flower clip, color–complimenting scarf, gloves, black galoshes, and white leggings. A soft white shimmer makeup adds the final snowy touch.
Easy No Sew Olaf Costume
The "Easy No Sew Olaf Costume" is a quick way to make a beloved Disney Frozen snowman outfit. Besides its visual appeal, the costume keeps your child warm, toasty, and cozy. It's simple, child-friendly, and perfect for last-minute Halloween or Frozen-themed events.
Materials and Making: Create an easy no-sew Olaf costume using a white sweat suit, white stocking cap, and small amounts of white, black, and orange fabric. Cut facial pieces, such as eyes and teeth, from fabric using pattern pieces from the Olaf Hooded Towel design. Iron these onto the cap and suit using Heat n Bond. Draw a smile on the cap with a sharpie and attach a brown pipe cleaner for the hair, and your Olaf costume is ready!
DIY Olaf Costume Instructions
Tugging at the heartstrings of Frozen fans, this DIY costume marries simplicity in design with the promise of warmth, hugs, and a lot of fun during the Halloween season. The best part is that it does not cover your child's face, giving him complete vision and identity.
Materials and Making: Creating an Olaf costume involves patience and time. Much of this DIY includes crafting Olaf's head from white felt fabric and craft foam fitted onto a bike helmet. Use contact cement to secure pieces and a hair dryer to speed up drying. Black, orange, and gray fabrics are used to create Olaf's facial features. Remember, this costume is a labor of love but well worth the effort!
Pregnant Snowman Costume
A pregnant snowman, what a thought! The Pregnant Snowman Costume is a playful approach towards adding festive cheer to an expectant time. It's a wonderfully quick and simple DIY idea for future moms wanting to embrace humor and holiday spirit.
Materials and Making: This unique pregnant snowman costume is crafted by cutting out the shapes for the eyes, mouth, and a carrot-shaped nose from felt. These are then glued onto the white pregnancy t-shirt creatively. Twigs are hot-glued for the arms. To finish it off, a snowman hat is worn, and a festive scarf is wrapped around the neck, putting an unforgettable twist on a classic snowman costume.
creatingreallyawesomefunthings
No-Sew Snowman Costume
The No-Sew Snowman Costume transforms the wearer into a cheery snowman without needing a stitch. With the help of items such as HiLoft Polyfil Batting, black felt, white ribbon, and a Styrofoam cone, you can effortlessly dress up as the icicle buddy.
Materials and Making: For this no-sew Snowman Costume, you will begin by sizing a piece of HiLoft Polyfil Batting to the child's size from shoulders to knees, doubling it in height, and cutting a neck hole. Black felt circles are affixed down the batting's front with hot glue, emulating lumps of coal. The costume is worn like a poncho, tied at the waist with a white ribbon. Add a hat, scarf, and a styrofoam-made carrot-nose to cap off the look.
DIY Olaf Costume
Ideal for costume parties, school events, or fun dress-up playdates, this Frozen Olaf Costume is budget-friendly and creative to express the joy and humor that Olaf brings to every snow-laden adventure. Whether it's for your toddler or young, this DIY costume will never disappoint you!
Materials and Making:  Making this DIY Olaf costume requires creativity with a white hoodie. Eyes, eyebrows, and buttons get cut out from black, white, and brown felt and then glued on. Five brown pipe cleaners are fashioned into Olaf's hair and duct-taped to the hood. A carrot nose is made, stuffed, and closed at the base, then attached below the eyes using two skewers wrapped in white duct tape.
You can also see: