15 DIY Unicorn Costume Ideas To Dress Like A Magic Horn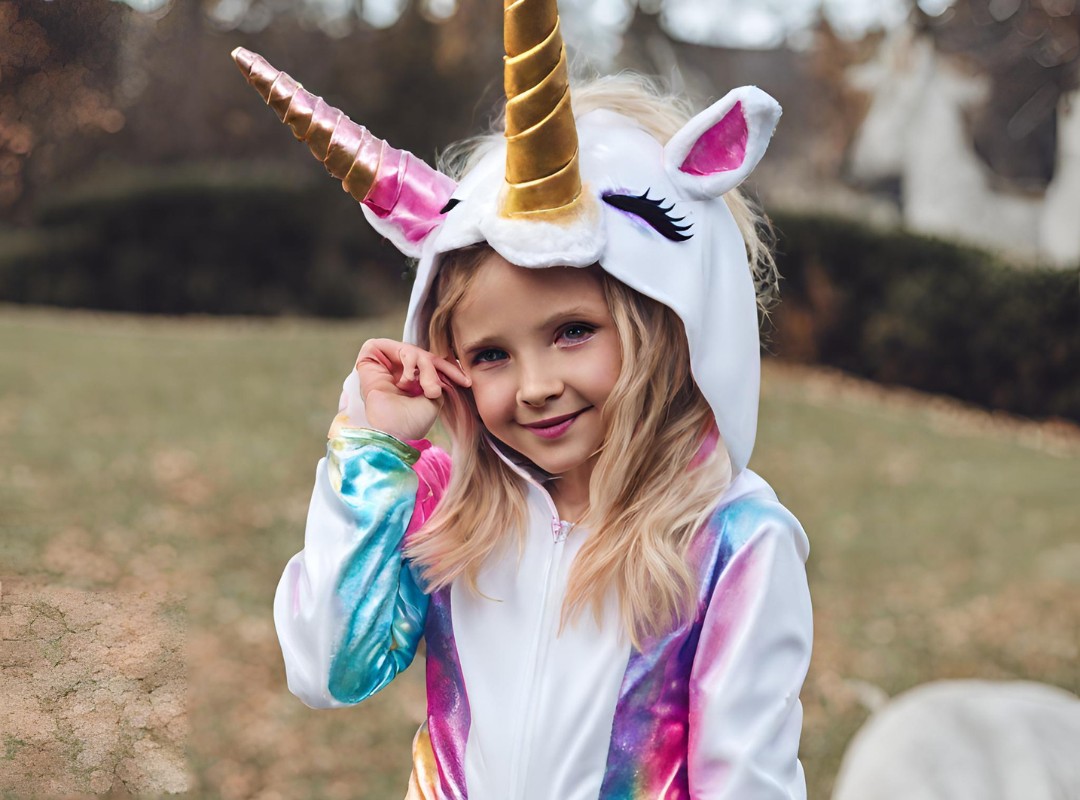 With DIY Unicorn Costume Ideas, your kids can easily dress up as delightful unicorns for any party, school event, or simply for fun. These costumes enable a wonderful way to showcase their affection for such mystical beings.
By becoming beautiful unicorns, your children can bring good luck into your home. Plus, using these costumes, you can transform your Halloween celebration into a unicorn-themed event, attracting positivity and affection from all attending guests.
DIY Unicorn Costume Ideas

Creating a unicorn costume at home can be both fun and exciting. This magical creature is a favorite amongst children and adults alike. There are plenty of DIY Unicorn Costume Ideas you can explore.
The options are limitless, from using rainbow colors to make a fluffy unicorn tail to an all-white ethereal dress with a glistening unicorn horn headband.
From sparkling unicorn headbands adorned with colorful horns to vibrant attire miming a unicorn's brilliant coat. You can even create a shimmering tail or dazzling wings for magical appeal.
A unicorn onesie with a rainbow mane might be the way for a more dramatic costume. Whether for a party or just for fun, creating a DIY unicorn costume provides a fascinating blend of creativity and fantasy, which will surely bring joy.
Despite all the above advantages, these DIY costumes are affordable and easy to make, allowing for great creativity. Therefore, every unicorn costume will always be different, making each one as unique as the unicorn itself.
DIY Unicorn Costume
Create a fun and easy DIY unicorn costume for kids who love simple yet magical outfits. This beginner-friendly and cheaper project requires basic items to create this super adorable costume for your little princess and also make him an iconic star for the coming Halloween party.
Materials You Need: 
1 yard gold fabric
Heat N Bond Interfacing
Heat N Bond Fusible Fleece
1/2″ Elastic
Coordinating Creme Brûlée Aurifil Thread
Unicorn Wings & Horn Pattern
Download your Unicorn Costume Pattern Here
Fiberfill
Hot Glue Gun
Headband
DIY No-sew Felt Rainbow Unicorn Costume For Kids
This easy DIY no-sew felt rainbow unicorn costume for kids is perfect for all little unicorn lovers! Made from soft, colorful felt, it requires no sewing skills. The costume includes beautiful, rainbow-colored felt stripes and a cardboard horn and makes your kid look like a fortune unicorn that everyone will wish to hug.
Materials You Need: 
36″ felt, in various colors and white
Fabric scissors
Hot glue gun
Thin and thick ribbon
Velcro
Headband
Fiberfill
Spray glue
Iridescent glitter
Cape Template
Unicorn Horn Template
Easy DIY Unicorn Costume
Create a fun, easy DIY Unicorn Costume this Halloween and enjoy a magical night following this budget-friendly pattern. It will be a great masterpiece to help your little one match a Halloween party's theme and require much less effort to make.
Materials You Need: 
white hoodie
white leggings
hot glue gun
light pink yarn
hot pink yarn
purple yarn
white felt
light pink felt
pink felt
purple felt
gold tape
scissors
packing paper
DIY Unicorn Hoodie Costume With Rainbow Tutu
The DIY Unicorn Hoodie Costume with a Rainbow Tutu is a charming and unique way to dress up. It's a bright outfit, full of fun colors that stand out. A cute unicorn horn and ears on the hoodie make it extra special. It will be an easier DIY project and mom's favorite because it doesn't create a lot of mess!
Materials You Need: 
white hoodie
white leggings
less than 1/4 yd of stretchy gold fabric for the horn
gold embroidery thread for the horn
1 sheet of white felt for the ears
pink felt for the tummy and ears
fleece in 6 different colors, 1/2 yd.
Tulle in 6 different colors, 1 yd of each
1.5″ satin ribbon in coordinating colors, 2-3 yds of each
thread in coordinating colors
wide elastic for tutu waistband
narrow elastic for the hood
How To Make A Rainbow Unicorn Costume
Making a Rainbow Unicorn Costume for Halloween is fun. Its creation will be much easier and make your little one fall in love with the aroma of Halloween around and turn him into a pinkish unicorn in no time.
Materials You Need: 
Hoodie pattern with a three-piece hood
Matching leggings or legging pattern
Pink jersey* or pink French terry*
1/4 yard polar fleece in six different colors – add 1/4 yard to the color that will become the wings and horn
Poly-fil
DIY Unicorn Costume Easy No Sew Kids Costume
Try this cute and easy DIY unicorn costume for kids with this no-sew guide! You'll have a perfect Halloween outfit ready for any unicorn lover in just a few steps. This amazing project is simple and affordable, making the child's festive season magical without breaking the bank!
Materials You Need: 
White Clothes
White Felt
9″ x 12″ Felt Sheets in your favorite unicorn colors
Rotary Cutter
Cutting Mat
Permanent Fabric Glue
Plain Plastic Headband
Foam Unicorn Horn
Acrylic Craft Paint
Sequin Trim
Hot Glue Gun
Craft Foam
VELCRO
DIY Rainbow Unicorn Costume
Sprinkle in some imagination, and your fairytale dream will come to life following this amazing idea. This DIY Rainbow Unicorn Costume is a magical outfit perfect for Halloween. Being vibrant, colorful, and imbued with the charm of a mythical creature, it's the ideal choice for those seeking something dreamy yet simple to create.
Materials You Need:
Hood
Skirt
Hooves
long-sleeved shirt
leggings
DIY Baby Unicorn Costume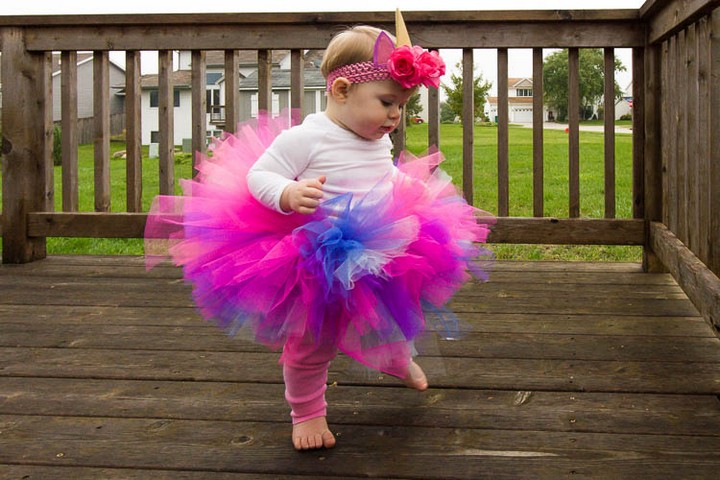 The DIY Baby Unicorn Costume is a delightful, handmade Halloween costume perfect for the littlest ones in your life. Made with love and creativity, this charming unicorn costume is adorable and easy to assemble. Ideal for babies and toddlers, it provides a brilliant solution for parents seeking a unique Halloween costume that's low fuss but high in the "aww" factor. With this costume, your little one will surely be the cutest unicorn in the herd!
Materials You Need: 
Tutu
Tulle
Baby Crochet Headband
Scrap Piece Of Cardboard
Unicorn Headband
Baby Crochet Headband
Small Artificial Flowers
Glitter Cardstock (gold + pink + purple)
Tools You Need:
Scissors
Roll Of Paper Towels
Hot Glue Gun
Scissors
Scrap piece of cardboard about 8″ in length
No-sew DIY Unicorn Costume
This No-Sew DIY Unicorn Costume is incredibly easy to create and perfect for anyone who loves unicorns. This budget-friendly costume idea makes it ideal for a fun and enchanting experience for almost kids of every age and size. You'll magically transform into a mystical creature with a few effortless steps.
Materials You Need: 
Hot glue gun and hot glue sticks
Basic White Girls Leggings
Girls Basic White Hooded Sweatshirt
Fab Lab 9×12″ Faux Fur Sheet (You will need 2 sheets)
Rainbow Baby Yarn (You will need less than one large skein)
Felt sheets in various colors
DIY Rainbow Unicorn Costume
We are introducing the adorable and budget-friendly DIY Rainbow Unicorn Costume! You can create this charming outfit using simple materials found at home in just a few easy steps. Its fun design features vibrant colors and whimsical unicorn elements. So check out our quick and easy-to-follow tutorial to bring this enchanting character to life without breaking the bank.
Materials You Need:
4 Yards of Pink tulle for the tutu
1/2 Yard of Red, Orange, Yellow, Green, Blue, and Purple tulle for the tail and main.
Scraps of Ivory felt for the horn
Ivory Embroidery Floss for the horn
Scraps of colored felt for the flowers
1 Headband (glitter gold, of course)
Elastic for the waist of the tutu
Hot Glue Gun and Glue
Fast & Frugal Easy Unicorn Costume
Explore our frugal DIY unicorn costume tutorial following this amazingly easier idea this Halloween season. You can create this adorable outfit with some creativity, which is far more unique and charming than any store-bought costume.
Materials You Need: 
Light gray or white long-sleeve Tshirt
Leggings to match Tshirt
White or light gray socks
Sneakers
A belt, preferably light-colored
Headband
Make An Easy Unicorn Costume
Create an enchanting Unicorn Costume perfect for various events, from costume parties to birthdays or Halloween! Packed with magic and fun, this fun ensemble includes a hoodie that can be worn separately on regular days, making it a versatile costume.
Materials You Need: 
Pink leggings
pink hoodie
Bubblegum pink Olyfun
Metallic Gold Olyfun
ruler, scissors or rotary cutter, and mat
sewing machine, coordinating thread, and heavy-duty needle
Polyfil fiberfill
Hot Glue gun and glue sticks
DIY Unicorn Frappuccino Costume
Experience the magic of the no-longer-served Starbucks Unicorn Frappuccino this Halloween with a DIY costume! Infuse your Halloween with the vibrant colors and whimsy of the Unicorn Frap. This easy, budget-friendly costume brings an off-the-menu favorite back from the dead.
Materials You Need: 
Aleene's Fabric Fusion Glue
Aleene's Quick Dry Fabric Fusion Glue
Tulip ColorShot Instant Fabric Color
Tulip Slick Dimensional Fabric Paint in White
Tulip Soft Fabric Paint in White
1 sheet large white foam core board (4′ x 3′)
1 sheet of small white foam core board (at least 15″ square)
3 yards of white cotton fabric
1/2 yard of green cotton fabric
pink, blue, and purple sequins or sequin stars
white chalk
1 roll of batting
1 roll of white tulle (6″ wide)
wire
2 yards of white tulle (45″ or 60″ wide)
3 yards of 2″ wide white elastic
floppy sun hat
empty rolling paper tube
plastic sheeting or tarp
Tools:
clothes iron
scissors
clothes pins
craft knife and cutting mat
string, push pin, and pencil
yardstick
plastic ruler
hot glue gun
wire cutters
Clothes (to wear under):
DIY Unicorn Candy Milkshake Costume
You can easily make a cute DIY Unicorn Candy Milkshake Costume at home by getting inspiration from this easier guide. It's cheap yet striking and comes adorned with a unicorn horn, sprinkles, and candies over a vibrant milkshake-like design. Perfect for parties, playful events, or even a fun photo session, this homemade costume brings a magical touch to any moment.
Materials You Need: 
plastic laundry hamper for a shake
white batting for whipped cream topping
2-22" x 28" paper poster boards for your "painted shake."
14" x 22" paper poster board for straw
1 sheet of white foam core for lollipop
acrylic paint – unicorn colors + silver for stars
paint brush
scissors
glue gun
rainbow packing peanuts for sprinkles
large pastel pom poms for marshmallows
two strips of cotton cord for shoulder straps
Kwik Stix – neon
2-light pink foam sheets for rainbow sour strips
1 green floral cone for unicorn cone
piece of medium elastic to attach unicorn horn
wooden dowel for lollipop stick
6 craft stars for star candy
1 pack of foam balls for pastel candy balls
DIY Unicron Costume Idea With Felt
Unmask your inner craftsman with this fun DIY Unicron costume idea. It's simple yet creative and perfect for beginners. Using felt, this budget-friendly Unicron costume video will guide you through each step.
Materials You Need: