14 DIY Minion Costume Ideas To Be A Fun Photo Prop
Create super beautiful cartoonish-style DIY minion costumes following this decent list and end up being the talk of the town. Enjoy being a stylized cosplay character with minimal effort. All you have to do is play with the yellow-blue-colored wearables and do some funny gestures to capture the attention of almost all the guests you have around.
DIY Minion Costume Ideas

By using simple materials and your creativity, you can bring these lovable characters to life for a memorable costume experience. All these impressive DIY minion costumes will serve well to be a part of your Halloween wear, costume rallies, school tableau, birthday parties, and play dates, and are always the best option to receive wow-inspiring comments from everyone around.
Attributes Of A Cute Minion Costume Are:
Start with basic yellow clothes, such as a long-sleeve shirt and leggings. For iconic Minion eyes, use round glasses or make your own using black pipe cleaners, white paper, and black markers. Create Minion overalls with blue shorts, pants, or a dress, and decorate them with a Minion "G" logo. Don't forget the famous Minion hair, which can be crafted using black pipe cleaners or a wig.
DIY Minions Family Costume
Create a delightful DIY Minions Family Costume for an undeniably fun group look everyone will enjoy. Inspired by the lovable "Despicable Me" movie characters, these quirky outfits promise to bring laughter and entertainment to any occasion.
Materials and Making: Creating DIY Minion costumes on a budget involves simple steps. Yellow shirts and blue fabric mimic the Minions' "overalls". Outline overalls with a tissue paper pattern before cutting from the fabric and attaching with white thread or blue fabric paint to the shirt. Complement with yellow face paint to match the Banana Minion hue. Complete the look with signature oversized Minion goggles. Embrace the fun, perfect for a family activity.
Homemade Minion Costume For Halloween
Create a homemade Minion Halloween costume and capture these loved characters' adorable aesthetic. The costume includes fun Minion shoes, cute glasses, and crocheted Minion hats. Not only does it offer visual appeal, but it also ensures they stay warm and toasty throughout their trick-or-treating adventures.
Materials and Making: To make a homemade Minion costume, you'll need Minion goggles or glasses, overalls, minion slippers, and a crocheted yellow hat. Attach a cutout "G" shape to the overalls. Collect all the items either from the store or online, and your Minion costume is ready for Halloween or any fun event!
How To Make A Despicable Me Minion Costume
Make this DIY costume that shows the perfect aesthetic using the existing items. This costume promises to be a real crowd-pleaser, whether it's for Halloween, a themed party, or just to bring smiles to Minion fans!
Materials and Making: Start by obtaining overalls, a yellow hat, and a yellow shirt. Create a Minion hat using a Pringles container, styrofoam ball, black ribbon, and foil insulation tape. Cut a section of the Pringles container, cover it with foil tape, and insert the styrofoam ball as the eye. Assemble the hat and attach it to the yellow cap with the black ribbon, adding pipe cleaner for hair. For more aesthetic, hold him a banana.
Minion Costume
Create this DIY costume that will never disappoint. Perfect for Halloween parties or themed events, embracing the playful Minion spirit will add an extra dose of fun and laughter wherever you go. Don't miss the chance to go bananas as a Minion!
Materials and Making: For this Diy costume, you'll need a cylinder-shaped garbage can with armholes and an eyehole cut into it. Cover the garbage can with yellow felt and add blue jeans overalls, black pipe cleaners for hair, and a spongey pink material for the mouth. Use a paper plate with an eyeball printout for the eye, and cover it with a metal cylinder mask made from foam rings and metal sheeting. Add painted Easter Egg shells as bolts on the mask. Pad the interior and attach ropes for shoulder support.
DIY Minion Costume
Imagine making this DIY costume for your child that he will love to wear during play dates. The main focus of this DIY costume idea is on the cap, showcasing big glasses, vivid eyes, and hair. All you need to do is dress the cap, and your child's outfit is complete.
Materials and Making: Begin by crafting goggles using two mason jar lids connected by a silver grommet. Add a black nylon strap and buckle for adjustability. Make the eyes using halved whiffle balls with fun foam eyelids and printed irises. Insert the eyes into the goggles and glue them into place. Craft hair using black pipe cleaners through a yellow cap. Complete the costume with a yellow shirt, overalls, black shoes, gloves, and, optionally, yellow face paint.
Kids Minion Costumes
Want an easy yet professional-looking costume? Make this DIY that is just perfect for all your festive parties and costume rallies. This costume idea provides a duo of minions, one featuring two eyes and the other showcasing one- the perfect ensemble for you and your partner or siblings.
Materials and Making: This homemade Minion costume starts with paper mâché heads made around exercise balls and bodies formed from cardboard. These frames are then covered in yellow felt. Eyes are created from painted drawer liners, teeth from white foam, and goggles from black foam. Black pipe cleaners serve as hair, and the costumes are completed with sewn overall.
Easy Baby Minion Costume
Never leave your child behind in the Halloween celebrations with this DIY costume. The eye, made to pop out of the hat, adds a fun touch, while a pink bow distinguishes it as a girl Minion. The costume uses thick fleece and includes a cap to keep them warm, toasty, and ready for any celebration.
Materials and Making: This easy baby Minion costume begins with thrifted overalls, a homemade fleece hat, and a long-sleeve shirt. The hat is created by the fleece yellow base by adding a stuffed eyeball with a black belt, a bow, and black hairs also made of fleece. The Gru logo, created from felt, is sewn onto the overalls.
Last Minute Despicable Me Minion Costume
Transform your child into a cute and charming minion with this DIY costume. The costume protects your child from chills and also gets them ready for any special occasion. All you need are some basic materials and a spark of creativity.
Materials and Making: Create a last-minute Minion costume with a yellow knit hat, black pipe cleaners, a wrapping paper tube, silver paint, and black elastic. Cut and thread the pipe cleaners through the hat for hair. Cut the tube into sections and paint them silver for goggles. Staple the tube sections together, attach elastic to fit the head, and pair with a yellow shirt, blue overalls, black gloves, and boots for a quick and easy Minion look.
Make Minion Costumes For Your Squad This Halloween
Gather your squad this Halloween and elevate your costume game with DIY Minion costumes. These adorable outfits, known for their yellow bodies and large goggles, are not only fun to create but also share a sense of unity among the group. So, make this costume and create unforgettable memories!
Materials and Making:  All you need for this Diy costume is an overalls, a yellow shirt, socks, gloves, and other items. Create the Minion logo on the overalls with dark transfer paper. Make hair by poking black pipe cleaners through a yellow beanie. Goggles can be crafted from 4-inch googly eyes and gray construction paper, secured on the beanie with a black ribbon or fabric as the strap.
How To Make A Minion Costume
Get ready to impress your friends with this fun DIY project for Halloween or any costume-themed event. The costume perfectly captures the aesthetic of the Minion while leaving your face visible, maintaining your identity, and ensuring full vision.
Materials and Making: Making this Minion costume requires a paywall panel, exercise ball, paper mache, yellow spray paint, blue fabric, and some basic hardware. The body is shaped using the panel, and the ball is a frame for the paper mâché head. The goggles will come from paint cans with a rubber ball for the eyes. The costume is then painted yellow and clothed with blue fabric for overalls.
How To Make A DIY Minion Costume
This tutorial guides you through every step, including assembling a yellow hard hat with Minion goggles, crazy hair, and a Gru logo. Bring the Despicable vibes to life using easily accessible materials, and get ready to make an unforgettable impression at any fancy dress party or Halloween event.
Materials and Making: To make a DIY Minion costume, you'll need a yellow hard hat, mason jar lids, black elastic, black pipe cleaners, a card, white stickers or paper, a yellow T-shirt, and blue dungarees. Print and stick the Gru logo on the hard hat, then create Minion hairstyles using pipe cleaners. Attach the mason jar lids to create goggles, secure them with elastic, and dress your child in a yellow shirt and blue dungarees to complete the look.
Make Your Own Minion Halloween Costumes
Here's the complete set of costumes for your family, including a cute costume for your furry friend. The costume will work with materials already present in your wardrobe. This is the perfect blend of festive charm and creativity.
Materials: Create this unique DIY Minion costume by acquiring overalls, shorts, 2 T-shirts, 2 beanies, 4 mason jar lids, black pipe cleaners, yellow fabric dye, a black permanent marker, and a drill.
Making: Start by dying the T-shirts and beanies yellow. The goggles are crafted through drilled mason jar lids attached to pipe cleaners. For Minion-like hair, loop pipe cleaners through the beanies. The outfits are completed by donning overalls over the dyed shirts and beanies. The dyed T-shirt can be adorned with marker-drawn suspenders for a female touch.
How To Make A Minion Costume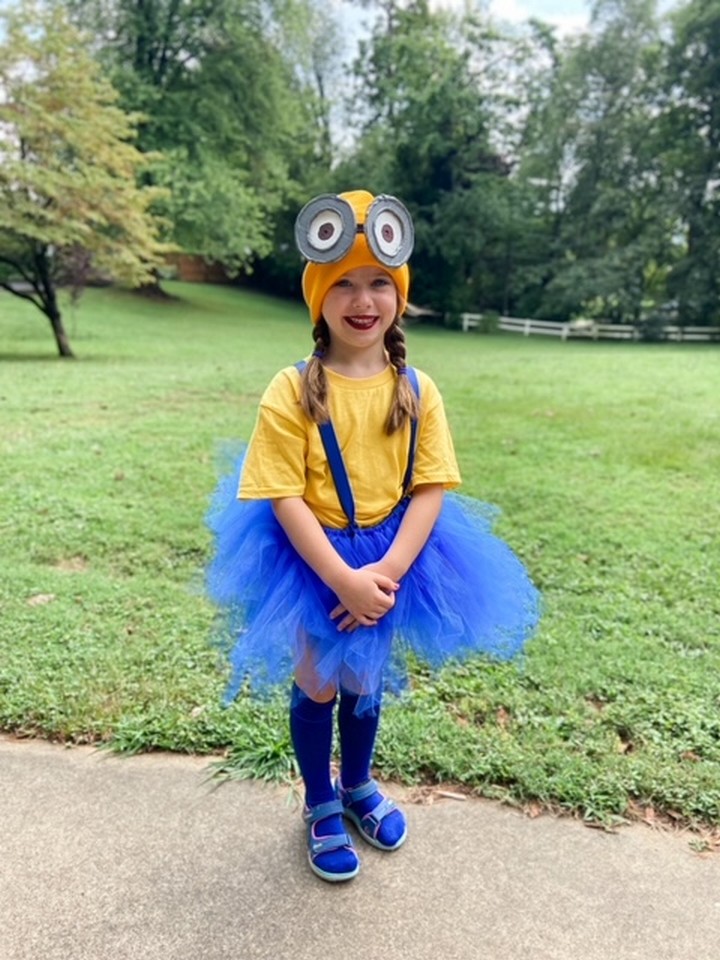 Take a look at this DIY costume that your child will love wearing on various occasions. The costume is designed with comfort in mind, allowing your child to wear it all day long and providing full mobility for their wiggles and jumps.
Materials: For a DIY Minion costume, gather a yellow hat, cardboard, acrylic paint, a yellow shirt, blue shorts or skirt, tulle, ribbon, and blue socks. 
Making: Craft the glasses by painting cardboard and attaching it to the hat; wear a yellow shirt, and choose any blue bottom, like denim pants or a blue tulle skirt. Accessorize the costume with suspenders or ribbons that match the lower half of your outfit. Reuse items from your closet for a cost-effective look.
How To Make A DIY Minion Costume
This tutorial offers instructions on making a Minion's iconic look complete with overalls, goggles, and their peculiar hair using common items like canning rings and pipe cleaners. This costume will surely be a hit at any Halloween event!
Materials: Kickstart your DIY Minion costume project with recycled overalls, a vibrant yellow shirt, gloves, yellow fleece, gray felt, black fabric, pipe cleaners, canning rings, black elastic, and a styrofoam half-circle. 
Making: Personalize the overalls with a handmade Minion logo patch and create eye-catching goggles with felt and canning rings. Yellow fleece wraps around a styrofoam half-circle for a distinct hat adorned with fun pipe cleaner hair. Round off the costume with a touch of yellowface makeup.
You can also see: