16 Easy DIY Owl Costume Ideas For Kids
We're here to share the interest of arts, crafts, creative enthusiasts, and bird lovers alike in this amazing blog post dedicated to getting you into the festive spirit with 12 unique DIY owl costume ideas.
DIY Owl Costume Ideas

Whether it's Halloween, a fun party, or a themed event, our feather friends costumes offer an inspiring and creative outlet for some hoot-worthy dress-up. From the silent, snowy owl to the bold barn owl, these handmade costume ideas span an array of owl species and styles.
With simple crafting tools and some imagination, you'll walk away with some inspiration that will have everyone's heads turning 360 degrees. These Owl costumes aren't just adorable and innovative; they're a hoot to make, too! So, without further ado, let's fly into these stunning DIY owl costume ideas that will add a touch of wisdom to your next event.
Some Basic Attributes Of An Owl Costume Are:
Feathers:

 The most basic and essential attribute of an owl costume is the feathers. Typically made from fabric, felt, or craft feathers, they are usually layered to create a textured, fluffy look similar to that of a real owl.

Owl mask or headgear:

 Whether it's a mask or a beanie styled to look like an owl's head, this is a key element for any owl costume. Be sure to incorporate large eyes, a beak, and perhaps tufts of fabric for ears to capture the owl's features fully.

Wings:

 Owl costumes often include wings, either sown into a cloak or attached separately. These may also be layered with 'feathers' and should be able to open when arms are extended.

Color:

 Owls come in various species with different colors and patterns. Some costumes may use a classic brown-and-white color palette, while others may incorporate greys, blacks, and even yellows.

Foot Gear:

 Some costumes also include coverings for shoes to mimic the talons of an owl.
DIY Owl Costume
Add a touch of spookiness to your Halloween wear by making this super cute owl costume.
You'll need the following materials:
Grey, long-sleeved t-shirt
Black leggings
Grey beanie
Pair of gloves
Felt sheets in a variety of colors (for feathers)
White felt sheet (for eyes)
Black felt sheet (also for eyes)
Orange felt sheet (for beak)
Craft glue
The making of the DIY owl costume involves using a long-sleeved grey t-shirt and black leggings as the base, a grey beanie for the owl's head, and gloves to match. The feathers are made from inexpensive felt sheets, cut into ovals, and glued to the shirt. The owl's eyes are large white felt circles with black felt pupils, and the beak is a small orange felt triangle, all glued onto the beanie.
DIY Owl Halloween Costume
Let's DIY a super cute and simple owl costume for kids to look like a fashionista queen at the coming Halloween party following this easier guide. All you need to do is gather the materials and start following the process given below.
Brown Felt
Assorted Colored Felt
Sewing Machine and Thread
Elastic
Orange Felt
Velcro
Pair of shoes
Brown Headband
Craft Paper
Measuring Tape
Scissors
Pins
To make a DIY owl Halloween costume, create an A-line dress using felt material and sew the front and back together. Cut out felt feather shapes and sew them in rows across the dress. For the wings, measure your child's wingspan, draw wing shapes, and sew two layers of felt together. Attach wings to the dress and add elastic bands for the arms. Create owl feet by sewing two pieces of orange felt around the shoes and securing them with velcro and elastic. Fashion an owl headband by cutting felt pieces, sewing them together, and attaching them to a brown headband.
DIY Owl Costume With Cricut
Here is a step-by-step guide to creating the Woodland Fox, Fawn, or Owl costume for your kids to let them vibe this Halloween season.
Felt in various colors
Fur fabric
Net fabric
White and black iron-on vinyl
Cricut machine
Cricut standard grip mat
Sewing essentials
Hot glue gun and glue sticks
Satin ribbon
Elastic
Monofilament fishing line
Safety pins
Use the Cricut machine to cut out the various elements of the costume, such as eyes, ears, and spots for the fawn. Sew the ears, attach the felt cutouts to form the facial features, and add fur for additional detail. Cut net fabric into strips, and these will be tied to a ribbon which serves as the waistband. You can use a slip knot to secure the netting. Hot glue the ears and facial features to the fur vest or hoody. Tie the skirt around the waist and secure it with safety pins. For the fawn, use black iron-on vinyl to create the hoof details and white iron-on vinyl for the spots.
DIY Owl Wings Costume
The owl costume is designed for a nature-loving child and is extremely suitable for a tall child with autumnal colors. The outfit is surely best to become everyone's favorite, and I hope you'll fall in love with it.
Faux fur fabric
Leatherette for the beak and claws
Cardboard pieces for the wings
Feather-shaped pieces of fabric
Black and white felt pieces for the eyes
Elastic bands for the wings and talons
Threads to match the fabrics
Basic sewing equipment
No-sew Owl Costume
This no-sew owl costume is a marvelous blend of creativity and simplicity, making it a perfect DIY masterpiece that's as charming as it is user-friendly.
Beige Fleece blanket (approx 130 x 170cm)
Felt sheets in 4 shades of brown (5 sheets(20 x 30cm) in each color)
Hot glue gun
Scissor
Button
Elastic band
Punch plier and eyelet plier
By cutting and gluing the fabric following the provided measurements, you'll create fringes for the dress feathers for the wings and attach them in layers. The mask is covered in tiny felt feathers, with the final costume piece completed by adding buttons and an elastic loop for convenience.
DIY Owl Costume Sewing Project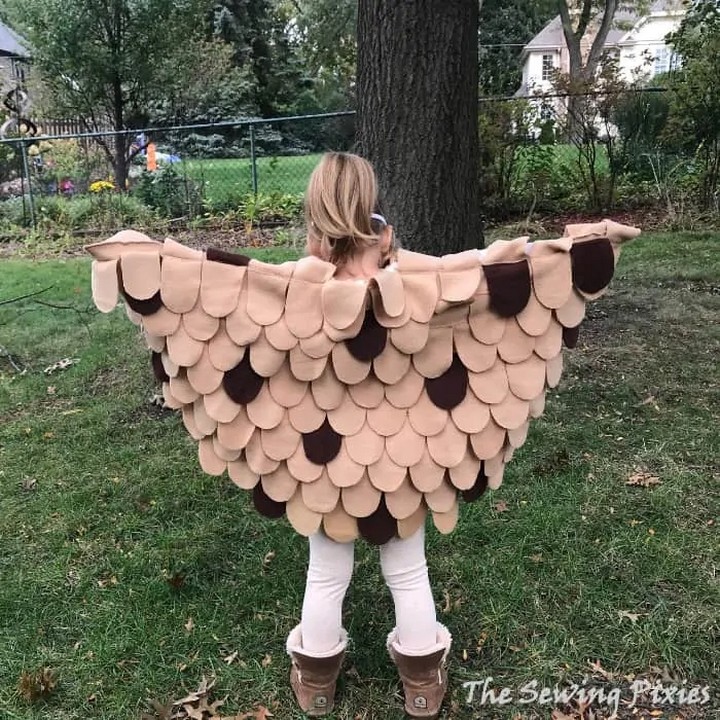 This DIY Owl Costume exudes creativity and charm, instantly transforming any child into a delightful woodland creature. The attention to detail and unique blend of colors showcase not just imagination but also skill and artistry, making it a truly extraordinary piece.
1 yard of main-color fleece
0.5 yards of an alternative color fleece
Fabric for the mask
Long sleeve T-shirt
Sewing tools
A snap pliers
Snaps
Elastic ribbon
A pencil suited for the fabric
The project starts with drawing lines on the shirt where feathers will be sewn, after which feathers are trimmed along the neckline. The next part involves the making of the wings cape, which is sized according to the child, and adorning it with additional fleece feathers. Snaps are installed to attach the cape to the t-shirt and mask, creating a fun owl costume.
No-sew Felt Owl Baby Halloween Costume
This adorable Owl Baby Halloween Costume is not only incredibly cute but also a testament to your crafting skills, making it the perfect choice for a memorable and picture-perfect Halloween celebration.
Blue Baby Onesie
Brown Hoodie
Wool Blend Felt
This DIY Owl Baby Halloween Costume requires no sewing. Start with a blue onesie, and select felt colors for feathers and facial details. Cut the felt using the provided PDF template. Glue the cut felt onto the onesie using a hot glue gun, layering the feathers, and adding facial details on the hood.
Owl Wings DIY Costume
This captivating owl wings costume is not only enchantingly stylish but also showcases impressive craftsmanship and attention to detail.
Assorted felt in colors of your choice for the feathers
Ivory felt for the wing base
Feather Template
Hem tape
Sewing machine
Elastic for the shoulders
Ribbon for the wrist straps
Fabric scissors
Measuring tape
Sewing pins
To create the owl wings costume, first, design feather templates. Then, using these, cut out various colored felt feathers. Secondly, create a wings base from ivory felt, tailored to your arm's length and back's width. Arrange the feathers on the base and fix them with hem tape. Next, attach elastic and ribbon pieces, which will serve as attachment points for your shoulders and wrists, respectively. Sew parts of the wings together in the middle for a secure fit.
Hedwig Baby Owl Costume
If you're a Harry Potter fan, following this Hedwig costume creation for your little one will be a beneficial option.
White long-sleeve onesie
White diaper cover
White felt
Hot glue gun
White craft feathers
Scissors
Measuring tape
Pencil to mark measurements and feather patterns.
To make the baby owl costume inspired by Hedwig from Harry Potter, start with a white long-sleeve onesie and white diaper cover. Cut out multiple white felt feathers and glue them in overlapping rows on the onesie with hot glue. Add store-bought white craft feathers to the costume and wings for a more realistic effect. Create a white felt mask for the final touch. The mask is meant to sit on their forehead.
Easy Owl Costume
This owl-inspired costume, with its intricate design and attention to detail, truly captures the enchanting essence of the owl. You can make them easily following the materials like:
1.5 yards of fleece or other fabric
1 pair scissors
Glue gun and glue sticks
Tulle
White T-shirt and brown pants
Begin by fashioning the owl hat by cutting two triangles from your fabric for the "ears" and two small and large rounds for the eyes. Glue these onto a hat. Next, create the owl tunic by cutting out multiple fabric triangles – these "feathers" should be glued to the tunic over the shoulders and down the front.
For the skirt, cut the tulle into strips and layer them at the bottom of an A-line skirt for a feathered effect. Finally, craft an owl cape by cutting out many more triangles and gluing them onto a cape or poncho in overlapping rows to mimic the pattern of feathers. This costume is worn over a long-sleeve white t-shirt and brown pants to complete the owl-like look.
Make An Owl Costume
Here's a simple and easy DIY owl costume to make the cutest and unique wearable for your Halloween celebrations. Its creation is quite fun; you can go with the materials like:
Half a yard of feather fur
Small piece of darker fur for ears
Half a yard of soft, stretchy,
fuzzy fabric for lining
Beige felt,
brown fabric paint
sewable corset boning for feathers
Yellow, black, and brown felt squares for facial features
The costume features realistic feather fur and arms as wings. The feathers are made from felt and are hand-painted, while the hoodie is used to draft patterns for the hood, body, and wings of the costume. The costume concludes with pants made from feather fur to round off the outfit.
This DIY Owl Mask is an absolutely enchanting mix of creativity and simplicity, truly a stand-out masterpiece for any festive occasion.
Grey, brown, black and white felt
Owl mask template
Felt glue
Ribbon
Sewing needle
Grey thread
Fabric scissors
Start by cutting the template pieces out of felt. Layer and glue the eye pieces together. Measure a ribbon to fit around the head, attaching it between two grey masks. Finally, stitch the two grey pieces around the outer edge to secure the mask. You should have an adorable Halloween Owl mask.
Felt Owl Mask And Accessories
This owl costume is a masterful blend of creativity and simplicity, transforming ordinary felt into a delightful, enchanting spectacle that will steal every show.
Felt in various colors
Fabric scissors or a Cricut Maker to expedite cutting
Hot glue gun & hot glue
Safety pins
Braided elastic
Pattern to cut wings, mask, and cuffs
White cape or T-shirt
The owl costume is primarily made out of felt and requires no sewing. Use a pattern to cut out the wings, mask, and cuffs. Glue strips of felt feathers onto the mask. Use safety pins to attach shoulder feathers. Accessories like braided elastic and a white cape or t-shirt complement the outfit. A Cricut Maker can expedite the cutting process.
Adorable $5 DIY Owl Costume
This owl costume showcases an inspiring blend of simplicity and creativity; it perfectly embodies effective DIY design and craftsmanship.
A t-shirt or sweatshirt
Different colored felt sheets
Hot glue gun
A fuzzy hat
Buttons
Dark leggings or pants
Scissors to cut the felt into shape
A small piece of orange felt for the beak.
To construct the owl costume, start with a t-shirt or sweatshirt as the base. Create owl feathers by cutting a U-shaped pattern from different colored felt sheets and sticking them on the shirt using a hot glue gun. For the owl face, repurpose a fuzzy hat, glue onto it circles cut from felt for eyes, buttons for pupils, and a small piece of orange felt for the beak. Using dark leggings or pants completes the costume. The entire project can be done within a couple of hours.
Snow Owl Costume
This Snow Owl costume is astonishing and great for kids to snuggle around, and I hope you're going to love the softness of the material and other qualities it possesses. All you need to do is gather the materials like:
White, Black, and Grey Felt
White boa feathers
Light brown and white patterned fabric
Owl mask
Hat
Google eyes
Feather-like fabric
Hot glue
Red, orange, and yellow felt for beak and feet
Making
First, take your light brown and white patterned fabric and create the base. Measure the person who will wear the costume and cut out a tunic or cloak shape that will fit over their clothes.
Cut the white, black, and grey felt into oval or feather shapes. These will be your owl's feathers. Start sticking them onto the base, starting from the bottom up.
You can either use the pattern of your choice or arrange them randomly. Use the feather-like fabric to get some variety in the owl feathers. You can cut these into smaller pieces and attach them to the costume's body.
Cut strips of the white boa feathers long enough to form a circular chest on the base costume.
Arrange the strips in a circular shape on the upper center of the base for the owl's chest. Attach them using hot glue.
Cut two lively foot shapes from the orange felt and attach them to the bottom front of the costume. Get the red, orange, and yellow felt for the beak. Cut a large triangle from one of these colors for the beak.
Use the owl mask you have and glue Google eyes on it.
You can also attach smaller felt feathers around the edge for extra detail.
Lastly, turn the hat into the top of the owl's head. Glue on two large, triangular felt pieces at the top for owl's ears or tufts.
You can add more feather-like fabric or felt to make it look more like the top of an owl's head.
Round off your owl costume with fitting gloves and shoes.
For extra effect, you may also choose to paint the wearer's face with matching colors.
DIY Owl Halloween Costume
This captivating costume, brimming with playful details and finessed with a creative touch, is not just a fashion statement but a masterpiece.
Feather boas
A white hooded sweatshirt
A hot glue gun
Scissors
A piece of paper to protect your table from the glue
Four different types of fabric in white/gray tones
Fabric glue
Two large white buttons for the eyes
Two small black buttons for the pupils
A piece of orange felt for the beak
Lay the sweatshirt flat, glue feather boas onto it using hot glue, and layering for full coverage. Cut different fabric types into feathers. Glue onto the sweatshirt. Then, cut eye shapes from large buttons and pupils from smaller ones. Glue on the hood. Cut beak from orange felt, glue beneath eyes.
DIY Spider Costume Ideas: Spiders, with their multiple legs, dark hues, and connection to spooky, old houses, make perfect subjects for a hair-raising DIY spider costume.
Easy DIY Snowman Costume Ideas: Making a DIY snowman costume is a delightful and creative method to embrace the festive mood, whether for a holiday function or a whimsical wintertime photoshoot.
DIY Unicorn Costume Ideas: These DIY Unicorn Costume Ideas present a fantastic opportunity for them to express their love for these magical creatures.