16 DIY Ghost Costume Ideas For Fun Spookiness
Ghost costume is so easy to DIY, affordable, and even complements the main theme for every creepy costume party to bring some fun fear. Here are some DIY ghost costumes that skip the other time-consuming attires and come as last-minute outfits. From the mom's hack white sheet ghost costume to the tulle ghost, ghost frocks for girls, poncho or hoodies ghosts, scary, and much more! Even based on ghost depictions by artists, they are more cute than scary and not real!

How To Dress Like A Ghost?
To dress like a classic ghost, as you will also see in ghost DIY costume ideas below, you will need only a white bed sheet (small enough to fit and not in use!). First, cut two ovals from a black fabric for the eyes and one more for the traditional mouth (which seems to be open!). Also, make little holes in the eyes so light may pass. Then drape that over, and you will be a ghost. If the edges at the bottom are longer, adjust them to avoid stumbles. However, it was a basic and quick idea; for more, you continue reading to get the right instruction for your chosen.
You can also make a hoodie on where your head was settling and then make a hole for the head to come out. This way, you will have a more comfortable costume that doesn't hinder the fun. You can make the ghost eyes and mouth in front of the dress for a girl.
Easy DIY Toddler Ghost Costume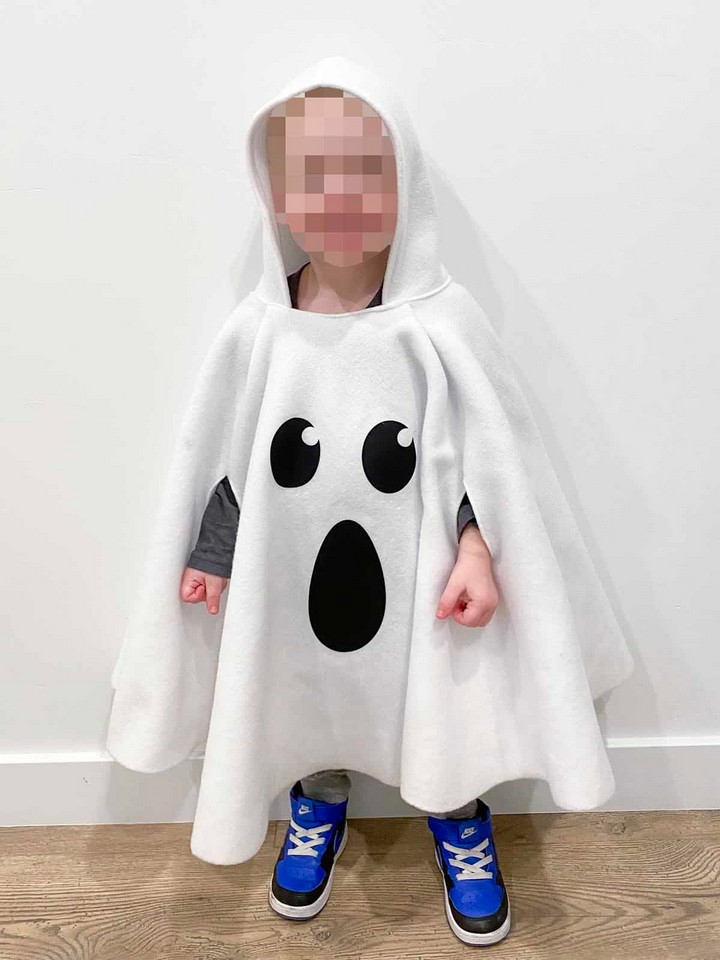 Looking for a simple yet adorable Halloween costume for your toddler? Check out this easy DIY ghost costume, capturing your toddler's fascination with playing the spooky role! With no pattern needed, this budget-friendly costume perfectly fits your family's Halloween theme and saves precious time. Skip the complex costumes and watch your little ones spark joy as they playfully "spook" the neighborhood on Halloween night.
Materials: 
1.5 yards of white fleece
sewing machine
fabric scissors
disappearing ink fabric pen and string
black iron-on vinyl (or you could also use black felt, black adhesive felt, or a stencil and fabric paint)
Cricut machine and Cricut Access subscription
Cricut EasyPress Mini and pressing mat
white pants
Kids Ghost Costume
Create a fun ghost costume for your little princess this Halloween using a tulle tutu. Measure tulle strips to double your child's height and attach to a satin-covered stretchy ribbon fitting around your child's chest. Use two extra strips for a halter tie, giving adjustment options. Add Fomic sheet eyes and mouth to complete this adorable DIY ghost outfit!
Materials
White Tulle
1 Yard Stretchy Ribbon
4 Inches White Satin Ribbon
1 Square Each Black and White Felt
How To Make A Sheet Ghost Costume
Here's the perfect costume for those who want to repurpose old items. This DIY idea turns a simple white sheet into a timeless ghost costume by cutting out eye holes and sprucing it up with optional accessories. Wearing black goggles hides your eye hole, and wearing the beanie keeps the costume in place. You can go with the plane sheets or give it this torn look and by adding faux blood can make this DIY costume even more scary!
Easy DIY Ghost Costume
Create memorable Halloween moments with this super easy DIY ghost costume, suitable for both kids and adults. Using white fabric and some basic sewing, you can fashion a friendly ghost outfit. Measurements are taken from finger-to-finger and head-to-toes, allowing the costume to fit perfectly. With a few finishing touches, like a black fabric face, your DIY ghost costume is ready to fright and delight!
Materials: 
basic sewing tools
cotton or cotton blend white quilting fabric 44" or 108" wide
black quilting fabric – fat quarter works great
lightweight iron-on interfacing
No-Sew Ghost Costume
Elevate your last-minute Halloween costume with this no-sew ghost costume. It is a fun, easy Halloween DIY, even for the busiest parents. Instead of a sheet, this design uses a white fleece formed into a wearable poncho and a cute ghost face out of black adhesive felt. The main feature is its knotted fringes that make this DIY costume upout shine from others. It's comfortable, open on the sides, and perfect for school or trick-or-treating days.
Groovy Ghost The Easiest DIY Vintage Halloween Costume Ever
Experience the coolest DIY vintage Halloween costume ever, the Groovy Ghost, from Emily Retro. This quick and easy costume is perfect for men, women, teens, kids, couples, and groups. Instead of using a plain white sheet like a classic ghost, use a flower power 1970s vintage floral sheet to create a visually stunning twist. With minimal supplies needed, such as sunglasses and an optional trick-or-treat pail, this Groovy Ghost costume will be the talk of any Halloween event.
Easy No-Sew Ghost Costume
This Halloween, design a charming, easy, no-sew ghost costume for your little ghouls. The costume is not only spooky but also comes with an adorable beanie that keeps your baby snug and warm, adding to the aesthetic. Shun the traditional sheet-over-the-head style and opt for this safe and adorable ghost poncho. Use white fleece to fit your child, cut into an oval with a head hole. Add a unique and friendly ghost face made out of a stiff black felt. Perfect for a fuss-free, cute, and warm Halloween!
Easy Ghost Costume
Get your child ready for some gushing compliments this Halloween by dressing this spooky outfit. The costume creates an illusion of floating, taking your little one's ghostly presence to a whole new level. Made with layered tulle for a floating appearance and a white fabric base, it also features a glow necklace for a touch of eerie luminescence. Add some face paint for an extra creep factor, ensuring a memorable Halloween!
Materials: 
Tulle
White stretch fabric
Scissors
Sewing machine (optional) or Safety pins
Halloween Makeup (White and Black)
Easy Ghost Costume Tutorial With A Bed Sheet
If you enjoy DIY projects and creativity, look up the classic ghost costume guide that uses your old bedsheet to make a spooky costume for all ages. Unlike traditional designs, this costume cleverly utilizes screen material for the face, allowing clear vision without revealing the wearer. Versatile, easy to assemble, and utterly ghost-like, it's perfect for various sizes, making Halloween dressing delightful and simple.
Materials: 
An old white bedsheet or several white sheets in case you make a mistake
Some screen material
The ghost eyes and mouth downloadable template at the bottom of this post
Black thread
Scissors
Sewing machine, sewing needle or glue (fabric or hot glue and hot glue gun)
Quick And Creepy Cheesecloth Ghost Costume
Need a last-minute, comfy Halloween outfit? Get creative with this low-effort ghost costume! The low-effort costume is comfortable and quick to assemble, making it ideal for last-minute Halloween events. You will use black fabric, sheer fabric, a baseball hat or visor, tea, and cheesecloth for this costume. Add your own personal spooky touch with fake spiders, skeleton hands, or fairy lights for a chilling ensemble.
DIY Ghost Costume
This homemade costume cleverly combines adorability and eeriness, making it ideal for any special event. The costume uses a sheer curtain from Ikea and some tulle; this cloak gives an ethereal ghost-like appearance. The white costume has extra length for that ghostly flow; this costume brought Halloween dreams to life for the creator's daughter. Minimalistic yet charming, this DIY costume proves creativity can turn simple materials into a memorable Halloween outfit.
DIY Rainbow Ghosts Team Costume
Introduce a playful twist to the traditional ghost costume with Rainbow Ghosts team costume. It keeps the simplicity of a sheet ghost costume but adds a rainbow dye for a colorful touch. In addition to boosting your Halloween spirit, these vibrant costumes invoke laughter, joy, and plenty of charming photo opportunities for your haunt squad. Consider making the colorful pumpkin arch to make your Halloween photoshoot more special.
Material:
Sheets
Dye
Large stainless steel pot
Fabric scissors
DIY Halloween Costume Classic Ghost
Loved by all ages, this DIY costume design captures nostalgic charm while offering mom-friendly convenience. Equipped with only a sheet and accessories of choice, such as goggles or a fun black bowler hat, you can transform your squad into adorable spirits. This costume also allows cozy clothes underneath a perfect blend of comfort and style for your Halloween festivities.
DIY Easy Ghost Costume For Women
Check out this easy ghost costume that caters to women and anyone seeking a casual yet creative outfit. Made from a netted or lace curtain, this ethereal cape stays in place doesn't slip, and can be worn over a white top, pants, and shoes. The costume achieves an intriguing ghostly look with a fake chain. Stay cozy on Halloween with this accessible and adjustable DIY cape that simplifies costuming while maintaining a pleasingly spooky aesthetic for all to marvel at.
Easy DIY Scary Ghost Costume
Check out this DIY idea for a straightforward, spooky, and budget-friendly ghost outfit.  Ideal for children, this costume only requires black clothes, shoes, white face paint, black eye shadow, and white Halloween gauze. Transformation requires no sewing, just some cutting, draping, and a bit of fashion tape. Perfect for warm or cold weather, this easy-to-make ghastly outfit will make your kids stand out during their Halloween trick-or-treating spree.
More Costume Collections