12 DIY Mad Hatter Costume Ideas For Eccentric Look
Being eccentric is no longer a bad idea with a handmade Mad Hatter costume where you will merely receive praise (to refresh best memories!). These DIY Mad Hatter costume ideas will help you recreate this beloved book character's outfit, full of bright and mismatched colors, 90s clothing, and the same hat. Once you're dressed up (though it will be a challenge of art and craft!), quote some classic Mad Hatter lines and make everybody laugh at a costume coffee party. With many variations and guides to suit every age, gender, and budget, you will find the best one!
DIY Mad Hatter Costume Ideas

How To Dress Like Mad Hatter?
Here are the tips that will help you to DIY a mad hatter costume:
Hat: You can use any tall top hat and add a note card marked '10/6′ to show his price tag. However, objects like peacock feathers, pins with jewelry, ribbons, playing cards, clock faces, tea accessories, and other random items can also be added as found in depictions.
Coat: A brown blazer or suit jacket is perfect.
Bow Tie: You will need a large, colorful polka dot (pink, red, orange, and light green shades of dots!) fabric with white background. Then, you can use the dark paint randomly (not much!) and then fold it as a bow tie.
Cross-Body Thread Tubes Set: Attach some spools of thread to a belt and wear it across your body.
Shirt and Pants: Get a plain pink shirt and shorts or pants.
Hair: The Mad Hatter's hair is wild and messy. Use some orange hairspray and gel to make a fluffy, out-of-control hairdo.
Socks and Shoes: Striped socks and slightly large shoes complete the outfit well.
Makeup: Don't forget his orange eyebrows and eye shadow with the complete white face!
DIY Mad Hatter Costume
If you're going to a party with a fantasy or Alice in Wonderland theme, this Mad Hatter costume would be ideal. Though rich in specifications and style, it is surprisingly affordable. So, make sure to add this DIY costume to your to-do list now!
Materials and Making: To make a DIY Mad Hatter costume, start with a clown hat, spray the attached blue wig with orange hairspray, and cover it in lace stained with black shoe polish. Add knitting needles with buttons, a 10/6 card, an orange sash, and a feather. Wear a tweed jacket with DIY lace cuffs, a bright shirt, and an oversized bow. Finish with face paint and bold makeup.
Mad Hatter Costume
The Mad Hatter Costume is a whimsical and eye-catching DIY project that is sure to make you the star of any event. Perfect for themed parties, Halloween, or costume events, this Mad Hatter Costume is a fantastic way to exhibit your creativity and stand out from the crowd.
Materials and Making: Start with a black top hat adorned with a peach sash and peacock feathers. Make gloves from plaid fabric, a bright ribbon sash with buttons, and a bow tie from a large floral print cloth. Wear black baggy trousers, lace-up boots, a white shirt, a brown jacket and patterned vest. Complete with dramatic makeup.
DIY Cardboard Mad Hatter Costume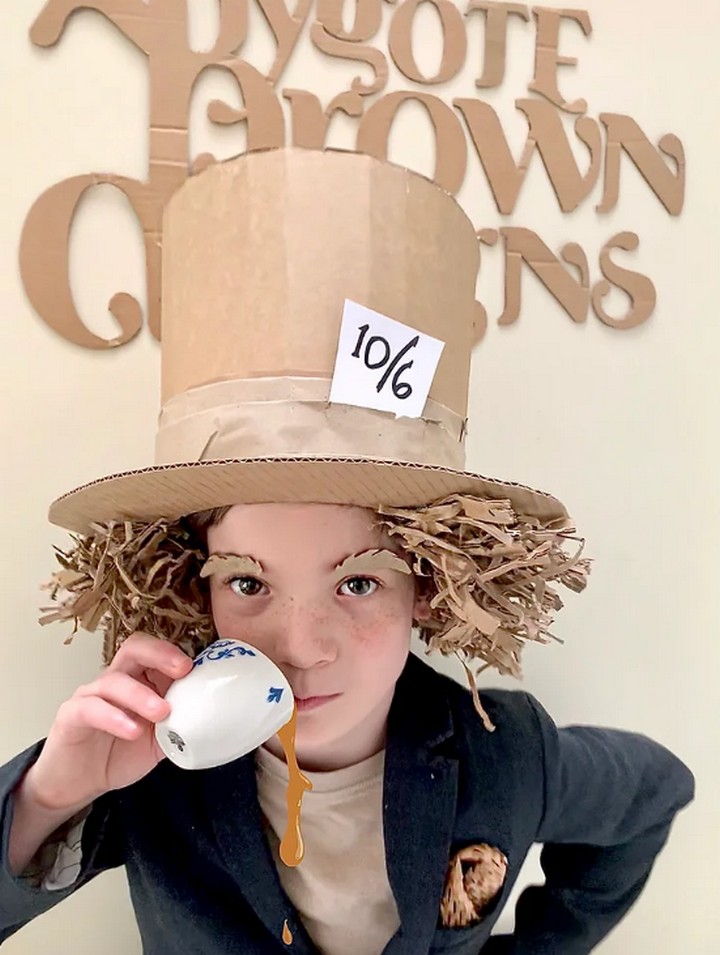 The DIY Cardboard Mad Hatter Costume in this easy guide is special and eco-friendly for people who love costumes. The outfit has a specific look thanks to its raised cardboard details, which not only make it stand out but also reduce trash. Perfect for Halloween, school performances, or theme parties, this self-made outfit highlights both green living and fashion.
Materials and Making: To create a Mad Hatter costume from cardboard, freshen up a previously used hat template by removing bunny ears. Add cardboard pieces as hair, make a band for the hat, and the 10/6 price tag. Fill the hat with old paper to sit well on the head. Accessorize as desired, leveraging resources already available at home for an impressive outcome.
Easy Mad Hatter Costume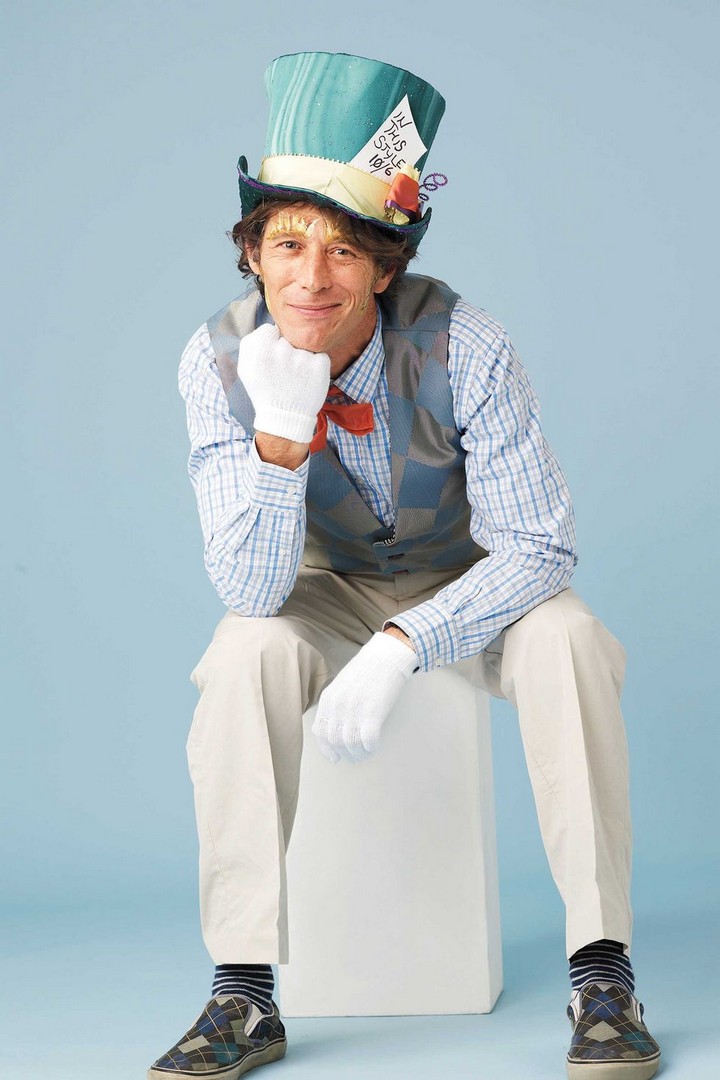 This Mad Hatter Costume offers a straightforward and efficient method to replicate the signature appearance of the quirky Alice in Wonderland character. Suitable for all ages, the costume is constructed using everyday attire and accessories, meaning you can repurpose your ensemble after the event.
Materials and Making: To assemble a Mad Hatter costume put on a plaid shirt, a checkered vest, khaki pants, striped socks, and checkered sneakers to embody the character. Accentuate the outfit with a red satin ribbon bowtie and an oversized Kelly green top hat with yellow ribbon. Add a fun twist with mango gold makeup, highlighting with brown and white streaks.
Mad Hatter Costume DIY
Creating this DIY costume for your child will never disappoint you! The costume is gender-neutral, spooky, and festive. It's perfect for Halloween trick-or-treating adventures, school plays, and costume competitions.
Materials and Making:  Begin with acquiring a decent costume vest, shoes, red shoelaces and mismatched socks. Fabricate the bandoleer using vintage spools of thread strung onto a ceiling fan chain. Craft a tie and shirt from colourful and pink fabrics, respectively. Hunt for the perfect jacket and pants, and perform necessary alterations for size. Add mismatched buttons and lace to the jacket cuffs. Finally, create the hat from a unique fabric called buckram (adding wire for stability), cover it with brown and gold silk and complement it with black lace. Finish with specific makeup.
Mad Hatter Wig Tutorial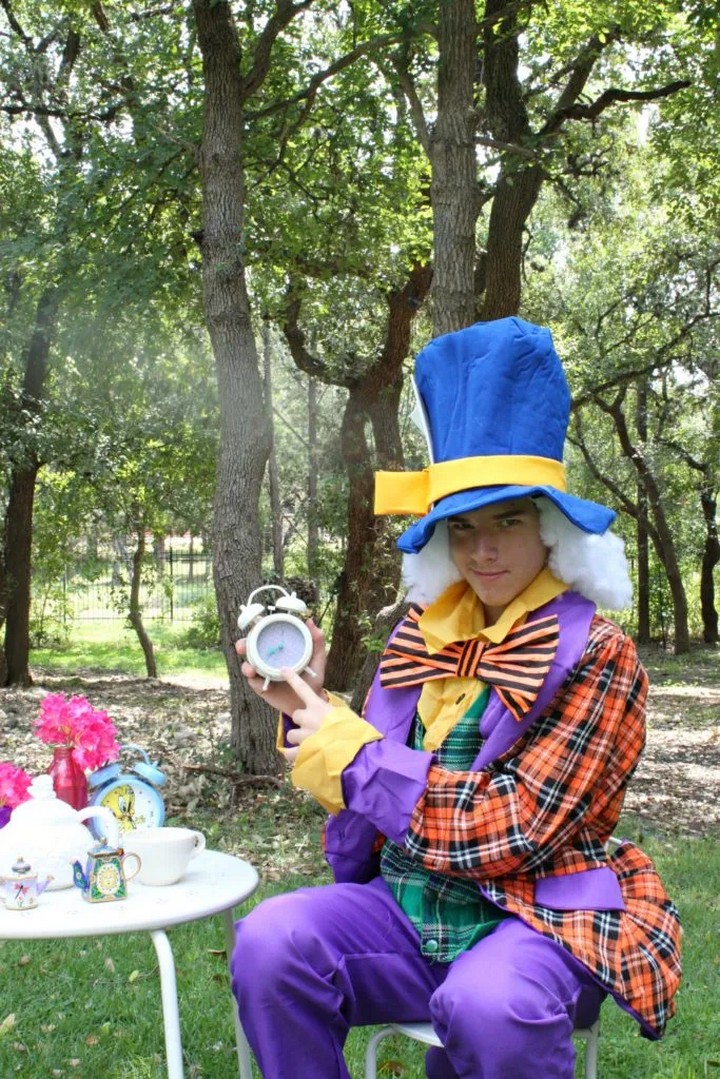 If you're into cosplay, the Mad Hatter costume suggested by this guide can be an enjoyable and engaging choice. This DIY costume idea guides you to create its signature wig using the simplest methods, minimal effort, and inexpensive tools!
Materials and Making:  Bring the costume to life by using Poly-Fil Royal Silk Fiber Fill, fold-over elastic, white Oly-Fun scraps, hot glue, and a Mad Hatter costume. Create a hair band by cutting a piece of elastic to fit your head. Glue tufts of Royal Silk onto the elastic, then add strips of white Oly-Fun. Glue additional Royal Silk for fullness. Once ready, wear it like a headband under your Mad Hatter hat.
How To Make A Mad Hatter Hat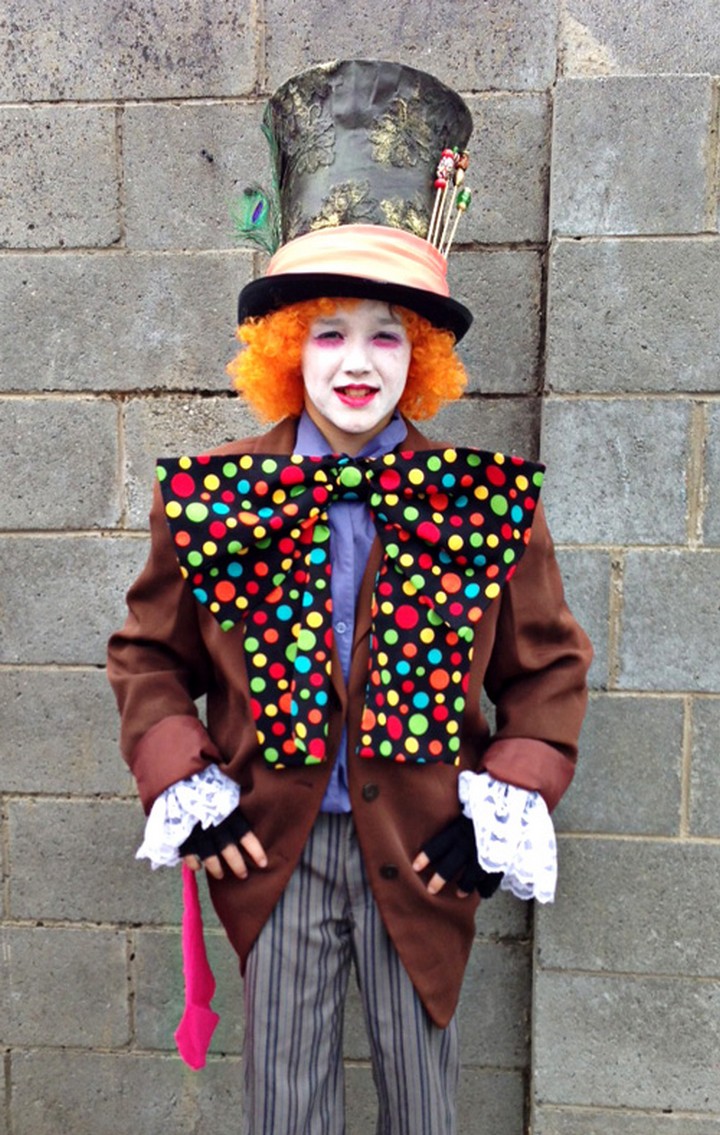 The signature Hatter Hat is the main feature of the Mad Hatter and can be expensive to purchase. Therefore, this DIY guide teaches you to construct a Hatter's cap by recycling trash. The costume is crafted with cardboard and includes complete details such as gold shimmer, peacock feathers, and bead embellishments.
Materials and Making:  Craft a base from a cheap black top hat and cardboard to create height and shape. Apply paper mache for crown shaping and secure it using a glue gun. Enhance the hat with glued lace, then paint it green and sponge over with mixed green & brown paint. Finish with a sponged gold highlight, water–based sealer, hat pins, peacock feathers, and a fabric wrap.
DIY Queen Of Hearts And Mad Hatter Costume
Have a look at this couple, the Queen of Hearts and the Mad Hatter, ready to display the strongest bond between them by wearing this set of exclusive looking costumes. These homemade costumes give you a chance to showcase your creativity while winning that costume contest!
Materials and Making: Begin by making a Queen of Hearts tulle skirt tied onto an elastic waistband and decorated with ribbons and foam hearts. The crown is made from cut-out sticky-back foam. The Mad Hatter's hat is crafted from poster board, duct tape, and fabric pieces, and adorned with gold-painted craft sticks. The clothing, borrowed from a thrift store, is embellished by glueing lace inside sleeves and trimming pant legs for funny socks.
Make Your Own Mad Hatter Hat And Costume
This guide provides a comprehensive method to channel the Mad Hatter and stand out at any costume party. The costume is made spooky with its ghostly makeup, big eyebrows, red wig, bandage, and ethereal cap. The perfect blend of spookiness, creativity, and festive allure.
Hat: Start with a poster board, cut and shape it into your hat. Cover your hat form with randomly cut fabric pieces, sticking them on with Mod Podge. Add black piping to the edge of your brim and the top of your hat with a glue gun.
Hat Accessories: Fold and cut a pink satin fabric into a sash, scrunch it up, and glue it to your hat. Create golden hat pins using wooden skewers and air-dry clay, then paint it gold.
Bow Tie: You'll need brightly coloured polka dot fabric, cut it into two 8-inch strips, connect them, and tie a simple bow around your neck.
Costume: Go to the local thrift store for a pink or white button-up shirt, a brown/grey/black suit jacket, pants/skirt, striped socks, and lace-up boots.
Wig and Eyebrows: Get a red wig (curly and about shoulder-length). Trim it a bit and glue strands from the wig to strips of red fabric to create the eyebrows, which stick to your face with eyelash glue.
DIY Easy Mad Hatter Costume
Fans of Alice in Wonderland will surely appreciate this DIY Mad Hatter costume. It recreates the iconic character's look using pieces sourced from various places. This perfectly assembled outfit is ready to turn heads at a never-ending tea party. Dive into fantasy with this charming costume!
Materials and Making: Reimagine the Mad Hatter using items from the Salvation Army and Goodwill. The hat, bought from eBay, is the only non-thrifted element in the costume. After styling your hair into braids and using orange hairspray for colour, apply makeup to recreate the look of the Tim Burton version. Complete your transformation with tooth wax to simulate the iconic gap in the Mad Hatter's teeth.
The Mad Hatter Costume
Designed with both allure and comfort in mind, the Mad Hatter costume is a perfect choice for your child this season. It cleverly fuses the festive appeal of the Alice in Wonderland character with the practicality of keeping warm. It is budget-friendly and can be customized!
Materials and Making: The creator created an impressive Mad Hatter costume using your mom's old 90's clothes! The hat was carefully crafted, combining cardboard for structure and fabric remnants to bring it to life. By simply repurposing your mom's clothes, you achieved a one-of-a-kind costume worthy of any Mad Hatter's tea party.
More Costume Collections