11 DIY Jason Costume Ideas To Look Like A Zombie
These DIY Jason costume ideas showoff your creativity and thrilling options for your next Halloween gathering. Don't miss the chance to scare the wits out of your friends, embodying one of the most iconic horror characters with your homemade costume!
Best DIY Jason Costume Ideas

You can replicate the exact look of Jason and turn your simple outfit into a creepy zombie-like character in no time with the simplest DIY Jason costume ideas given below:
Some of the basic attributes of a Jason costume are:
Hockey Mask:

 This is Jason's most recognizable feature. Depending on the movie's interpretation, the mask is typically white and can have red or black markings.

Machete: Jason's weapon of choice in the series. A fake plastic machete is often used as part of the costume.

Work Shirt:

 Jason typically wears a ragged, dark green or grey work shirt.

Work Pants:

 He usually wears equally worn and ragged work pants and a work shirt.

Boots:

 Black or brown work boots are typically worn.

Gloves:

 Depending on the interpretation, Jason may also wear black or brown gloves.

Blood Stains:

 To make the costume more realistic and aligned with Jason's character, many add fake blood stains on the clothes and the machete.
How To Dress Up As Jason Voorhees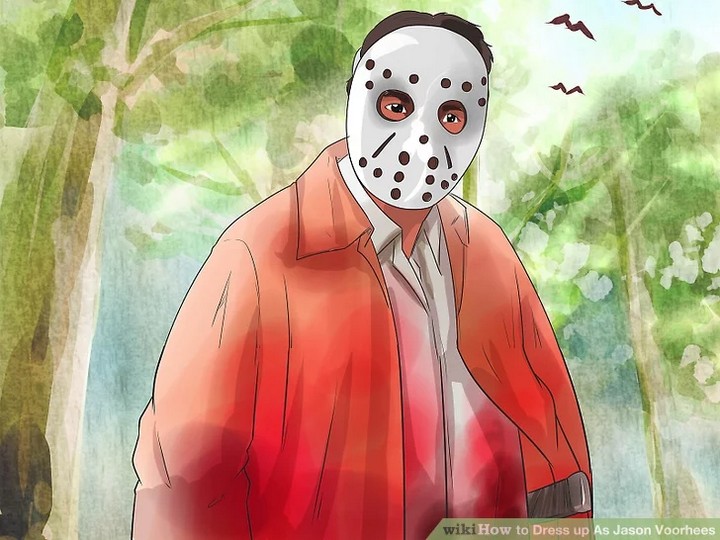 Following this amazing guide will be the best option if you want to replicate the look of a bad guy from the 13th film franchise. It consists of gathering the material first like:
Dark blue or grey jumpsuit
Pair of black boots
Slightly off-white hockey mask
Black and brown makeup
Fake machete
Making: To dress up as Jason Voorhees, you'll need a dark blue or grey jumpsuit, preferably oversized, for the right dishevelled look. Add a pair of black boots and a slightly off-white hockey mask smeared with black and brown makeup. Complete the look with a fake machete for authenticity.
Homemade Jason Voorhees Costume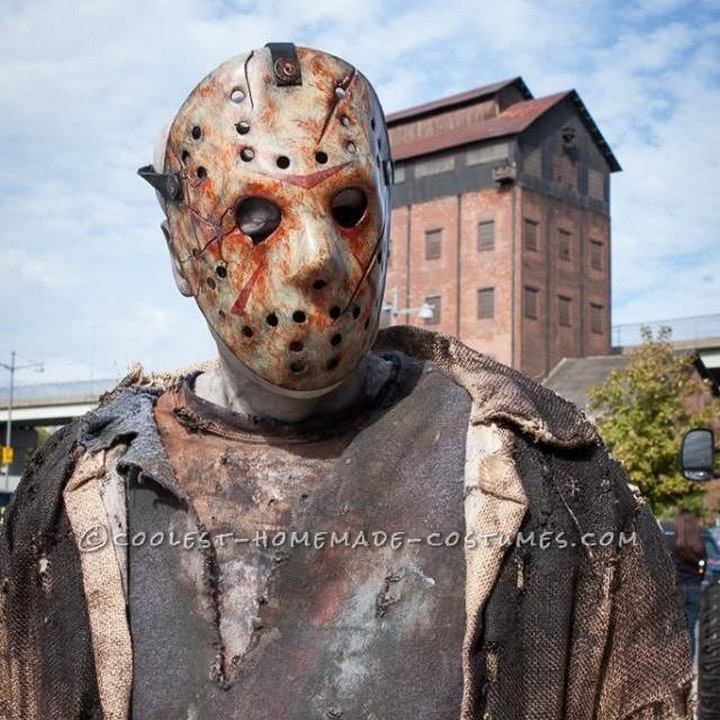 Let's make a super simple Jason costume for a Halloween party and other spooky events by getting inspiration from this guide. It will assist you in making fun, creepy additions to horror events.
Making And Materials: This amazing Jason costume needs materials like a blank hockey mask, latex hood, machete, burlap jacket, t-shirt, sweatshirt, sweatpants, gloves, boots, paint, and grinder. First, paint and ding up the hockey mask. Grind the machete to dull its edges. Distress the clothes with tools and dye them in "woodsy" colors to replicate wear.
Homemade Jason Voorhees Mask
Let's make this super fun Jason mask for yourself using the simplest supplies available around.
Like: 
A cheap plastic Halloween mask
Shipping tape
Craft foam
Masking tape
Roman PRO-543 universal wallpaper adhesive
Newspaper
Brown wrapping paper
X-acto knife
Scissors
Sharpie
Thin pasteboard
Tacky glue
Black spray paint
Off-white color spray paint
Various acrylic paints and brushes
You can follow the simplest process given in the below link it, just about gluing and some other stuff yo help you ending up in a decent mask for your hjason costume.
DIY Scary Movie Hockey Mask
This DIY Scary Movie Hockey Mask is a wonderful blend of creativity and craftsmanship, adding a unique, chilling element to any Halloween costume.
Making And Materials: To create a DIY Scary Movie Hockey Mask like on Michelle's Party Plan It, start by roughening a white hockey mask with sandpaper. Lightly brush on gold paint, rubbing it off for an aged appearance. Add layers of copper paint for texture and black paint around the holes for depth. Finally, apply red detailing and let it dry.
Jason Voorhees Costume
Try this superb Jason costume creation easily with the simpler wear available around. You can pair your old torn clothes with a spooky mask and an axe in hand to give the appearance that a real zombie came out to vanish from the earth.
Jason Voorhees Friday The 13th Costume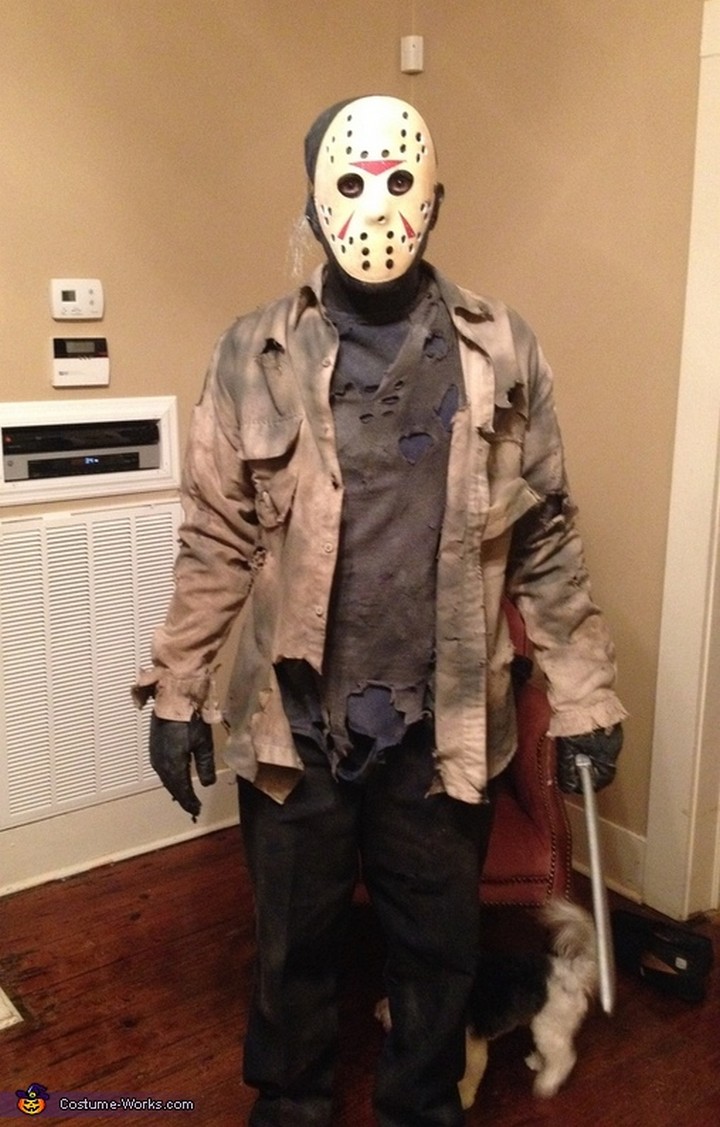 Let's make a Jason Voorhees costume on a budget. Using makeup essentials, liquid latex and some simple materials available around.
Makeup essentials
Liquid latex
Clothes from a thrift store
Boots
$1 white mask (or any affordable mask)
Dremel tool
Paint (Appropriate colors to mimic Jason's mask)
Sandpaper
Jason Voorhees From Freddy Vs Jason
Create an imposing and terrifying image, perfect for recreating Jason's portrayal in Freddy vs. Jason, by following the simplest instructions below.
Hockey mask
Black hood mask
Black special effects paint
Black t-shirt
Brown henley
Tan canvas jacket
Black gloves
Black pants
Black boots
Machete
It looks quite a horror, and the spookiness of this wear will surely make it best for the Halloween season.
DIY Jason Mask Friday The 13th Halloween Costume
The tutorial DIY Jason Mask Friday The 13th Halloween Costume walks you through the steps to create your own Jason Voorhees mask.
A blank hockey mask
Newspaper and masking tape
White, black, and red acrylic paint
Paint brushes
Clear sealer spray
Elastic band
Making the Mask
Start with a blank hockey mask. Using the newspaper and masking tape, define Jason's iconic vertical markings on the mask. Apply white acrylic paint all over the mask and let it dry properly. Once dry, remove the masking tape to reveal lines for the designs. Fill in the vertical markings with black paint, add red triangular designs, and emphasize corners with black for a worn look. After the paint has dried completely, seal it with clear sealer spray. If necessary, add an elastic band to the mask for a better fit. This process leads to a customized, cheap, and convincing Jason Voorhees mask.
How To Make A Jason Costume
Creating a homemade Jason Voorhees costume can be fun and creative, especially with Halloween or a costume party in sight. Here's a simple guide on how to create your DIY Jason Costume:
Hockey Mask
Blue Torn Shirt
Black Pants
Boots
Machete
Start by wearing black pants and a torn blue shirt. Ensure they look worn and distressed enough to mimic Jason's rugged look. Put on your boots. Place the hockey mask over your face. It can be enhanced with makeup for a more gruesome effect. Finally, carry your (toy) machete menacingly.
$25.00 Freddy vs Jason Costume
Here's a guide on how to create a Freddy vs Jason costume on a budget:
Materials Needed:
Hockey Mask
Torn Leather Jacket
Black Pants
Boots
Machete
Gloves
Start by wearing the black pants and step into your boots. Put on your torn leather jacket. The more distressed it looks, the better. Don't wear a hockey mask. For a more eerie effect, consider using some makeup to add dark circles around your eyes or color the area around the eye holes of the mask black. Finally, hold your fake machete menacingly to complete the look.
Budget Halloween Jason Voorhees Costume
Creating this budget-friendly Jason Voorhees costume for Halloween can be easy. All you need is a plain white hockey mask and a fake machete you can get from a dollar store. Pair these with old, worn-out clothes, preferably a work shirt and pants. Darken them with some dirt and tear the shirt from front and back to get the fake ribs out of it for a more realistic and creepy look.
More Costume Inspirations: