10 Harry Potter DIY Costume For Magic School Kids
If you love Harry Potter and want to see your kids dressed as their favorite characters, this collection of Harry Potter DIY Costume ideas is a must-have. You will learn how to use your creative skills and turn those simple black capes into a decent movie character from Hogwarts school.
Harry Potter DIY Costume Ideas

Our collection of harry potter dress-up clothes and accessories includes outfits from the movies and new items from the books, making it easy to create an amazing costume or awesome party cosplay look. If you're fond of having roleplay or your kids have to perform in some drama or tableau at school, you'll find an endless range of costume creation ideas here.
Best Harry Potter Costume Ideas
Ready to leave your everyday clothes behind for magical robes and spellbinding accessories? Step into our world full of the best DIY Harry Potter costume ideas. It's an exciting adventure diving into the core of Hogwarts. Whether you want to portray Harry's courage, Ron's light-heartedness, or Hermione's wisdom, we've got the perfect costume guide for you. Grab your wand and join us on this magical journey!
Unique Harry Potter Costumes
Are you looking for a great Harry Potter costume for your upcoming Halloween party? Or looking for something unique as a gift for your favorite Harry Potter fan? You've come to the right place. We have every type of costume, including popular characters like Harry, Hermione, and Ron! These Harry Potter costumes will be your pick for a Halloween party if you're going for a simple and fun outfit that everyone can relate to. Instead of going all out with show-stopping outfits, try something as simple as a robe or wizard by getting inspiration from this set, and you'll find that people are more impressed with your creativity and praise your wearables.
Harry Potter Family Costume For Boy And Girl
Harry Potter costumes are perfect for family Halloween gatherings because they are almost every kid's favorite. Whether you want to dress as Harry's younger years in primary school and beyond or want to sprinkle some magic in the air, this amazing costume idea will help you bring smiles and laughs from everyone!
Our Family's Diy Harry Potter Costume
The Harry Potter family costume is perfect for your little witches and wizards. From the broom flying in a circle over your head to the glasses, you can make these DIY Harry Potter costumes for Halloween a family affair. They're fun and clever, so we're sure you'll love them as much as we do! It makes an easy DIY Halloween costume for the whole family that can make with a few simple pieces from around the house.
DIY Harry Potter Costume
This DIY Harry Potter costume is perfect for a group costume or if you love Harry Potter. You can use items from your wardrobe that already match the style of character you want to be and then layer on accessories that get closer to the look of the character. It's a great idea if you prefer to avoid dressing up as someone else in a full costume theme or if you need more time to get ready for Halloween.
How To Make A DIY Harry Potter Costume
This Harry Potter Costume will make you the envy of every Hogwarts student. It looks quite realistic compared to the other DIY costumes available online, so if you're a die heart fan of the famous harry potter series, you must try it. Follow these easy steps to create your DIY Harry Potter Costume this Halloween!
Harry Potter Quidditch Robes Halloween Costume
Your little one will be the star of the party in this Harry Potter costume inspired by the movie character. If you want to look great at your next Halloween party, this will surely be the best option; it's perfect for any young wizard lover in your family this holiday.
Harry Potter Costume Idea
If you want to add a Harry Potter theme to your Halloween party this year this amazing costume will surely be a great choice! It is so fun and simple to create all of the supplies needed are simple, inexpensive, and easy to find. So why wait to get the supplies in hand and bang?
Harry Potter-Inspired Costume
This Harry Potter-inspired costume combines a little DIY inspiration, some thrift store hunting, and one fabulous find. You'll love this DIY costume because it was easy and quick to assemble but looks expensive and professional! It's generally not a costume creation project but a decent wearable setting that you can follow to look like a character of the harry potter series.
DIY Harry Potter Costume House Robe Pattern
Are you a Gryffindor, Hufflepuff, Ravenclaw, or Slytherin this amazing costume creation idea will always suit you best. This Harry Potter-inspired robe pattern is the perfect addition to your already-made costume. With this pattern, you can make your DIY Harry Potter Costumes and be ready for a fancy dress party or a fun party night. Make it for someone special and create memories that will last forever.
Harry Potter Costumes With A Diy Dobby Costume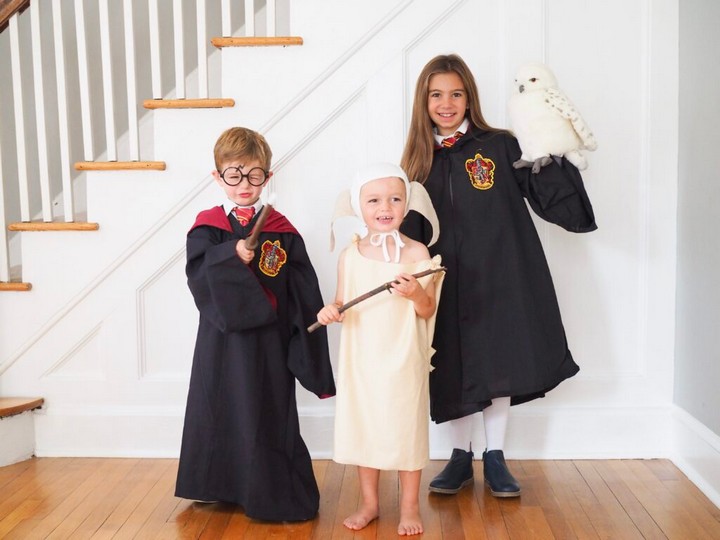 So if you are a fan of the wizardry world and have been looking for a Harry Potter costume idea this one is sure to please. Let's look at all the details of this lovely Harry Potter diy costume and some suggestions on how to get that perfect look. With just a little creativity and imagination, you can create a homemade Harry Potter costume that can impress anyone!
DIY Harry Potter Halloween Costume
Are you a die-heart fan of the movie Harry Potter and have been wondering how to try out the costume in real life? If so, this project will be your most suitable option. This costume is going to be great as it will help you incorporate your creativity while making this homemade harry potter cosplay perfect. If you want to go all out with your DIY harry potter costumes, this guide will surely help you.
More Costume Ideas:
DIY Fairy Costume Ideas: You will find easy diy costume ideas to make your own DIY fairy costume with your loved ones in many ways, like how to make a tutu fairy costume, how to make blue fairy wings, and so on. They are all cute, sweet, and adorable accessories for the lovely ladies.
DIY Thor Costume Ideas: Transform yourself into your favorite superhero with our DIY Thor costume ideas. We've rounded up five DIY Thor costume ideas, so whether you have a few dollars or just time and imagination. You're guaranteed to find a homemade costume that fits your needs.
DIY Animal Costume For Kids: Creating costumes for your little one doesn't have to be complicated or costly. With some creativity and crafty skills, you can turn some ordinary items around the house into adorable DIY animal costume ideas for your favorite little ones.