15 Jellyfish Drawing Ideas For Sea Lovers
Jellyfish drawing ideas are the most creative and impressive option to show off your artistic skills. Whether you're a fan of spongy sea organisms (i.e., jellyfish), following this list has a ton of amazing inspirational ideas to explore. Work with the simple inspirational guides below, and you'll surely have a decent masterpiece for your home decor and sketchbook.
Jellyfish Drawing Ideas

From simple outlines to detailed illustrations, jellyfish drawings offer many possibilities for exploration and expression, all while keeping the realistic feature in mind and making the drawing tutorial easier for any level artist to follow.
You could start by sketching a basic jellyfish with smooth, floating tentacles or opt for a more experienced design with a complex pattern on the cap. Draw a glowing jellyfish or a deep-sea giant with gentle, flowing lines. Consider incorporating other elements, such as coloring your drawing with vivid hues or adding other sea creatures to create a full underwater scene.
How to draw Cartoon Jellyfish
Uses:
Drawing a cartoon jellyfish can be an enjoyable way to spark creativity. Because it's so simple, it's a great choice for new artists to hone their skills. Plus, it can make a kid's art project more colorful, decorate a card, or even be a fun little doodle for anyone.
Drawing:
This is a basic guide to help draw a cartoon jellyfish. You start with simple shapes and lines, then slowly add more details. This makes the jellyfish look alive. This easy method makes drawing fun, not scary, and lets you be creative.
How to Draw a Cute Jellyfish Step by Step
Uses:
Drawing a cute jellyfish can be an enjoyable activity for children to enhance their creative and art skills. It can also be a relaxing task for everyone, making beautiful art that can be used for decorating or gifting.
Drawing:
This is an easy lesson on how to draw a cute jellyfish, especially made for kids. This straightforward guide makes it fun and possible for young artists to draw an adorable jellyfish, which is great to show to family and friends.
How To Draw A Jellyfish
Uses:
Learning to draw a jellyfish has many fun and learning advantages. Besides getting better at drawing, it can be used to make a child's room pretty, as part of a school project, or as a pleasant activity to spend time and bring out your creativity.
Drawing:
With a guide, drawing a jellyfish can be easy. You start with a pencil on paper and slowly build your drawing step by step. This makes the process effortless and natural, ending with a beautiful sea creature artwork.
Artist supplies:
Pen – Faber Castell Pitt Artist Brush-tip Pen
Acid-free paper – Hahnemuhle Sketch
Pencil – Derwent Graphic 3B Pencil
Eraser – Derwent Art Eraser
How to draw Jellyfish step by step
Uses:
Creating a charming picture of a jellyfish is a joyful way for kids to improve their art abilities. They can use this in handmade greeting cards, beautiful home decorations, decorations for their personal diaries, or as a route to learn about the fantastic world under the sea through their creativity.
Drawing:
Using a straightforward guide makes drawing an attractive jellyfish very simple! Using a pencil to change basic lines into a sketch of an adorable jellyfish turns into an exciting activity. It gives a feeling of success and sparks a strong love for art.
How To Draw A Realistic Jellyfish
Uses:
Realistic jellyfish drawing allows everyone to hone their artistic abilities. It is also a great way to create original art for home decoration or to give as a unique gift.
Drawing:
This technique is a tad advanced but enjoyable for all! Follow a fun tutorial to draw a realistic jellyfish. It's an appealing and rewarding process. The tools needed are simple – a sharpie, paper, markers for coloring, and colored pencils.
Materials:
Sharpie (or something to draw with)
Paper (we use marker paper)
Markers to color with
Colored pencils
How to Draw a Jellyfish
Uses:
This adorable jellyfish drawing can add a cheerful element to your spaces. It can be used as unique wall art or make your homemade greeting cards stand out. It's also a perfect project for kids to develop their creativity, helping them understand the world of aquatic life.
Drawing:
Picture a smooth, jelly-like body and long trailing lines for tentacles. Don'tRemember, your jellyfish can be as colorful as you'd like. This imagery can guide you in creating a delightful and mesmerizing jellyfish drawing without stinging cells.
Materials
Pencil
Paper
Eraser
Coloring supplies
How to Draw A Cartoon Jellyfish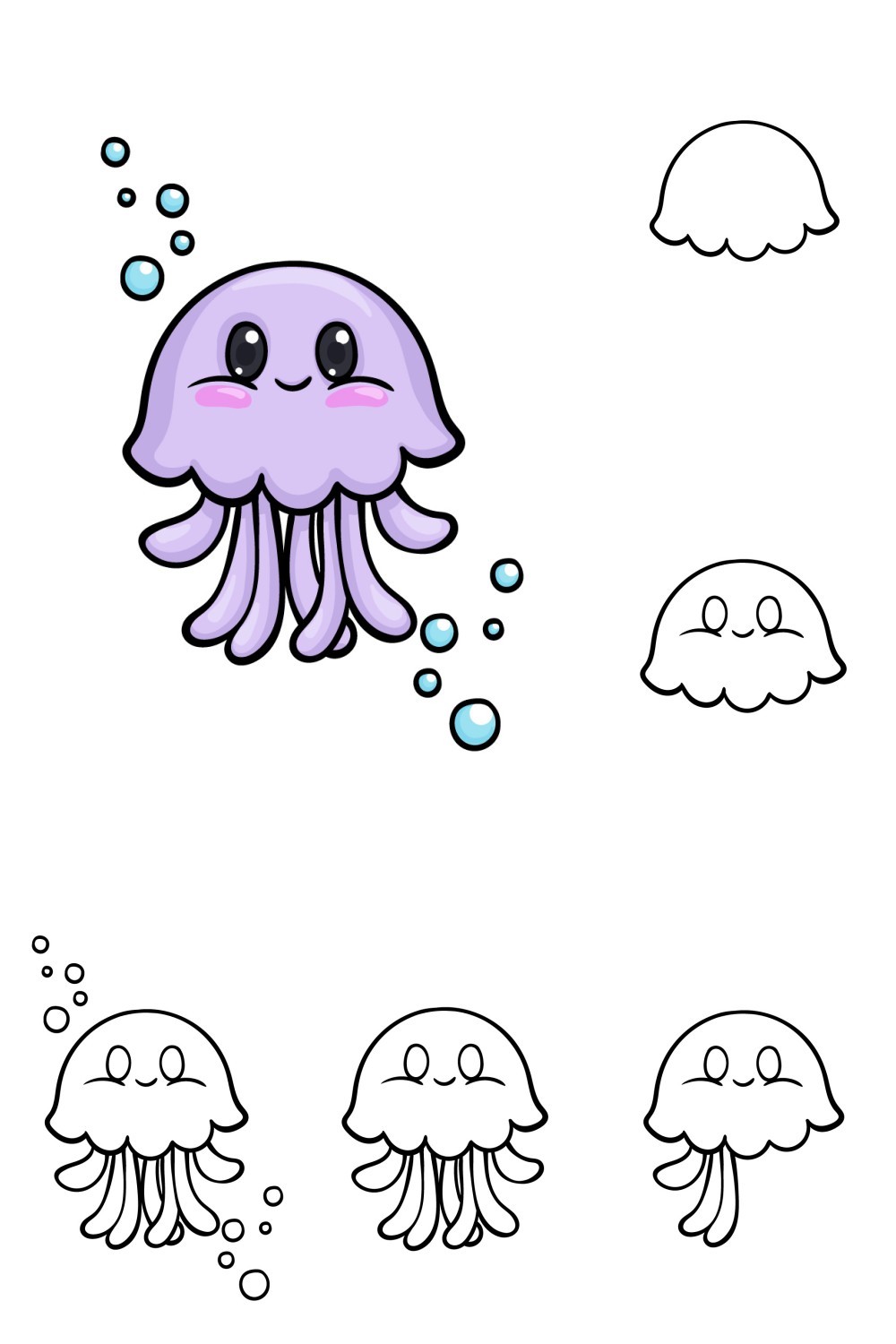 Uses:
Your delightful cartoon jellyfish drawing can be a charming addition to your doodle collection. Its warm presence can lighten up your room when it's used as a fun wall decoration. Also, kids find it amusing, sparking their interest in aquatic creatures.
Drawing:
With just seven steps, you can design a lovable cartoon jellyfish. Remember to paint your jellyfish in inviting hues, like purple, to make it even more appealing. You'll be amazed by how your jellyfish doodle brings cheer to your surroundings.
Materials
Pencil
Paper
Eraser
Coloring supplies
How to Draw a Jellyfish In Colors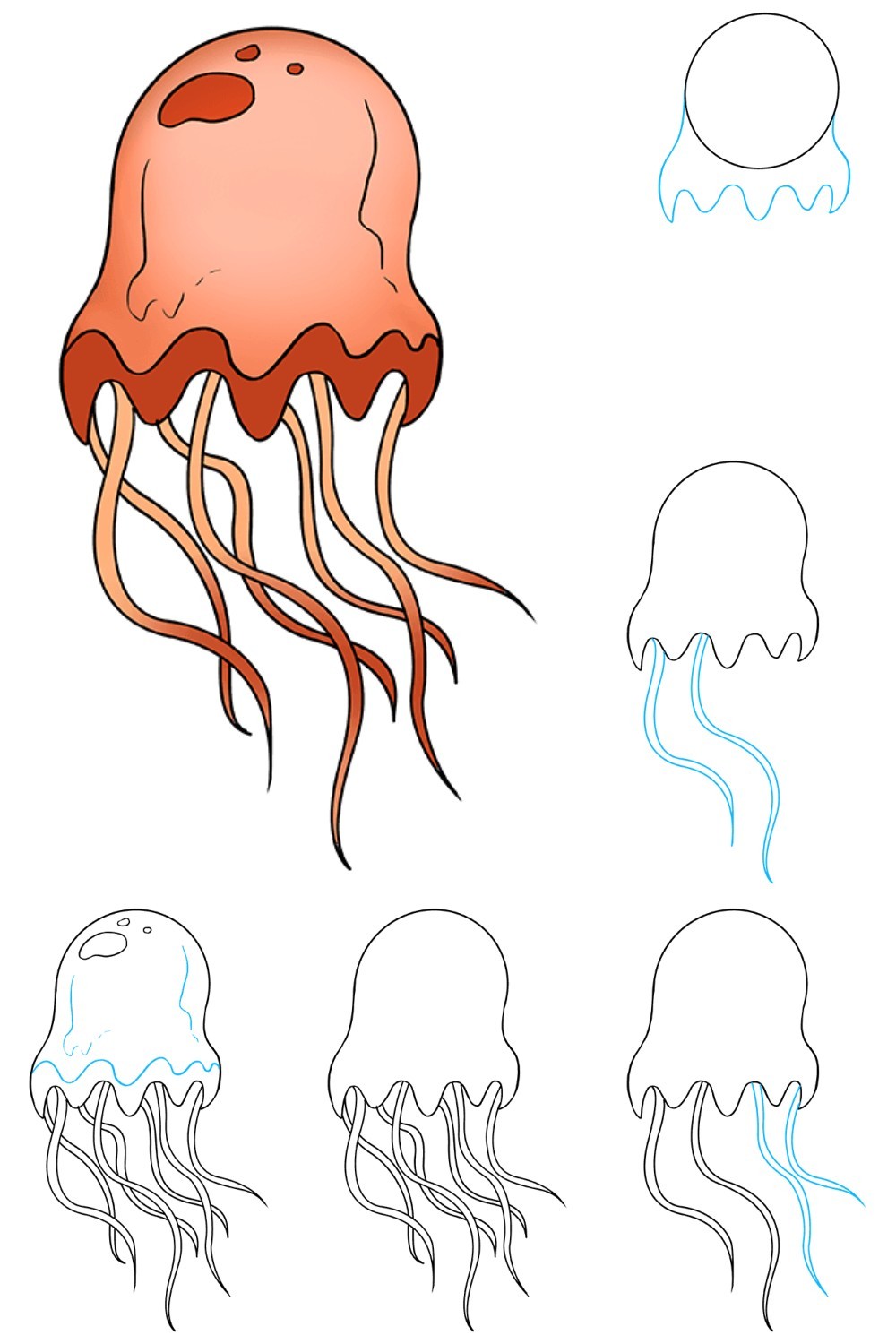 Uses:
Creating a jellyfish drawing can be a fun way to test your artistic skills, and the resulting art piece can serve as a charming decor item or a personalized gift.
Drawing:
To draw a great jellyfish, draw its body with a circle. Change this circle into a wave-like ghost shape – this is the jellyfish's body. Then, add many stinging tentacles with wavy lines. Make them different lengths and point in different directions for a more real effect. Finish your drawing with spots on the top and lines down the body for texture. Finally, color your jellyfish using sea colors to look like it's from the vibrant underwater world.
Materials
Pencil
Paper
Eraser
Coloring supplies
How to Draw a Cute Jellyfish
Uses:
Sketching can be so enjoyable! Creating a jellyfish drawing helps improve your artistic skills and makes things like journals or greeting cards more delightful. It can also be a fun activity to do with kids, encouraging their imagination and patience. When displayed in a frame, it becomes a lovely, handmade decoration.
Drawing:
Isn't creating a drawing of something as unique as a jellyfish exciting? Its basic structure, shimmering like a sea umbrella, is basic but interesting. Start with a bun-like shape and add basic features to the face. The sides should look like swaying tentacles, drawn as 'U' shapes at the bottom. Add some long, curling lines that stay an equal distance apart, bending and joining at the end to give a sense of graceful movement. Don't forget to add some spots to make it look more real. Lastly, bring your jellyfish to life by coloring it in colors that you like.
Materials
Pencil
Paper
Eraser
Coloring supplies
How to Draw a Jellyfish In Simple Steps
Uses:
Drawing a jellyfish creates a fun and unique piece of art. This cheerful sea creature can brighten up any space and showcase your creativity. Use it as a beautiful decoration, a gift to someone special, or a way to relax and practice mindfulness.
Drawing:
In just 50 minutes, you can quickly draw a charming jellyfish by following these simple steps. Start with a curved line for the head and a wavy line for the body. Add three long and wavy tentacles that flow from the body. Draw more tentacles around the first ones to make it look full and lively. Finish by erasing any extra lines, then color your masterpiece using soft shades of purple to create light and shadow.
Draw a Jellyfish
Uses:
Drawing a jellyfish can be an engaging activity to unlock your creative side while fostering relaxation. It's not just about creating an appealing piece but also experiencing the therapeutic benefits that art can bring. This simple, excellent activity can be a tool for personal expression or a unique homemade gift for loved ones.
Drawing:
Gather your essentials—a pencil, paper, eraser, and coloring supplies. This pleasant journey to create a jellyfish sketch begins by withdrawing an arc for the upper body and a wavy line for the lower body. It wouldn't be a jellyfish without magical tentacles, so make them with curved lines from the body, remembering to add more on the sides for a whole appearance. To breathe life into your creation, sketch eyes as matching ovals and a simple curved line for the mouth. For the grand finale, color your jellyfish light pink or purple for an enchanting final touch. In just about 20 minutes, your admirably simple and soothing jellyfish drawing will be ready to admire!
Materials
Pencil
Paper
Eraser
Coloring supplies
How to Draw a Jellyfish for Kindergarten
Uses:
Creating a jellyfish drawing provides a fun, simple activity for kindergarten kids. It helps kids learn basic drawing shapes, improves coordination, and feeds their imagination as they perceive marine life. This jellyfish could be a star in an adorable underwater scene with corals and other sea creatures.
Drawing:
Start drawing a round body for your jellyfish. Sketch a few central and side tentacles; remember, they don't need to be straight or perfect. Then, fill your drawing with soft, light colors because the jellyfish is mostly water. Create an underwater masterpiece, or draw different jellyfish types using these steps.
Materials
Pencil
Paper
Eraser
Coloring supplies
How to Draw a Jellyfish With Legs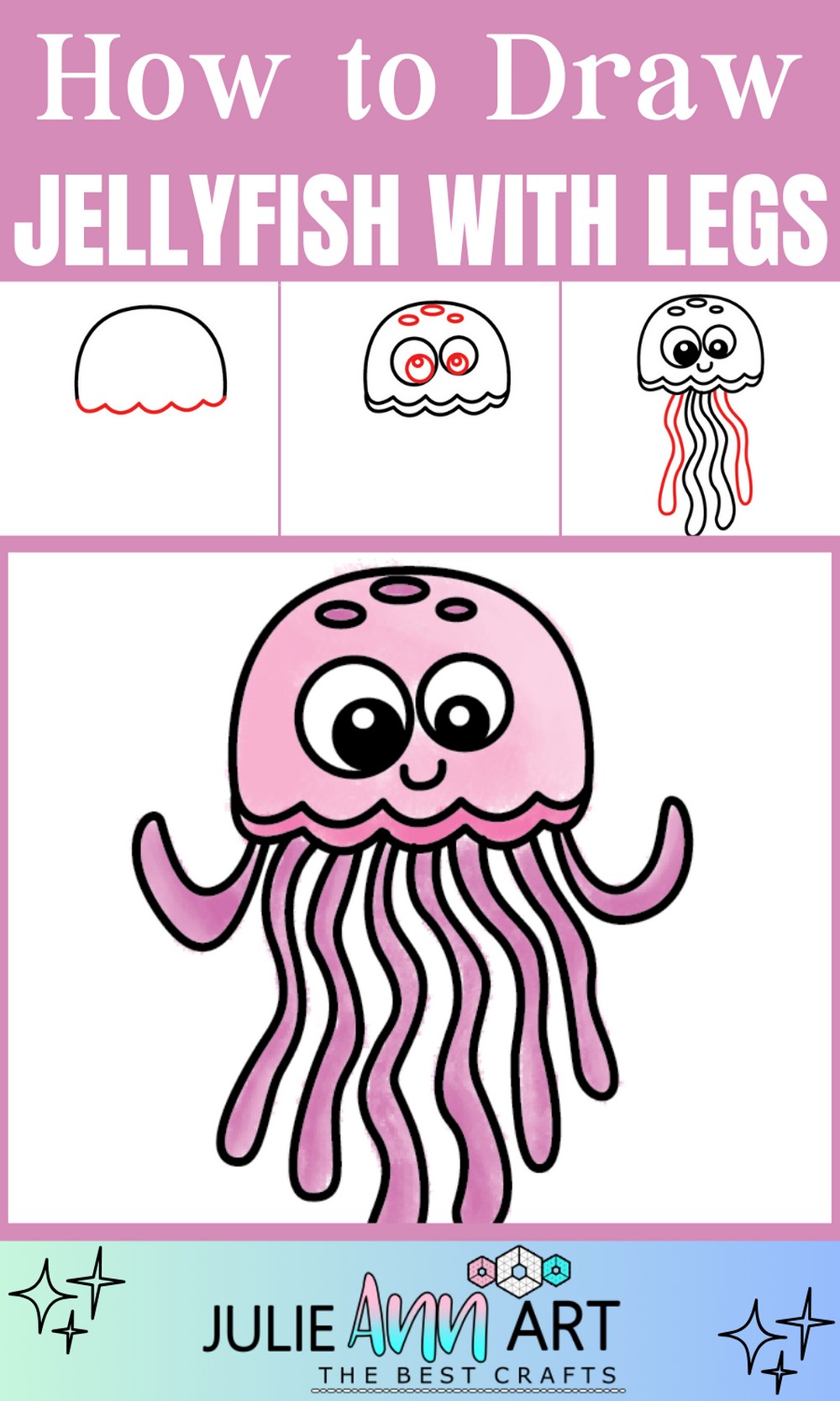 Uses:
This delightful jellyfish drawing is not only a fun activity, it's a gateway to show off your creativity, improving fine motor skills, and nurturing a passion for the fascinating world of ocean life. It can brighten classrooms, decorate a kid's room, or even be part of a unique homemade card!
Drawing:
Learning to draw a cute, cartoon-esque jellyfish is as easy as pie! Begin with an upside-down wide 'U' for the head, adding gentle waves at the edges for added effect. Draw two circles for the eyes, containing smaller rings inside for a lively expression. For the fun part, it's time to add tentacles. Let your imagination soar here and draw as many tendrils as your heart desires. Once satisfied, bring the drawing to life with your favorite colors. Voila! You have your own charming little sea friend!
Materials
Pencil
Paper
Eraser
Coloring supplies
How to Draw a Jellyfish for Kids
Uses:
Teaching kids to draw a jellyfish can be a fun art exercise, making learning a joyful experience. It will enhance creativity in little ones but can also prove beneficial in creating unique school projects, cute decorations, or a unique personal creation in a drawing book.
Drawing:
Kids can quickly draw a jellyfish by following some simple steps. Starting with a basic circle for the head, drawing out legs, adding cute eyes and a mouth, and finally, coloring the charming creature to bring the jellyfish to life. The final colored piece is proof of a child's budding artistic achievement!
Materials
Pencil
Paper
Eraser
Coloring supplies
Jellyfish Drawing Tutorial
Uses:
Drawing a jellyfish is a fun way for anyone to show their skills. It can make school projects lively, add color to handmade cards, or be a happy decoration on walls, making people curious about the ocean's beauty.
Drawing:
With an easy 6-step guide, anyone can draw a bright, colored jellyfish. It's a fun process that starts with simple shapes and lines and slowly turns into an amazing, colorful piece of art, making people excited and proud of their work.
Materials
Pencil
Paper
Eraser
Coloring supplies
More Drawing Ideas:
Simple Butterfly Drawing Ideas: Butterflies are surely one of the simple bugs on earth, and kids to show their vibrant wings! You often spot these wonderful creatures flying around flowers in gardens or during park visits.
Bug Drawing Ideas: Kids will surely enjoy trying to draw bugs! They're small and adorable, and their design makes them very engaging.
Kangaroo Drawing Ideas:  Kangaroos are popular among kids because of their bouncy legs, cute pouch, and long tails. That's why we created an awesome list of kangaroo drawing ideas to help kids bring their favorite animals to life.