29 Easy Monkey Drawing Ideas – How To Draw Monkey
Ready to create your jungle journey on paper? Drawing monkeys will be a great part of it; it's a fun and approachable way to get creative. Whether you're a beginner or have more art experience, trying out monkey sketches can add a playful vibe to your art pieces. If you're stuck for ideas, we've got you covered.
Monkey Drawing Ideas
From lively jumps to relaxed poses or even a friendly grin, there's no limit to what you can do with a simple pencil and paper – or you prefer digital art. So, let's have fun drawing monkeys together!
Prepare yourself for an art adventure like no other! Scroll through our gallery filled with fun monkey sketching suggestions featuring a lively assortment of primates. You'll explore the charm of chimpanzees, the allure of bonobos, the intensity of orangutans, the majesty of gorillas, the character of baboons, and the quirkiness of lemurs in this list of monkey drawing ideas.
These wonderful creatures inspire your pencil (or stylus) to dance across your canvas. And it will be your best chance to craft your unique masterpieces, bringing your personal touch to each drawing.
Basic Monkey Drawing For Kids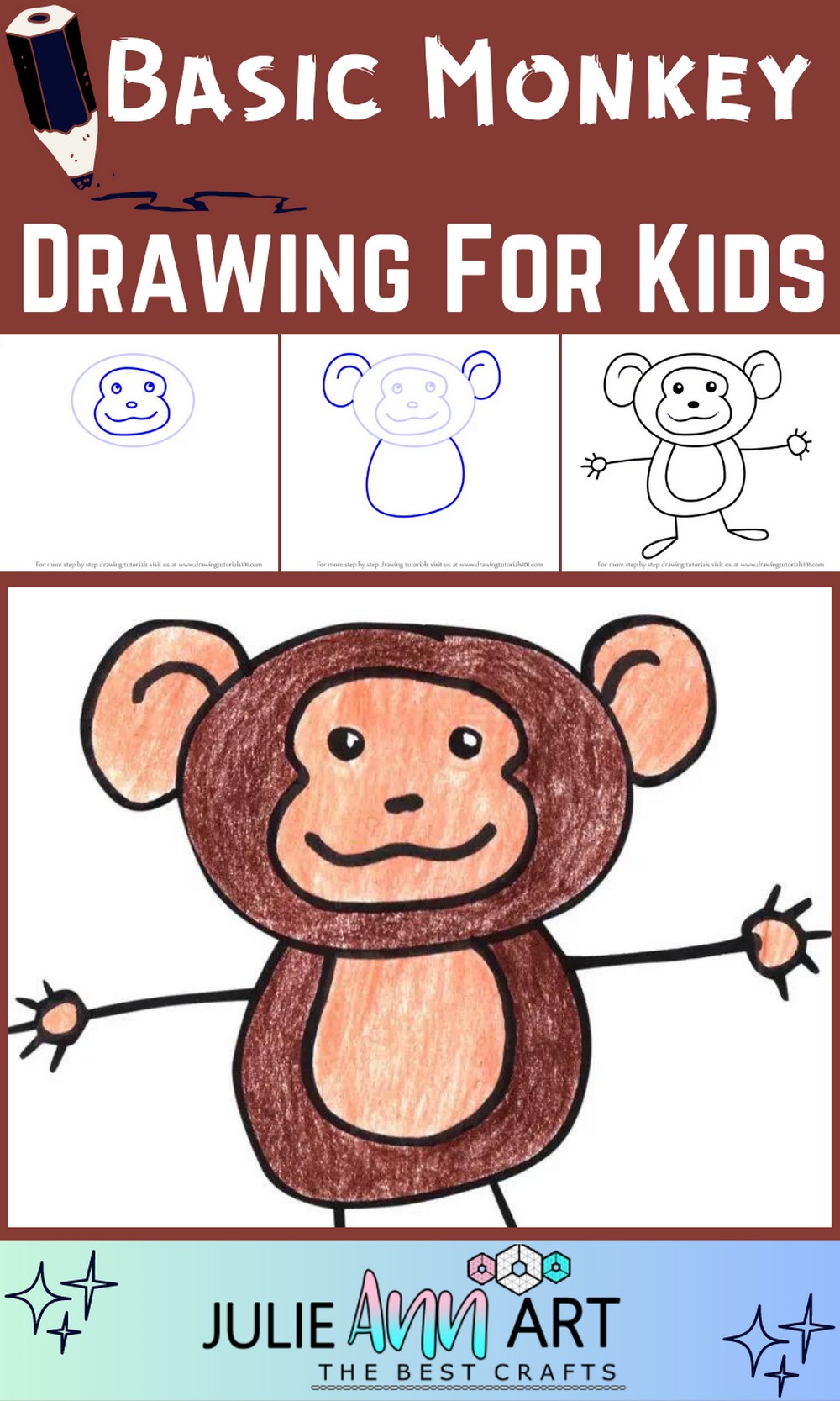 Let the little ones be creative and have fun with this easy-to-use basic monkey drawing for kids. It shows how to draw a simple stick figure but with a twist! The body is colored with brown fur, while the head gets a shiny face and eyes.
Draw a Monkey from "33"
This drawing lesson will show you how to draw a simple monkey from "33". In the first step, we will sketch some basic lines and create a guide. Next, we will make the body of our monkey and add some details. It will be the simplest drawing tutorial you tried, and I hope you'll love it.
Waving Monkey Drawing
With the Waving Monkey Drawing, you can follow this easier drawing guide to draw a beautiful monkey waving at you. This drawing will be great for any occasion, such as greeting cards. It will be great for waving and having fun; it's so great that you can learn to draw so fast.
Basic Monkey Drawing
Learn how to draw a monkey following this easier tutorial. In this tutorial, you'll learn how to draw a monkey in many poses and perspectives. You will learn how and why we do things with this method! In the end, you may want to practice some more and even try other monkey drawings that are slightly more challenging.
Chimpanzee Drawing
This chimpanzee's drawing is done with charcoal and colored pencil; the artist didn't use digital tools. This artwork is ideal for modern interior design as it can also be used as wall decor. The chimpanzee sketch has a dramatic look makes it stand out from the other drawings. It will be a perfect backdrop for your next design project and can be used to create various illustration styles, from cartoon to retro, vintage, or just fun.
Orangutan Drawing Idea
For anyone interested in drawing an orangutan in their spare time this beautiful drawing guide will help you create a truly unique piece of art. A monkey and an ape are quite different. Monkeys tend to be smaller than apes, but with the right techniques, you can use this book to draw an orangutan that looks realistic and adorable at the same time.
Gorilla Drawing Idea
Gorillas are one of the most famous wild types of apes found nowadays. It's one of the most trending monkey species because they have been filmed in many blockbusters; if you or your kid wanna draw them, follow this amazing guide.
Baboon Drawing
This baboon drawing idea is here to terrify all predators. It is here to be your best friend and make you laugh at the same time. No matter how serious you are, this baboon will make you laugh with its humorous expression, so get the paper and pencil in hand and make loveable additions to your sketchbook.
Monkey With A Banana Drawing
This drawing is perfect for anyone who loves monkeys. This monkey, in particular, is adorable, and how it delicately clutches the banana in its hand shows cuteness differently. There's something about this drawing that captivates people and makes them want to feel close to the monkey. This work shows an adorable animal with a simple smile eating an object that gives him pleasure.
Chubby Monkey Drawing
If you have a child that wants to draw like How To Draw For Kids, this chubby monkey drawing is a great place to start. It's easy to learn with simple step-by-step instructions and beginner tips. You can create many happy monkey drawings like this one in just a few hours!
Hanging Monkey Drawing
Monkeys aren't just for climbing trees and scaring humans. Some are skilled weight lifters who can show off their strength by doing one-arm pull-ups. This monkey is showing off its skill in doing one-arm pull-ups. It even holds a banana for additional weight. What an impressive monkey.
How to Draw Curious George
Kawaii monkeys are joyful and cute. In this tutorial, you will learn to draw a kawaii monkey. This is a very simple drawing; drawing skills can be strong and have special knowledge. With the right safety supplies, kids can confidently draw this adorable monkey at home and become more comfortable in their artistic skills."
How to Draw Abu Drawing
This easy-to-follow tutorial teaches you how to draw Abu for Aladdin. This mini monkey is a constant companion to Aladdin in the animated Disney series and tells great jokes from time to time. Watch these simple instructions of all the best drawing tips/ techniques and tricks perfect for anyone who wishes to learn how to draw.
How to Draw Rafiki
Rafiki is one of the most popular and memorable cartoon characters in Disney. To draw Rafiki, follow our step-by-step tutorial to show you how to draw him like a professional. The tutorial will cover all the shapes, lines, and shading you need to create this character from scratch.
How to Draw Donkey Kong
Watch and learn how to draw Donkey Kong from Cartooning Club How to Draw. They start by sketching this character's facial features. Follow along as they add more detail to the fur and bring out the animalistic characteristics in Donkey Kong's face. This amazing drawing tutorial will be great to learn how to draw in a fun and easy drawing for your sketchbook.
How to Draw King Kong
King Kong is one of the most popular movie monsters ever, thanks to his imposing physical stature and ability to crush buildings. This tutorial will teach you to draw everything you need to know about this great ape, from his fur and facial features to his trademark roar.
How to Draw a Capuchin
Drawing a capuchin can be considered one of the most difficult activities. The first step is drawing a detailed base drawing of the capuchin. It should look as real as possible. Draw this as simple as possible to avoid getting overwhelmed. The second step is to draw individual strands of hair, making the drawing more realistic and easier to draw.
Complex Monkey Drawing
Here's a tutorial from Envato Tuts that will walk you through how to draw a complex monkey. The author, David Leach, has done an excellent job describing the techniques for creating this artwork. It also provides links to other tutorials on other animals and drawings with similar styles. The guide includes several diagrams, tips, and images of finished drawings.
How To Draw A Monkey In Cartoon Style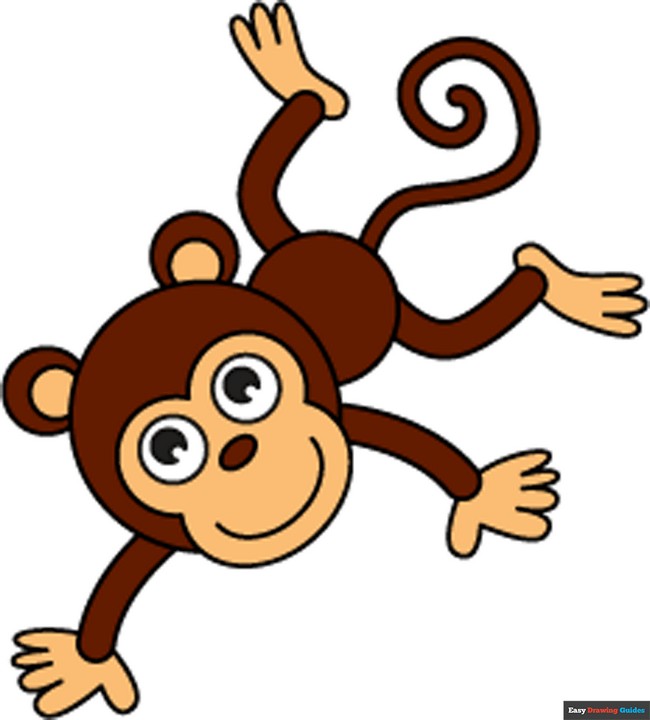 This simple tutorial will have you drawing a perfect monkey in no time! This tutorial teaches you how to draw a great-looking monkey in simple steps. Learn shading techniques, line styles, and fill-in techniques that will help you draw everything from cute monkeys to big scary ones!
How To Draw A Cute Monkey
This amazing tutorial will show you how to draw a cute monkey step by step. This particular tutorial is for children and more beginners. If you are an expert artist and you can follow this tutorial, This friendly little animal is full of character, and we're sure you'll have fun creating your unique creation with this drawing.
Easy How To Draw A Monkey
In this step-by-step tutorial, we'll show you how to use shapes to help with drawing limbs and adding hair to your monkey. We'll also show you how to add facial features like eyes, nose, and mouth to make your drawing come alive! Once you're done with this tutorial, why not practice your newfound skills by trying them out and having fun?
How To Draw A Cute Monkey
This cute drawing lesson will show you how to create the perfect Cute Monkey. Complete with easier instructions and a guide for finishing your drawing; this is a great tutorial for beginners who want to learn how to draw anime monkeys. You can make this cute little monkey and keep it as a reminder of your drawing skills.
How To Draw A Monkey Face
This super fun and easy tutorial will teach you how to draw a Monkey Face in 5 simple steps. This Monkey Face drawing is just the right amount of challenging, fun, and educational. Keep the challenge up by asking them to redraw it if they don't like the result. It's a great way to get kids to draw with confidence, creativity, and joy.
How To Draw A Baby Monkey
This amazing tutorial will show you how to draw a baby monkey drawing guide will be great for making loveable additions to your animal collection. This guide will be great for making baby monkeys with little detail and easy-to-follow instructions for fun. This dancing, smiling baby monkey will look great in any drawing collection.
How To Draw A Monkey Step-By-Step Drawing Guide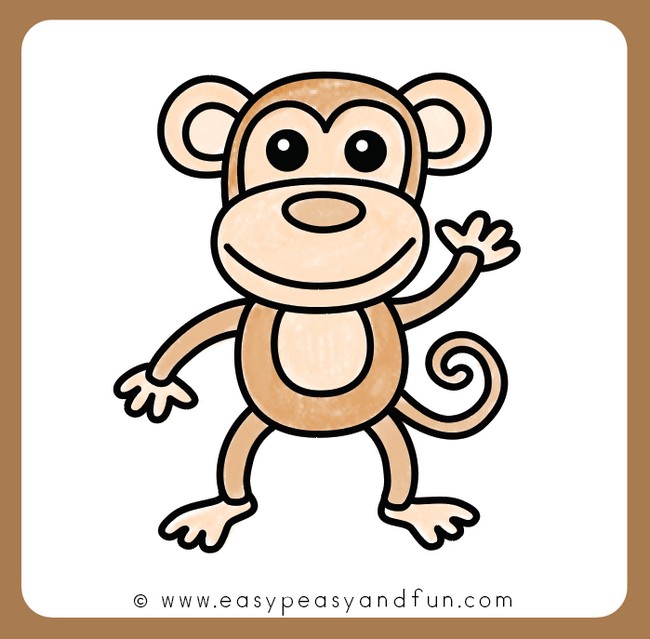 Learn how to draw a cute monkey with this simple drawing tutorial. You will learn how to draw this cute little monkey using the easy steps illustrated in our drawing guide. This is a simple and amazing tutorial on drawing a cute baby monkey that you can follow at home.
Cute How To Draw A Monkey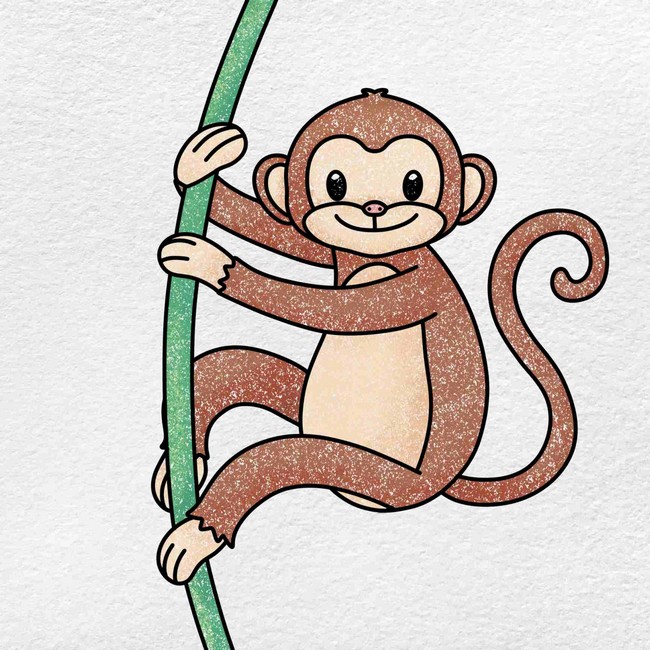 In this unique how-to guide, we'll take 9 easy steps to draw an easy monkey. Learn how to sketch the basic monkey shape on paper, and then fill in your drawing with color using simple shading techniques. The steps are easy for children of all ages, and the outcome is truly rewarding.
How To Draw An Easy Monkey
This amazing and easy monkey drawing guide will surely be great to be a part of your home decor, it will surely be great for your home decor. You can easily learn to draw this amazing cartoon monkey in 5 minutes or less and I hope you'll love it.
How To Draw An Cute Monkey
This is a drawing tutorial that will show you how to draw a really cute Monkey. This simple drawing tutorial will teach kids how to draw a chimpanzee or monkey in six steps. The simple monkey drawing lesson is suitable for beginners of all skill levels!
How To Draw A Hanging Cartoon Monkey With Banana In Hand
Learn how to draw a hanging cartoon monkey with a banana in hand in this easy video tutorial; it will be great easy, fun, and great for children. We'll show you some great tips on drawing a monkey by creating the outlines and adding in some detail.
Penguin Drawing Ideas: Our simple and unique Penguin Drawing Ideas will be the best, easier, and unique option to be creative and enjoy some admirable additions to your sketchbook and drawing collection.
Easy Bug Drawing Ideas: Each type of insect has its own design, and drawing bugs is a great challenge for drawers. I hope some ideas on this platform will be useful for your kids.
Kangaroo Drawings Ideas: Drawing kangaroos is very challenging for kids because there are hundreds of varieties of animals to learn and draw, but kangaroos are one of the cutest creatures you can teach your kids to draw.