20 Simple Butterfly Drawing Ideas- How To Draw Butterfly
Butterflies are undoubtedly among the most beautiful insects on land, and little artists are always fascinated by their colorful and intricately patterned wings! These amazing animals are frequently found fluttering by flowers in gardens or at outdoor picnics. However, don't worry if drawing their intricate wing patterns seems challenging. With step-by-step visual instructions for beginners, we have collected an amazing collection of butterfly drawing ideas. These instructions will help you create a butterfly from scratch.

Functional Butterfly Drawing Ideas For Beginners:
With so many species, countless color and shape combinations could be created; we have selected some of the best butterfly drawings for our collection. These paintings can still be useful even when winter arrives, and butterflies are not found. Plus, there are many uses for these drawings after when you have completed them:
Use these drawings to embellish your room and add a floral theme. Frame your butterfly drawings and hang them on the walls. Or serve as attractive cover pages for your diaries or notebooks.
If you're learning about insects or nature, your butterfly drawings can be amazing for your projects or presentations. You can also state the anatomy of these amazing insects.
Butterfly drawings can make personalized greeting cards better. They add a personal touch to birthdays or other special occasions that printed cards simply can't. Or you can place them on the birthday boxes as the perfect gifts.
How To Draw A Butterfly? Quick Butterfly Drawing Guide
You can draw a simple butterfly in just 5 easy steps:
Draw Body: Start with a small circle for the head, a larger one for the body, and a slight oval for the lower part.
Sketch Wings: Draw two large curved "B" shaped lines for the upper and lower wings.
Add Details: Sketch patterns on the wings. They can be circles, lines, or anything you like.
Draw Antennae: Add two thin lines with small circles at the tips of the head for the antennae.
Color Away: Fill in your butterfly with bright, beautiful colors in the last.
How To Draw A Colorful Butterfly
This special butterfly drawing we will create together will be nothing less than a rainbow explosion! Start by sketching the central body of the butterfly, and don't forget those cute little antennae! Then, give this friend wings and intricate patterns! As we'd find in a magical world, this butterfly will be colored with shades of brown that remind you of chocolate, reds as sweet as strawberries, magical purples, fresh greens, and lovely pinks. Let's give our butterfly a cozy home by adding flowers in the background.
How To Draw A Realistic Butterfly
Out of the 20,000 diverse types fluttering around in our wonderful world, we've picked a glorious one for you to draw. This video tutorial offers easy and exciting guidance to create a realistic butterfly sketch. Imagine getting lost within the web of intricate patterns of butterfly wings you can fill with color, including beautiful shades of black and pink.
How To Draw Butterfly Easy
This drawing guide will teach you to draw a luck symbol butterfly blue monarch on your page to give some lucky moments. This drawing will have vibrant results if you use pencil colors, and this drawing guide will help you to combine the shades of blue to achieve a great look for blue butterfly wings. So, it's fun and simple!
How To Draw A Butterfly
This video guide will help you draw a flying butterfly sketch with a small body and larger wings. It looks like a flower dancing in the air! This guide will focus on a little detailed but clean finish using the blending technique by pencil and stress on drawing by using the border of marker colors. It is done 100% by hand for all stages, from outline to color blending.
How To Draw A Butterfly Step By Step
This activity will lift your butterfly drawing skills to new heights as you focus on complex patterns added to both wings. Overall, not only will this activity make you an expert butterfly artist, but it will also teach you about the amazing anatomy of these flying friends.
How To Draw A Simple Butterfly
This simple drawing of a butterfly with folded wings is perfect for young minds that dream of creativity without any fuss. The secret to the whole drawing's coolness lies in the outline. We'll sketch a cute, small-bodied butterfly with smooth wings. No patterns are needed here! Add in the curly antennae, and our lovely butterfly starts to take shape. The best part about this activity is that it opens the door for even more drawing adventures. Once you've mastered the art of this simple and adorable butterfly, you can spread your creative wings and soar into more complex artwork.
How To Draw A Butterfly A Step By Step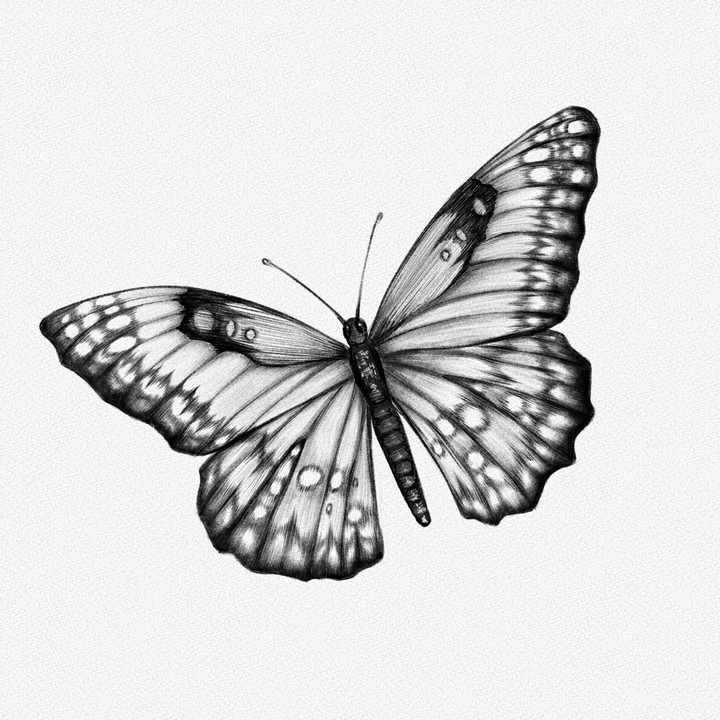 Are you up for a challenge? We have a beautiful and artistic activity lined up just for you drawing a super-detailed butterfly! This masterpiece catches the front view of a butterfly, expressing the finer details that make it an extra realistic sketch. Due to this, it is perfect for adults, not for kids. To create this work of art, patience is key. Start by crafting a beautiful outline and add realistic highlights using pencils, even contrasting the wings' veins. This drawing may take more time and effort than the simpler ones. But trust me. The reward is worth it!
How To Draw A Butterfly
This bright and delightful drawing would be the perfect decoration for a birthday or spring-themed card. Can you imagine the smile on the receiver's face when they see your gift? You'll learn how to catch the splendor of the Monarch butterfly with its iconic paint color orange and black wings. But do not stop at the butterfly alone! You can make this picture more attractive with a cool background of snowy patterns. It'll look like our butterfly is in a winter wonderland!
How To Draw A Monarch Butterfly
While monarchs are known for their distinct orange and black colors, drawing this creature on paper can be tricky. The dual mirror image that butterflies have might look tough, but it's super fun! For example, the lines on the left wing mirror the ones on the right – and it's the same with the antennae! This balance turns the butterfly into a natural work of art. But don't worry! Our friendly guide, made especially for you, makes the drawing of the special defense butterfly fun and simple.
How To Draw A Butterfly For Beginners
This handy butterfly drawing is a fun project that fits your busy life. This drawing isn't just quick and simple but downright enjoyable to see after completion. Once we've completed our butterfly's outline, the real fun begins. You can use your favorite colors as your own, or here's a sweet idea – how about making it into an entertaining coloring page gift for your little brother?
How To Draw A Butterfly Easy & Fast
Are you looking for a speedy activity during your picnic in the lovely garden? Our ideal solution is an easy and fast butterfly drawing perfect for kids like you. The best part? You can create this charming drawing in a second without missing out on the other activities in your day. While enjoying the warm sunshine and sweet-smelling flowers, you move your pencil and sketch a beautiful butterfly with just a few simple strokes. And here's the amazing part you can even color it using the same pencil, making it a super quick and satisfying project!
Butterfly Drawing
This lovely drawing piece of art hanging on your wall can bring a gentle, floral touch to your space. This drawing isn't a tough one; it's all about the basic structure of a butterfly. You keep things simple and enjoyable, focusing on the butterfly's symmetry and beautiful patterns. As you draw the delicate wings and playful antennae, you'll witness a charming butterfly coming to life on your page!
How To Draw A Butterfly With A Pencil
Butterflies came from moths, and due to this, they look much like them. Today, let's tap into that extraordinary history with a pencil in our hands and create an amazing drawing of a butterfly resting gently, probably on a flower. Our butterfly sketch is not just about drawing the outline; it's also about hatching. This fascinating technique helps add depth, making the continuous lines and texture make your butterfly drawing pop out, almost like it's real and ready to flap its wings! The hatching technique will let you pay attention to the super-detailed vein pattern on the butterfly's graceful wings.
How To Draw A Monarch Butterfly Realistic Drawing
Monarch butterflies are famous worldwide and can be the best subjects for larger drawings, but now we are bringing them to your drawing paper! Our drawing adventure involves closely observing the detailed patterns on the butterfly's wings and replicating them in our artwork. Then you will detail the drawing using orange and black shades.
How To Draw A Cartoon Butterfly
Have you ever wished for a lively butterfly on your screens and sketchbook pages? Today, we're turning that dream into a reality as you learn to create your cute flying cartoon butterfly drawing! This guide will take you on a journey to change a blank page into a vibrant world starring a delightful cartoon butterfly with beautiful blue, red, and swirly wings. Plus, that great-looking body will give your butterfly its unique and friendly character.
Beautiful Butterfly Drawing A Step By Step Guide
This a great cartoon butterfly drawing that'll bring happiness to everyone at home. It's a colorful butterfly that cheers your sketchbook and helps you bond with your family. Imagine a fluttery and vibrant cartoon butterfly dancing across your page. Every aspect represents joy and delight, from the wing's brilliant colors to its adorable cartoonish lines.
How To Draw A Butterfly For Kids
The parents might think drawing a butterfly is tough for little ones, but here's a secret: life is all about simple shapes. And so is our butterfly! With a touch of circles and a handful of lines, you'll watch your very own butterfly on your sketchbook, making this an enjoyable and rewarding drawing activity for everyone.
Easy How To Draw A Butterfly Tutorial
Draw a radiant butterfly whose yellow and orange hues remind us of the warm sun's shine. And guess what? This isn't just any butterfly. It's one you can proudly display on a birthday gift box! Imagine the smiles it will bring when your hand-drawn butterfly adorns a birthday gift.
How To Draw A Flying Butterfly
This isn't just a simple butterfly drawing; it will put our butterfly in action, heading toward a sweet flower. And why a flower, you may ask? Because our lovely butterfly is looking for a nice spot to perch! Not only does this activity help grow your artistic skills, but it also brings much joy and excitement.
Butterfly Pencil Art Drawing
Create the most stylish butterfly pencil art drawing that's sure to be the coolest addition to your collection of butterfly artworks. We've seen plenty of butterflies fluttering around in nature, but this project is unique. Why, you may ask? It's because we're drawing a butterfly based on our imagination with some more extra long stylish wings.
Conclusion:
We believe the best way to catch the beauty of a butterfly in your drawings truly is to spend some quiet time in a park or garden, surrounded by flowers and, of course, butterflies. You can observe their unique patterns, colors, and movements to inspire your drawings there. We hope you've thoroughly enjoyed exploring our collection of butterfly drawing ideas. If you have any comments or suggestions, please feel free to share them below. And remember, we've also provided simple guides to help you draw your butterfly, so you can easily start your journey.
Here are more animal drawing ideas:
16 Simple Penguin Drawing Ideas: Discover unique and adorable penguin sketches for inspiration, from quirky cartoons to realistic renditions.
35 Easy Bunny Drawing Ideas: Explore an array of charming and delightful bunny drawings, perfect for artists seeking inspiration with fluffy friends.
29 Easy Monkey Drawing Ideas: Jump into a world of creativity with various monkey art concepts, from playful cartoon versions to lifelike sketches.