16 Easy Cake Drawings With Step by Step Guide
Let's draw the most loveable thing that will be adored by both youngsters and grown-ups alike. These easy cake drawings will create adorable cake arts that everyone will admire. You will learn how to bring some delectable treats (birthday or a fancy wedding cake) to life on paper. With clear instructions and helpful tips, you'll gain the confidence to create cute cake drawings that will amaze your friends and family.
Cake Drawing Ideas

Abstract Cake Drawings
Prepare yourself to be amazed by the versatility of cake drawings in this exciting roundup. We have gathered a collection of cake sketches that will leave you in awe. From delightful cakes adorned with candles to mouth-watering cake art featuring delicious chocolate and cheesy creations, this roundup showcases the endless possibilities of cake drawings. Explore each cake sketch's intricacies, admire the attention to detail, and discover the joy of bringing these delectable treats in the sketchbook.
Cute Cake Drawing
This drawing tutorial is perfect if your kids are artists and want to draw adorable items like a cake. They'll learn how to sketch the cake, add frosting and decorations, and bring it to life with vibrant colors. It's a fun way for them to unleash their creativity and improve their artistic skills.
Simple Cake With Unicorn Drawing
Learn how to create a whimsical masterpiece by drawing a simple cake with a magical unicorn! Follow these steps: sketch the cake, add layers, decorate it, draw the unicorn, add colors, and add final touches. Express your creativity and create unicorn drawings that will amaze everyone.
Cake Drawing Easy Lesson
Learn how to draw an easy cake with a cute face and unicorn on top. With easier instructions, you'll learn how to draw this lovely cake in no time properly. Rest assured; you can create the most stunning drawing to showcase to your loved ones proudly.
Cartoon Cake Drawing
Learn how to draw a cartoon cake with the help of this effortless drawing lesson. It's great for anyone who loves to draw, regardless of your artistic skills. This tutorial will teach you how to draw a cartoon cake by following the basic 9 drawing steps. You will start with drawing the outline, then adding the details to complete your cartoon cake.
Easy Cartoon Cake Drawing
Cartoon cake drawing will be the perfect sketching lesson for kids and anyone beginner artist those are starting their creative journey. This drawing will teach you to draw the most adorable cartoon cake, but also you will emphasize your skills while learning this lesson. So boost your creativity with these six steps drawing tutorial for your loved cake.
Chocolate Cake Drawing
Add cute but versatile sketches to your collection with this chocolate cake drawing. You will draw a trendy, versatile cake with a candle and chocolate serum using this easy and quick art lesson. You will not have difficulty creating your artwork because the helpful pdf with the coloring book is attached to the lesson.
Draw A Cake Step By Step
All the above drawing lessons are designed to teach you how to draw a cake step by step. But this creative cake drawing will start with geometric shapes, then gradually move on to more complicated drawings. It's not hard at all. You need to follow the steps and train your mental creativity.
Draw A Cake With a Candle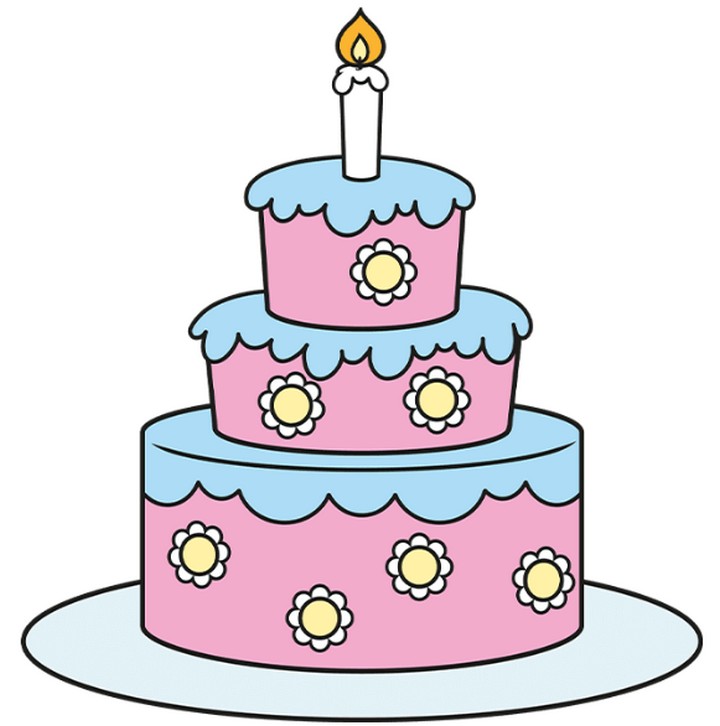 This art tutorial teaches you how to draw a simple birthday cake with a candle. You'll use quick, easy techniques to make a cute cartoon cake with little practice. Two color schemes are included in this drawing: light pink on the bottom and light blue on top, as well as 3 layers of cake.
How To Draw A Birthday Cake
The birthday cake holds significant value in our lives as it symbolizes the commemoration of an individual's birthday. In this drawing tutorial, you will learn how to illustrate a birthday cake. The birthday cake will be covered in frosting and decorated with colorful candies in your sketch. This is a simple drawing to be completed by children, artists without drawing experience, and everyone else.
Cute Birthday Cake Drawing
When it comes to drawing a birthday cake, it's always a wonderful way to kickstart your imagination. As you sketch the adorable layers of the cake, you can bring your dream birthday cake to life on paper. So follow this easy tutorial and bring some creativity to the paper.
Easy Birthday Cake Drawing
Discover the joy of creating your own Cartoon Birthday Cake with this simple tutorial and video. Learn the secrets to bringing this delightful cake to life on paper. This easy birthday cake drawing guide will unlock your artistic potential, from sketching charming details to adding vibrant colors.
Slice Of Cake Drawing

Would you like to enhance your artistic skills and create a mouth-watering slice of strawberry shortcake in a charming anime style? Learn the simplified techniques that make this process easy and fun. From capturing the delicate details of the cake to infusing it with a touch of anime magic, this art guide has you covered.
How To Draw A Cake
This super simple tutorial will have you creating your cake masterpiece in no time. With easy-to-follow instructions, you'll effortlessly bring a cake to life on paper. From basic shapes to intricate details, this art lesson makes drawing a cake a breeze.
Birthday Cake Drawing Easy
This easy birthday cake drawing tutorial will feed your hunger for drawing improvement. Step-by-step, you'll learn to master the cake outline effortlessly. Unlock your artistic potential and create stunning birthday cake drawings in no time.
Simple Cake Drawing
Learn how to draw cakes with ease using this easier guide. The instructions are clear and concise, allowing you to master the art of cake drawing quickly. This art guide is suitable for both beginners and experienced artists. Enjoy the clear techniques and create stunning cake drawings that will impress you.
Birthday Cake Drawing
Make birthdays and special occasions even brighter with this beautiful cake sketch. The candles outlined in this cake drawing add a touch of charm and magic to your art. Captivate everyone's attention with intricate details and create a masterpiece celebrating the joy of special moments.
See More Drawings