16 Simple Penguin Drawing Ideas With Step by Step Guides
It's a time to learn how to draw a bird that flies in the water with these penguin drawing ideas that will surely teach some great lessons about these loveable winter symbol birds.
Penguins are some of the most beloved creatures in the animal empire, with their unique black and white feathers and cute waddling walk. They love to live in snowy and cold areas but also warm green lands. They are strongly associated with strong bonding. So, why not you all family members unite and work on the penguin drawings this winter?
Our expertly crafted tutorials, created by the most qualified drawing professionals, will guide you through animal drawing these lovable creatures step by step. You'll also find sample pages to inspire and help you perfect your skills.
These penguin drawing ideas are perfect for kids of all ages and skill levels, from beginners to experienced artists.

Funful Penguin Drawings:
Their oval-shaped bodies, flippers, and wings make them so special. It's like their very own superhero costume! These incredible features help them swim gracefully in the water and slide on snow.
And their iconic uniform also helps them hide from hunters! Nature sure knows how to pick the best traits for the welfare of a species. For us, all these are great features to note in your sketchbook. We've included custom guidelines to help you create the perfect penguin drawing.
Once you're done, you can proudly attach your masterpiece to birthday cards or hang it in your room. These drawings bring a sense of cuteness, love, and celebration, making them perfect gifts for birthdays, holidays, and special occasions. Plus, while having fun with these penguin drawings, you'll learn about penguins' amazing anatomy.
Penguins are also associated with the natural habitats of the Antarctic and other cold regions. Drawing penguins can raise awareness about their unique ecosystems and the importance of environmental conservation. Also, your Digitally made drawings can be attached to T-shirts to spread these messages of conservation.
How to Draw A Penguin? In just 8 easy steps:
To Draw a Penguin, follow these guidelines:
Start by drawing a medium-sized oval shape for the penguin's body.
Add a smaller, vertically enlarged circle shape at the bottom of the oval to create the penguin's belly.
Draw a small triangle shape on top of the oval for the penguin's beak.
Next, draw two small circles for the penguin's eyes on each side.
Extend two short curved lines from the bottom of the penguin's body to create its flippers.
To draw the penguin's feet, draw an inverted, horizontally enlarged curved "C" shape on each side of the body for the left and right flippers. Then, add three small oval shapes on each flipper to represent the webbed feet.
Add some small details.
Finally, erase any unnecessary lines, and add some shading or color if desired.
Materials you'll need To Draw A Penguin:
Drawing paper
Pencil
Black marker or pen
Coloring tools (optional)
How To Draw Penguin Step By Step
This penguin drawing tutorial will help you to bring this adorable creature from the icy Antarctic region to your warm and cozy page. With its rich black body, snowy white belly, and vibrant orange feet and beak, this penguin drawing is a sight to stay the eyes. After finishing touches, the penguin will unusually first fly from the page, embrace you, and say thank you! Haha!
How To Draw A Penguin
The beauty of the penguins lies in their simplicity, and this drawing tutorial takes advantage of that simplicity, as you need a simple black marker to catch the innocence of this creature. You can then fill in the color using the same tool. Picture this delightful bird, its tiny size and expressive eyes, watching attentively as you create.
Emperor Penguin Drawing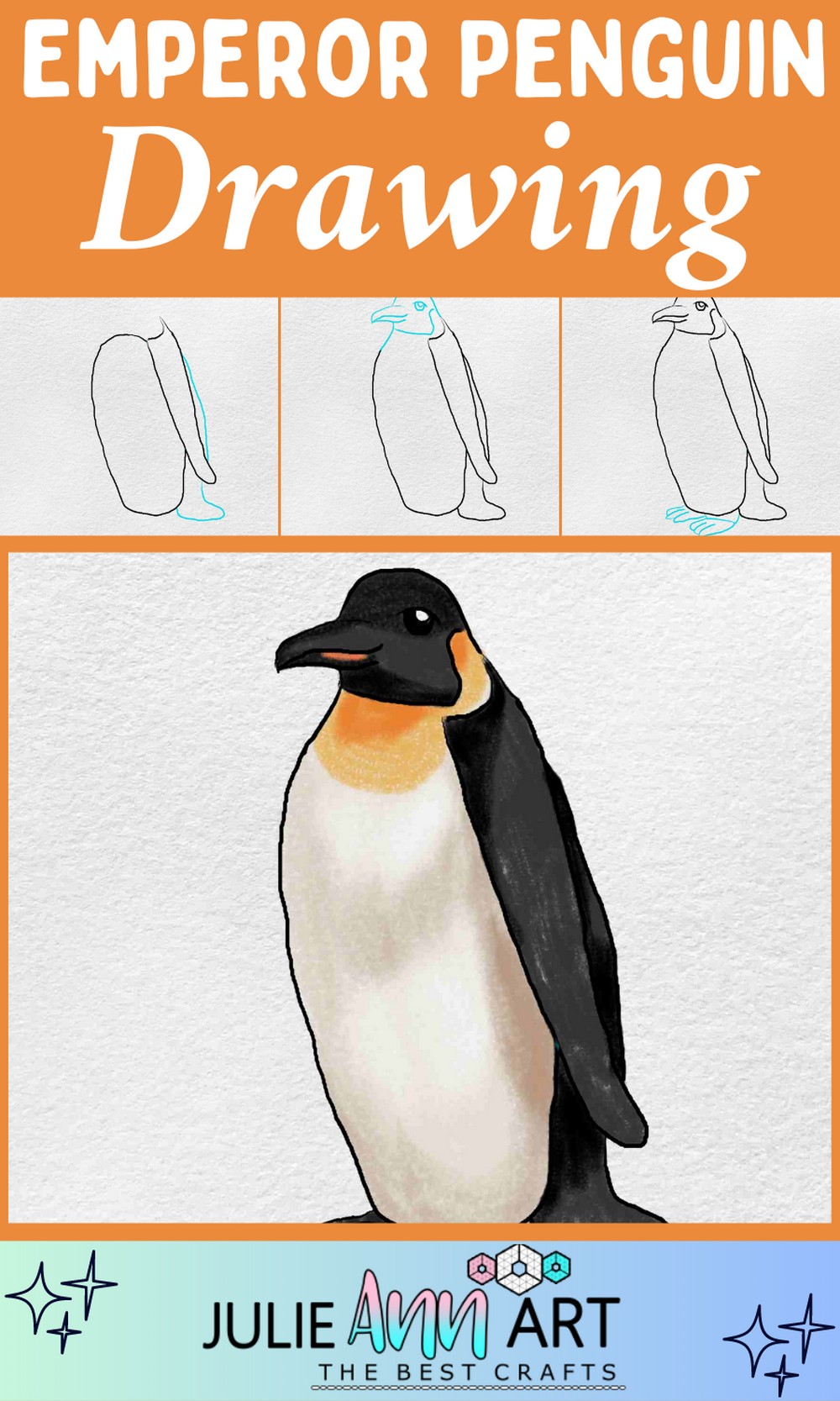 The emperor is the largest penguin and deserves the biggest paper sheet for its perfect description. Don't forget to add the iconic orange mark on its neck – a true signature of the Emperor Penguin. This is one of the perfect penguin drawing ideas for all the little kids willing to draw something advanced, expressing creativity like never before. It is one of the coolest things you can do because this penguin has come to tell about his cold experience!
How To Draw A Baby Penguin
Just like the cute faces and limited minds of children, this drawing catches the cuteness in a simple and shorter form. The focus of drawing is on the basic form of the penguin, making it easy for little ones to follow along. Your baby penguin friend will be much fluffy and wearing the signature penguin uniform, even though it may not perfectly resemble the original appearance of a baby penguin. But this is the main thing that makes this drawing so special! It's a charming interpretation that allows young artists to add their own touch of creativity.
How To Draw A Cartoon Penguin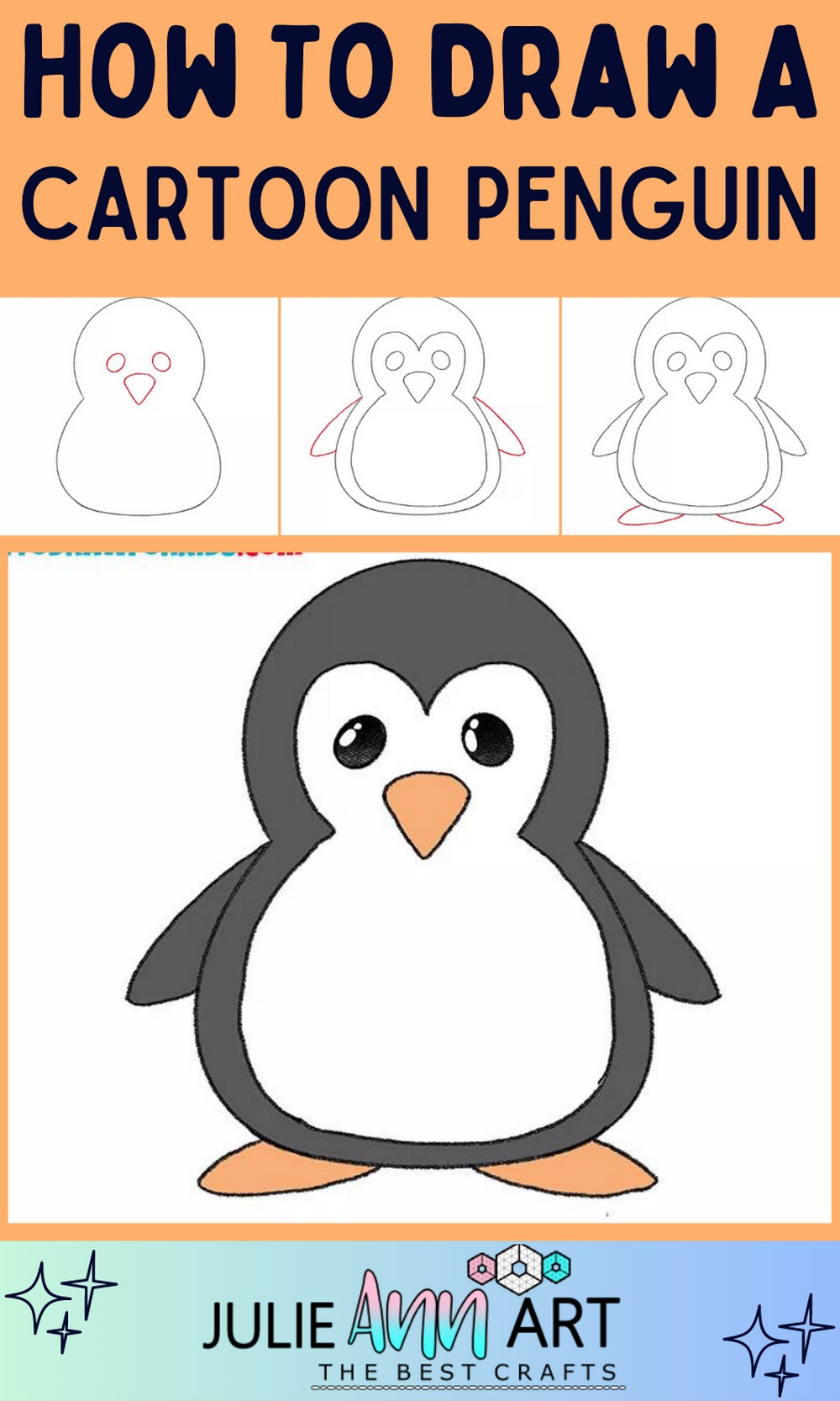 Penguins are known for their friendly nature; this drawing perfectly captures that. Our cuddly penguin has a heart-shaped mouth hiding in the same black feathery coat and cute eyes that instantly make you fall in love. The cone-shaped beak is amazing. Imagine this adorable creature standing with its wings, ready for a hug! This drawing tutorial makes for a great polar gift that will bring joy to whoever sees it.
How To Draw A Penguin
Our penguin friend in this drawing is eagerly finding a bus to take him toward the lovely sketchbooks of little ones. Will you carry him? This penguin has the same sharp beak with the orangish touch and little eyes, but his welcoming manners will make your drawing journey enjoyable. With its side view, you can study its features, like anatomy, in detail.
Easy How To Draw A Penguin
This small penguin looks innocent and cute, like the junior artists, and this drawing fully displays that charm. With its blushing cheeks and attractive features, this penguin will surely perfect the bird collection. This drawing is super easy and can be completed in just ten minutes! Adding a blush leads to a drawing that shows the character of this penguin. So, such drawings will help you create a drawing that tells about the moral features of the object you represent.
How To Draw A Lovely And Cute Penguin For Kids
Our baby penguin friend is dressed in a black and grayish-white suit, ready to steal your heart. Although, in reality, babe penguins have brown feathers that later replace by black and white as they grow into adults, in this penguin drawing, we can use our imagination and create the perfect penguin. It will show that maturity comes from the mind, not the physical appearance! This coloring page is super easy, allowing even those just starting out with drawing to join in on the fun.
How To Draw A Penguin Step-By-Step Guide
Here is another front view drawing of this sea flyer with the guidelines to have some shadows and a little more detailing in just 11 simple steps; our bulky penguin will surely heavy up your drawing book, and you will be compelled to remain on this page for a long time.
How To Draw A Cute Penguin
This drawing has not your typical black and white penguin, as we will add a touch of blue and golden color to make it truly unique. The blue penguin, also the fairy penguin, is the smallest species. By coloring our blue penguin, you'll add a fun and playful element that will make it incredible from all the other penguin drawings you've done before. With your crayons, this will be extraordinary. This is one of the greatest penguin drawing ideas for those who want to expand their collection and create something new.
How To Draw Holiday Penguin
This adorable penguin drawing combines two winter wonders into one perfect scene. Although penguins are not found wearing Santa hats, this drawing allows us to imagine and create our own unique version of this charming winter scene. Our little penguin friend is dressed in a cute pom hat in its region that will melt your heart. You can also add the Christmas tree with the lighting for more uniqueness. With its playful charm and joyful personality, this drawing is perfect for decorating your home and getting you into the Christmas spirit.
How To Draw A Penguin Step By Step For Beginners
This outline drawing of a penguin focuses on the different parts of its body, making it easier to learn about them. The outline provides a realistic side view of a penguin, allowing you to study its unique characteristics and charm. Our penguin is blank, allowing you to choose which parts should be black or white and how much orange touch to add. This will help you test your observational skills and see how much you've learned about penguins.
How To Draw A Cute Baby Penguin
This step-by-step drawing tutorial will guide you in drawing a penguin chick, including all the super cool coloring details like shading, blending, and more often used in the sketches but now in the colorful drawings. Our fluffy penguin has the same funny standing position but the cutest. Because humans have been found making fun of those who adopt human traits, although they are not humans, this also increases the love for such things. With our instructions, you can add shadows and highlights to create a three-dimensional effect that will make your penguin a great monument to show.
Easy Draw A Penguin
The penguins from the 15th-century discovery have started video shoots that have always fascinated man. They are even found living in the harshest conditions, such as the Antarctic regions, where life on the ground is considered impossible. Our simple drawing depicts a cute penguin wandering in its snowy region, enjoying the beautiful scenery that it calls home. Its adorable round tummy, little wings, and pointy beak make it the perfect subject for an easy drawing tutorial.
Easy How To Draw A Cute Penguin
This drawing is a chance for us to say goodbye to ordinary winter drawings and create something truly special. In this cartoon drawing, our penguin is wearing an adorable winter fluffy hat and a rich red scarf, adding extra cuteness to the picture. It symbolizes the hope for warmer days and the joy of the winter season. With a bright sun in the background and the same snowy region, this drawing can even be a perfect festival-themed artwork.
How To Draw A Penguin With A Pencil Step-by-step Drawing Tutorial
Whether you're an aspiring artist or love penguins, this penguin drawing is easy and perfect for kids of all ages. It's time to hold your trusty pencil and start sketching this amazing emperor drawing. Follow along with our simple instructions and watch as your penguin takes shape on the paper. From the round body to the flippers and the cute beak, you'll learn how to capture the appearance of these amazing creatures.
FAQs About The Penguin Drawings:
Here are answers to the queries that may be helpful:
Can Beginners Draw A Penguin?
Absolutely! Beginners can draw a penguin because it is considered the easiest drawing project, as penguins have a very basic and purely defined appearance.
So penguins are not hard to draw, but it may be if you have no experience drawing a bird or other animal. However, penguins are not even required to draw the complex feathery coat because their white and black feathers match up enough in their places that you might think their body is just the smooth colored oval wall.
A junior artist with a few skills can learn to draw these ideas. But starting with the basic penguin idea is better, and then going for something advanced.
How Can I Make The Penguin Drawing More Realistic?
To make your penguin drawing more realistic, it will be better to pay attention to details such as the shape of the beak, the texture of the feathers, and the posture of the penguin. Study real-life penguin photos for inspiration, practice shading, and add depth to create a more three-dimensional effect. You can check the Cute Baby Drawing from our ideas.
What The Penguins Represent In Art?
In art, penguins are represented as fantastic creatures that delight our imaginations. These animals adapted to live even in harsh conditions like Antarctica, also found in the Non-Icy Islands.
Penguins symbolize love and close bonding as they care for their young ones with the utmost affection. In the art, we often see satisfying scenes of penguin mothers nurturing their adorable chicks, reminding us of the power of love and family.
Penguins teach us the importance of sticking together in challenging times, just like they huddle together to keep warm during extreme cold.
Moreover, their amusing dance-like waddle brings joy and laughter to our lives. Artists show penguins as healthy, loving, and strongly bonded creatures that always stay close to one another. With their funny behaviors, these delightful birds add an extra touch of cheerfulness to the art world.
How long does it take to draw a penguin?
The time taken to draw a penguin depends upon the sill level, the experience, and how much broader your drawing is, like how many elements are in drawing a bird. However, For the advanced artist, it is a process of a few minutes, but for beginners, time may vary from minutes to hours.
Conclusion:
In conclusion, we sincerely hope you have enjoyed the penguin drawing ideas we shared on this coloring page. Our goal was to provide you with some of the best penguin drawing ideas and to inspire and teach you about the different aspects of drawing.
Whether you are a beginner taking your first steps in art or an experienced artist, our drawing ideas were designed with the average skill level in mind.
Remember, the key to becoming a great artist is practice and perseverance. Keep sharpening your skills, keep trying your best, and soon you will become a true master of the art. Feel free to add your own creative touches to our shared drawings from the best creators. Happy drawing, and may your artistic journey be filled with joy and endless possibilities!
Here are a few more inspirational Ideas Collection:
26 Easy Goofy Drawing Ideas: Express your creativity with goofy drawings, expressing humor and joy through unique sketches that celebrate the fun side of art.
8 Easy Keyboard Drawing Ideas-How To Draw A Keyboard: Encourage your artistic side with computer keyboard drawings, translating the functionality and design of this tech tool into captivating art.
27 Easy Kangaroo Drawing Ideas – How To Draw Kangaroo: Explore your creativity with kangaroo drawings that showcase the charm and agility of this iconic Australian animal.