21 Best DIY Umbrella Stand Ideas For Outdoor
Umbrella stands can play a significant role in keeping your entryway or mudroom neat and tidy. With the surge of DIY culture, creating a custom umbrella stand that suits your taste and decor has become easier. Whether it's a rustic design using reclaimed wood, a modern look with clear acrylic, or an antique-inspired stand with metallic accents, here are DIY umbrella stand ideas for everyone.
DIY Umbrella Stand Ideas

Some of these creative DIY Umbrella Stand ideas include upcycling an old tin bin, repurposing a wine barrel, or even using a tall ceramic vase, or making an umbrella stand useful as a statement.
Why Build An Umbrella Stand?
Building your umbrella stand is a fun project and will save you money. It's also a great way to recycle things in your garage, such as metal piping and vases. Once you have sourced the correct supplies and tools, follow these steps to make your DIY umbrella stand.
See More: 12 DIY Viking Chair Ideas For Outdoor Seating
How To Make A DIY Umbrella Stand
This DIY umbrella stand is a perfect way to organize your patio and living area. Fill it with other decorative pieces, or place it near a wall for an instant focal point that draws attention. The shape is geometrical, clean, and sharp, which makes it sophisticated and sleek. It will hold all your umbrellas, plus there are baskets right below the stand that you can use to store shoes, hats, and more.
See More Stand: 15 DIY Target Stand Projects
How To Make A Umbrella Stand
Watch this tutorial to make a stunning, sturdy, classy umbrella stand. This makes a great gift for family members, friends, or yourself. It is a simple DIY project that requires minimal effort and supplies but looks great in any household.
DIY Umbrella Stand Table
This DIY project will help you to make an amazing and fantastic-looking umbrella stand that doubles as a table. This stand is a beautiful way to have a great umbrella stand and a table to keep drinks, shades, or other things. It can be a decoration option for your poolside, plus holding your umbrella will always be the primary purpose of making this umbrella stand.
DIY Umbrella Stand With Side Table
This DIY umbrella stand with a side table is fun and easy to build. It also makes a great housewarming gift for neighbors and friends, who will love you for thinking of them when the weather turns unfriendly on those outdoor summer soirees. This project is quick and easy, perfect for beginner DIYers, but it still looks great even if you're an experienced builder!
DIY Planter Umbrella Stand Tutorial
The strong DIY planter umbrella stand will hold your umbrella in place even in the windiest weather. It works amazingly as a planter plus an umbrella stand, making it the favorite of gardening lovers and DIY enthusiasts.
DIY Rolling Umbrella Stand Planter
Our DIY Rolling Umbrella Stand Planter is the perfect way to "plant" your favorite umbrella next to your favorite lounge chair. Building is simple with our easy-to-follow step-by-step plans, and we provide you with all the necessary hardware, epoxy, and thread lock to assemble this planter. Once built, place your umbrella and roll it wherever you want.
DIY Umbrella Stand Side Table
Are you tired of chairs that blow away in the wind? Are you tired of running around the yard with an umbrella while shooing your guests? We have the perfect solution! Add this amazing umbrella stand to your chair set on the deck and enjoy outdoor weather with your friend and family for years. It has multiple usabilities making it almost everyone's favorite.
How To Make Sturdy Umbrella Stands
This easy and sturdy umbrella stand could be made quickly by getting inspiration from this guide. This simple and elegant style can customize on any scale, using different available materials and with good DIYer skills. This amazing umbrella stand will suit well to decorate your outside area with something comfortable yet solid enough on the deck or for business places; getting inspiration from this idea for just under 15 dollars.
Easy DIY Umbrella Stand
This Easy DIY Umbrella Stand will make you proud to have it in your home. It is easy to assemble; you only need 5 simple tools and a bit of time. You can paint it any color that suits your home or leave it natural. This is the perfect way to get rid of those ugly umbrellas lying around in your yard and store them in the most useful manner.
DIY Umbrella Stand
Turn your home's outdoor space into a stylish and cozy place with this simple DIY Umbrella Stand. This umbrella stand will work perfectly for indoor and outdoor usage, making it a space-saving addition to your home. It has a beautiful design ideal for outdoor use, but it is easy to make and can be built using simpler materials.
How To Make An Umbrella Stand
Turn a simple umbrella stand into a chic accent piece for your entryway with this modern makeover. Our tutorial explains how to build the basic structure, then personalize it with a fresh coat of paint and a few inexpensive accessories. When closing the door, you can push it through and know that it's safe from falling over. This design is simple and classic and will fit perfectly into your home.
How To Make An Inexpensive Umbrella Stand
Umbrellas are great for protecting you from the sun but not so good at protecting your wood floors from getting stained. It's easy to make an inexpensive umbrella stand that will do just that. This guide will show you how to make an inexpensive umbrella stand from high-quality materials that can withstand the elements and keep your shade out of the mud.
DIY Rolling Umbrella Stand
Do-it-yourself project to make this unique, artistic umbrella stand that will spice up any room. The finished wood piece is strong and stable enough to hold heavy umbrellas yet lightweight enough for one person to assemble quickly. It holds up to ten umbrellas, keeping them safe and out of the way until you need them.
Easy DIY Umbrella Planter Stand
This umbrella planter stand guide will help you to transform your summer decor by making this fun DIY project. Transform your patio umbrella into a fun planter using simple steps and items in your garage or backyard. This easy DIY project will allow you to use your beloved table in your home or garden to add greenery softness and color.
Dollar Tree DIY Umbrella Stand
The DIY umbrella stand is the perfect alternative to a traditional umbrella base. It costs only $5 and can be made with a dollar tree bucket and basic tools. This amazing DIY project can be completed in under an hour, making it a great project for those on the go. This DIY umbrella base is perfect for the tiki beach umbrellas we use in our backyard all Summer.
Umbrella Stand Hampton
The Hampton DIY umbrella stand is perfect for indoor use to give you a space to stand your umbrella and make it more comfortable when you use it. The handmade designs in high-quality finish for creating an eye-catching atmosphere. These umbrella stands are suitable for placing at the poolside and other places.
DIY Patio Umbrella Stand
Looking for a quick, easy, and inexpensive portable umbrella stand? This DIY Patio Umbrella Stand is exactly what you need! It's cheap, simple to make, and can be set up in just a few minutes. With our easy instructions and materials list, anyone can do it! It's so simple to build you'll be ready for guests or an outdoor party in no time!
DIY Umbrella Side Table
This DIY umbrella side table brings a unique decor piece to your summertime gatherings. It is not easy to find different and unique looks for side tables. But with this amazing DIY umbrella side table idea, you can add love and elegance to your outdoor gear. You can make these tables at home with help, less effort, and less time using simple tools and materials; following this guide.
DIY Umbrella Stand Cover-up
Following this guide, adding a design element to an otherwise bland home furnishing is easy. This step-by-step DIY guide will show how quickly and easily you can create a beautiful cover-up for your umbrella stand. It looks unique and adds a flair of stylization to your home decor with minimal effort.
DIY Umbrella Base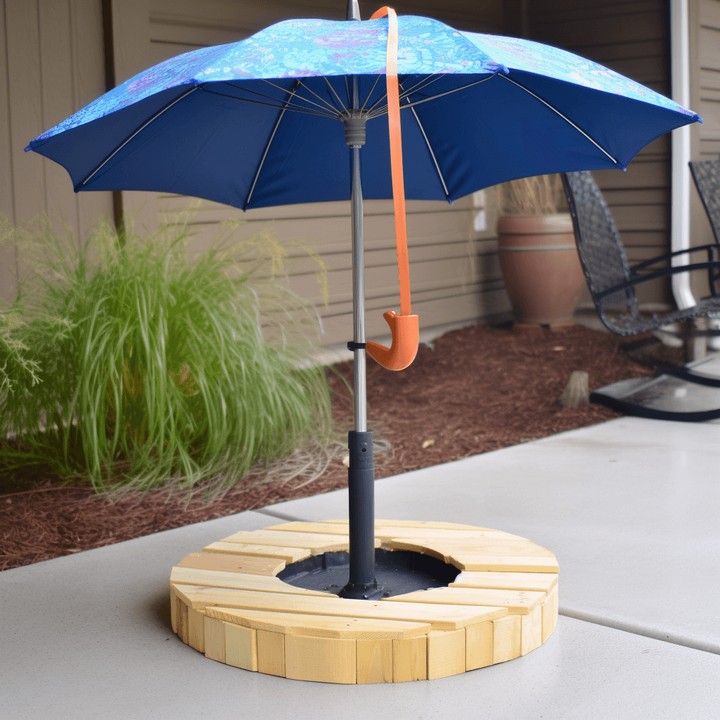 The DIY umbrella base is a great tool for anyone who enjoys being outside in the sun. This sturdy umbrella base slides easily on the ground, making it easy to install in any location and surface. And since it's built to last you won't have to worry about tipping over or moving out of place when someone kicks their feet up.
DIY Umbrella Base Stand
Here's a quick tutorial on how to make an umbrella base for your patio umbrella. This amazing project is easy to complete and requires a lot of things you may already have at home. If you have an old umbrella with a broken, wobbly metal pole, you only need to fix it and make a sturdy base stand for it. The result is a solid umbrella base that will not tip over in high winds, even if filled with water/sand/ or stones!
More DIY Projects:
DIY Beaded Bracelets Ideas: We have a huge collection of amazing diy beaded bracelets ideas for women. If you want to make easy and quick beaded jewelry with ideas using glass beads, charms, chains, or even silk cording for bracelets, rings, and more.
DIY Phone Case Ideas: Our DIY Phone Case Ideas present an exciting collection of some of the finest DIY phone case ideas, which we can use to make our phone cases more stylish and personalized.
DIY Mason Jar Crafts: Our DIY Mason Jar Crafts Ideas for Home Decor. Check out this amazing collection of mason jar crafts! These projects and ideas are so cute and creative that you'll love them.
DIY Business Card Holder: Let your imagination run wild & use your skills to make that special business card holder that will open doors for you. Come and join the fun!