20 DIY Beaded Bracelets Ideas For Everyone
Do you love jewelry? Want to make unique and easy-to-wear jewelry with sea glass, charms, and beaded bracelets? You are going to love our DIY beaded bracelets ideas. We have lots of quick, easy, and amazing projects to make in no time! Be prepared for compliments when you show off your new pieces of art!
DIY Beaded Bracelets Ideas

Craft colorful and fun beaded jewelry to express yourself most uniquely. Take the time to find your style and create something no one else has. If you enjoy being creative and making things by hand you're in the right place. We're about to start a fun journey, turning simple beads and string into unique jewelry pieces.
With our range of inspirational ideas and your imagination, you can make various bracelets that show off your style. So whether you're experienced in crafts or just starting, prepare for an exciting DIY beaded bracelet adventure!
DIY Beaded Crystal Bracelet Tutorial
Our DIY Beaded Crystal Bracelet Tutorial is the perfect way to fall into this craft. Using simple yet stunning materials such as shimmery crystals and shiny beads, this amazing tutorial allows you to design a chic and stylish bracelet that complements your style perfectly. This cost-effective DIY bracelet adds a personal touch to your accessories collection and is a handmade symbol of your creative journey.
Beginner Bracelet Pattern
This beautifully detailed tutorial offers a gentle yet instructive introduction to the craft of bracelet making, perfect for those embarking on their first journey into jewelry design. With clear instructions and practical tips, you'll learn to weave, knot, and thread your way to crafting an exquisite bracelet. This beginner-friendly pattern helps you build a strong foundation and fuels your creativity.
DIY Beaded Bracelet
This amazing beaded bracelet is one of the most classic and timeless crafts. It can be a stunning masterpiece to try this season. With just a few materials, it's easy for anyone to learn how to make these bracelets. This amazing tutorial will show you the entire process from start to finish, so you can make gorgeous beaded jewelry to wear or give as gifts!
How To Make Beaded Bracelets With Adjustable Cord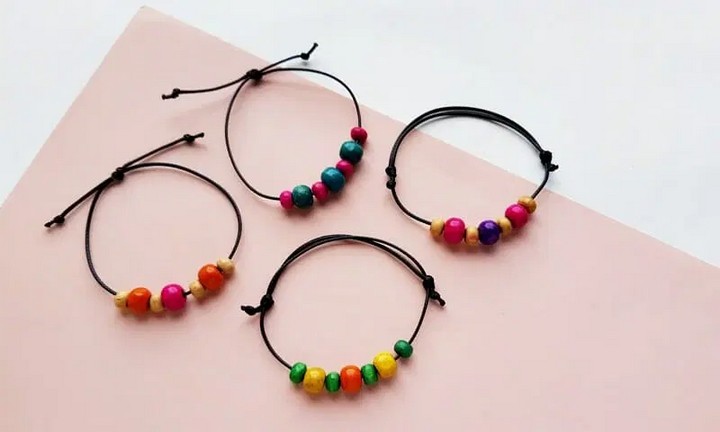 Get ready to make your own trendy bracelet this season! This How To Make Beaded Bracelets With Adjustable Cord is easy enough for beginners, yet it has a stunning finished look that impresses even the most sophisticated fashionista. You can use tools like pliers or clamps to make a DIY bracelet you'll enjoy looking at for years.
How To Make Beaded Daisy Bracelets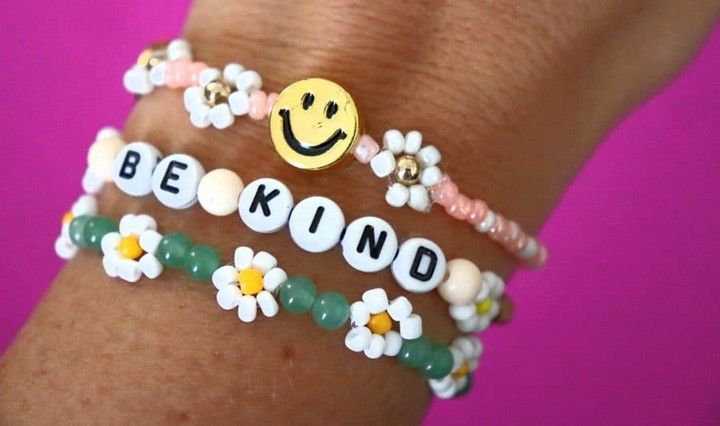 Want to learn how to make beautiful beaded daisy bracelets? This tutorial will teach you how to make a cute and easy daisy flower bracelet. Find all the supplies you need & start making handmade jewelry today!
DIY Bracelets With Unlimited Beads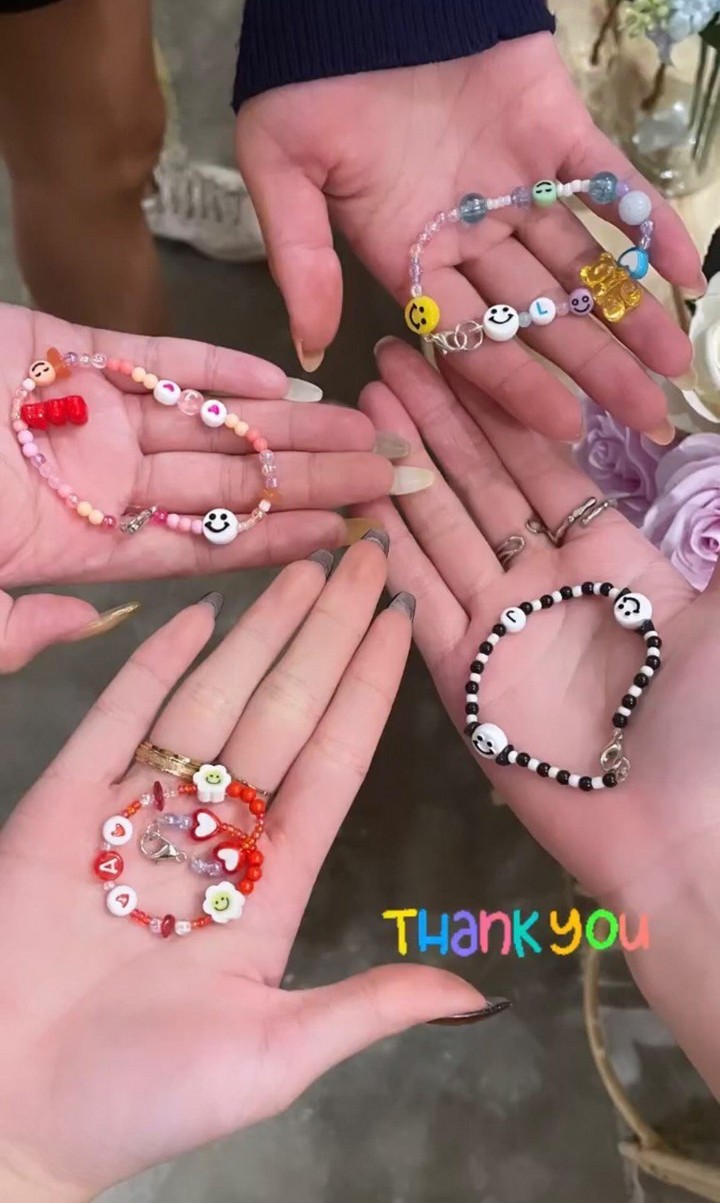 Don't waste your money on overpriced imported bracelets when you can make beautiful beaded jewelry following this fun idea. It will be the best DIY Bracelet you have ever tried, made up With Unlimited Beads for your personal wear. You can go with different beads styles and some amazing-looking emojis to make this bracelet and have fun.
DIY Adjustable Beaded Word Bracelets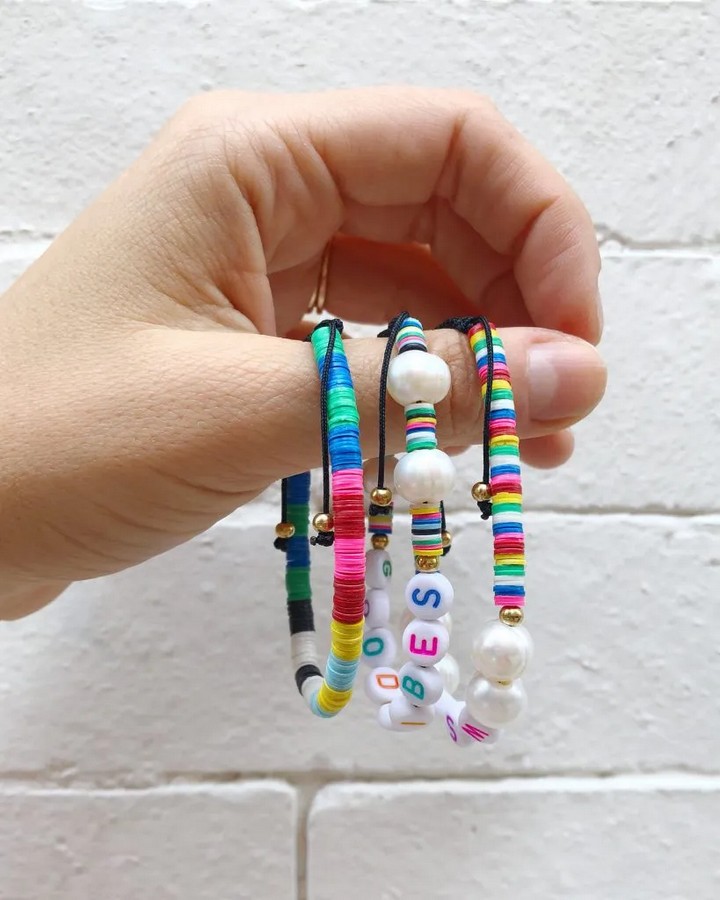 The adjustable beaded word bracelet is perfect for any occasion. It includes 8 colorful letters, which easily slide onto the bracelet. Customize your bracelet with your own words or phrases for a unique accessory that fits you perfectly! It will be perfect for the crafty girl or woman who loves making things!
Clay Bead Bracelet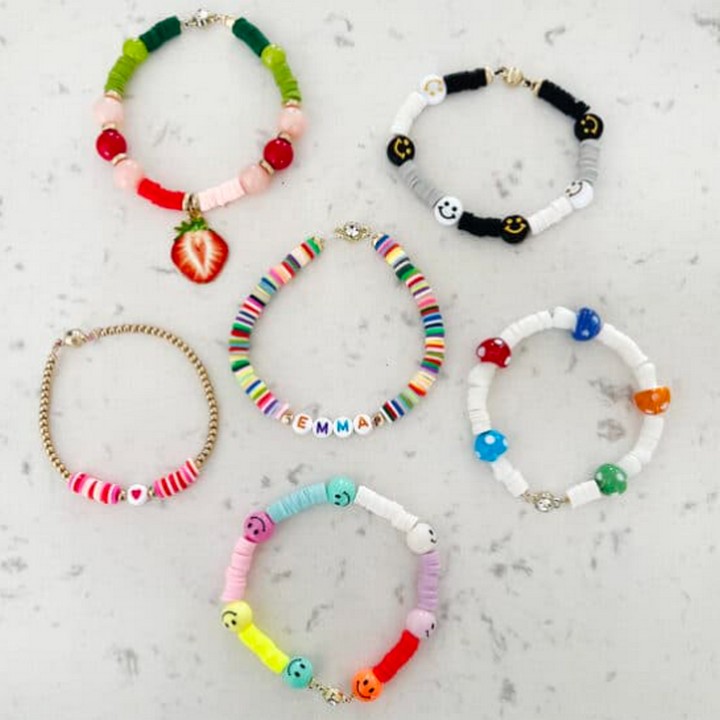 Clay bead bracelets are a great way to get into jewelry making. These unisex bracelets can be made in any color, pattern, or theme imaginable! They are perfect for gifts and party favors. Start with the basics: cut a couple of clay beads and string them onto a piece of twine. Then you can get creative, using various color combinations and styles to create new looks.
How To Finish A Bead Bracelet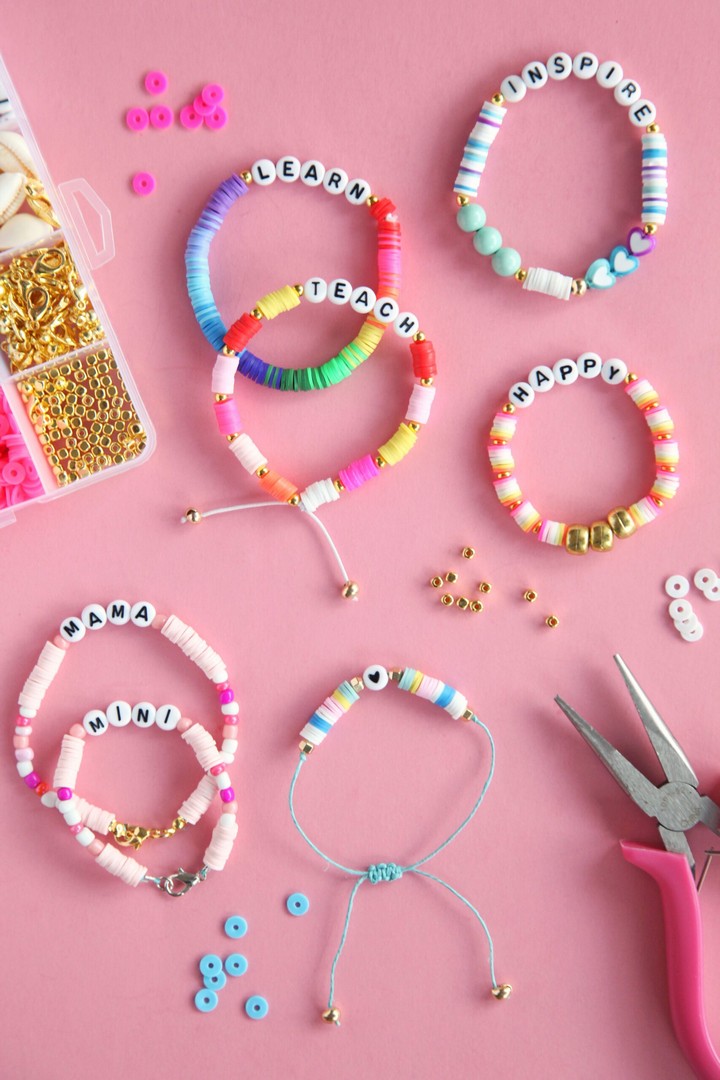 For any beginner, it can be very confusing to know how to finish a bead bracelet. You might have many beads and need to learn how to create a wearable piece! We're sharing 6 different ways to finish a bead bracelet so that you're covered for all your fashion needs.
DIY Beaded Daisy Chain Bracelet Tutorial
Let's get crafty! Learn how to make a DIY beaded daisy chain bracelet with seed beads. With this easy guide, you can make a gorgeous and delicate daisy chain bracelet from any seed beads color. The tutorial will walk you through each step and show you how to create bracelets in different color combinations and stack bracelets to wear. So easy and fun!
How To Make Beaded Bracelets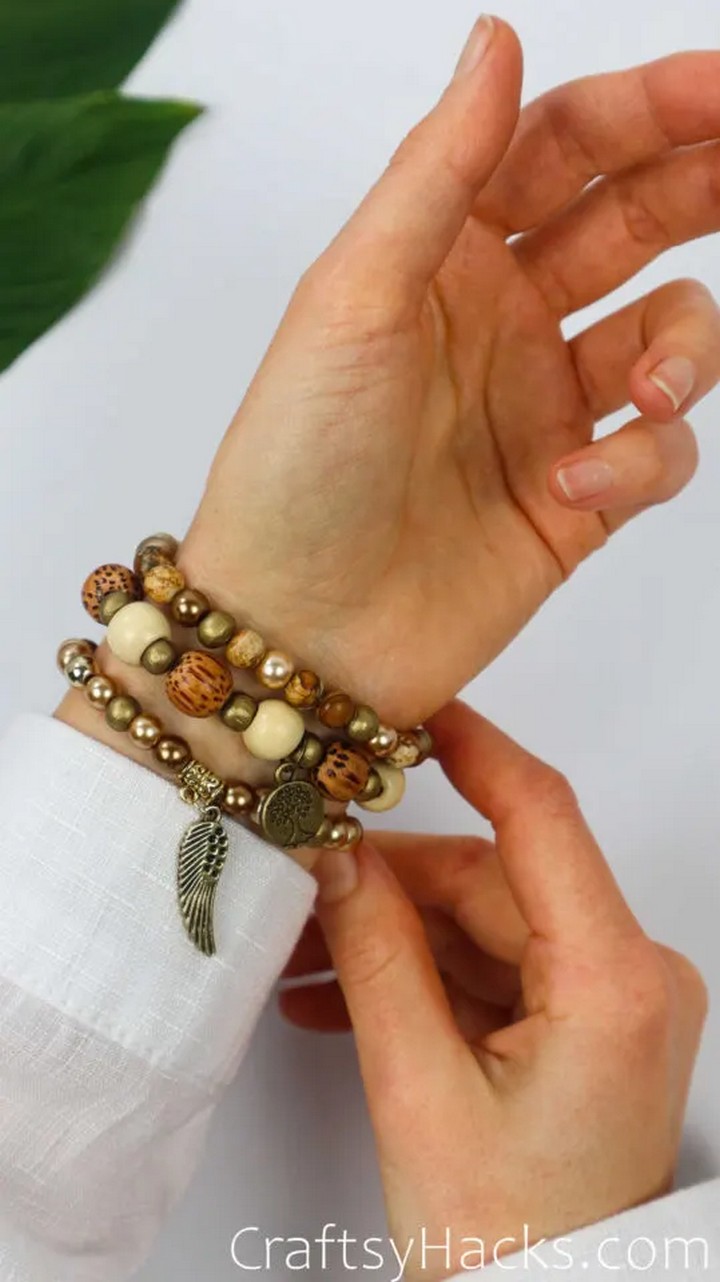 Here we came with a quick and easy jewelry project that can be created in a matter of minutes, and these bracelets are perfect for beginners up to expert crafters. It will be the best DIY bracelet idea for making loveable unique bracelets in almost no time, and I hope you will love it.
Clay Bead Bracelet Idea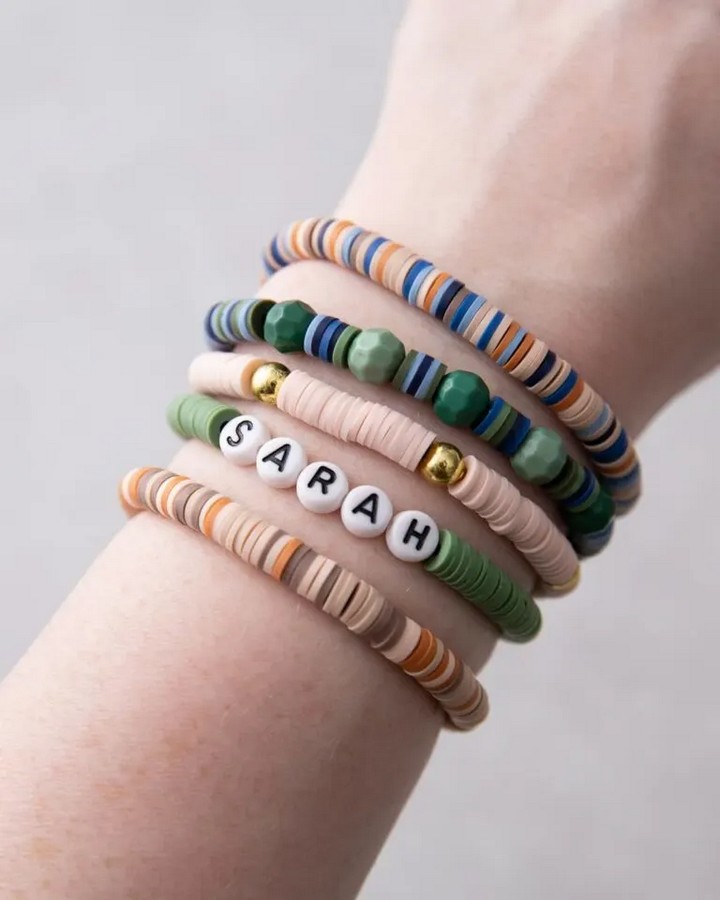 This easy project guides you in making a unique clay bead bracelet. Play with various shapes, colors, and patterns to express your fashion sense. It's a task anyone can do – all that's needed are basic materials and a vision of your desired design.
How To Make A Beaded Bracelet With Knot Covers
Have fun making this pretty beaded project for yourself to try at home! We love this simple and elegant ametrine bracelet with amethyst accent beads; the tonal shades complement each other. We've broken down the process into four easy steps that'll have you turning out beautiful handmade bracelets in no time.
How To Make Stretch Bracelets That Won't Break
These beaded stretch bracelets are easier to make than you might think and are a great accessory for weddings, summer festivals, and more! You can make one for your bridesmaids in minutes or embellish it with other gems or beads. Your friends will love the gift of handmade jewelry they can easily style with their everyday outfits.
How To Make Flower Bead Bracelet
Make a beautiful flower bead bracelet for yourself or for someone you love. It's light and airy, making it perfect for wearing year-round. The flower bracelet is easy and quick to make; this tutorial will teach you how. The amazing results are stunning and will impress your friends and family.
How To Make Beaded Name Bracelets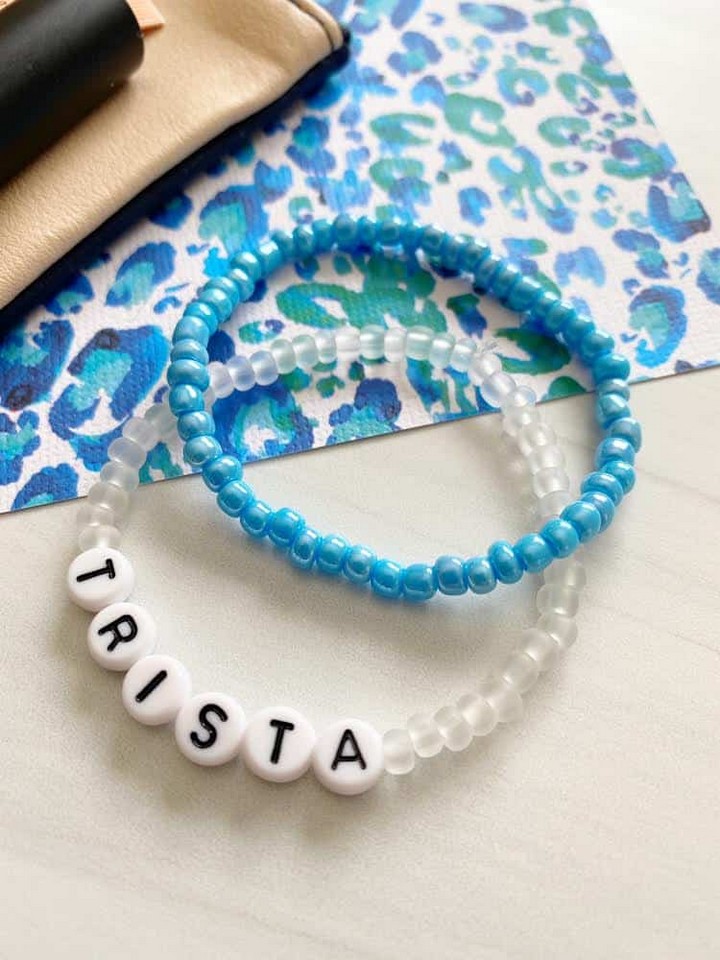 Let us show you how to create your name bracelets with beads and add a personal touch to your style. This guide is straightforward and accessible to all! Plus, you can tailor it with the names of loved ones. This guide is ideal if you're in a creative mood and seeking an enjoyable activity. It's simple, attractive, and suits everyone.
Make Beaded Bracelets
Make your beaded bracelets and create a truly unique fashion statement. This amazing bracelet is a perfect way to add color to any outfit. Whether you are a beginner or an expert beader, we have all the tools you need to make your unique bracelet.
Free Bead Loom Bracelet Pattern
Make a beautiful bracelet using the Free Bead Loom Bracelet Pattern! The pattern contains detailed instructions on stringing beads onto the loom and weaving them into a bracelet. The finished bracelet is the perfect accessory for any outfit and will be a great addition to your jewelry box!
How To Make A Simple Beaded Bracelet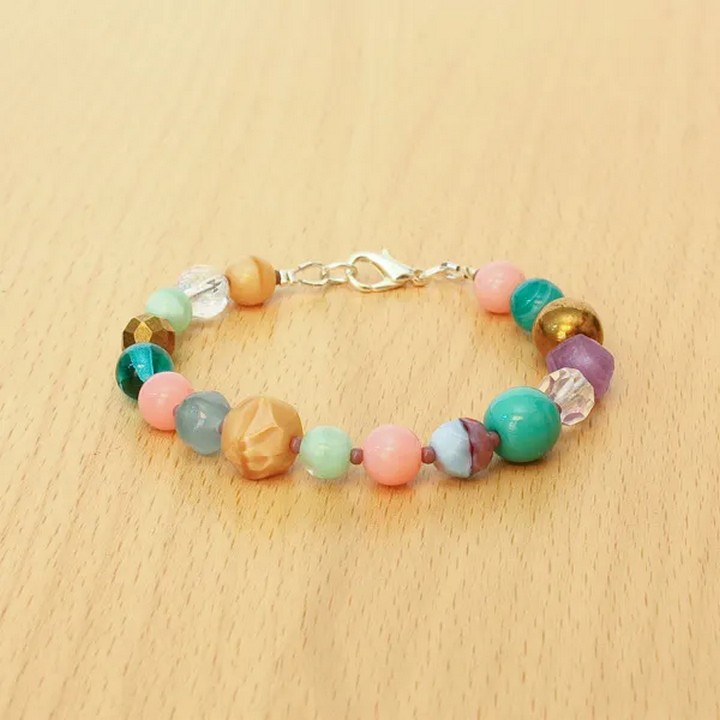 This tutorial teaches you how to make a simple beaded bracelet. This perfect beginner bracelet project teaches you the basic techniques of stringing beads onto thread. It uses only five different types of beads and can be made in under 10 minutes.
DIY Beaded Bracelets For Fourth Of July
The DIY Beaded Bracelets make it easy to create your unique accessories. Learn the simple techniques to create beaded bracelets to wear alone or layer with other bracelets. With the bonus of sparkly stones and accessories, you will have everything you need to make your own beaded bracelet!
More DIY Crafts: