12 Easy DIY Business Card Holder To Shine Your Desk
Add a personalized touch to your professional workspace with our fabulous collection of DIY business card holder ideas. There will be much to see, From simple wooden and cardboard card holders to colorful polymer clay business card holders.
DIY Bussiness Card Holder Ideas:
All these business card holders are sure to take your business to new heights. Imagine an outstanding holder keeping your business cards, a sign signaling you a green line for new business opportunities. The choice is all yours, as You can craft them as a sincere gift for a friend, a ticket of appreciation for your boss, or a personal branding asset!
These are not simply card holders but a unique blend of function and style attached to send a piece of admiration to anyone who sees them on your office desk.
Business Card Holder
You can make a cheap, personalized card holder that perfectly matches your small business with just a few basic materials, such as abstract wavy striped cardboard and glue for sturdiness. The design's functionality and appeal are unaffected by its simplicity. Would you like to accept more cards? Just Change the rectangle's size. Don't forget that you can always make it more awesome by adding lovely decorations, like beads or stickers.
DIY Business Card Holder + Desk Planter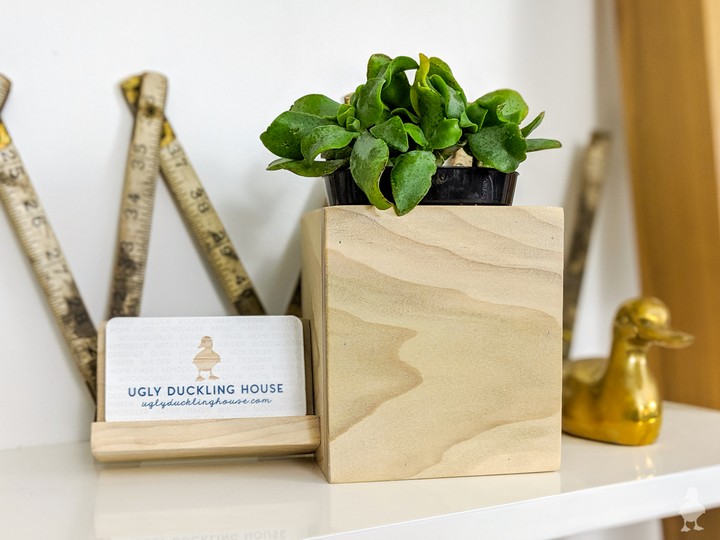 With the unique idea of a DIY Desk Planter + Business Card Holder, you can bring a little touch of nature into your workspace. Your business card will be displayed in the wooden card holder, and your favorite flowers or plants will be placed in the planter. How adorable will it appear on your wall shelf? This universal, cost-effective holder gives your office a modern, lively touch while being ideal for new businesses. In addition to being a pleasing sight for visitors, it will also serve as a bright reminder of confidence for your expanding success, just like the plant it holds.
Homemade Wood Business Card Holder
This Business Cardholder will not take much from your small investment as you only need a wooden block. Then cut a slot according to the number of business cards you must keep, and here you will have the easiest homemade business card holder. This graceful cardholder will blend perfectly with your wooden desk and wood business as a surety of your quality products. The best part? You can repurpose a leftover block to create something unique and eco-friendly like this.
Super Easy DIY Business Card Holder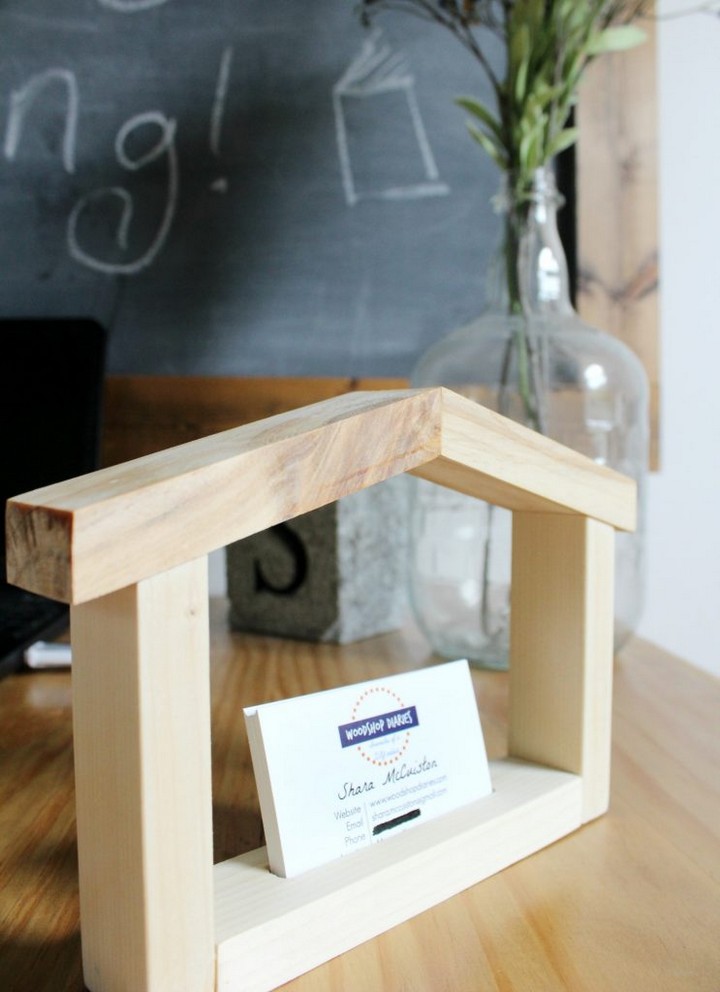 For those who run a business in the field of home decor, the Super DIY Business Card Holder is perfect. This charming card holder is simple to make from a few long and plain wooden bricks and makes a lovely home for your business cards as you put together a structure that resembles a house. In the lower block, a cleverly carved slot guarantees a secure setting for your cards while giving this attractive piece personality that we want. This beautiful business card holder will get the right kind of attention and open doors of deals for you.
DIY Multipurpose Business Card Holder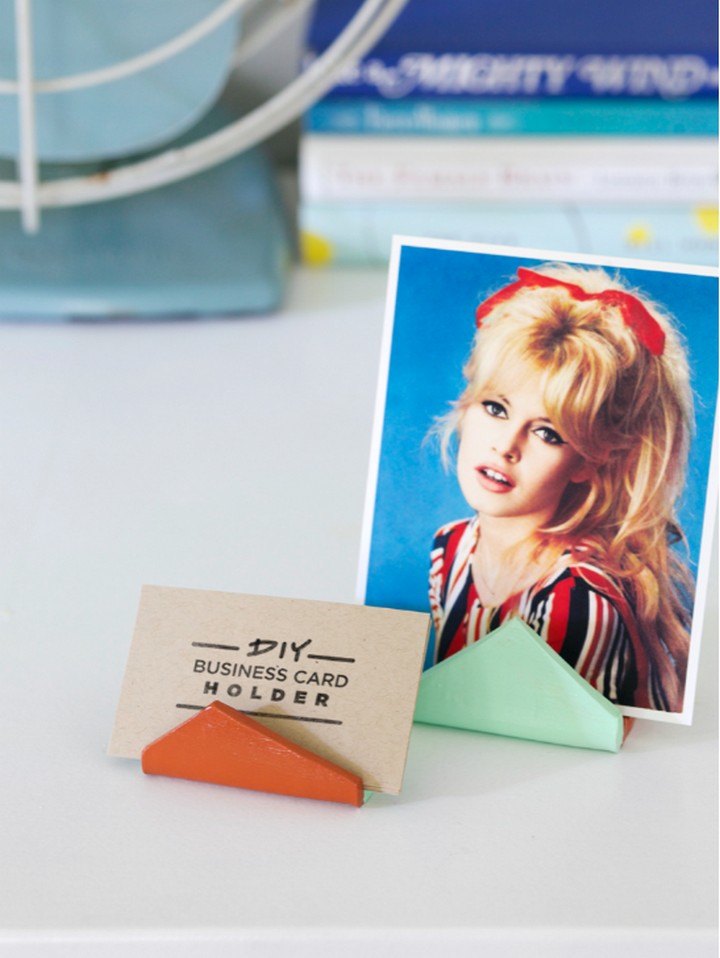 You can mold a cardholder in any creative shape, starting with some polymer clay and paint. And don't just stop with one! Make several of these multipurpose card holders at once, and find joy in using them for countless purposes such as photos, recipe cards, and of course, business cards. Easy to create and wonderful to behold, our DIY Multipurpose Business Card Holder is the universal tool you never knew.
DIY Wooden Business Card Holder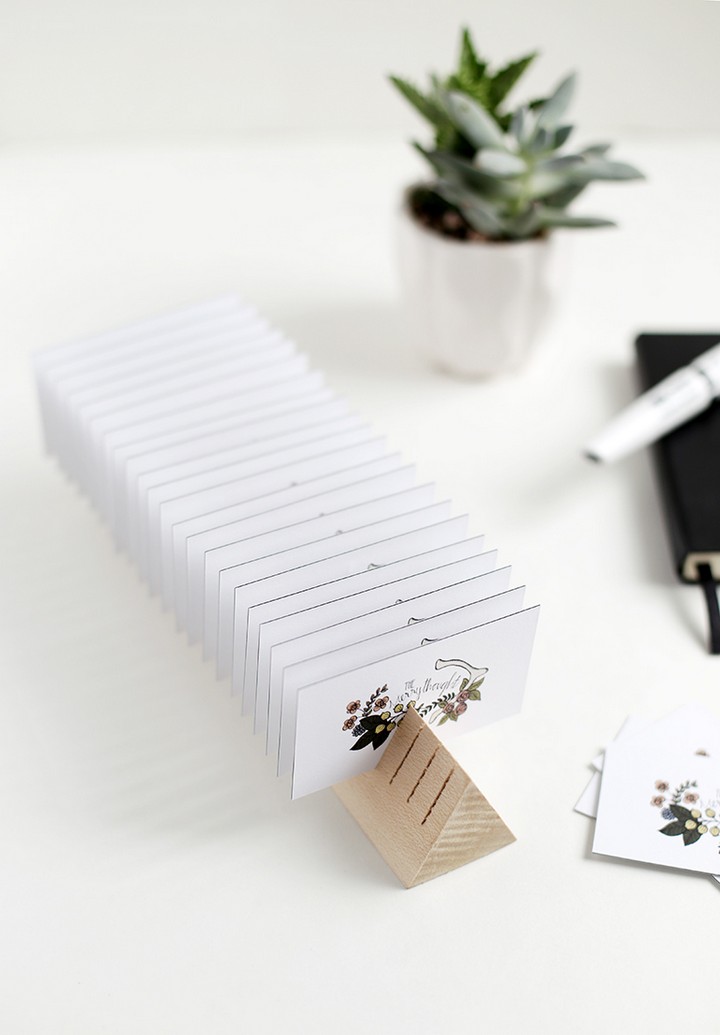 Ideal for parties and business gatherings, this card holder turns the hard task of card display into an accessible visual treat because of its beauty. With its unique design, each card stands alone in a line so each can get a card without displacing others. Starting with a wooden pyramid bar, add semi-cuts at regular intervals and put the cards here. Not just a holder, it acts as a perfect advertising tool, truly offering your business cards to guests.
DIY Transparent Business Card Holder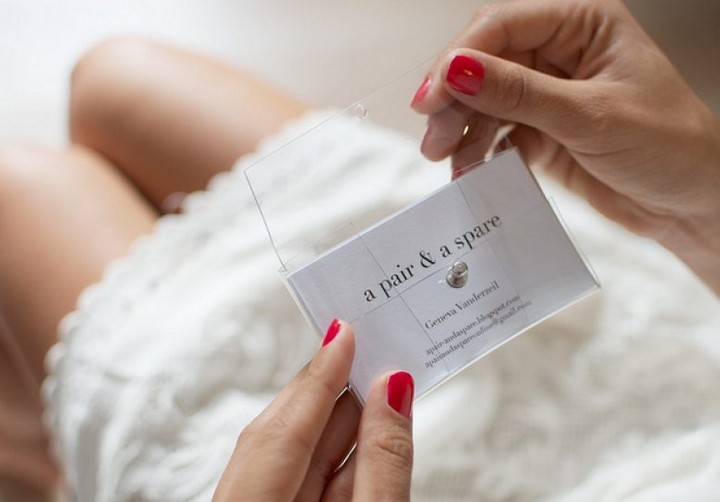 This plastic card holder ensures that your premium cards stay in brand-new condition without losing their aesthetic appeal acting as a shield against dirt and everyday dangers. Thanks to the transparent design, your card will shine brighter, catching the attention of anyone who comes into contact with them. Making a tiny hole allows you to hang the holder easily, adding to its charm. So, make the DIY Transparent Business Card Holder, a perfect fusion of protection and style, to give your cards the attention they deserve while keeping them in the spotlight.
Wooden Business Card Holder
This simple cardholder is more than just a cardholder. It's a unique work of art with its brown-painted wooden base and metallic card supports looking like bullets. On your customer counter, it will command attention. It elegantly displays your business cards while also adding a touch of charm. Despite its simplicity, it stands out and leaves a lasting impression as evidence of your excellent taste and abilities.
DIY Wooden Business Card Holder
Skillfully designed to store all your business cards securely and with style, this holder features a suitable drawer that easily slides open with a finger support hole and shows your cards when you want. Though crafting this DIY card holder may require patience and a steady hand, the result is a beautifully functional piece expressing your attention to detail and ability to create masterpieces. For originality, you can also sharpen your logo on that card holder!
How To Make A Business Card Holder
Your partner would adore receiving this creative cardboard business card holder as a gift you will make with just a few easy cutting, folding, and binding steps. Imagine hanging it on your office's wall to add style and utility. The best thing about this project is that you can create various designs and color schemes to blend with the rest of your office decor and send them to others because they will look quite like letters.
DIY Gold Glitter Monogram Business Card Holders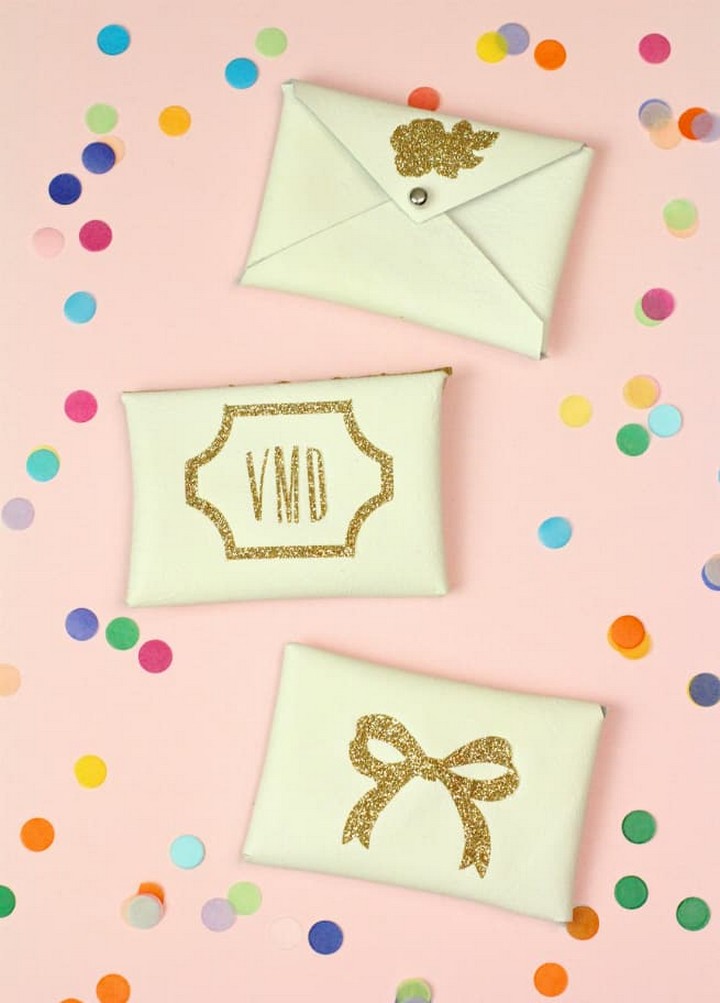 These gold-themed card holders are carved with amazing glitter designs, perfect for those planning to spread their business cards with the energy of glamour. Shaped like letter wraps, they cleverly twist traditional business card holders. This card holder is not just a functional item but an extension of your creative spirit. Each shiny element shows your dedication to aesthetics and attention to detail. What better way to share your cards while simultaneously expressing your artistic skills?
How To Make A Stylish Business Card Holder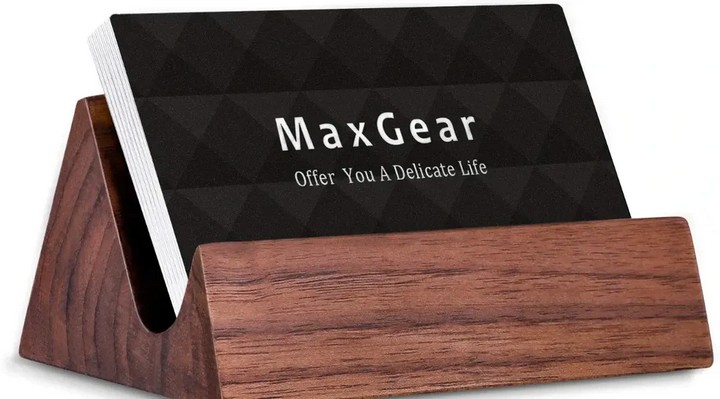 Designed to easily adapt a wealth of abundant cards, this holder is an impressive addition to any office despite the business size. Its professional appearance does justice to your business cards and provides a grand display to catch anyone's attention. Especially for those just starting their business journey, creating this cardholder can be an exciting and rewarding project that adds a personal touch.
See More
15 Creative DIY Jewelry Holder Ideas: Express your creativity with DIY jewelry holder ideas. Keep your precious pieces organized, stylishly, and personalized with custom-designed holders.
DIY Beaded Bracelets Ideas: Explore various DIY beaded bracelet ideas to create unique, personalized accessories. Discover versatile designs and techniques to make charming wristwear that reflects your style.
Easy Perler Bead Patterns: Explore the world of Easy Perler Bead Patterns, ideal for those new to the craft. These designs are fun and simple, allowing you to create beautiful results quickly.