22 Easy Perler Bead Patterns For Beginners
Explore the world of color and creativity with these fun Perler Bead Patterns! This fun and engaging craft is for children and adults who love exploring their artistic side. The list of ideas here is a fountain of inspiration that would motivate you to craft beautiful patterns. With Perler Beads, the possibilities are virtually endless – from creating adorable animal figures to intricate geometric designs and everything in between.
Perler Bead Patterns

Whether you want to create a delicately detailed floral pattern inspired by nature or seek something more abstract, Perler Beads are perfect for any project. So, don't let the walls confine your creative spirit; let it expand and explore the ideas provided here. If you're a seasoned crafter or a novice the pleasure of creating and the pride of accomplishment is wonderful, and I hope you'll love it.
Small Perler Bead Pattern
These small perler bead patterns are perfect for when your kids want to make something and get it done fast. They are easy to put together and use a limited number of beads. Your kids can spend as long as they want on it, then pick another one! The best part is these small perler bead projects will keep them occupied and happy while you finish working on your stuff! That makes them perfect for kids who need something to keep their hands busy on a car or plane ride; or just as fun when you're sitting still!
Mini Perler Beads Pattern
This is a Mini Perler Beads pattern great for kids' craft project to make with your kids or use at home as a decor piece. This mini perler beads pattern comes with instructions on making a beautiful love heart pattern using mini perler beads that can be used as a wall hanging or pendant, phone stand, or even a bookmark in your favorite book! Just check out the photo that includes all the beautiful colors.
Mini Beads Owls And Butterfly
This pack of Mini Beads features owls and butterflies in bright colors and patterns. A great craft project for kids, the Mini Beads can be tacked onto paper for wall art or other decorative items. They can also be strung together to create jewelry and clothing embellishments.
Perler Bead Designs
With Perler Beads, you can create your own designs or recreate a favorite character. Pick up one of our design plates, pick your favorite colors, and get started! It's so simple to use that you can enjoy your new creation in no time!
Easy To Make Perler Bead Cards For Kids
This project is perfect if you're looking for a fun and useful way to upcycle your Perler Beads! You can use these cards for anything from flashcards to word searches. This amazing perler bead pattern can be a great way to help kids with their fine motor skills while enjoying fun afternoons together.
How To Make Minecraft Perler Bead Magnets
Have you ever seen a Perler Bead magnet? The cool thing about Perler Bead magnets is that they're easy to make and a great way to create cheap, cheerful educational toys for kids. Kids can do it independently, or parents can help them by sorting the beads together, ensuring they know where to place each bead.
Mario Perler Bead Pattern
Act out your favorite Mario games with these Super Mario perler bead patterns. With simple patterns that are easy to follow and create you can show off your love of your favorite character. So, if you're a Mario fan, why wait for the supplies and start making these fun perler beads-inspired accessories?
Winnie The Pooh Perler Bead Keychains
Your kids will love these Winnie The Pooh Perler Bead Keychains, a fun and easy craft for kids or Winnie The Pooh fans! These perler bead keychains are a great way for your kid to decorate their room or backpack. Each keychain has a handy dandy split ring to attach to any bag or belt loop easily, and surely you'll love this beads pattern as I did.
Emoji Perler Bead Keychains
These Emoji Perler Bead Keychains are made using Perler beads, which creates a durable design. Kids of all ages will love to make these keychains and they make great gifts too!
How To Make Perler Bead Flip Flops
A pair of cheap flip-flops and a bucket of Perler Beads is all you need to make your own colorful, custom flip-flops! So grab your favorite crafty friend, some pizza, and root beer floats, and get started with this easy DIY that combines two things we love the beach and nerd culture! Make a pair to complete your summer wardrobe, or surprise a friend with a gift they'll love.
Perler Bead Earrings
It's fun to use perler beads to make these cute earrings. You can use any design you want from roses and hearts to flowers, faces, or whatever else you can think of! It makes for a simple yet unique gift for your friends and family. Grab some perler beads and follow these easy steps to create adorable, durable, and meaningful gifts for friends, family, and yourself!
Perler Bead DIY Coasters
Make these easy DIY Perler Bead coasters for your Fourth of July cookout in less than 30 minutes. They're a fun craft that the kids will enjoy too, and they make great gifts! Your friends and family will love having these DIY Perler Bead coasters on their tables this Independence Day. Just imagine the compliments you'll get when everyone notices you made them yourself.
DIY Perler Bead Rainbow And Unicorn Brooches
This DIY Perler Bead Rainbow Unicorn Brooch is a fun handmade craft and can be worn over backpacks and clothing. It's also perfect for kids to make and give as gifts! These DIY pieces look great when used with a darker-colored outfit, as they will bring out the brightness in the colors and make a statement that stands out. These are easy enough for beginners but can also be made more advanced with stringing and small chains.
DIY Perler Bead Zipper Pulls
Kids love to show their individuality, and these DIY perler bead zipper pulls are a great way to do that. Add a personalized touch to your backpacks with these DIY perler bead zipper pulls! It's an easy project that only takes a few minutes and will surely turn heads. In addition to being fun, they also help children learn patterns and design skills!
Perler Bead DIY iPhone Case Holder
This Perler Bead DIY iPhone Case Holder is perfect if you love creating your iPhone case. It even comes with a peg board and fuses bead pegs to help you create a fun design on your phone case. This easy DIY perler beads craft has a cool geometric design, so you can make your custom case or customize it with other beads and pegboards in any design or shape you want!
DIY Perler Bead People Cake Toppers
Promote your unique style and personality by making these gorgeous DIY Perler Bead People Cake Toppers for your holiday and wedding celebrations. They are easy to make with innovative techniques and colors. These cute and colorful figures will surely delight everyone at your party! You can also use these characters to make a miniature diorama on a larger background of the same color palette. The possibilities are endless.
DIY Perler Bead Frame
This Perler beaded frame is the perfect home decor to showcase your favorite pictures. Use your imagination and create your unique style. With many pieces of bright colors, you can mix and match each color to your liking! The pattern includes two versions of the same design with and without text. It's easier than you think, allowing you to make beautiful works of art quickly!
Colorful Perler Beads Change Holder Homemade Gift
It's like a sparkly, colorful rainbow of organization for your coins. This amazing handy coin holder is bright like a rainbow and holds all that random change that would be rolling off your nightstand or dryer without it. Holds all your coins, dollar bills, and other small items!
Perler Bead Soap Dish
Want to make a soap dish out of Perler Beads? With this easy tutorial, you can make an adorable one that suits your taste. The design is simple and customizable, so making your unique version will be fun! Add some beads for the final step of fusing everything to create a fun and functional piece you can use in the shower.
Perler Bead Drink Covers For The 4th Of July
These Perler bead drink covers are a fun craft for any 4th of July party or BBQ. Make them as party favors or give them to your guests for the big holiday celebration. Kids will love making these cool designs with their hands and then showing them off! You might need an adult to help you get started, but after that, it's easy!
Printable Easter Perler Bead Pattern
Make these Easter Perler bead patterns and let your kids create adorable bunnies, chicks, Easter eggs, baskets—and everything else they can imagine! It's a fun way to spend time with your children and easy enough for younger kids. Make eggs and baskets, then fill them with candy or small presents like feathers or stickers. You'll have a homemade Easter basket that they can keep or share!
Flower Perler Bead Pattern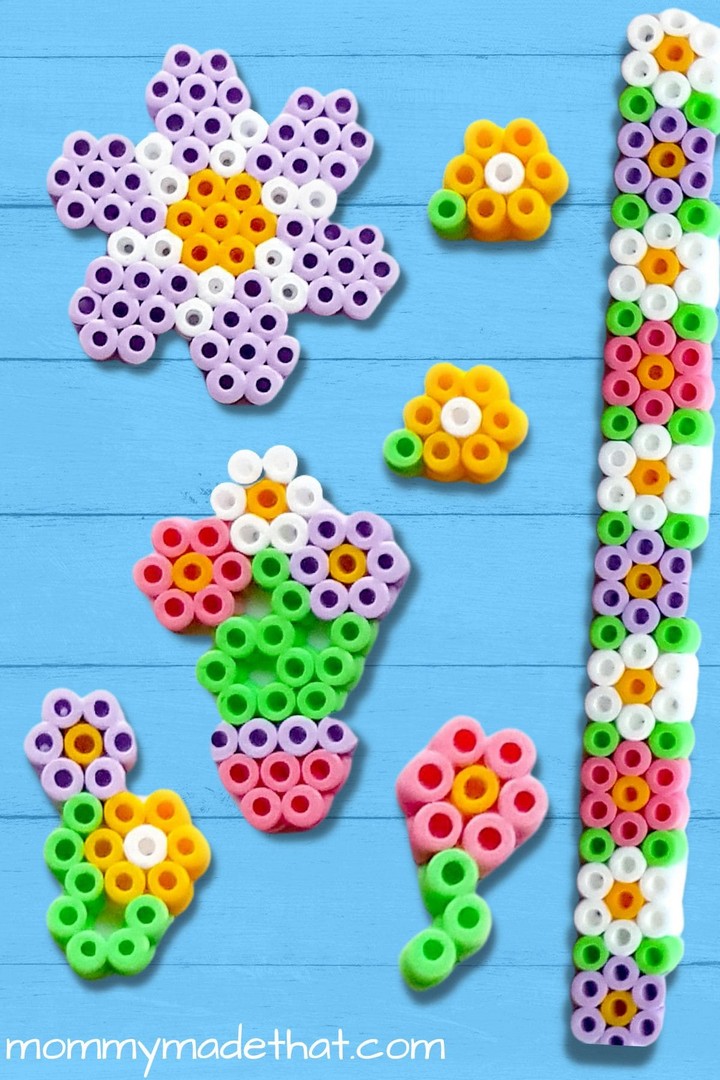 Add springtime charm to your melty bead creations with these flower Perler bead patterns! We have all the designs you need to create beautiful bracelets/ earrings/ and more. Use your favorite color of beads and one of our tips to make any creation. You can also use this pattern for making a variety of wrist cuffs.