7 DIY Dreambox Plans For Storage/Organization
Dreambox is a marvelous tool for DIY enthusiasts that offers the convenience of having your crafts supplies organized and within reach. With the best (Do-It-Yourself) Dreambox plans, you can have a personal, customizable storage space. Your DIY Dreambox can hold an array of crafting materials, such as paints, brushes, glitters, fabrics, scissors, and so much more.
Best DIY Dreambox Plans

If you're a regular crafter like me or have a bunch of mess to deal with, following one of these DreamBox plans will surely be the best option for you. Whether you want a storage/ organization section in rack-style or wish to make a Dreambox in vertical closet type, then you'll surely find the most appropriate option for you here.
Tips For Making Dreambox
I prefer using a premade cabinet, closet, or any other thing that has multiple sections installed already, and all you have to do is organize and allot different sections to different supplies.
If you're dealing with the tiniest things, like supplies for beading and crafting, I suggest going with the simple plastic boxes in a smaller size. Because they can fit any smaller space easily to go with huge cabinets, go small and go easy.
DIY A New Dreambox
With the DIY New DreamBox, enjoy a creative and space-saving atmosphere. The DreamBox is great for any craft room, whether you're a home decorator or a professional artist. Plus, it's an affordable way to make your space more functional!
Create Room Dreambox A Year Later
Create Room DreamBox remains a much-loved item among crafters. This piece's incredible storage has helped people keep their tools and materials organized. With adjustable shelves and swing-out doors, it can be customized to fit various needs. This all-in-one crafting solution has maintained its popularity and continued usefulness due to its quality and functional design.
DIY Dreambox Plan
This amazing idea will be the perfect companion to make your DreamBox, and it also works great as a stand-alone crafting station! This sturdy, durable wooden cart will keep your craft supplies organized and accessible. With its non-slip rubber feet and sleek design, you can easily place it anywhere in your home or office.
DIY Dreambox Craft Cabinet For Storage
The Dreambox is a versatile cabinet for crafting items and also showing off your stuff in the tidiest and most unique way. It's made from hardy wood, ensuring it stays in good shape under different weather conditions, like high humidity. You can organize all your stationary items, craft supplies, and a lot of other things with this amazing cabinet plan, and surely thank me later.
DIY Dreambox Craft Storage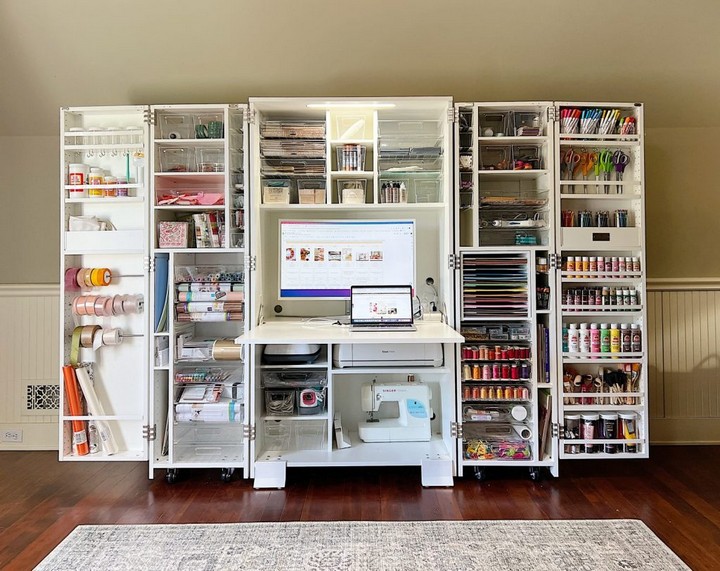 No more piles of papers or cluttered desks! This fantastic organizer keeps it all neat and safe. Creating your own DIY Dreambox Craft Storage at home is simple, fast, and cheap. You can keep all your loved craft items in this trendy organizer.
Dreambox Alternative
If you're looking for a Dreambox alternative, this smart solution can be used to organize your craft supplies and make them more accessible. This DIY craft cabinet will allow you to make one cabinet that holds everything from thread and beads all the way up to painting supplies and tools. You can keep heavier stuff like bags, buckets, collections of books, and a lot of other stuff in the most manageable way by getting inspiration from this idea, and it will surely be a must-hit.
DIY Dreambox Craft Closet Cabinet
Craft closet is perfect for your child's playroom and the best place for them to play with their toys, dress up, and more. If you have a temporary playroom, why not turn it into a well-functioning Dreambox? You can create one with this amazing DIY project guide that I'm sure your children will love and spend their free time there.