10 DIY Devil Costume Ideas To Look Like A Villain
Unleash your imagination this Halloween and allow the devilish inspiration to flow as you don a vibrant red outfit, be it a sultry dress, a smart suit, or casual attire, all tailored to your personality, following these super unique DIY devil costume ideas. Creating your devil costume will bring out the creative wizard in you, but it will also provide an unmatched thrill that no store-bought costume can offer. So, why wait? Bring out the craft supplies and get ready to capture the spirit of Halloween with your unique DIY devil costume in no time.
Easy DIY Devil Costume

Regardless of age or gender, anyone can have fun crafting their devil costume. Here's a compilation of ideas that caters to everyone in the family, with room for personalization. The versatility of these devil costumes can mix and match ideas, play with colors and textures, and make a devil costume that screams 'you' in the most devilishly delightful way.
How To Make A Devil Costume?
So why wait? Get the supplies and start making a super horror devil costume for yourself in no time. Some of the basic attributes for your devil costume are:
Red outfit: Clothing in red, as it's the typical color associated with devils.
Devil horns: They are made from materials like cardboard or foam, usually attached to a headband.
Tail: A red tail made from fabric, ribbon, or faux fur.
Pitchfork: A trident-like prop made from a stick and cardboard or foam.
Makeup: Bold red lipstick or face paint, dark eyeliner, and possibly red or black accents for added drama.
Easy DIY Tween Devil Halloween Costume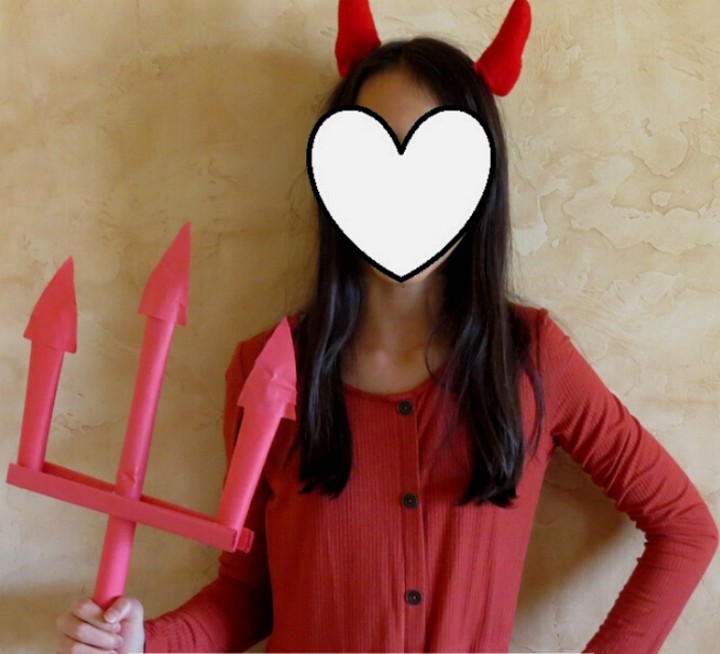 Looking for a fun and budget-friendly Halloween costume? Try this easy DIY Tween Devil costume that perfectly blends spookiness and cuteness. This DIY costume is ideal for those who want an inexpensive, re-wearable, and age-appropriate outfit for Halloween while still showing off their crafting skills.
Materials and Makeup: For creating a DIY Tween Devil Halloween Costume, pick a burgundy casual dress and black tights as your base. Make devil horns following an online tutorial and create an origami trident by watching its complete video from the link. You can also have spooky makeup to enhance its authenticity!
Little Devils Costume
How about turning your little angels into devils for the day with this fun DIY Little Devils Costume idea? This costume is ideal for kids and offers a unique spin on traditional Halloween outfits. With their devilish wings, spooky wigs, and horrifying makeup, this costume idea is perfect for Halloween!
Materials and Makeup: For the Little Devils costume, start with a red dress for girls, and a Darth Maul suit for boys. Enhance the look with red makeup. Add a pair of wings and a scepter for extra flair. The horns can be made using antelope horns, drilled, and wired to a headband. This costume offers a unique twist to traditional devil outfits.
A Last Minute Devil Halloween Costume
Whether you are dressing for a Halloween party or other festive occasions, this DIY costume will be the perfect fit! The costume is made with a simple red dress that can be worn on any other occasion.
Materials and Makeup: Create an economical Devil Halloween costume with items from your closet. Start with a red dress and buy devil accessories like horns and a pitchfork, available on Amazon for around $10. Complement the costume with a smoky eye, bold red lip, and dramatic lashes. Interest can be added with accessories like an evil eye ring or spider earrings.
How To Dress Up As A Devil
Materials and Makeup: To dress up as a devil, create a classic look by choosing a red or black outfit, like a dress or suit, as your base. Accessorize with a pair of devil horns and a tail, which can be bought or made at home. Add a trident for an iconic touch, and complete your look with red or black makeup, including smoky eyes and bold lips, to enhance the devilish appearance.
Simple Homemade Devil Costume
The devil costume is an iconic Halloween staple. From friendly and cute to scary, its charm lies in its versatility. Creating this costume is surprisingly easy. To simplify the process further, let's explain how to achieve a casual look, toning down the devilish appearance.
Materials and Makeup: Creating this DIY Devil Costume is straightforward. You will need red contacts, black and red hair spray, red face paint, and artificial horns. A red velvet jacket would serve as the main part of the costume, paired with a regular pair of jeans and a shirt. On Halloween, paint your face red, glue on the horns, dye the goatee black, and spray your hair black and red. The goal is to become unrecognizable, making you the devil of the party.
Classic Costume Idea Red Devil
The Red Devil is an iconic Halloween costume that holds universal appeal. Designing it yourself is straightforward and rewarding. With a classic outfit, spooky makeup, a cute bow, and a ghostly wig with horns, this DIY costume embodies the complete aesthetic of a devil.
Materials and Makeup: Wear red clothing for the Red Devil costume, including a long-sleeved shirt and burgundy jeans for contrast. Don't forget the iconic pointy tail and a cute bow for adorable evil. Makeup is crucial; start with a red face, add black around the eyes, then highlight with white face paint. Add the red wig; a pitchfork isn't necessary; it adds to the devilish charm.
DIY Devil Costume From Stuff Lying Around At Home
This devil costume is the cutest ever! Perfect for your child's Halloween trick-or-treating adventures, pretend play, and school performances. The best part is its glowing horns, making this costume ideal for day and nighttime activities!
Materials and Makeup: Choose a red T-shirt and black pants as your base. Create a tail from cloth filled with pillow fillers and a shaped cardboard end. Use a foam sheet to cut out a trident shape, attach it to a hollow pipe, then decorate it with red glitter. Add devil horns, which can be found in most toy stores. Finalize with light makeup, like a small goatee and curled mustache.
Devil Costume
This costume, with its scary demon-like shirt, dark mixed fabric, and bright red body paint, lets anyone put on a daring, rough look. Made with great attention to details, it captures the essence of Halloween and gives an opportunity to flaunt their audacious side.
Materials and Makeup: Begin with a basic black t-shirt and redesign it with cut details and black netting to lend a grungy look. Paint your body red, and accessorize with sharp black nails. Enhance the look by adding features like pointed ears, horns 'ripping' out of the head, and red eye contacts to create a truly demonized appearance.
A Little Devil And A Little Witch
Imagine turning your dynamic duo into a little devil and witch for Halloween! These DIY costumes are simple and quick to create, perfect for last-minute preparations. Despite their simplicity, they're designed to captivate, adding the perfect spooky yet adorable touch to any Halloween occasion. A fun and effortless way to celebrate!
Devil Costume: Use the Butterick B4319 sewing pattern and sew the main outfit. Complement with a matching set of devil horns and a cape. A thrift store may have the perfect accessories.
Witch Costume: Use Simplicity 2571 sewing pattern. Modest tweaks to the wizard pattern create a witch outfit. Add lightweight wire to the hat's brim seam to give it a structured shape.
Devil & Fairy Halloween Costumes
Whether you lean towards the wicked or the whimsical, the devil and fairy costumes offer great options. A devil costume typically involves a red or black outfit, devil horns and a tail, possibly a trident, and dramatic makeup. For a fairy costume, a flowy, sparkly dress in pastels or light colors, wings, and a wand are key elements, complemented by light, shimmering makeup, and plenty of glitters. Whatever you choose, your imagination sets the limits, so get creative!