20 DIY Jellyfish Costume Ideas With Guides For Land Jellyfish!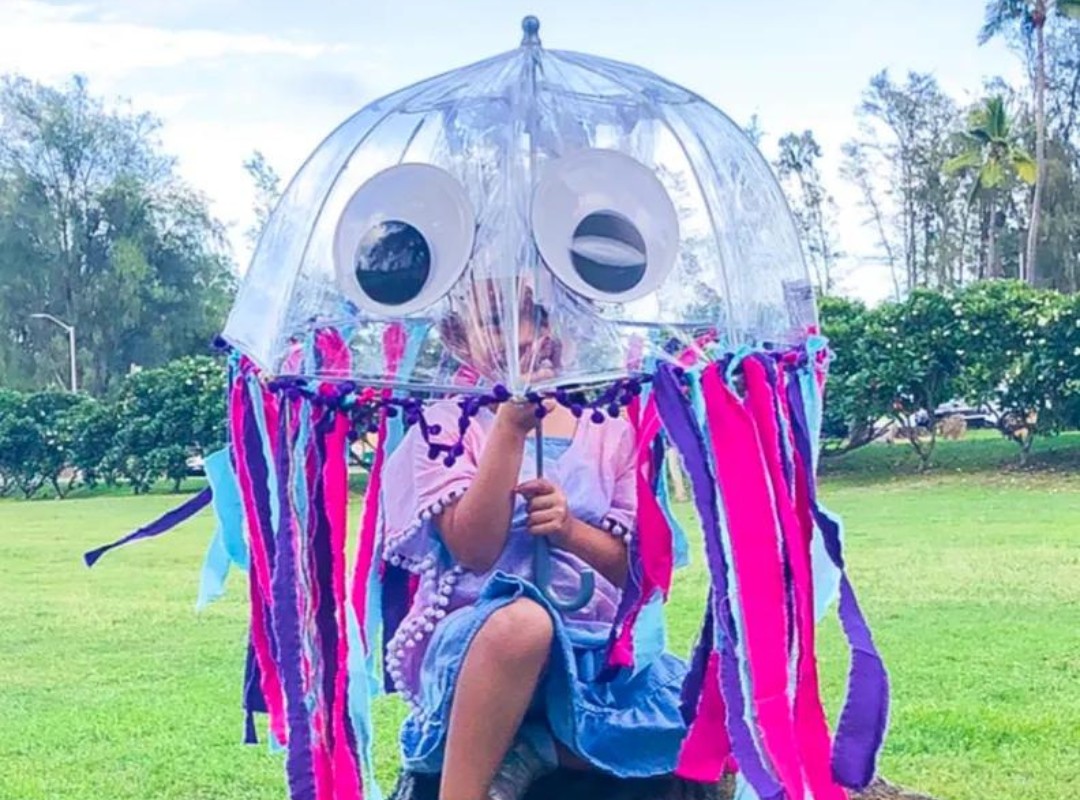 A DIY jellyfish costume stands first when needed, a gender-neutral, bright, gorgeous, customizable attire with shimmering fabrics and craft paper. Find many ideas with various variations in this list, from umbrella jellyfish costumes and headgear (hat!) to tutus, glowing LED jellyfish outfits to eyed ones, and much more. You'll also find the best crafting hacks to make these costumes using materials in your drawer.
DIY Jellyfish Costume Ideas for all skill levels

Although the shape of a jellyfish (with its cap and tentacles but no limbs!) cannot be exactly copied as human clothing, these DIY jellyfish costume ideas will help to gain as many results as possible. Whether you want to make the illusion of a glowing jellyfish on your head or turn a skirt into a jellyfish outfit, you'll find a mix of simple to complex options in this list. So, you can find some tentacled people everywhere beyond the ocean.
Glowing Jellyfish Tutu Costume
This charmingly whimsical costume adds personality to your Halloween party. It is fun to add charm and beauty to your kid's costume. These costumes are easily transported and carried for party favours, photo props, or other costumes.
Making: To make the jellyfish costume, you must sew two pieces of fabric, each with a small fiber loop. Then, hand-sew a battery box with an attached light strand onto the back. Finally, run the fiber through one loop and out of the other before stitching the two together. This way, the fiber will gently hang from her waistband without any extra weight pulling on it!
Materials:
5 yards of purple glow-in-the-dark tulle\
LED purple light strip
Rotary cutter
Acrylic quilt ruler
Thread
Hand sewing needle
Jellyfish Hat Costume With LEDs
Create a fun and whimsical look with our Jellyfish Costume. This costume features an iridescent purple plastic jellyfish hat that adds fun to any Halloween party or ocean-themed event. Add more jellies to make the best ocean-themed costume ever. This stunning, lightweight hat adds fun and personality to your Halloween party.
Making: To create the jellyfish, you'll need a sombrero and strips of fabric to cover it. Glue the strips to the sombrero, then fill it with newspaper and bubble wrap so it's lightweight. Cut small holes in it for the legs, attach a battery-operated LED light, and glue them under the brim so they hang down from there.
Materials:
Newspaper
Scrap fabric
Ruffled fabric
LED lights
pink tulle skirt
DIY Umbrella Jellyfish Costume
Festive and memorable, this bright-hued jellyfish costume is essential for Halloween events. Made of soft fabrics, the costume features a headpiece with an attached neck adorned with an attached cloudy white umbrella. Featuring realistic style details, including one large tentacle, this costume is sure to make you stand out in the crowd.
Making: The umbrella was bent and taped to give it a dome shape. The lights were then wrapped around the umbrella's inside to give it a glowing effect. Two strands of lights were wrapped around the top inside, while two strands hung down near the pole.
Materials:
Clear or cloudy white umbrella
4 battery-powered LED light
Coloured and white tulle
Cellophane
Jumbo bubble wrap\
Packaging tape
Easy DIY Jellyfish Headgear
Make this modern and lightweight jellyfish costume for your Halloween party. With just a few simple materials, you can create a stylish, unique, and quite a bit of fun costume. An eye-catching jellyfish costume, it is perfect for any ocean-themed party.
Making: To make the head portion, you will need to cover the top of the hat with white duct tape and then glue metallic tissue all over the top and underneath the hat.
Materials:
Hat with a brim
Foam board
Drycleaning bags
wired ribbons
Glue gun
Jellyfish Umbrella & Costume For Girls
Looking for an adorable costume this Halloween? Well, look no further! Take your little girl's Halloween dress-up to the next level with this adorable two-piece costume set. It's simple, inexpensive, and requires only a few ingredients from your local craft store. This DIY jellyfish costume is perfect for a beach-themed party or costume contest.
Making: This Jellyfish Costume is super easy to construct! The dress is made with several ruffles and no zippers or buttons! It goes on straight over the head. The instructions are very detailed, with extensive photos showing how they are made.
Materials:
knit velour
sheer fabric
LED lights
A ribbon to attach to the ends of the umbrella
A bubble umbrella
Glow In The Dark Jellyfish Costume For Kids
With a statement hat and matching aqua jellies, the Glow In The Dark Kids Jellyfish Costume will make your child shine at any Halloween party. It's comfortable and easy to wear, making it a unique addition to your kid's costume collection.
Making: To make this costume, attach a silver ribbon to your hat and then wrap your bubble wrap around the top of the hat. Cut thin ribbons to create the jellyfish tentacles, then adhere them in place with fabric glue. Add decorative glitter to emphasize their glistening appearance further.
Materials:
Tulip Glow in the Dark Paint\
Sponge Brush
Hat
Silver Ribbons
Old shiny shirt
Bubble Wrap
Packing Tape
Masking Tape
Cardboard
Loofa
Awesome Jellyfish Costume DIY
This jellyfish costume is a fun and unique costume for young girls. It is easy to make and will be a hit at her next Halloween or school parties. Create your own Awesome Jellyfish Costume DIY! Your daughter will love the bright lights! It'll be perfect at any undersea party and well-made and a perfect fit.
Making: A jellyfish costume can be made with simple supplies and by following a few simple steps. To make the jellyfish costume, place the bowl upside down on top of an oversized sun hat and tape it securely with clear packing tape. Next, set the LED light between the hat and the bowl. Then, wrap the bowl hat in a double-thickness of light blue plastic tablecloth. The tights covering this bowl will create a colorful effect similar to what you would see when viewing an actual jellyfish underwater.
Materials:
An old big hat
A transparent punch bowl
3 plastic tablecloths
packaging tape
Battery-powered LED lights
Jellyfish Costume DIY
Add a splash of fun to your Halloween celebration with this DIY Jellyfish Costume. If you love the ocean or have kids who are curious about the deep sea creatures, this jellyfish costume is perfect for them. These costumes take only a few minutes to make and can be reused year after year.
Making: To create a jellyfish costume with an umbrella base, cover the umbrella with fabric and sew the fabric to elastic. Sew tulle down the middle of each tentacle to create the soft tissue appearance of a jellyfish's tentacles.
Materials:
Bubble umbrella
sheer purple fabric
light purple and dark purple tulle
white pearl necklaces
white battery-powered lights
Easy DIY Jellyfish Halloween Costume For Kids
Are you searching for a DIY Jellyfish Halloween Costume that's easy to make and fun for kids? This DIY Jellyfish Halloween Costume gives your kid a fun and playful character and will make them stand apart from others in the crowd of Halloween costumes. This jellyfish is stunning and will definitely make your kid look adorable.
Making: To make this adorable costume, cut the ribbons in varying lengths and then use tape to adhere them to the underside edge of an umbrella. Cut two oval-like shapes from white paper for making eyes, and draw in pupil dots. You can also decorate with jewelry or too-large bows made from ribbon.
Materials:
Umbrella hat
Ribbon in a variety of textures
Hot glue gun
Tape
Scissors
DIY Under-the-sea Costumes Jellyfish
Bring your favourite sea creature to life with this fun and easy DIY Under-the-sea Costumes Jellyfish. Your little one will be delighted to wear this adorable look at their next pool party or family picnic.
Making: Place your fabric circle over the top of your round umbrella and cut a spiral into it that's about 4 inches deep. When you unwrap the spiral, it will hand down in a tight spiral. Once you have all your tendrils cut, attach them to your umbrella with glue or tape.
Materials:
Umbrella
squares fabric
Ribbons
Tape
Glue
Easy DIY Jellyfish Costume
If you love jellyfish and want something adorable and whimsical for Halloween, this is a great DIY project. This Jellyfish Costume is so fun, looks great, and is a perfect DIY for Halloween night. Add some last-minute touches, such as glow sticks or LED lights, turn out the lights, and watch how awesome this jellyfish costume looks!
Making: Cut four strips of the fabric and tie them onto the base of an umbrella. When you add the eyeballs, you'll want to ensure they are evenly spaced apart around the outside of the umbrella.
Materials:
Clear Umbrella
1 yard of Fabric
2 Large eyes
Best Jellyfish Costume
Wear this Best Jellyfish Costume and come across as a true jellyfish. The Costume features a full-body dress with attached tentacles. Its exclusive design makes it the most comfortable and realistic costume available. The Best Jellyfish Costume is a fun and easy way to dress up for Halloween. It's also a fantastic addition to any costume party. Even at the beach, pool, or on vacation, this Best Jellyfish Costume will make you stand out in the crowd.
Making: Wrap an umbrella with wrapping paper, and then use duct tape to attach the blue LED lights to the top of the umbrella. Sew a basting stitch down the center of each strip to make the ruffly ridges.
Materials:
Translucent wrapping paper
Umbrella
Duct tape
Battery-powered LED blue lights
ED light strings
Iridescent Jellyfish Costume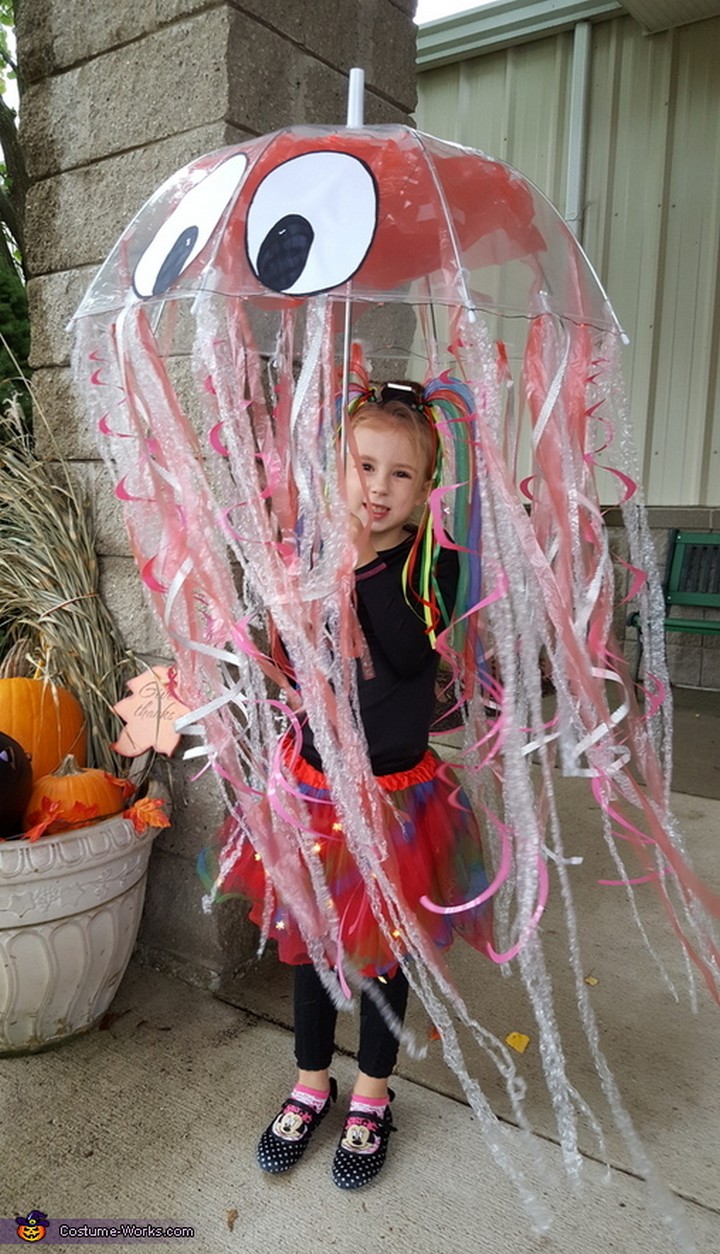 With a shimmering iridescent body, this beautiful look is brought to life with multiple luminescent colors. Bright and colorful, this makes a great choice for a unique Halloween look.
Making: The Jellyfish costume is made using a black poncho and umbrella, with silver ribbon tentacles and a red poncho cut into strips to create the jellyfish's glowing inner body. Attach LED lights to the top of the umbrella to illuminate your costume and create an iridescent glow.
Materials:
Dome Umbrella
Wacky headband
Silver ribbon,
Strips of bubble wrap
LED lights
Jellyfish Costume DIY
Jellyfish float through the ocean as one of the most unique creatures of the sea. Now, you can explore their world and reign as the star of any Halloween party in this easy-to-make costume! This costume is great for adding some whimsy to your Halloween festivities. This costume's loose and lightweight feel makes it comfortable to wear and easy to maneuver while trick-or-treating with friends or family.
Making: Bubble wrap is versatile and can be molded into any shape. To make your jellyfish costume, you'll need to cut foam board into simple shapes – circles for the head and tentacles and an oval for the body. You'll use a glue gun to glue everything together. When done, your jellyfish will look just like the real thing!
Materials:
Sticky Foam Board
Bubble Wrap
Gift wrap stuffing
Organza
Gathered tulle fabric
Battery-Powered LED Lights e
Hot Glue / Glue sticks
Easy Jellyfish Costume
This fantastic homemade jellyfish costume is a must-have for the holiday party. It is easy to make and looks amazing; the costume will work well for Halloween parties or even a night at home.
Making: This costume is super simple to make! Start by covering a lightweight costume with jewels, stickers, and bling, then Use construction paper and tape to create the eyes.
Materials:
child-sized umbrella
wired ribbon
curling ribbon
Black and white construction paper
iridescent jewel stickers
22″ glow sticks
Glow In The Dark Jellyfish Costume
With realistic, soft tentacles and a glow-in-the-dark body, this costume will make you look like an actual jellyfish! It's fun for parties, festivals, and any other event. The video tutorial will show you how to make your very own glow-in-the-dark jellyfish costume using just a few tools and materials that can also be used as props from other costumes.
Making: For this costume, we lined up foam floral bricks on the top of the sombrero and cut them in half lengthwise. Next, remove the felt that is used to make a sombrero brim. Then, glue a few of the foam floral bricks around to make an ornate headdress. Cut felt for the bottom of the sombrero and glue it on to cover over the bottom of your sombrero.
Materials:
A sombrero
Long glow sticks
Bubble wrap
Iridescent gift bag filler
White tissue paper
Battery-operated white or clear Christmas lights
wired ribbon
DIY Glowing Jellyfish Costume
Add a little jellyfish to your haunt this Halloween with this DIY costume. A glowing jellyfish costume with googly eyes makes a stand-out piece for your Halloween party or event. The googly eye spots and bold colors give the illusion of a completed costume out of the deep blue sea. The easy instructions and pattern mean it can be made in just one evening.
Making: After you've cut the ribbon into strips, glue them all around the inside of your umbrella. Use two different colors or at least two sizes to fill in all the space. Place the fairy lights around the inside, carefully keeping them away from the wires. Last but not least, cut out some white cards and black cards to make eyes for your jellyfish costume (don't forget to leave a little space between the eyes).
Materials:
Dome shaped umbrella
Ribbon
Sheets of white cardboard
Sheet of black cardboard
Battery-operated fairy lights
Glue gun/strong glue
Cute Jellyfish Costume
Whether you're dressing up for a birthday party or planning an under-sea adventure, our Cute Jellyfish Costume will surely bring out your inner sea creature. It's bright, colorful, and perfect for kids who love the sea. Little ones will love this dress-up costume that lights up like the ocean at night!
Making: This cute jellyfish costume is made from a straw hat with fabric, batting, and ribbon tentacles. The cover of the hat is removed and then stuffed with batting. Hot glue was used to attach fabric to the inside rim of the hat covering and some ribbon tentacles on the other side of the hat.
Materials:
Straw hat
Fabrics
Hot glued
Ribbon
How To Make A Jellyfish Costume
You'll be the centre of attention in this unique and gorgeous costume. It's also great for Halloween and costume-themed events, festivals, parades, and cosplay. This adult costume will make a stunning addition to any jellyfish lover's wardrobe.
Making: Tulle is the right fabric to use for a jellyfish costume. It's full and flowing and comes in a wide variety of colours. Cut a long piece of tulle. Using some straight pins or a temporary marking pen, mark the tulle into thirds lengthwise. Using thread and needle, hand-sew one line of evenly spaced ¼-inch stitches along the dividing line on the tulle fabric. Repeat with more strips of tulle and keep going until you have all of your pieces.
Materials:
LED lights
Safety pins
Erasable marking pen
pearl necklace
pearl bracelet
Long silver wig
Jelly Fish Costume
 This charismatic and colourful Jellyfish costume adds flavour to your Halloween. With its bright blue skirt and jellyfish head, you'll create a humorous costume for your next Halloween gathering.
Making: Start by spreading out your jelly body fabric. Open the umbrella and sit it upside-down in the centre of the fabric.
Materials:
More Costume Collections