15 DIY Wonder Woman Costume Ideas To Look Like A Princess
If you're a fierce fan of the Amazonian Princess and want to dress up like that for the coming special events, getting inspiration from these easier DIY Wonder Woman Costume ideas will surely be the best option. We'll provide you with decent ideas to help you turn the daily used wearables and accessories into a fun and admirable princess costume with little to no effort.
DIY Wonder Woman Costume Ideas

If you want to stand out at a party or a cosplay event, create your own Wonder Woman statement costume following this easier list of ideas. With some creativity, a bit of your time, and everyday materials, we'll help you craft an awe-inspiring Wonder Woman Costume. So roll up your sleeves, and let's awaken the magic inside you and surely thank me later.
The basic attributes of Wonder Woman costume are: 
Wonder Woman Headband and Tiara: It is almost never seen without her iconic tiara. You can make one yourself using a piece of gold fabric or paper.
Bodice: Wonder Woman's bodice is red in color and often features gold accents. You could repurpose a red tank top or corset for this.
Belt: A significant part of Wonder Woman's outfit is her gold belt. Use a regular belt and cover it in gold fabric or paint.
Skirt: Her skirt is typically blue and decorated with stars. If you have a blue skirt, you might glue or paint white stars on it.
Boots: Wonder Woman's boots are red and gold. Red knee-high boots would work well. If you can't find any, consider using red leggings and creating boot covers using gold fabric.
Bracelets: Don't forget the silver bracelets! Make them from tin foil, or use silver or grey wristbands.
Lasso of Truth: This is Wonder Woman's iconic weapon. It's a golden lasso that can make anyone ensnared by it tell the truth. You might make one using a gold rope or string.
Shield and Sword: These are optional, but if you want to go all out, consider adding a shield and sword to your costume. Use toy swords or DIY with cardboard and paint!
Wonder Woman DIY Costume
This DIY Wonder Woman costume is perfect for unleashing your child's inner superhero this Halloween. The costume is simple to create, even for beginners at sewing. So, grab your sewing supplies and follow the easy instructions to create a stunning Wonder Woman costume.
Materials and Making: Dive into the spirit of a superhero with a DIY Wonder Woman Costume. Start with spangled blue tulle and red fabric for the base. Construct the skirt and cape using elastic for a comfortable fit. Finalize with a logo-cut red T-shirt and a homemade crown crafted from yellow fabric.
DIY Wonder Woman Toddler Costume
This Halloween, consider transforming your princess into a little Wonder Woman with this DIY idea! Showcasing the perfect aesthetic of Wonder Woman, featuring starry and shimmery fabric along with golden cuffs, belts, and headbands, this DIY costume is a masterpiece that outshines any other costume!
Materials and Making: Create an adorable DIY toddler Wonder Woman costume with ease. Begin with a red sparkle shirt trimmed into a sleeveless top featuring a foam and glitter logo. Pair this with handmade boot-style leg warmers. Add a blue tutu and a star-spangled bodysuit to complete the outfit. Don't forget the golden ribbon accessories and lasso essential for every petite superhero ready to save the day!
Easy Wonder Woman Costume
Materials and Making: Using blue tulle, make a tutu decorated with white–star decals. Add a sparkly red, long–sleeved top, and carefully affix a golden Wonder Woman logo. Craft a crown from gold poster board and wristbands from gold foam. Finish with a golden lasso. This easy, homemade costume brings the iconic superhero to life!
Wonder Woman Costume
Channel an Amazonian superhero with a homemade Wonder Woman costume perfect for tall individuals.
Materials and Making: Assemble the outfit with a stand-alone top made from boned fabric and a hand-made logo. Complement it with a voluminous skirt created from layers of fabric for extra poof. Complete the look by adding store-bought boots, tiara, and cuffs, adding a golden lasso to embody the iconic hero truly.
Easy DIY Wonder Woman Costume
Materials and Making: Create a stunning DIY Wonder Woman costume using everyday items. Begin with a red tank top, adorned with a gold Wonder Woman logo cut from a sticky-back foam sheet. Combine a blue tutu and stars, also cut from a silver foam sheet. Add gold sequin elastic as a waistband. For accessories, fashion a headband from shiny gold fabric with an added red fabric-painted star. Top it off with a gold cord as the lasso of truth, and watch your little hero shine
Wonder Woman
Materials and Making: Craft your powerful Wonder Woman costume with readily available items. Start with a kids' red top and blue bottom. Use yellow felt to create the belt, headpiece, and wristbands, adding red and white felt star stickers for added detail. The emblem is a traced cut-out from felt mounted on the front. Secure everything with fabric tape, and watch your little warrior shine!
Wonder Woman Costume For Girls
Materials and Making: Unleash the superhero within your little girl by crafting a personalized Wonder Woman costume. Use a red t-shirt as the base and enhance it with the iconic Wonder Woman logo. Make a star skirt that pairs perfectly with the top. Do not forget the armbands and the distinctive headband to complete the look. With detailed measurements for sizes 2T to 8 provided, achieving a perfect fit is made easy. Watch your little wonder transform with this DIY project!
Show And Tell Wonder Woman Costume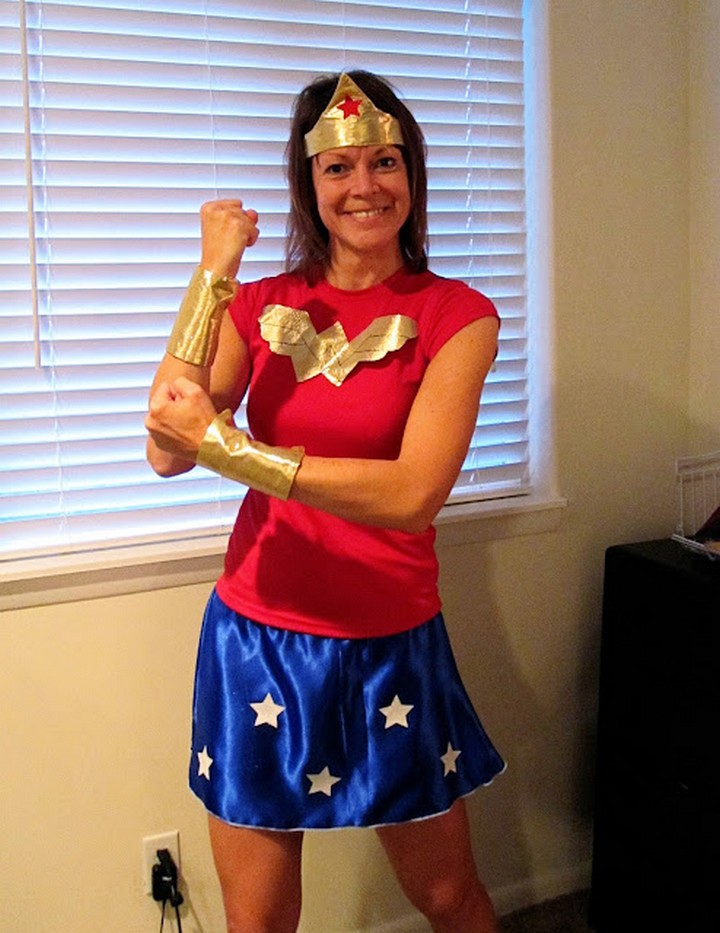 Become a symbol of strength this Halloween with this easy-to-make costume!
Materials and Making: Design your engaging Wonder Woman costume for running events. Begin with a shirt featuring an iron-on Wonder Woman emblem, lightly tacked for easy removal. Fashion basic arm cuffs and a crown from the gold stabilizer and accessorize with stars cut on a Cricut added to a basic waist skirt. Don't forget to finish the fun look with comfy running tights and a classic superhero cape!
How To Make A Wonder Woman Costume For A Little Girl
Materials and Making: Create an appealing Wonder Woman representation for your young champion using simple resources. Embellish a plain red t-shirt with a self-made Wonder Woman insignia. Couple it with blue pants or a skirt adorned with yellow stars for an iconic touch. Use golden fabric or sturdy cardboard to craft belts and bracelets. Cap off the ensemble with a golden cardboard headpiece. Let your little girl transform into her favorite superhero!
My DIY Wonder Woman Costume
Materials and Making: Creating a self-styled Wonder Woman costume requires blue leggings, a red sports bra, and some do-it-yourself talent. Utilize a shiny golden fabric and a softer cotton fabric and allocate an entire day for sewing accessories. A paper bag can serve as a template for armbands. Shaping accessories demand artful measuring, drawing, cutting, and ironing. The costume is then completed by adhering golden stars (made from sticky-backed felt) to the accessories.
Wonder Woman Makeup & DIY Costume
Achieve Wonder Woman's signature look with strategic makeup and simple DIY costume elements. The makeup tutorial involves applying eyeshadow in shades of brown, eyeliner, and bright red lipstick. A golden tiara, a red shirt with a yellow "W", yellow cuffs with a red star, black leggings, jean shorts, and boots create the famous outfit. DIY skills are key in designing the costume's accessories.
Grab Your Gang And Diy This Epic Wonder Woman Costume
Materials and Making: Start with a Bslingerie Wonder Woman Corset and embellish it using red, gold, and blue leather. Add key accessories such as gold duct tape, knee-high red boots, a lasso of truth, California Costumes Shield, a sword, and Mattel Wonder Woman Head Piece and Arm Bands. Complete the look with makeup featuring a glowing complexion, charcoal smokey eye, and peachy-neutral lip hue, along with wavy hair and the iconic headpiece.
DIY Wonder Woman-Inspired Costume
Materials and Making: Creating your Wonder Woman-esque ensemble begins with classic elements: a red t-shirt, blue leggings, and red shoes. A golden wristband stands in as your magic Bracelets of Submission. Purchase a cape, headband, and skirt from Oriental Trading for easy assembly. However, the real charm lies in the hand-crafted Wonder Woman logo on your red t-shirt, fashioned from gold duct tape and outlined with a black marker for authentic detailing.
Bombshell Wonder Woman
Materials and Making: Construct a Bombshell Wonder Woman costume with a blend of sewing and creativity. Utilize various patterns to sew a customized shirt and a pair of form-fitting shorts. Applique the distinct "W" logo onto the top, and accentuate it with gold piping. Combine a golden belt buckle and cotton shorts adorned with star-shaped buttons. Complete the look with a styled wig, iconic bracelets, and well-chosen boots that capture the essence of the character.
DIY No-Sew Wonder Woman Costume
Materials and Making: Devise your own no-sew Wonder Woman costume with nothing more than a red tank top, a blue skirt, and craft supplies like vinyl, felt, and liquid stitch. Accented with stars cut from gold vinyl and a homemade gold fabric belt, this low-effort ensemble embraces the unmistakable Wonder Woman aesthetic. Add finishing touches with crafted bracelets and a star–studded crown to embody the iconic superheroine.
More Costume Ideas: