Printable Sonic Coloring Pages – 100% Free For Kids And Adults
Sonic has won the hearts of children and adults for over three decades. So, We are overjoyed to present our special collection of Sonic coloring pages dedicated to love for this iconic character!

Super Sonic Coloring Pages:
With the help of these coloring pages, Sonic's speed and mighty powers are going to carry you to a world of rich colors and exciting adventures! Please invite your friends and engage yourselves in the exciting explorations of Sonic and his team. Remember, coloring is more than just a great fun activity; it's great to relax your mind and relieve stress.
It's a chance to produce unique Sonic experiences in all the colors of your imagination! These free printable pages are brimming with action and fun that is Sonic's incredible world. Select any coloring page you like, print it out, and show the magic of your colors.
Whether you're a fan of Sonic's Adventures or want a lovely character for coloring, there's a coloring sheet just for you.
Sonic Exe Coloring Pages
Here is the perfect mix of adventure and spookiness only for adults who love both Sonic and a little bit of fear. These pages feature Sonic with a haunted twist, making it a cool and exciting coloring experience.
You'll need darker colors for the fur and bright red for Sonic Exe's eyes, so let the fun begin! Remember, it's all about having a great time and showing your artistic skills.
Metal Sonic Coloring Page
This coloring page transforms the classic Sonic we know into a futuristic metallic robot. Color this new evil version of Sonic, using the familiar blue, red, and white to give him the right look. Feel free to add some glittery shine to make the metallic luster of Metal Sonic stand out! You can also create a fantastic robotic background to complete the scene.
Sonic The Hedgehog Coloring Pages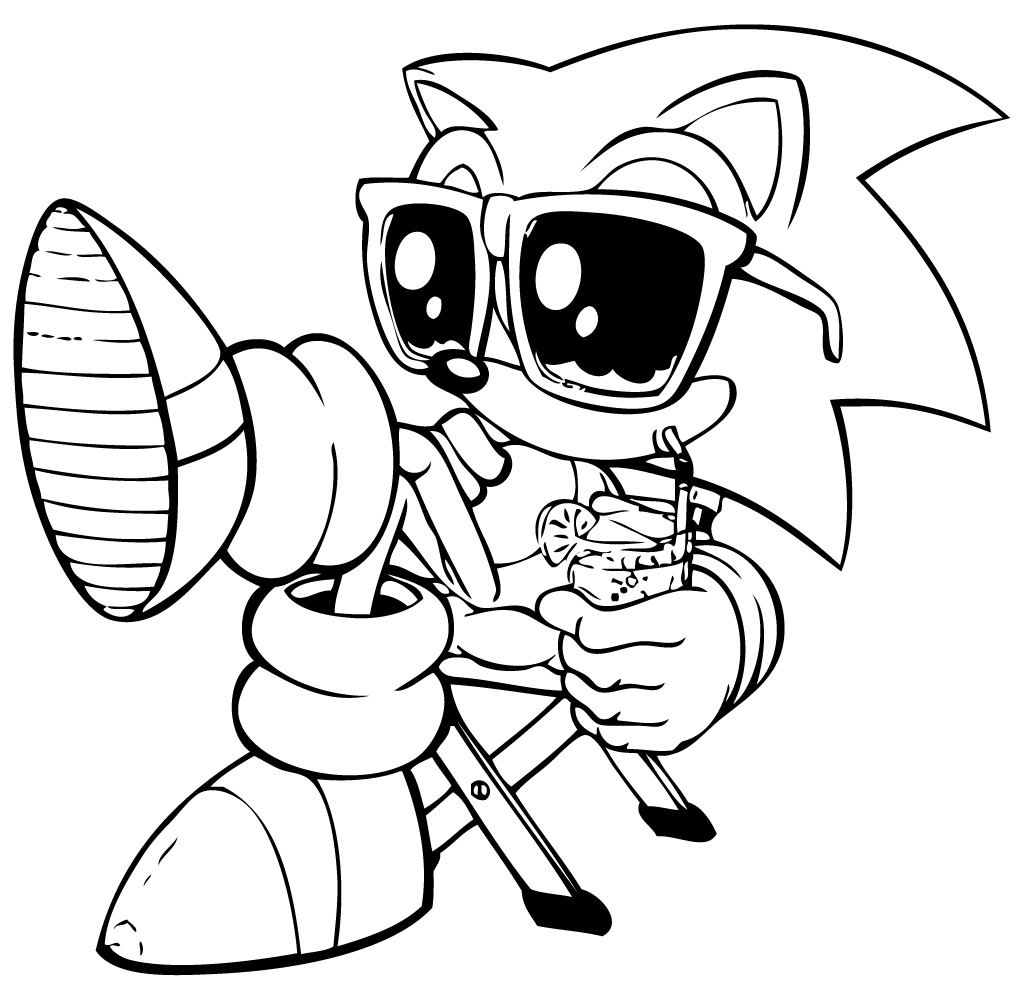 On this Sonic the Hedgehog Coloring Page, our beloved, speedy hero Sonic takes a little break after a fantastic running journey. Drop down into a cool chair, a glass of refreshing lemonade in hand; Sonic is all set to enjoy some summer fun, and so can you!
Use your most vibrant, brightest colors to show a sunny afternoon. Maybe make the chair a cool blue, the lemonade a yellow, and the straw a fiery orange or red? The choice is all yours!
Easy Sonic The Hedgehog Coloring Pages
This Easy Sonic the Hedgehog Coloring Page focuses on Sonic celebrating a big win after an effortless battle. With both hands raised, pointing fingers up high, you can see he's happy and proud of his victory!
Sonic is the most charming hedgehog ever, and you have the power to make him shine even brighter on this coloring page. Add an explosion of cheerful colors in the background, showing his energetic and winning spirit.
Power Of Sonic Coloring Page
Sonic not only speeds past anything in a flash but also can destroy obstacles like they're made of paper with his mighty powers! This coloring page displays a moment where Sonic frees his energy, blazing from every part of his body.
Perhaps you might paint Sonic's power in flaming yellow colors as the chainrings of lightning spread around him. This Sonic coloring page could be the perfect poster to hang proudly in your room afterward!
Sonic The Hedgehog Coloring Pages
This coloring page has a standing pose of Sonic full of confidence again, making him a super cool cartoon image to color in. He's happier than ever and ready to join your coloring collection. After drinking your colors, although he likes Coca-Cola, this coloring page promises to be a pure joy to color.
Free Printable Super Sonic Coloring Pages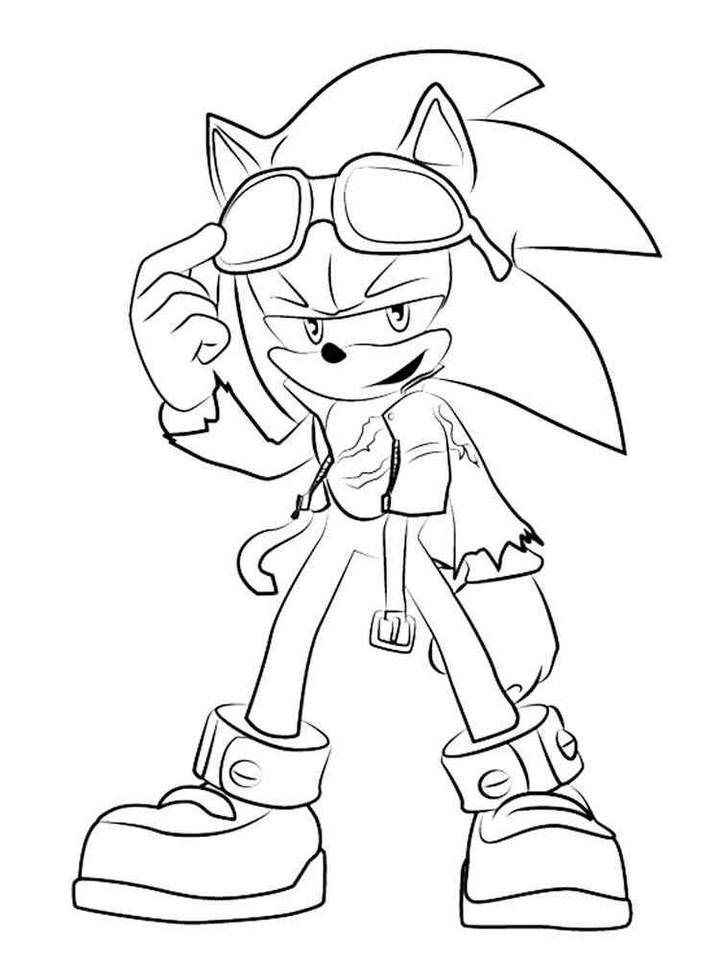 Check out this fantastic printable Super Sonic coloring page, where our dear Sonic is all suited up and ready for an exciting vacation! Looking super stylish in his cool motorbike rider outfit, Sonic is hitting a cool pose, confidently raising his goggles.
He is also wearing a new pair of shoes for the occasion! This coloring page is perfect for all Sonic fans who want to see their favorite character in a fresh, unique way.
Brand New Sonic The Hedgehog Coloring Pages
Sonic The Hedgehog Coloring Pages For Your Little Ones
In this delightful coloring sheet page, our lovable Sonic is brought back to his childhood, surrounded by his best friends! Why not invite your two closest buddies and make this coloring project a fantastic team effort?
Working together, you'll brighten up Sonic and his friends with your most brilliant colors, making this a great way to have fun while learning to cooperate and improve your abilities.
Super Sonic coloring pages
In this cool coloring page, you'll find our speedy hero with his confident pose, arms crossed, and probably pointing out something amazing on the horizon. Don't forget to pay attention to his stylish sneakers, full of little details waiting to be filled in!
Here Are More Cartoon Coloring Pages Collections:
10 Best Spiderman Coloring Pages: Explore your creative side with Spiderman Coloring Pages. Enjoy recreating scenes of your beloved superhero or creating new thrilling adventures.
10 New Pokemon Coloring Pages: Explore the exciting world of Pokemon with these Coloring Pages. Use your coloring skills to bring your beloved characters to life.
Animal Coloring Pages: Explore the wonders of nature with the help of Animal Coloring Pages. Enjoy reconnecting with your favorite creatures while unleashing your creativity through coloring.
Conclusion:
We hope you had an amazing time exploring our collection of Sonic coloring pages. Each of these coloring sheets has been carefully handpicked from the finest creators around to offer you the best quality Sonic the Hedgehog coloring sheets your crayons and pencils could want.
We are certain that these pages have brought lots of fun and excitement to your coloring adventures. By welcoming your favorite character, you give Sonic and his friends a colorful life and unlock your creative potential. Your thanks for our hard work truly means the world to us. Happy Coloring!