10 Easy Animal Coloring Pages- Free Printables
Collect some wonderful wildlife printables from our 100% Free Animal Coloring Pages selected from the 9 million species of the vast beast kingdom!
The Group Animalia has 5 subgroups: mammals, reptiles, fish, birds, and amphibians. Surely everybody will have many examples for each; humans belong to mammals. This means getting coloring gifts from this category is endless because we always see many animals, like some walking on the ground with us and some dancing on the fly. We have selected the 10 best and cutest animal coloring pages to transport you to a zoo! Coloring is a great hobby that gives you fun and a whole learning process.
For all these animal coloring pages, you will need amazing coloring schemes you can find in the reference photos, and in addition to this, you can also learn some great facts about all these creatures. All our coloring pages are perfectly and accurately designed, with blank spaces left for you to devote to the apartments of your colors.

Animal coloring pages are a great way to introduce kids to various species of animals in a fun and interactive manner, encouraging them to learn about the animal kingdom while having a good time coloring.  It's a perfect activity for kids to express their creativity and imagination, as they can experiment with different color combinations and shades to make their animals look vibrant and lively. Furthermore, coloring is a relaxing activity that can help children relax after a long day, reducing tension and stress. Overall, animal coloring books are an excellent way for children to have fun while enhancing their mental, motor, and emotional development.
Cute Dog Coloring Page
Our loyal and best companion dog on this coloring page will become happier when he smells the sweetness of your coloring tools with his powerful nose. For him, the perfect blend of your colors and the toppings of details using the shading techniques are like an energy drink. Use the hues of sandy color for the fluffy coat of our domesticated love; this dog coloring page will delight those who once kept a dog and refresh the memory of that days.
Elephant Coloring Page
World's largest land animal, "the incredible elephant," has just come up, leaving his main job to have some colors in his life. That important work was to quit the constant eating, haha! With its long trunk, the elephant will fill your paint colors and spread them all over its massive body, making this sheet a quick project. Don't forget to color those big teeth because they are part of what makes an elephant so unique. This coloring page is perfect for all wildlife enthusiasts, allowing you to express your love for these incredible creatures.
Baby Animal Coloring Sheets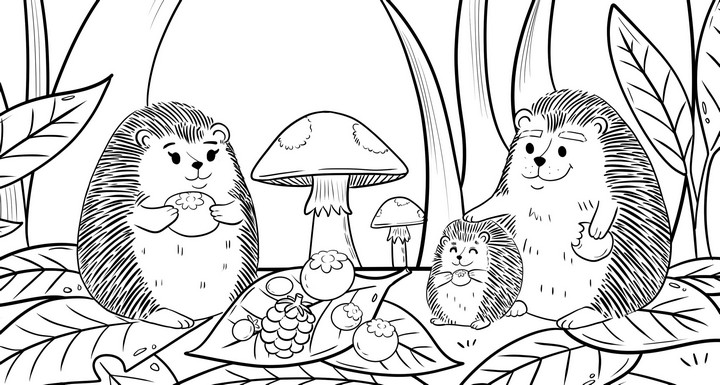 Like a family, the coloring looks complete when all the members come together for fun and teamwork. This coloring page captures the special bond between parents and little children. Imagine the Hedgehog family sitting for a picnic, surrounded by a colorful jungle, mushrooms, and fruits in the center. Here what you can devote is to complete this scene with the magic of your colors. This coloring page is the perfect family project, providing a fun bonding experience as you show your love for the hedgehog family.
Baby Animal Coloring Pages
While adult hippos might be known for their aggressiveness, this little baby hippo will surely attract your heart and not make you run away, only make you smile. The baby hippo in this coloring page has a cute sitting pose, just like the little ones in real life. Coloring this page with your favorite shades will become the perfect decorative piece for an infant's room.
Cute Baby Animal Coloring Pages
Have lots of fun coloring our lovable puppy in the flower meadow. This coloring page is an amazing idea you would want to own and start coloring immediately. Our puppy has unique features like the strawberry strap, wooly hair, and a fluffy tail, making it incredibly cute and playful. This coloring page is perfect for a garden picnic hobby where you can find the best color combinations to color the flowers from the original ones. As you color, enjoy the peaceful environment of the flower meadow and the warm companionship of the cute puppy.
Animals Coloring Pages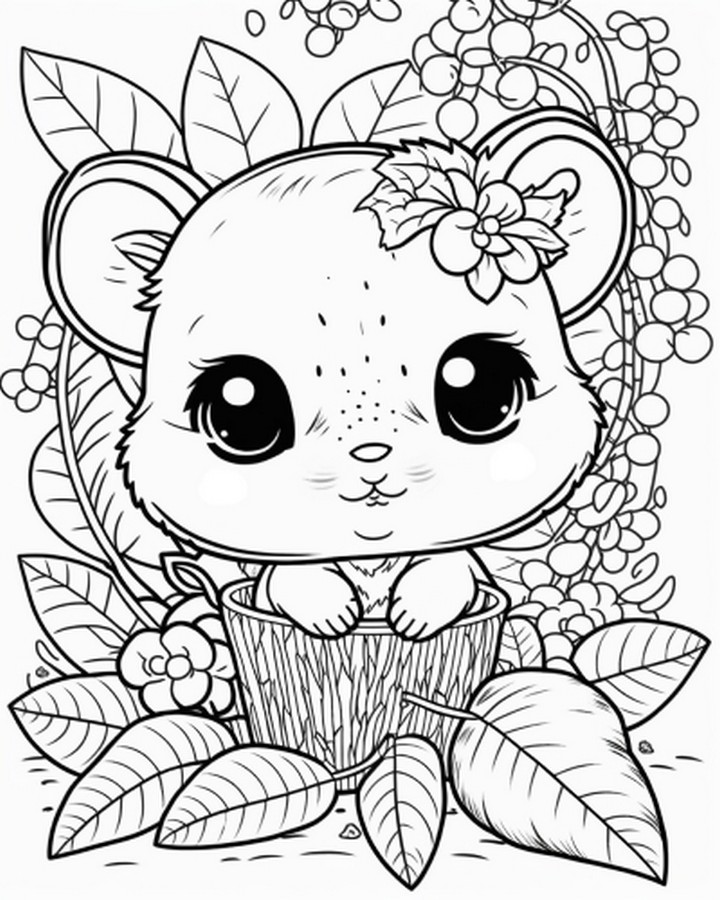 This cat coloring page is the perfect opportunity to give these adorable kitties the gift of colors and, in return, experience a sense of accomplishment. Our cute cat is snuggled in a cozy basket, inviting you to adopt it. As you color, you'll enter a world of creativity and relaxation, creating a masterpiece you can proudly display.
Mouse Coloring Pages
This coloring page holds a special place in your heart, as it is of your six sense holder friend, the mouse, reminding you of the character from the "Tom and jerry show." Now, you can color this mouse just like the one in those cartoons! This cute mouse coloring page has the power to melt even the biggest stones with its sheer cuteness. Hearts can't resist its charm!
Kangaroo Coloring Page
Moms are always amazing, whether human or animal and this coloring page celebrates that special bond. In this coloring page, you can color a lovely mother kangaroo with her son snuggled in her pocket. How adorable is that? The little kangaroo even holds a flag that says, "I love Mom," to show his love and appreciation. This coloring page is perfect for increasing the bond between you and your mom by coloring together and enjoying a fun activity that makes wonderful memories.
Baby Animals Coloring Pages
Here is another lovable and cuddly friend who is excited to join you in your coloring journey. While dogs in real life may enjoy their milk, this adorable creature eagerly awaits the intake of colors that will spread on this coloring page. Trust us; this coloring page has so much to admire and appreciate.
Adorable Animal Coloring Pages
The rabbit in this coloring page has long, sharp ears that can almost hear your excitement as you pick up your coloring tools, and he is sure you will do that! You'll also be able to color a beautiful environment filled with flowers, reminding us of a classic story of the hare and the tortoise. This rabbit will run and embrace you with its warmth and love as you complete it.
More Drawings To See
Halloween Coloring Pages: Enter into the Halloween spirit using Coloring Pages, which promote creativity and celebrate the holiday with colorful art.
Pokemon Coloring Pages: Explore Pokemon coloring pages, unleash your creativity, and enjoy hours of fun with Pikachu, Charmander, and friends.
Spiderman Coloring Pages: Our Spiderman coloring pages will take you to the world of your favorite hero, where you can color him, print him out, and send him to your friends.