Printable Flower Coloring Pages – 100% Free For Kids and Adults
Dear children, Remember how your mood instantly softens when you smell the fragrance of fresh flowers? They grow on plants and attract every living creature. With our charming flower coloring pages, you have a brand-new way to explore the sweet world of blossoms!

Printable Flower Coloring Pages To Spread Fragrance In Your Room:
Not only will you fill in the colors, but you also design your own garden of one of the most beautiful natural things. Indeed, You are playing a role in beautifying the world with your skills. You will examine the intricate details of each flower as you check the petals with your favorite colors, and you also get to feel the day's tension melt away. With no further delay, it's time to collect some of these!
Every flower is unique, and so will your coloring page. Bring these flowers a life with your creativity, and let your imagination bloom. Each printable flower coloring sheet is waiting for you to color, and the best part? They are completely free! Enjoy these pages, from butterfly coloring to sunflower coloring sheets for adults and kids alike.
Free Beautiful Spring Flower Coloring Pages
On this coloring page, you will find a lovely pot overflowing with many flowers ready to have some sunlight bath, especially those sunflowers. It is seemed that a fight is held to dominate each other.
As you start coloring, you may notice that one has fallen near the pot, waiting to be brought back to life with your rich hues. Additionally, you will see flower buds waiting to bloom, adding an element of excitement to your coloring tale.
While this coloring page presents a challenge with multiple colors needed to achieve its complex beauty, it also provides a great opportunity to express your skills and can take a lot of time.
New Beautiful Flower Coloring Pages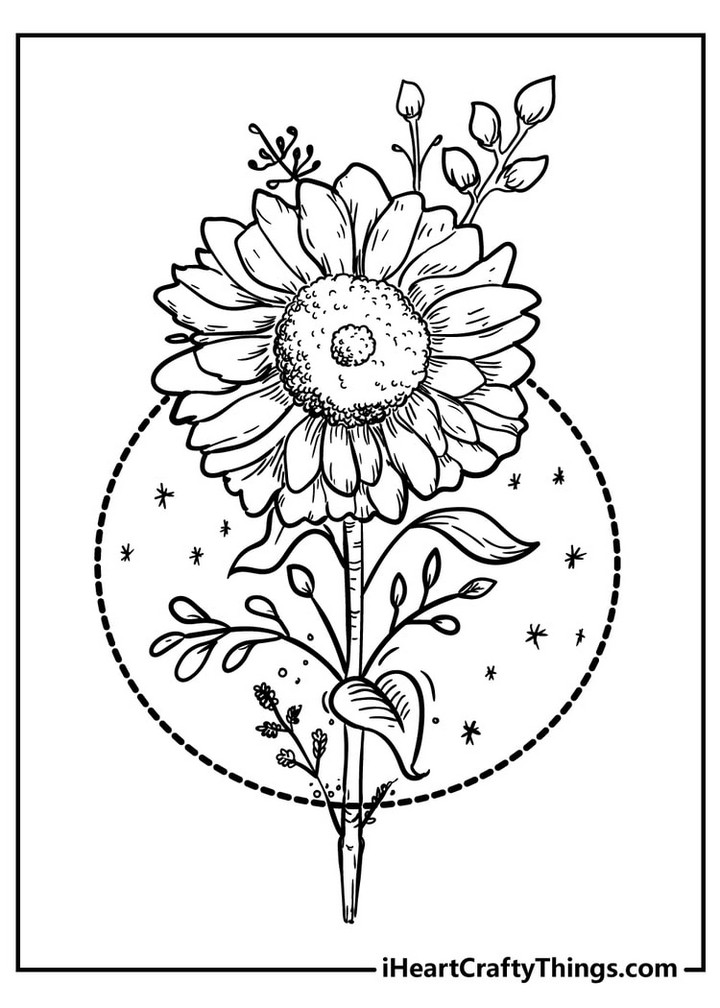 Our sunflower is probably searching for the sun that brings it life and warmth. Look closely and see a giant full moon adorned with twinkling star shapes standing tall behind the sunflower.
In the center, there's a fluffy, wooly region, inviting you to add a touch of cozy color. And don't forget the adorable buds waiting to blossom alongside the superb sunflower. And the leaves on the bamboo-like stem are just great pretty addition.
With plenty of detail to fascinate you, this flower coloring page is perfect for little ones who love to go further than their skills.
Flower Coloring Pages for Kids & Adults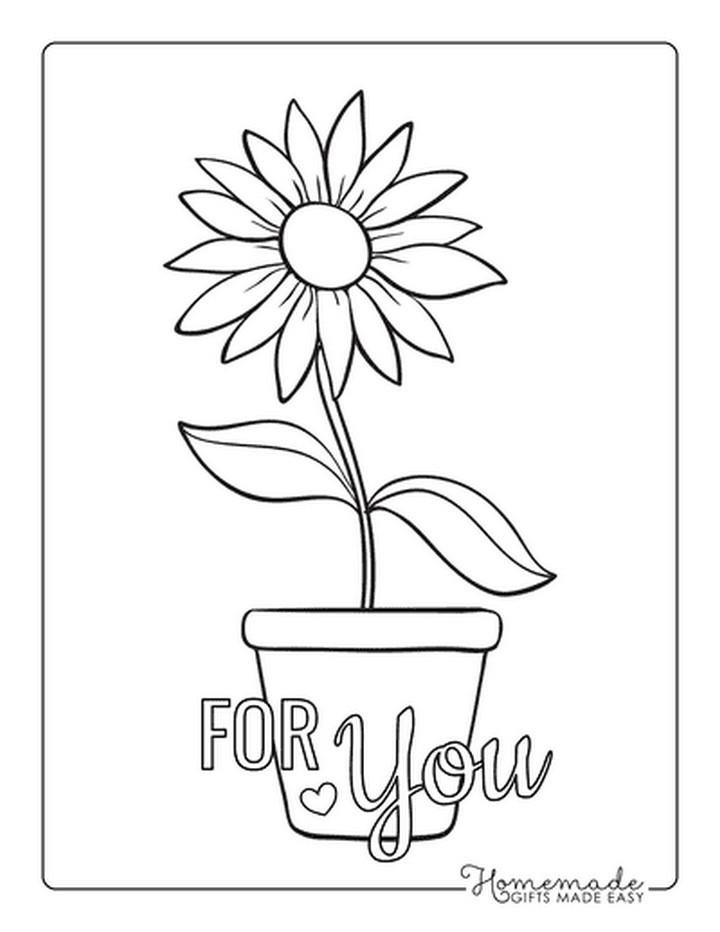 This coloring page will be a heartfelt greeting card! Color in the beautiful sunflower, attach it to a card, and voila! Your perfect gift is ready to make someone's day.
And to make it extra special, there is a sweet message on the coloring page: "For you" with a little heart. Show love and appreciation with a personalized, hand-colored card.
As you fill in the petals, imagine the sunflower gracefully dancing in its pot, wavering with the gentle breeze.
Hearts And Flowers Coloring Pages
As we all know, flowers and hearts are significant symbols of love, so shading this coloring page perfectly expresses affection for those you hold dear.
Featuring a big, sharp heart surrounded by various small and big flowers and more hearts, this coloring page will fill your soul with warmth and happiness.
You'll also notice the stunning flowers on the left front side of the heart hiding it, their wavy stems and little leaves adding a touch of elegance and charm.
Flower Coloring Pages
With this coloring page, all the fun is packaged into one incredible experience. Picture a peaceful garden where vibrant mandala flowers swing in the gentle rain, attended by a delightful butterfly fluttering by.
To describe a better environment, you can use pencil colors. This coloring page is perfect for coloring sitting in a garden and taking inspiration for the color schemes from the flowers blooming here and butterfly flying.
Butterfly And Flower Coloring Pages
The most special part of the butterfly is the wings which usually have many intricate patterns, but what fun it will be to see a butterfly with flowery patterns.
Flowers are like a love potion for butterflies, and they spend their days fluttering amongst the blossoms. With your help and your colors, you can bring this magical scene to life! The butterfly and flowers will forever be mixed in colorful harmony.
Flower Coloring Pages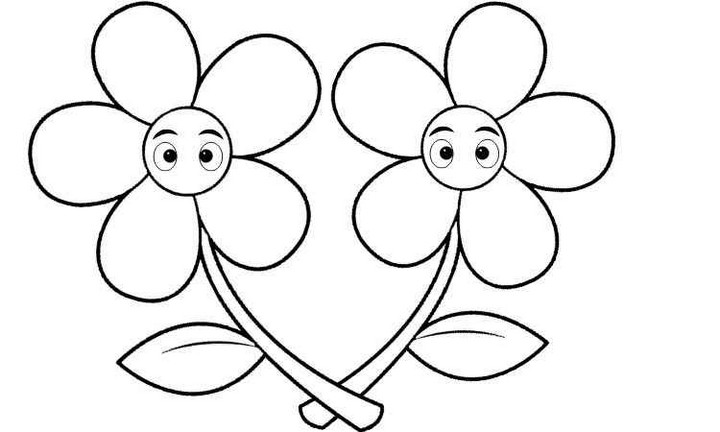 Are you ready for a fun competition? Bring your bestie along and challenge him to see who can color one of two identical flowers better. Fill the leaves, petals, and stems with vibrant hues.
You can color them with matching colors or add unique twists to make them stand out! There are no rules for creativity, so have fun and bring these flowers to life with your magic touch.
When you're done, you can compare your coloring with your friend's and see who appeared victorious in this artistic challenge!
Three Easy Flowers
Have you ever dreamed of having a beautiful garden right before your house, where magic blooms every day when you wake up? Well, this coloring page is here to show the interpretation of that dream!
Imagine a cozy little wooden house reaching towards the sun and a few vibrant flowers gracefully growing nearby with grass. It's the complete result of your wish! Now, all you need is the magic touch of colors to make this scene come alive.
Butterfly And Flower Coloring Page
Where you will find some fragrant flowers, the butterfly is just a step away! How wonderful! This coloring page captures that magical moment when a butterfly visits a flower.
You can complete the scene with your favorite colors, making it come to life uniquely and imaginatively. This coloring page is a good homefront image on the wall.
Free Flower Coloring Page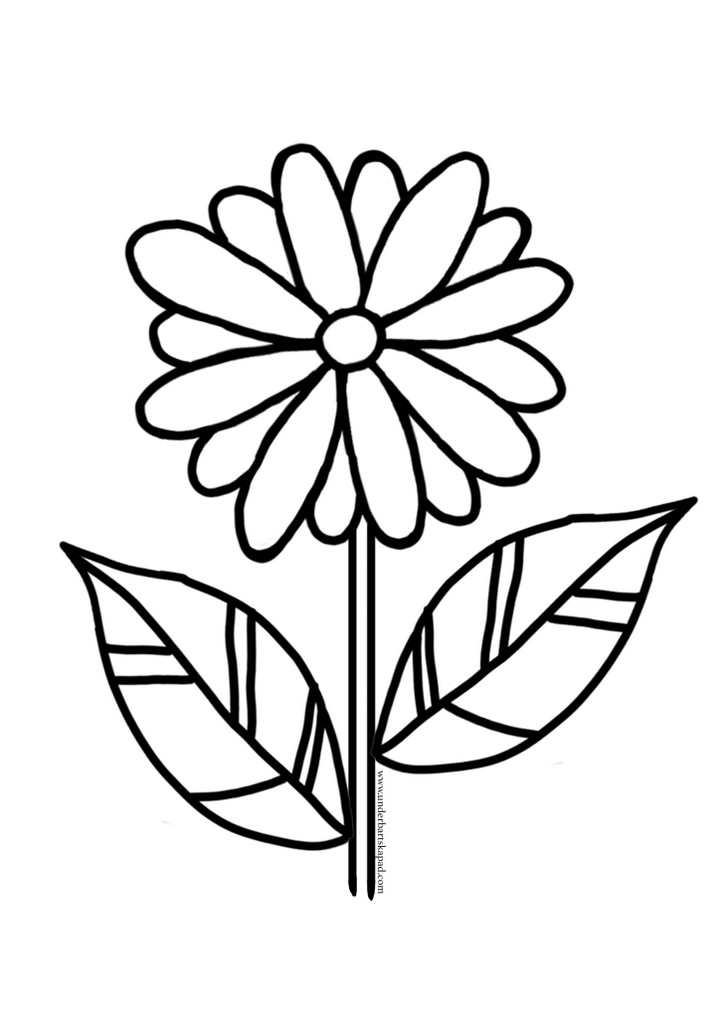 Our sunflower has petals that fan out in the front, giving it a unique and playful appearance. But it doesn't stop there! Petals are also at the back, adding even more charm to this beautiful flower.
And let's not forget about the two big leaves, which will become vibrant, adding a touch of greenery to the scene.
Add bright yellows and browns to the flower! As you color, this coloring page will quickly become a lovely addition to your home decor collection.
Here are some More Printables:
10 Easy Dinosaur Coloring Pages: Unleash your creativity and have fun with Dinosaur Coloring Pages! Let your kids use their artistic skills to give these prehistoric creatures a colorful life.

11 Free Unicorn Coloring Pages: Step into a magical world with Unicorn Coloring Pages, where children can use their creativity to bring these mythical creatures to life with vibrant colors.

10 Best Spiderman Coloring Pages: Come on an adventure with Spiderman Coloring Pages! Kids can feel like superheroes as they color in their favorite web-slinging hero.