10 Best Spiderman Coloring Pages-Free Spidey Printables For All!
Hello, and welcome to our fantastic collection of Spiderman coloring pages! People of all ages enjoy the action of superheroes, and Spiderman has won the hearts of millions around the world since 1962, making him the most famous action hero in history.
Spiderman Coloring Pages
This webmaster hero has appeared in films, comic books, video games, and television series. What actually distinguishes Spiderman is his capacity to relate with children in a unique way. Children appreciate his daring poses, incredible powers, and cool spider costume.
There is no shortage of action and adventure with over 100 Spiderman versions. We have gathered an excellent collection of Spiderman coloring sheets that will transport you to Spiderman's city's lively streets.
What's the best part? All of our coloring pages are free and sourced from the best creators so, you can just print them out and show your creative touches.
Spider-man Coloring Page
This coloring page combines your favorite Avenger characters with the amazing Spider-Man theme on a mission outside Iron Man's famous building.
This coloring page is the perfect poster to attach to your room. The ground is ruined, and Spider-Man jumps with his iconic web-holding pose, ready for action!
This coloring page has many special elements for you to color, along with Spider-Man, such as the mighty Hulk and the brave Captain America  and sturdy ironman all jumping behind him.
Spiderman Coloring Pages
This coloring page could show a scene where Spiderman has just taken a fearless dive from somewhere high above and is ready to release his spiderweb to save the day. Or perhaps he is busy in an epic battle with a tough villain, expressing his incredible strength.
As you color this page, feel free to add your own personalized elements to enhance the story. Show off what Spiderman is up to by adding action lines, buildings, or other superheroes to create a meaningful scene!
Just be sure to blend all your customized details perfectly with the pre-existing elements on the page. Your colors can make this scene more vibrant and full of action!
Cool Spiderman Coloring Page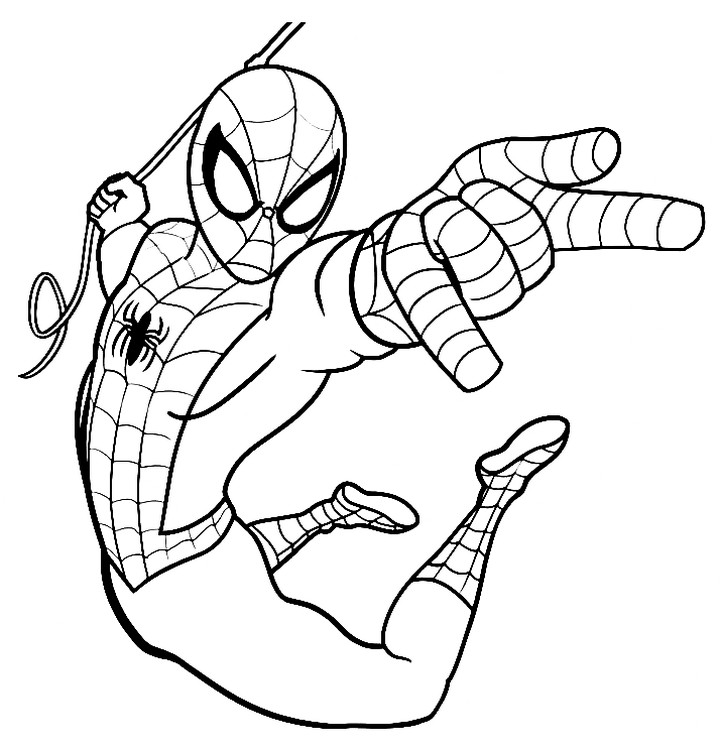 Join Spiderman in an exciting setting as he swings through the air, holding his web in one hand and ready to release web bullets from the other. With his legs curved upward, Spiderman shows another amazing scene in this coloring page.
Now, it's up to you to complete this with the magic of your colors! Add depth to his suit, increase the energy of his hang, and bring the shine of colors to his eyes.
This coloring page will be a fantastic addition to your collection of Spiderman poses.
Iron Spiderman Coloring Page
Our Spiderman has become a cute little chibi version in this coloring page while wearing the more powerful Iron Spider suit.
With a larger face and a shorter body, as usual in chibi, this Iron Spiderman Coloring sheet will come in your hands in a few minutes.
The addition of robotic spider limbs from his back shows the improved powers of this new version. This droplet superhero stands proudly, with hands closed, to give enemies a challenge.
This coloring page is a must-have for all fans of chibi art and Spiderman.
Spiderman Coloring Pages For Kids
This coloring page will make a fantastic gift and a wonderful addition to any superhero-themed party.
Spiderman is on a secret trip as he ascends a high building in this coloring page. Set against the iconic Statue of Liberty, Spiderman is here to swing into action!
It's best to use darker colors and create a night atmosphere because a full moon shines brightly above.
Free Spiderman Coloring Pages For Kids
In this Spiderman coloring sheet, he is perhaps battling someone and is waving through the air to deliver a solid punch. Will you make Spiderman's suit shine with a bright red and blue color combination?
Or will you have a more dramatic effect with darker shades? The choice is yours! This coloring page is perfect for anyone who loves Spiderman's great fighting scenes.
Spider-Man Coloring Pages
Here is another muscular Spiderman standing bravely that will fill you with a new spirit of excitement. How about adding the big Spider-Man logo in the background?
You can even cut out your Spider-Man portrait and attach it to the background for a truly unique look. This will be a true test of your creativity and will surely fill you with a new spirit of coloring.
Easy Spiderman Coloring Pages
Tony Stark recently gave Spider-Man an incredible invention that gave him even more powers. It's an iron suit that our Spider-Man is wearing on this coloring page.
And look! He's standing with his robotic spider limbs, showing a stylish pose that will inspire you. You can color Spider-Man's robotic armor with different golden or silver elements according to your liking.
Chibi Spiderman Coloring Page
Have some fun with another Chibi Spiderman in an amazing pose coloring page!
This time, it is with a new, advanced facility just for you! This coloring page includes a digital color scheme test mechanism tool. With this tool, you can check your imaginative colors and print them out once you are satisfied with the result! Isn't that amazing?
Our cute Chibi Spiderman is all set for you to color in with your imagination and creativity.
Easy Cute Spiderman Coloring Pages
Check out our Easy Cute Spider-Man Coloring Page featuring Spider-Man using all of his powers! This coloring page shows Spider-Man jumping and ready to release his webs from both hands.
How brave does he look? This coloring page is perfect for all the brave kids out there. It's an excellent family activity that you can all do together.
Conclusion:
We appreciate you visiting our Spiderman coloring sheet collection. We wish you much fun as you color your favorite superhero in numerous locations and positions. Spiderman and other superheroes are a distinct reminder that everyone may become a superhero.
It shows us that courage and a desire to constantly stand up for what is right can be achieved without superpowers. We can get the importance of courage, knowledge, and kindness from Spiderman's adventures.
We hope our selection of Spiderman coloring pages has encouraged you to put out your best effort and enjoy the experience to the fullest. Here we again appreciate your participation in our web-spreading journey.
Here are some More Printables:
10 Easy Dinosaur Coloring Pages: Explore a world of fun with our Dinosaur Coloring Pages, where kids can creatively bring these prehistoric creatures to life.

11 Free Unicorn Coloring Pages: Experience the wonder of creativity with Unicorn Coloring Pages, where magical adventures await young artists to explore.

Easy Halloween Coloring Pages: Enjoy some spooky and delightful Halloween coloring pages, perfect for kids who want scary fun and get creative with their treats.