10 Easy Dinosaur Coloring Pages Fun for Little Paleontologists!
Here are some of the Best Dinosaur Coloring pages that have freshly come from headquarters of the prehistoric world artists for the little paleontologists finding a way to quench their coloring thirst and have a great fun time. Whether you love to shade the cute baby dinosaurs or the mighty and dangerous dinos, many coloring pages come up with several benefits and use them after they have been colored.
You can change your colored dinosaur pages into attractive wall art. Just fix it on a colored background or a canvas. You can also frame it or create a collage of multiple dinosaur images.
Turn your colored dinosaur pages into adorable bookmarks. Cut out the colored dinosaur image, laminate it for durability, and attach a ribbon to the top. These dinosaur-themed bookmarks will make reading a delight and add a touch of fun to your favorite books.
Create custom greeting cards using your colored dinosaur pages. These unique and handmade greeting cards will surely bring any recipient smiles.
Include colored dinosaur pages in various decorations. Make dinosaur-themed mobiles by stringing together multiple cut-out dinosaurs.

Dinosaur Coloring Pages
From fierce predators to gentle herbivores, these creatures have long caught the imagination of people young and old. Their massive and sometimes short size, unusual shapes, and diverse characteristics have fascinated generations and continue to do so today. Dinosaurs wandered our planet millions of years ago, yet they still catch our wonder. As we continue to learn more about these prehistoric giants, we unlock a greater appreciation for the mysteries of our planet's history.
These Dinosaur coloring pages provide a perfect blend of education and entertainment. As children are coloring, they learn about different types of dinosaurs, their characteristics, and their historical places. This expands their knowledge and shines their curiosity about the prehistoric world.
You can test various colors, patterns, and styles for a perfect dinosaur view. Additionally, coloring dinosaur pages helps children develop essential fine motor skills such as hand-eye coordination, finger grip, and control. The precise movements required to color within the lines refine their motor skills and prepare them for tasks that demand precision.
Easy Dinosaur Coloring Pages
This coloring page will transport you back to a world where these grand creatures once walked freely. A dazzling scene where a cute and smiling dinosaur surrounded by its natural environment is waiting for you to color it. It's an opportunity to learn and have fun alike as you explore how the world looked when these massive creatures ruled the earth. With the same bright blue sky, the rocky land, and the palm trees and bushes.
Dinosaur Coloring Pages For Adults
With a muscular and massive dinosaur ready to have some color in its black-and-white life, this coloring page is perfect for expressing creativity. What's more, this page has been specially designed to fulfill the needs of adults, providing a fun and enjoyable activity to help you relax. So add some colors to the wonderful mountains and the land and complete the dinosaur with different shades that catch its brilliance.
Baby Dinosaur Coloring Pages
Once you start coloring this precious baby dinosaur page, you'll forget the meaning of the name "fearful bigger lizard." Instead, you'll be delighted by the spirit of this lively little dino as you bring our baby dino to life with your favorite colors. Don't forget to color its headband to create the perfect gift your little one will adore forever.
Cute Dinosaur Coloring Page
This coloring page is the perfect way to spread positivity and love. Whether you decide to color it or not, our baby dino will always bring a little bit of sunshine into your day. Our baby dinosaur is a warm reminder of the happiness of life. You can't help but smile when you see its innocent big eyes and friendly behavior. And adding the touch of your unique colors will make this character more cute. Our adorable baby dino is guaranteed to become your new favorite companion, and you won't defy taking it wherever you go.
Realistic Dinosaur Coloring Pages
Prepare to meet dinosaurs like never before. While you may have never seen these incredible creatures in the current world, our coloring pages bring them to life on the pages right in front of you. From complex details to lifelike textures, our coloring pages will provide a fine coloring experience. These coloring pages will enhance your background coloring skills and provide a platform for studying various species of dinos.
Best Dinosaur Coloring Pages For Kids & Adults
Don't worry; this little cutie T-rex won't scare you in your dreams! This coloring page is a perfect gift for aspiring little paleontologists, torching their passion for these incredible creatures of the past. Let your artistic skills blossom as you breathe life into this lovable dinosaur with vibrant colors.
Best Dinosaur Coloring Pages
It's a time to escape to a tropical paradise with our beautiful dinosaur coloring page, featuring a beautiful dinosaur on a sandy island surrounded by coconut trees. This prehistoric world is yours to explore; You can color the dinosaur in shades of brown or orange to make it uniquely yours. Whether you're an experienced artist or a beginner, our coloring page is the perfect way to chill.
Jurassic World Dinosaur Coloring Pages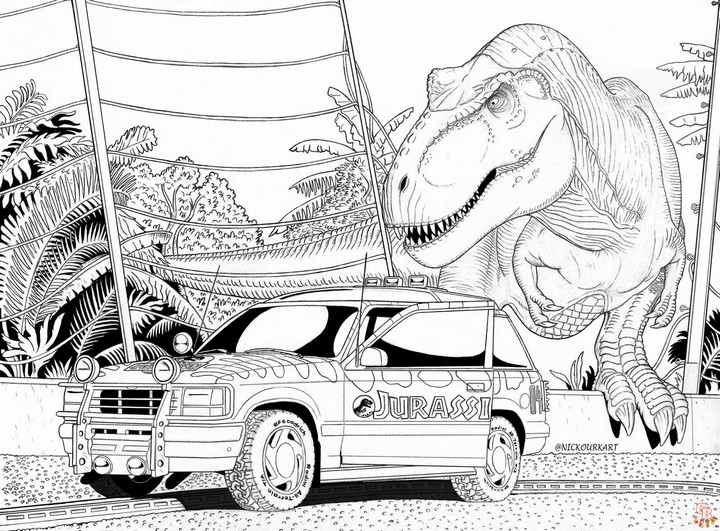 Like blockbusters, people of all ages have fallen in love with the fascinating world of dinosaurs. Our Jurassic World scene coloring page brings excitement right to your fingertips. With extreme details and elements, this coloring page is perfect for adults who enjoy a challenge. Every stroke of your coloring tool will bring this scene to life, catching the spirit of the Jurassic era. While it may seem like a big task for little ones, fear not! Teamwork is a wonderful option.
Dinosaur Coloring Pages
Not all dinosaurs lived on Earth at once, but anything is possible in the world of coloring. Our dinosaur coloring page is the perfect addition to any coloring book. You can search for your dinosaur in the original color scheme or create your unique color palette. This coloring page is the ideal module to satisfy your prehistoric desires with hours of creativity and fun.
Free Printable Dinosaurs Coloring Pages
This coloring page features a dangerous dinosaur who is not demanding any meal but your shading touch. But Don't worry; this dinosaur won't come out from the image. It's just a friendly challenge for you to fulfill its wish for vibrant colors. Use your imagination to give this dinosaur a lively and vibrant appearance. As a good child, you can make this dinosaur truly magnificent.
See More Coloring Pages
10 Dog Coloring Pages For All kids: Explore your artistic side with our free and entertaining dog coloring page collection. Whether a child or an adult, ignite your love for canines and coloring by trying them out today.
10 Cat Coloring Pages with Endless Coloring Fun: Explore a vast collection of Cat Coloring Pages and let your creativity bring these cute furry companions to life. These pages are great for relieving stress and having fun.
Printable Flower Coloring Pages: Explore your creative side with our Printable Flower Coloring Pages. Immerse yourself in the stunning beauty of these botanical designs, and enjoy a calming and artistic experience.