15 Shrimp Drawing Ideas For Marine Lovers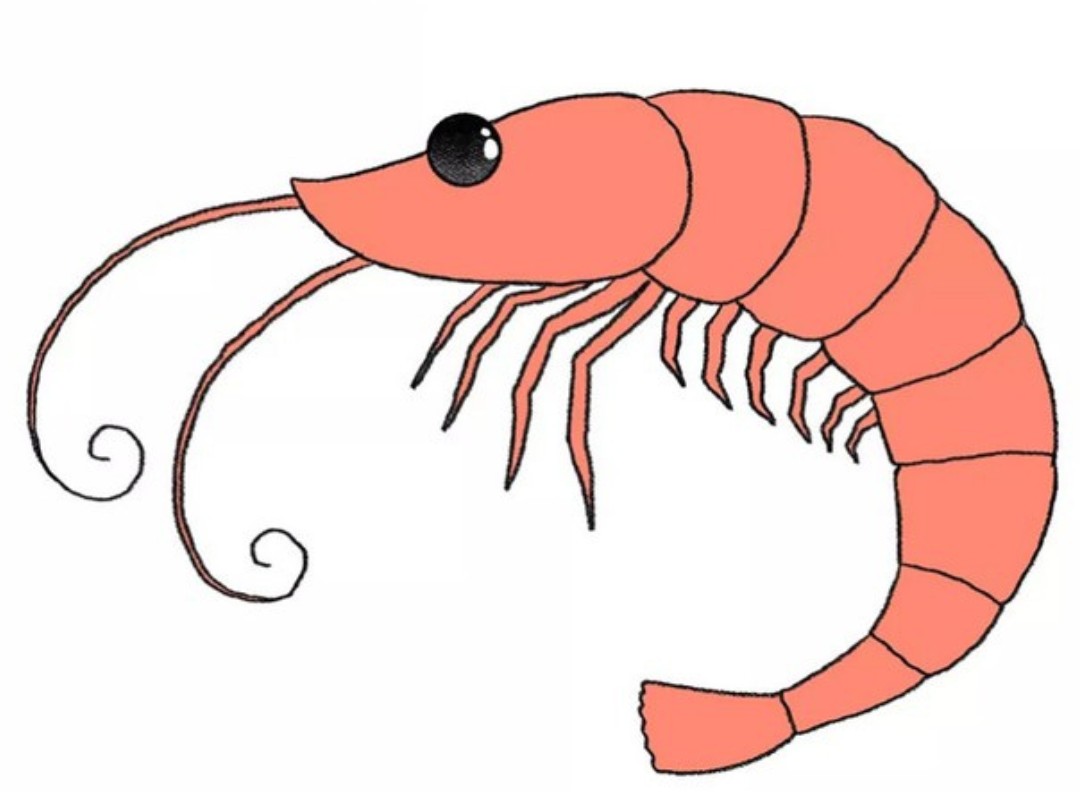 Our shrimp drawing ideas can be a fun and engaging way to unleash your artistic creativity. These marine creatures are best for showing their unique body structure. The possibilities for shrimp drawing ideas are endless, from realistic illustrations showcasing the shrimp's detailed anatomy to abstract interpretations emphasizing their curved forms and translucent exteriors.
Easy Shrimp Drawing Ideas

Start by observing a real shrimp or a picture, understand their distinct features, like their long antenna, segmented body, and tail, and then let your imagination run wild. Whether you're a professional looking to create a striking piece or a beginner wanting to improve your skills, drawing shrimp offers countless opportunities for exploration and artistic growth.
How to draw a shrimp easy
Uses of Learning to Draw a Shrimp:
Drawing a shrimp might seem simple, but it offers an exciting challenge for budding artists and those wanting to improve their skills. This drawing exercise taps into your creativity and helps build attention to detail, proving that a simple shrimp can build considerable skills.
Drawing a Shrimp in Easy Steps:
Follow along with this super easy tutorial to sketch a shrimp and watch as simple pencil strokes on paper transform into a lively sea creature! To make your art journey enjoyable and fruitful, pick up a pencil and start our aquatic adventure, one step at a time.
Materials
Pencil
Paper
Eraser
Coloring supplies
How to Draw Shrimp Step by Step
Uses:
This illustration skill will come in handy in many fields. For instance, budding artists can work on sharpening their drawing skills. Kids finding fun in arts or those keen on marine life will love this touch. Graphic designers can put these basic steps to use in creating engaging digital images.
Drawing:
The tutorial on 'How to Draw Shrimp Step by Step' offers a simple yet practical guide. The step-by-step video guide helps you quickly get the perfect shrimp cartoon outline. Each move builds on the previous one, making it simple for a beginner to follow.
Materials:
Brustro A3 size paper
Apsara poster colors
Camlin poster colors
Reynolds black gel pen
camel & feber castle different brushes
How to draw A Shrimp easy
Uses:
Drawing a shrimp can add a delightful touch to your art portfolio. An easy-to-learn sketch that fosters creativity, it also aids in developing your understanding of aquatic shapes. Perfect for aspiring artists, hobbyists, and marine enthusiasts, a shrimp sketch can double up as a unique gift or particular décor item.
Drawing:
Grab your A3 size paper, a colorful palette of poster colors, and a gel pen—brushes of different thicknesses aid in shading and delicate details. The tutorial takes you through simple steps to create a vivid shrimp sketch. Though simple, each little piece, from the feelers to the body curve, packs a punch that will freshen up your drawing ensemble. It's easy fun and teaches you an unexpected subject for your artistry journey.
Materials
Pencil
Paper
Eraser
Coloring supplies
How To Draw A Shrimp Easy
Uses:
The ability to draw is handy for many people. This is a great tutorial if you're starting to learn to remove, or if you're a kid interested in marine animals. For professionals, this simple drawing exercise could add a fun twist to your graphics.
Drawing:
This tutorial offers clear instructions, allowing you to create a beautiful shrimp drawing with as little difficulty as possible. The procedure is straightforward and a great starter guide for drawing shrimp or prawns.
Materials
Pencil
Paper
Eraser
Coloring supplies
How to draw a Shrimp
Uses:
A beautiful shrimp sketch holds many uses. It can decorate your wall, compliment a sea-themed project, or even form an eye-catching part in a creative greeting card for a sea-loving friend. Sharing your newfound skill is also a way to draw with friends and family, making it fun.
Drawing:
Fancy drawing a shrimp in an instant? Just follow this easy-to-understand, step-by-step tutorial. All you need is a pencil and a piece of paper. Draw, learn, and bring the fascinating shrimp to life right under your fingertips. It's as simple as pie! So, dive in and enjoy this artistic journey.
Materials
Pencil
Paper
Eraser
Coloring supplies
How to Draw A Shrimp
Uses:
This shrimp drawing project is fantastic for several reasons. It's an impressive artwork to add to your portfolio. You can also use it to teach kids about marine life while enhancing their drawing skills. For relaxation, drawing a shrimp can be a therapeutic exercise. This simple and fun drawing idea showcases your creativity and love for nature.
Drawing:
Drawing a shrimp is a delightful and easy experience, even for beginners. In six easy steps, you can create a cute little shrimp sketch. Start with the basics – outline its curvy body, then detail the legs, claws, and antennae. Finally, bring your shrimp to life with expressive eyes.
Materials
Pencil
Paper
Eraser
Coloring supplies
Easy How To Draw A Shrimp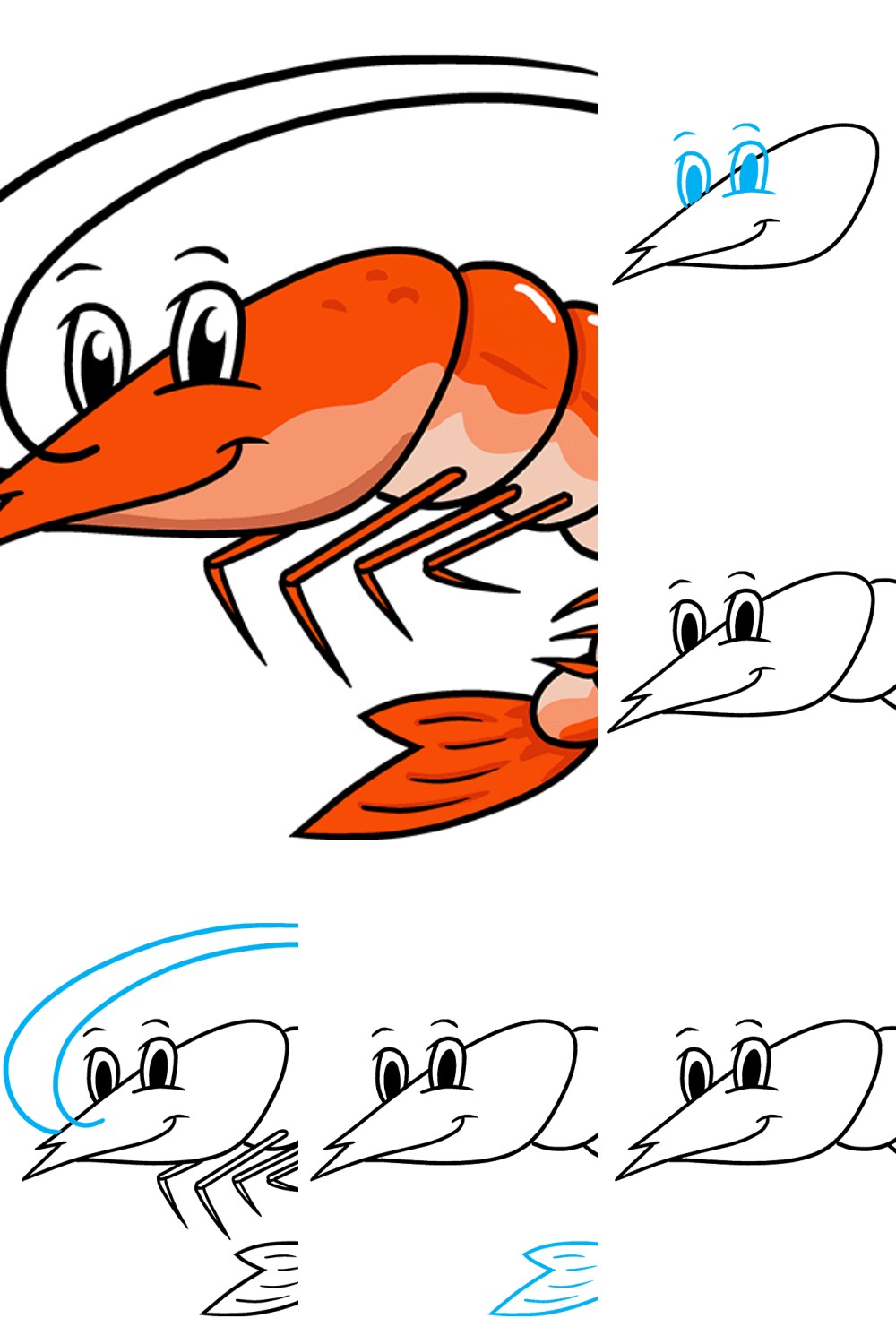 Uses:
This simple shrimp drawing tutorial helps people of all ages flex their creative muscles. It's an ideal way to keep kids busy, assist beginners in honing their skills, and provide a relaxing activity for adults. Perfect for nurturing an interest in marine life!
Drawing:
Initiate your drawing with the shrimp's head, followed by its expressive eyes. Gradually add each body segment, the tail, and the legs. Take advantage of those tiny ones near the bottom! Finish off with the long antennae curving over its head. Color your shrimp, imagining its shades in the wild, bringing this marvelous marine creature to life!
Materials
Pencil
Paper
Eraser
Coloring supplies
How To Draw A Shrimp Easy
Uses:
Drawing a shrimp, more than an exercise in art, also serves as a soothing hobby and a creative way to understand the anatomy of these unique creatures. It nurtures your appreciation for ocean life and acts as a stepping stone towards more complex art forms.
Drawing:
Start your shrimp drawing journey with the basics by sketching the long, thin antennules and the protective carapace. Focus then on the abdominal segments, the tail, expecting to end up with a whole body. Carefully sketch the near and far claws and legs, adding the underbelly swimmerets. Finally, add long antennas and bring your shrimp to life with colors.
Materials
Pencil
Paper
Eraser
Coloring supplies
How To Draw A Cute Shrimp
Uses:
This shrimp drawing can enrich a child's understanding of marine life or be a fun art activity. For enthusiasts, this could become a fantastic wall art for a sea-themed room.
Drawing:
Start by creating a small shellfish figure to represent a shrimp. This will involve steps to outline the body and its long legs. Then, the complex, shell-like covering is described as an exoskeleton. With many shrimp varieties worldwide, you can add unique touches based on different types.
Materials
Pencil
Paper
Eraser
Coloring supplies
Easy Draw A Shrimp
Uses:
Drawing a shrimp is a joyful pastime and a great way to enhance artistic skills. The sweet simplicity of this drawing idea makes it a perfect launch for beginner-level art explorers. Moreover, it could be an innovative addition to a seafood-themed project or as a decorative doodle in a travel journal.
Drawing:
Begin your shrimp drawing with basic shapes for its head and body, with gentle and faint lines. To form the tail, add curved ovals. Remember, the shrimp's body isn't straight but bendy. The tail completes first; then, the detailed head comes into focus. Don't forget to draw the eyes and four tiny legs. Clean your sketch with an eraser, removing unnecessary lines. Now, trace over the desired lines to make your shrimp pop! Lastly, beautify your shrimp using red, green, or gray colors. Your lovely shrimp drawing is ready!
Materials
Pencil
Paper
Eraser
Coloring supplies
How to Draw a Shrimp
Uses:
Drawing a charming shrimp can serve as an enjoyable activity to entertain the kids, evoke creativity, teach them about sea creatures, or even cheer up an art project, adding a delightful touch to all they create!
Drawing:
Grab a pencil, paper, eraser, and some colors, and we are all set to draw a friendly, adorable shrimp in 30 minutes! Starting with the drop-shaped head, gradually add to the body with round lines segmenting its belly and leading up to a fan-shaped tail. Our shrimp have unique features like a small eye, spiral-shaped mustache, and well-portrayed legs. Finish by filling in lively pink hues, bringing our little sea friend to life.
Materials
Pencil
Paper
Eraser
Coloring supplies
How To Draw A Simple And Beautiful Shrimp
Uses:
Drawing a shrimp is a fantastic way to sprinkle creativity in your free time. It's a beginner-friendly art exercise that enhances sketching abilities. This shrimp sketch can be a charming addition to a marine-themed art project or a personal doodle diary.
Drawing:
To start with, sketch the head of the shrimp. Then, form the body using curves successively. Draw the tail next, followed by two beards. Sketch the remaining features, like the shrimp's legs. Make sure to add eyes. Lastly, bring life to the drawing with vibrant colors. Voila! Your delightful shrimp is ready!
Materials
Pencil
Paper
Eraser
Coloring supplies
Simple Shrimp Drawing
Uses:
The charm of a simple shrimp drawing goes beyond being a mere piece of art. This quick and easy artwork can serve as an engaging activity for children, aiding their creativity and hand-eye coordination. Budding artists looking to refine their skills can also use the exercise to practice their hand movements and observation skills. Additionally, the shrimp drawing can be a fun addition to personalizing greeting cards or DIY decor items, injecting a sense of playful warmth into everyday objects.
Drawing:
Start the shrimp doodle with the head, followed by protective shells on its body. Remember to add a belly and a tail. Add legs to complete your creature. Finally, color your shrimp to life, making it pop off the page.
Materials
Pencil
Paper
Eraser
Coloring supplies
How to Draw a Shrimp
Uses:
Drawing a shrimp effortlessly can be a fun activity for children and could encourage their interest in art. It's more than just a drawing; it can be part of a broader learning experience about marine life or add a special touch to homemade cards and more!
Drawing:
First, let's draw the shrimp's head, followed by the body with curved lines, giving it a 3D effect. Then comes the tail, the whiskers, and the legs. Now, add eyes to bring your shrimp to life. The final step is filling in colors, making your shrimp drawing captivating and vibrant.
Materials
Pencil
Paper
Eraser
Coloring supplies
How to draw a friendly shrimp
Uses:
Drawing a shrimp can be a delightful task, even for those just stepping into the art world. The simplicity of this drawing makes it an excellent choice for beginners. This shrimp illustration can serve various purposes. It can enhance a school project about marine life, spice up a homemade greeting card, or be an artistic accessory in a scrapbook. The more you practice, the more your love for nature-oriented art can bloom.
Drawing:
Start by designing two round, quirky eyes for your shrimp. Follow this with a long snout that introduces a bit of personality. Next, creatively creatively sketch its body's mainframe, including the head, crusts, and belly. A shrimp would only be one with the detailed hands and tail, so ensure you get those right. Finally, bring your shrimp to life by adding vibrant colors that make it pop out of the page! It's simple to create and can leave you satisfied with your artistic prowess.
Materials
Pencil
Paper
Eraser
Coloring supplies
You can also see:
Beagle Drawing Ideas: You can use these wonderful beagle drawing ideas to make a greeting card look happier to décor your room in a special way, or even to make your scrapbook look beautiful.