11 Easy Fire Drawing Ideas – How To Draw Fire
Drawing fire lets you capture the intense flames and the beautiful light and shadow they create. It can be challenging to make fire drawings even for skilled artists; that's why I've gathered unique and creative fire drawing ideas to inspire you. Let's explore these ideas together and let the power of fire ignite our creativity.
Easy Fire Drawing Ideas

Fire has played a significant role in our evolution, allowing early humans to cook food plus stay warm, and ward off predators. Today, we still rely on fire for heat and electricity. In the art world fire has also been a source of inspiration for artists throughout history. There's something about the beauty and uniqueness of fire that captures the human imagination. If you're also a flame lover and always want to add fire or flames to your drawing artworks, then this series of FIre drawing ideas has a lot of things to offer you.
These ideas are designed to polish your drawing skills and bring out your imagination to help you create fire and flame masterpieces that truly capture your creativity's essence. So, let's head on to an artistic journey together and explore the endless possibilities that fire can offer in our drawings. Let's ignite your creativity and let the power of fire guide your artistic expression.
How To Draw Fire Step By Step
Drawing fire can be challenging, but with a few steps, you can create a realistic and impressive flame. Start by sketching the basic shape of your fire with a pencil. Once you've created your outline, begin shading your flames in the areas that receive the most light. This will help create a sense of dimension and depth. Next, move on to shading the areas that would receive less light in the middle of the flame. Add the darkest values to the shadowy areas or the fire base, which will further add to the realistic effect.
How To Draw Fire Step By Step
To draw a realistic fire, start by sketching the outline of the flames. Then, add shading to create depth and dimension. Use dark values at the base of the fire for contrast. Finally, add highlights and flickering effects to make the flames appear more realistic. With these steps, you can create an impressive drawing of a fire.
How To Draw Fire
Learn how to draw fire in 6 easy steps; your drawing will look hot in time! You'll learn how to draw fire for fun or make some beautiful home decor additions with minimal effort. It will be the best masterpiece addition to your drawing collection and sketchbook.
Hot Tutorial For Drawing Fire
Creating the right flame is a great way to add a natural element and personality to your drawings. This tutorial explains some simple tips, techniques, and methods to help you capture the essence of fire in your artwork. It will be a great addition to your drawing skill set and best to make your other drawings look more professional.
How To Draw A Cartoon Flame
To draw a cartoon flame, start by sketching the outline of the fire with a pencil. Draw a curved shape that is wider on the bottom and narrows towards the top. Then draw some lines inside the fire shape, creating the details of the flames. To add more dimension and texture to the flame, use different shades of orange/ red/ and yellow to color the flame. Make sure to use light strokes to create the flickering effect of a flame and make your drawing look more unique.
How To Draw Fire Drawing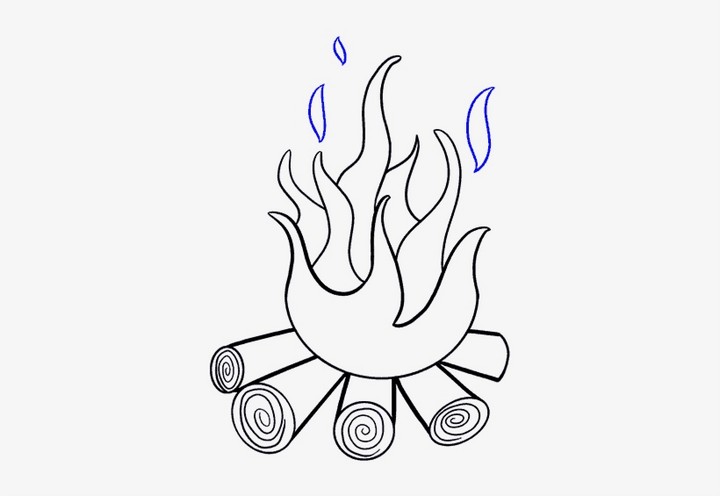 To draw a fire drawing, begin by lightly sketching the basic shape of the flames using a pencil. Start with a simple outline of the fire's structure make it wider at the bottom and narrower at the top. You can make it look more genuine by adding the wooden sticks underneath to appear like a bonfire at trips or camping. If you're a keen drawing fan always looking for the easiest fire drawing to add to your other masterpiece artwork, this easier drawing will be the best option.
Easy How To Draw Fire
If you want to learn how to draw fire you can follow a few easy steps to ensure your flames look realistic and captivating. Start by sketching the basic shape of the fire using light lines, making sure to keep the bottom wider than the top. Then, build the flame's color using warm hues like red, orange, and yellow.
How To Draw Fire Step By Step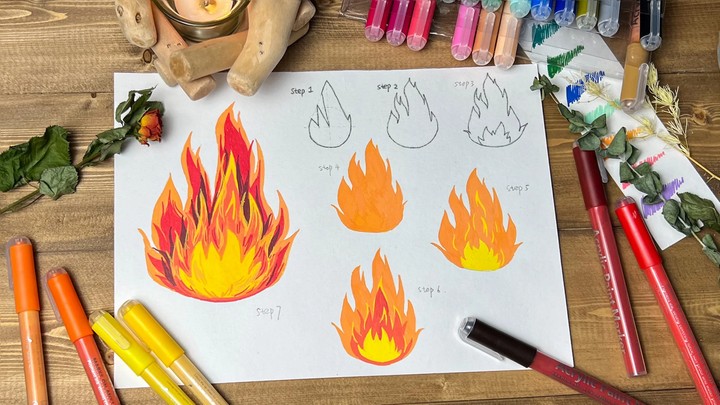 By following this easier and unique guide, make multiple fire drawing in a single attempt. It will be the best drawing tutorial you have ever tired, and the simplest drawing procedure will make it you're heartedly favorite.
How To Draw Fire Easy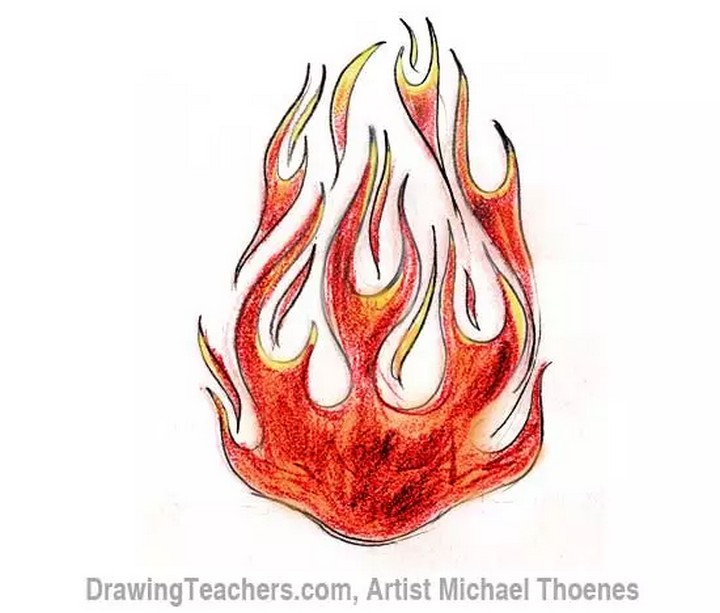 The ability to draw fire flames is a handy skill, especially if you're a game artist and must create awesome background art for games. With these easy instructions and some practice, you will soon create stunning fire flames like a pro! It will be a fun option for adding fire to your other drawing masterpiece, and I hope you'll also love it.
How To Draw Fire Step By Step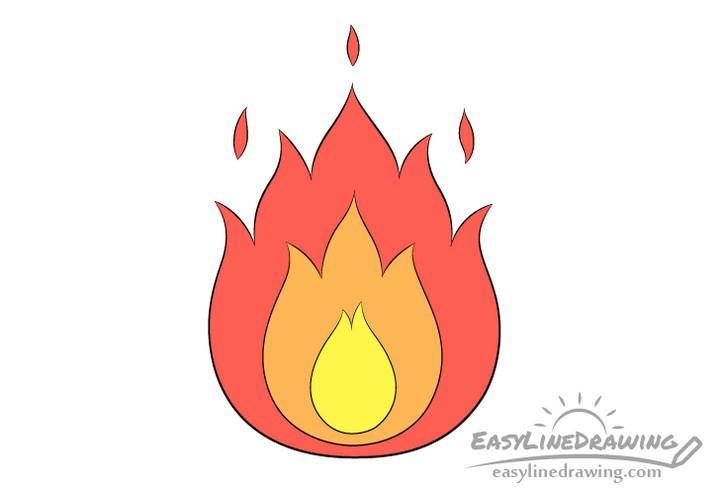 This tutorial will teach you how to draw fire step by step. It's an easy 6-step drawing lesson that will allow you to learn how to draw fire without trouble. You'll learn how to draw fire and color it and make the picture even more realistic.
How To Draw Flames Step By Step
Learn how to draw flames step by step with this simple tutorial. It's a simple way to practice your drawing skills and a great way to enjoy your free time. Like real flames, this amazing drawing looks bright and colorful but not hot and causes no damage to you. Whether you're trying to impress someone or learn how to draw, there are many reasons to try this beautiful fire drawing.
More Drawing Ideas: