10 Easy Fan Drawings With Step by Step Guides
Are you interested in creating impressive and easy fan drawings? You will explore various fan drawings lessons that cater to different skill levels. From realistic art ceiling fans to Japanese hand fans, we'll guide you through the process with helpful tips and techniques. With basic materials and easy-to-follow steps, you can elevate your drawing skills and create stunning fan artwork.
Fan Drawing Ideas

In this series, we have selected a collection of versatile fan artworks that range from easy to more realistic and improved drawings. These step-by-step tutorials will help both (beginner and experienced artists) develop their skills and create stunning fan drawings. From intricate details to lifelike shading techniques, explore the world of realistic fan art and take your drawing abilities to the next level. Come with us as we explore the beauty and complexity of capturing fans in realistic drawings.
Stand Fan Drawing Easy
Are you a beginner artist looking for inspiration to start your drawing journey? Look no further because we have a simple way to draw a stand fan just for you. In this sketching tutorial, we will show you how to draw a stand fan in the easiest way possible.
How To Draw A Fan
The beginner and younger artists will get the perfect lesson from this fan drawing tutorial for inspiration. Watch this quick drawing video to create a beautiful and realistic fan that's easy to follow. Start by outlining the fan's shape in marker, then add some colors to make it look even more realistic.
Ceiling Fan Drawing
If you're a beginner looking to draw a ceiling fan, you've come to the right place. This easier sketch lesson will walk you through the process. Start by outlining the base of the fan, keeping it simple. Then, follow along with our easy-to-follow instructions to gradually build your drawing. With clear guidance and simple steps, you can create stunning ceiling fan artwork even if you're new to drawing.
Easy Fan Drawing Lesson
Prepare to enhance your artistic abilities as we teach you how to draw a fan. This lesson provides step-by-step guidance to make drawing a fan a breeze. This art lesson will help you boost your creative prowess, regardless you're a beginner or looking to improve your skills.
How To Draw A Hand Fan
Interested in drawing a hand fan? You can follow these simple steps to create a realistic sketch, regardless of your skill level. Start by drawing a circle to represent the fan's grip, then add a half-moon shape to create the crescent silhouette. Finally, to ensure accuracy, add a vertical guideline in the middle of the fan. As a result, you will create a stunning masterpiece that will admire by everyone.
How To Draw A Ceiling Fan
With a total of 8 easier phases, this art tutorial is perfect for beginners. The drawing begins by outlining the fan base with a simple shape and gradually adds more details. Each phase is designed to be easy so you can confidently create a masterpiece. And by the end, you'll have a stunning ceiling fan drawing you created all alone.
Electric Fan Drawing
It's time to hone your drawing skills and put them to the test by creating a genuine work of art that portrays an electric fan. Utilize the techniques you've learned to capture every intricate detail in your drawing. From the blades to the motor and the stand, aim to achieve a lifelike representation of an electric fan. You can create impressive and visually stunning artwork showcasing your talent with your newfound skills.
Japanese Hand Fan Drawing
Take your sketchbook to new heights with a Japanese hand fan drawing showcasing creativity. Infuse the design with elements of Japanese art, such as intricate patterns, bold lines, and vibrant colors. By utilizing traditional Japanese art techniques, you can draw unique and visually stunning artwork that highlights the beauty of this iconic fan style.
Ceiling Fan Drawing Easy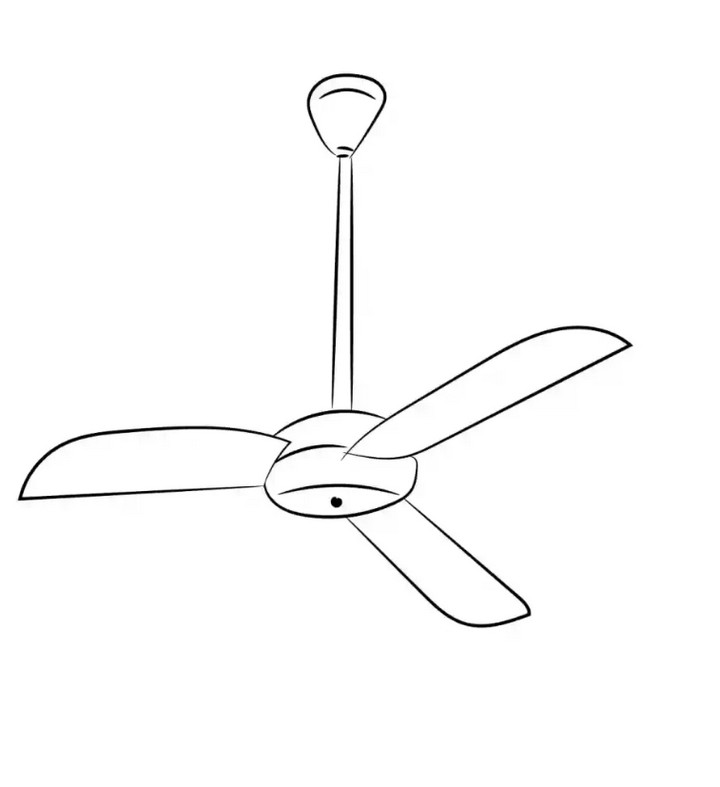 For those new to drawing and looking for a straightforward project, the following steps will guide you through drawing a ceiling fan. This tutorial utilizes basic materials like paper, markers, and colored pencils. Follow the step-by-step directions, which include drawing the base, the blades, and shading in.
Table Fan To Draw
This art tutorial on how to draw a table fan is perfect for beginners. With 9 simple phases, this easy tutorial will guide you in creating a stunning table fan drawing. Each step from the base to the blades is explained clearly, ensuring you can easily follow along.
More Drawing Ideas:
Easy Cake Drawings: Satisfy your artistic cravings with charming cake drawings. Discover simple step-by-step tutorials for creating mouthwatering cake illustrations that look good enough to eat.
Goofy Drawing Ideas: Add a touch of humor to your art with silly and goofy drawings while discovering simple tutorials for creating charming and comical illustrations to make you smile.
Easy Fire Drawings: Bring the power and warmth of fire to your artwork with simple fire drawings with step-by-step tutorials for creating stunning fiery masterpieces.