11 DIY Frog Costume Ideas For Jumping And Crawling
Let your imagination run wild and transform simple materials into wonderful art pieces following this amazing series of DIY frog costume ideas. This guide will help you bring out your creative side, showing you that you can create fantastic frog costumes that can sweep anyone off their feet at costume parties, school programs, or even during the thrilling Halloween season.
DIY Frog Costume

Explore our amazing collection of frog costumes gathered to fit the interests of children, adults, and just about everyone else in the family. These are not the average, off-the-shelf costumes you typically find, but a hopping collection of creative attire that people with different sizes, shapes, and personal styles will love and appreciate.
Most importantly, these costumes are made using only the simplest materials. They offer an excellent mix of fun, creativity, and practicality that makes them perfect for a themed party, a fun gathering, or a playful time at home.
Some of the cute attributes of these frog costumes are:
Color and patterns: These costumes usually reflect the green color and patterns commonly associated with frogs, such as spots and stripes.
Headpiece or mask: A frog costume often includes a headpiece or mask representing a frog's face, featuring large eyes and a wide mouth.
Webbed hands and feet: Webbed gloves and shoe covers are common in frog costumes to mimic the look of a frog's webbed limbs.
Body shape: These costumes may have a rounded or plump body shape, resembling the body of a frog. Then often including padding for a more realistic appearance.
Jumping legs: Some of these costumes include attached pants or leggings with a design that mimics a frog's muscular back legs, giving the illusion of the costume wearer being able to leap like a frog.
Tail: A very small or subtle tail can be included in the costume design to pay homage to the real-life tadpole-to-frog transformation.
Materials: Frog costumes are often made from soft, comfortable materials, such as fleece or polyester, and may include textured fabrics to create a more realistic frog-skin appearance.
Accessories: Additional accessories, such as a tongue or fly prop, can be added to the costume for a more playful and interactive experience.
How To Make Frog Feet For A Frog Costume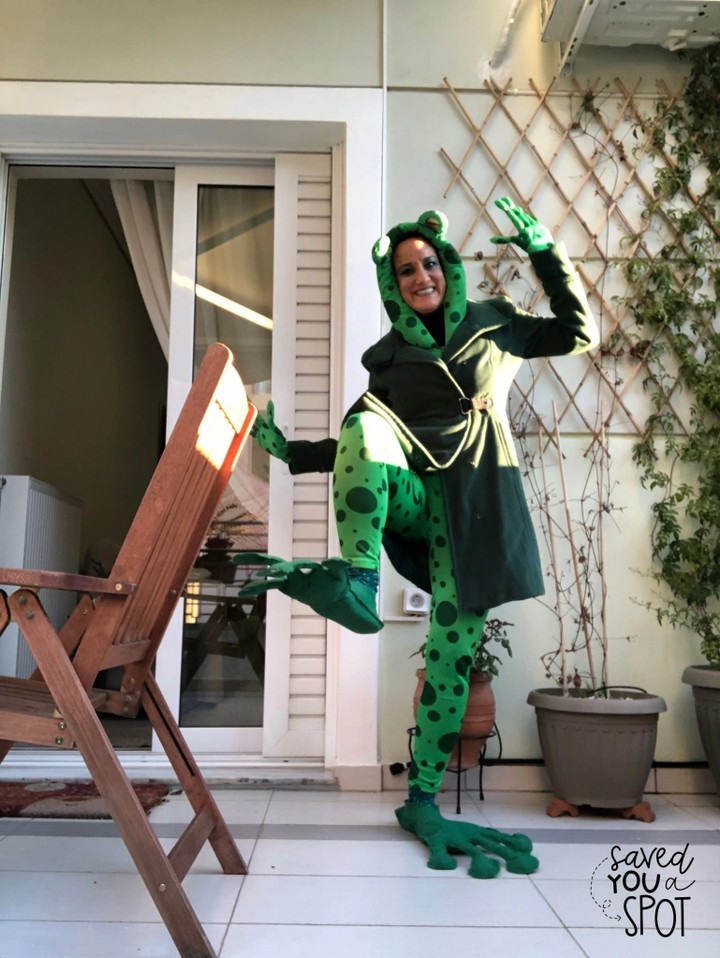 Any frog costume is not done until it has some real frog feet. This DIY idea allows you to make a pair that adds fun to gatherings, carnivals, or events. It's great for those who want to mimic characters from popular children's books like The Princess and the Frog or The Frog Prince.
Materials and Making: To assemble frog feet for your costume, gather a piece of green felt, scissors, thread, a needle, a pair of canvas plimsolls, and a pen. Start by sketching the shape of frog feet on the felt using your plimsolls as a guide. Cut out four identical shapes and sew two of them together, leaving a spot open for filling. Stuff the felt with leftover material and secure your shoe inside. Make an opening to slip into your shoe and sew the felt around the shoe for stability.
How To Make Frog Prince Costume For Toddler
If you're looking for a cute and creative costume idea for your toddler, this Frog Prince costume is the perfect pick. It's a unique blend of imagination and fun, perfect for Halloween or any dress-up event. So, hop to create this fun Frog Prince costume now and let your toddler steal the show!
Materials and Making: You'll need a green onesie, gold shimmery paper, adhesive-backed felt, red velvet fabric, and a glue gun. Make a frog belly by cutting a white circle from the felt and sticking it on the onesie. Decorate with gold paper circles. Create a red bow tie from red felt, and add a small gold paper crown above it. Fashion a cape from red velvet, attach it to the onesie and embellish it with white fringe. Lastly, outfit the cape with a frog face cut from green felt.
Red Eyed Tree Frog Costume
Bring your child's amphibian love to life with a delightful and unique Red-Eyed Tree Frog Costume. Perfect for your little one's imaginative play, special occasions, or Halloween, this simple homemade costume is a product of love and creativity. Besides its visual appeal, it is warm, cozy and comfortable!
Materials and Making: Creating a DIY red-eyed tree frog costume is simple. Start with a green bodysuit and matching beanie. Glue foam balls painted red onto the beanie for eyes. Attach a white felt piece onto the suit for the belly. Paint blue stripes on the sides, use orange gloves with red pom–poms for hands, and cut out foam webbed feet for shoes. Now, you have a playful and unique red-eyed tree frog costume.
How To Make A Frog Costume
Make your own bouncy frog costume with just a few craft supplies! The costume is easy to make and affordable as it uses your child's daily clothes. Just perfect for themed parties, Halloween, or just for some fun dress-up play at home.
Materials and Making: For a delightful, homemade frog costume, begin with a green headband and attach bulbous eyes cut from green felt. Fashion webbed feet from orange felt, which can be placed over hands, designed to fit your child's size. Pair with green attire, having a green tutu, and for a finishing touch, apply green face paint and a makeshift belly from white felt. Easy and effective!
Hoodie Halloween Costume Frog
If you're after a versatile, warm, and cost-friendly DIY project, this Hoodie Halloween Frog Costume is the perfect choice. Besides its festivity, the costume is also perfect for daily use and a playful way to secure your child from cold.
Materials and Making: Creating a cute frog hoodie costume is easier than expected. Begin by decorating a green hoodie with a yellow felt belly panel, adding spots as desired. Cut and sew eye sockets from green felt, stuff knee–highs for bulbous eyes, and insert into sockets. Pair with green sweatpants or leggings for a budget-friendly yet impressive ensemble.
DIY Frog Costume
Experience the joy of crafting with this DIY cozy, photogenic Frog Costume. Simple, affordable, and irresistibly cute, it caters to a little amphibian enthusiast's imagination. Perfect for a photo shoot or a costume party, your little one will leap in excitement and steal the show with their vibrant amphibian attire.
Materials and Making: For an inventive frog costume, start with free boxes as a framework and cover them with green fabric. Shape and attach a nose. Use different colored felt for the mouth, tongue, and details. Cut a hole for vision and cover with black nylons. Add googly eyes and outline them with matching puff paint. Match a hat and shoes to the costume, and finish with green gloves and a Styrofoam bowl of Honey Smacks cereal.
A Dissected Frog Costume
Embrace creativity with the unique dissected frog costume, a blend of science and art. The high level of craftsmanship is evident, and the removable organs add a playful touch of education. Perfect for those who have a passion for both science and crochet work, this costume is sure to make you stand out at any event.
Materials and Making: Crocheted organs were painstakingly affixed to a green leotard with removable Velcro. The artist also assembled fabric to shape skin flaps, linked these to limbs with strings, and cleverly designed a frog mask from paper with hands and feet made from foam. A costume that beautifully blends play and passion.
Fantastic Frog Costume For A First Grader
This DIY Frog Costume is an outstanding choice for kids who love frogs. Not only is making this costume an entertaining activity, but it's also great to dress up in for any school event or Halloween trick-or-treating session. Kids will delight in becoming their beloved amphibian for a day, and the costume will likely garner plenty of admiration for your creative efforts.
Materials and Making: To devise a charming frog costume, use a forest green sweat suit as the body. And decorate it with random patterns using brown and green fabric paint. Craft hands and feet from green felt and attach using Velcro. Transform a forest green baseball cap into a frog head by adding Styrofoam eyes covered in white. Plus nylon stockings, black pip cleaner, pom-pom pupils, and a felt tongue. Add a fun touch with a fake fly made of a black-painted Styrofoam egg,​ silver deco mesh wings, and pipe cleaner legs.
How To Make Your Own Kermit The Frog Costume
This do-it-yourself Kermit the Frog costume will make your little one's first Halloween an unforgettable experience. This project, requiring minimal materials and time, captivates the charm of our favorite green, talkative, and one-of-a-kind frog. Plus, The costume uses the thick fabric, making it warm and cozy!
Materials and Making: Bring this DIY frog costum to life by using a wool baseball cap and polyurethane foam were utilized as the foundation for the oversized head. Fleece in Kermit green enveloped the foam structure, adjusted for proper fitting. The eyes were molded using foam baseballs and felt for the pupils. Finishing touches included a felt collar and a simple t-shirt-based outfit.=
DIY Frog Costume
In this friendly DIY video tutorial, viewers are guided on making a charming frog costume, perfect for a young boy. The host meticulously demonstrates an easy-to-follow process using common materials. Fun and interactive, this guide gives families the perfect opportunity to spend quality time crafting.  While producing delightful attire for dressing up occasions.
DIY Kermit The Frog Halloween Costume
Watch this accessible video tutorial to create a budget-friendly, comfortable Kermit the Frog Halloween costume. The design includes a red cape, a headpiece featuring googly eyes, and neck embellishments from fleece materials. This easy-to-follow tutorial is beginner-friendly, making it perfect for all aspiring costume creators.