12 Easy Dragon Drawing Ideas For Throwing Heat Out
Welcome to our fun and exciting guide to easy dragon drawing ideas. Dragons are impressive, but drawing them can sound hard. Don't worry – we've made a list of simple yet cool dragon designs for everyone, from beginners to more practiced artists. Each idea comes with clear, step-by-step instructions to make it easy to create your artwork.
Dragon Drawing Ideas

Explore the fantastic world of dragons with our inspiring list of dragon drawing ideas! This list is designed to trigger your creativity and open the door to the realm of mythical beasts. Whether you're a novice or an experienced artist, from breathing fire to soaring in the sky, our drawing ideas will give you the inspiration you need to create extraordinary dragon artwork. So, ready your sketchbook, and let's dive into this majestic journey.
Komodo Dragon Drawing
Let your little artists draw a fun Komodo dragon in six steps. This guide displays a cute cartoon-like Komodo dragon with its tongue out and white spots for a unique look. It's an excellent resource for art teachers and parents who homeschool, making drawing sessions enjoyable. The drawing lesson also comes with a printable version.
Required Time: 20 minutes
How To Draw An Easy Dragon Head
This great drawing guide makes it easy to learn how to draw a dragon head. It helps boost creativity and is perfect for dragon fans and new artists. The step-by-step guide and video tutorial make it simple for anyone to draw an awesome dragon head outline.
How To Draw A Realistic Dragon
Learn how to draw a realistic dragon with easy-to-follow steps. Begin with sketching the dragon's face and outline. Progressively add detailed elements, including eyes, nostrils, horns, and a muscular body. Draw the claws, and figure out the neck, hand, forearm, and lower back. Don't forget to add the dragon's wing and tail, completing the outline with colors and intricate details for a lifelike portrayal.
How To Draw A Dragon Head
The step-by-step guide on 'how to draw a dragon head' is undoubtedly the best and most unique. It brilliantly simplifies the complex process into manageable and engaging steps. Plus, The guidance about outlining fine details, such as the dragon's horns, nostrils, and teeth, enhances the artistic experience.
How To Draw Fire Dragon
Explore an easy, beginner-friendly process designed for anyone, especially novices or children, to craft a striking dragon drawing. Besides its simplicity, this drawing shows a fire dragon roaring fiercely soaring in the sky, making it an ideal addition to walls and sketchbooks. This method lays out eight straightforward sketching steps, topping in the ninth and final painting step.
Time required:

30 minutes
Dragon Drawing Step By Step
Here's a dragon drawing that will surely catch your eye. It's a picture of a dragon that's in a striking red color. The dragon is spitting fire out of its mouth, making it look powerful and fierce. This dynamic image is not only vibrant and lively, but it also captures the intimidating elegance of a dragon. You can't help but admire the creativity in bringing this mythical creature to life.
How To Draw A Dragon Flying
Drawing a dragon flying may seem intimidating, but it can be surprisingly easy and fun! With just a few simple steps, you can create a spectacular-looking creature soaring through the sky. Begin by drawing a basic shape for the body, with the head, wings, and tail as the main features. Add some scaled texture and details to bring it to life, using gentle lines and smooth curves. With a bit of shading and coloring, your elegant flying dragon will take shape in no time.
How To Draw An Ice Dragon
Drawing an Ice Dragon can be a fun and inspiring activity for kids. Start with a simple sketch, using a pencil to lightly create the shape of the dragon – a big head, long neck, wings, and powerful legs. Make sure it all connects to make a streamlined body and a tail with pointed icicle shapes at the end. I hope you find it useful, especially for exploring the drawing magic.
Drawing A Dragon
Let your artistic side have a unique guide to draw a realistic and detailed dragon. This could be the star attraction in your sketchbook that everyone will admire. All you need is a pencil and an eraser to create it. After finishing the sketch, it's digitized to make color addition easy using computer software. The added color gives depth and makes the dragon look more lifelike and amazing.
Easy How To Draw A Dragon
This Easy How To Draw A Dragon is a simple guide for sketching a striking red dragon with yellow shades. It underscores creating brilliant, shiny eyes. It makes drawing this mythical creature fun for all.
How To Draw A Chinese Dragon
Drawing a Chinese dragon isn't as hard as it might seem. Start by sketching a wavy line that will be the body. At one end, draw a circle for the head. Add two small circles for the eyes and two rectangular shapes for the nostrils. Decorate the head with fortune cookie-like shapes to form dragon whiskers. Now, sketch curved lines for arms and legs and draw claw shapes at the ends.
How To Draw A Dragon Easy Drawing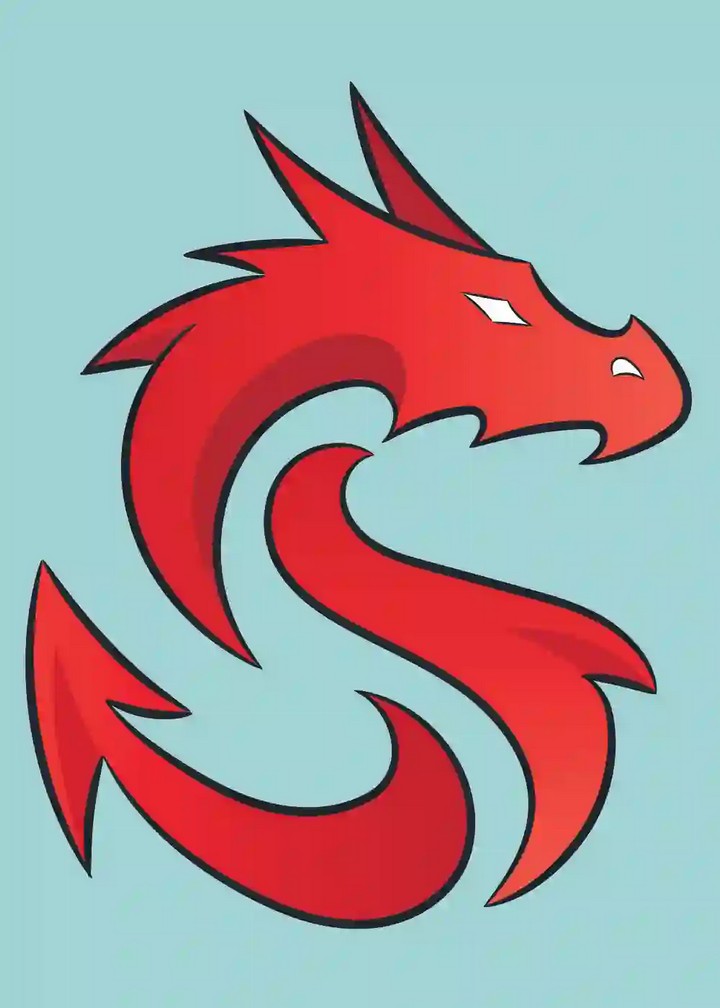 Drawing a dragon can seem quite complex, but let's simplify it. Start by sketching a set of circles and ovals to create a basic outline for your dragon. The largest circle will be for the body, a smaller one for the head, and two for the neck and tail. Connect these shapes with smooth lines to form the outline of your dragon's body. Next, draw another circle for the dragon's eye with a smaller one inside for the pupil. Then, sketch the dragon's mouth and nose.