22 Easy Plant Drawing Ideas With The Best Video Guides
Plants, whether flowering or just simple leafy greens, are true miracles of nature and play a big part in making our world beautiful. Now, you have an amazing opportunity to catch that beauty with our wonderful collection of plant drawing ideas with easy video guides and the sample plant drawings!

Plant Drawing Ideas For Beginners:
These Plant drawings are fun to create and also have an educational twist. These plant drawing projects help you learn about different plant species, recognize their appearance, and understand their anatomy.
Among the four hundred thousand types of plants, our collection displays some real ones and adds a touch of imaginative flair with fictional monster plants too! This collection has many delightful variations, from household plants to plants with fruit. These adorable drawings can become cherished summer vacation memories and even double as decorative materials for your room. '
As children, we might have thought of plants as simple, non-living things like the buildings around us. But as we studied, we discovered they're superb living creatures that perform photosynthesis, a process essential for our existence! So, it's time we thank these wonderful green friends and their colorful blooms with some heartfelt plant drawings.
We recommend taking a field trip to a nearby garden to get the most accurate references for your plants. Or, if that's not possible, follow our sample drawings. Either way, it's time for you to create beautiful, colorful plant drawings.
After outlining your beautiful plant sketches, you can add rich colors to make them stand out. Or, why not share the fun with your friends? This way, you can bond with your buddies. So, let's begin the collection without any delay of time.
Parts Of A Plant Drawing
In this enjoyable drawing lesson, we will create a beautiful plant to learn its anatomy. We will be the artists and scientists at the same time! We have to sketch a plant crowned with a bloomed flower with all its other parts like the fruit and seeds, buds, roots, leaves, etc. Isn't that exciting? And by the end of it, we will color and label each of the parts. You can attach this drawing to your science notebook or keep it in the drawing collection.
How To Draw The Life Cycle Of A Plant
Have you ever sowed a tiny seed and watched it grow into a sturdy plant with bright flowers? How does all this happen? We are eager to learn, and so this exciting drawing lesson is about drawing a plant's life cycle, which is a great learning and fun time. So, We will draw those scenes showing how our small seed releases roots and shoots, slowly grow into a little plant, and finally, how flowers bloom. We will then draw how these flowers produce fruits containing seeds, ready to start a new life cycle.
Easy How To Draw A Plant
This tutorial is perfect if you ever want to fill your blank paper with lively plants. You can design a charming little plant with attractive leaves and a simple yet pretty flower. You can even choose if your plant will grow a rose or a sunflower! Our plant will also have roots to show a complete shown in the soil, a healthy plant from top to bottom. After making the outline, you will add the pencil colors.
How To Draw A Potted Plant
Do you have lovely potted plants around your home? This guide will create this scene by drawing a beautiful potted plant with a two-tone pot displaying a fun wavy pattern and doodled circles. You will draw wide, curly leaves and design a cute big, bloomed flower featuring two anthers and filaments. To make our potted plant even more alive, we'll add details like soil and additional shadows to give depth to our creation. And don't forget the final touches, a small cut and a hole in our leaf. The tiny details make our drawing realistic!
How To Draw Lavender
This lavender plant drawing filled with green and purple shades will fragrant your blank canvas. This lavender plant drawing is simple and fun! You will draw a series of tiny blossoms that gather above each other on a single stem. You can draw as many of these stems as you want, making your lavender drawing as full and lush as possible. Don't forget the green touch! Add large leaves, curling and twisting around the stems. It's like giving pretty green ribbons to your lavender plant.
How To Draw A Plant – Step By Step
The little one's always want something simple but attractive, even for the plants, so this potted plant drawing choice is perfect for them. First, create your charming pot by drawing two uncomplicated shapes. Next, sketch a lovely plant with leaves on each side of a central stem. To make your plant even more adorable, draw the leaves growing smaller from the bottom to the top like they're reaching for the sky! And if you're feeling extra creative, feel free to add extra details to your drawing, like patterns on the pot and veins of leaves or a cute little bug on a leaf.
How To Draw A Monster Plant
Learn to draw a spooky monster plant that will blow your friends' minds! Although some real plants, like the pitcher plant, can trap and eat small creatures, this fierce cartoon plant is totally fictional and just for fun. The first tricky part is giving your plant a fearsome flower face with sharp, pointy teeth, making it look ready to bite! Then, say goodbye to those ordinary leaves as we transform them into blade arms, perfect for a creature from your wildest dreams. Remember, this drawing will take some extra time and patience. So don't worry if you need a few tries or even help from a friend.
How To Draw An Agave Tutorial
Famous for its sword pulpy leaves that spread beautifully from one stem, drawing an Agave is as fun as easy. First, sketch out the leaves, ensuring they grow and spread without overlapping their source. Then add some exciting zigzag patterns on the edges of these leaves to make agave look truly original, and remember, there's no need to draw the stem as it's hidden beneath those gorgeous leaves. At last, Hold your green and parrot coloring tools and gently shade in the leaves, blending the two shades to give our Agave a realistic appearance.
Parts Of Plant Drawing Step By Step
Studying the root and shoot system and their parts' names is important for plant analysis, and this drawing tutorial will teach you all this with the fun of drawing. To start, draw a tree-like plant with many leaves, a flower, and some brown roots visible from the soil. The parts above the soil will be in the shoot system, and those under the soil will be called the root system. After completing the sketch, you will also highlight those parts. This is the perfect drawing for the school presentation and to spread your knowledge using a lovely colored diagram.
How To Draw Piranha Plant From Super Mario
If Mario lovers are here, they will also love to draw this Piranha plant drawing. This is similar to the above drawing we saw, but it is easier. It's a completely fictional character, so don't fear that it will come into reality. You can first try this drawing and then move towards that of the above. Keep in mind that this plant wouldn't be from the world of Mario without somewhere to live. If you know about the green pipes where the Piranha Plant pops out in the game, add that to your drawing to make it more authentic and exciting!
Easy How To Draw A Terrarium Tutorial
Not all the little ones have enough time even to take care of terrariums, but they still love them. We cannot broaden the time for you but with this fun, simple, and creative tutorial, your terrarium will only need your imagination to grow. You will draw the same jar filled with soil and cute little plants, like sunflowers, roses, or any other plant that comes to mind! In the end, color it with beautiful paint colors. You can attach this drawing to your wall or just to your book.
How To Draw Plant In Pot
Like how small plants love their homes, we know little artists love to draw the plants in the pot! During this fun tutorial, we'll sketch a growing plant with a wavy stem, some cheerful leaves, and a little leaf just growing. Once you've drawn the outline, you can share this masterpiece as a coloring page with your brother or sister.
Agave Azul Plant Drawing
Learn how to sketch the uniquely beautiful Agave Azul plant. This plant might look slightly like our friend, Aloe Vera, but they're quite different! The Agave Azul has a short stem, sometimes hidden among its leaves. Don't worry about it seeming too tricky. Our friendly, simple guide will make drawing this Agave Azul extremely easy.
How To Draw Vines
Have you ever seen a vine growing from the dirt wrapped around a wooden structure and thought it looked like a cool squiggly scene? Here are some simple steps that can help you draw just that learning this tutorial! You can draw the fruits like the grape because its tree also needs a structure to climb on.
How To Draw A Simple House Plant
Do you want to catch some domestic nature using the drawings? Let's learn how to draw a super easy house plant that sits in a cute little pot! Perfect for kids and anyone looking for a fun and simple drawing activity. We'll draw amazing leaves with lovely curly edges, just like the real ones! We will focus on the little details, like the veins and the back part of the leaf, to make a simple but little realistic idea.
Plant Drawing And Painting
In this cheese Swiss plant drawing tutorial, We'll mainly focus on coloring the plant using watercolors to make this drawing look real. We'll blend and shade the colors once we've sketched and applied the basic colors. Don't worry; it's not as hard as it sounds! With a little practice and patience, you'll surprise yourself with a wonderful and realistic Swiss Cheese Plant by your own hand.
How To Draw A Plant In A Pot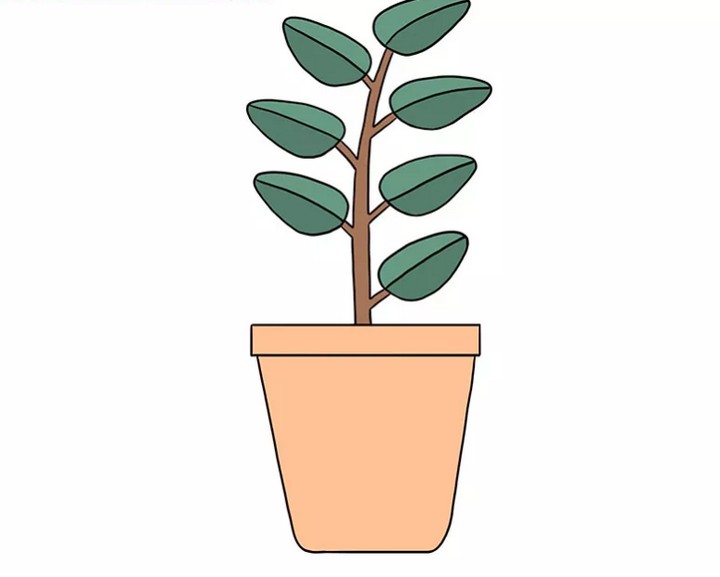 Is your room missing the charm of a small potted plant? Don't worry! We can fix that! Not with a real plant, though, but with a delightful drawing that will brighten up any room. This guide teaches kids and beginners how to draw a superb plant in a pot.
How To Draw A Strawberry
Are you ready for a deliciously good time? Let's learn how to draw a fantastic strawberry plant together! This drawing adventure will help you create a superb strawberry sketch that looks almost real. Using some amazing techniques, you'll be an artist of realistic drawings in no time! Our fruity plant picture has ripe strawberries and little flowers waiting to become berries. Soon, you will have a mouthwatering drawing to add to your awesome fruit and plant collection.
How To Draw A Plant
Like you, tomato plants start small, but they grow big and strong with time and care. This great drawing task wants you to use your largest sketch paper and more spare time! We'll ensure this guide is packed with easy steps, perfect for kids like you. You'll catch every bit of the plant, from round tomatoes to lovely leaves.
How To Draw A Rainbow Rose
If you think roses of a single color are pretty, ready to be amazed by this rainbow rose drawing. Each petal comes alive with every color from the rainbow palette, making it a fantastic addition to your sketchbook. Your rainbow rose will be a sight to behold with each hue.
How To Draw A Plant
Drawing a plant with labeled names is a great way to teach children about the names and functions of various parts of plants because this provides a more engaging time and helps them understand the whole topic you read in the books.
How To Draw A Potted Plant
This is the last drawing guide in our fun collection, and it will be about drawing an amazing potted plant. This cool plant has a straight stem, big leaves, two on each side, and a champion one on top. The pot is also pretty neat! Add your own extra touches to this drawing and you'll have an awesome piece of art ready to stun everyone at the school exhibition!
Conclusion:
As we mentioned before, the most fantastic way to draw the charm of plants in your sketchbook is to dip yourself in their natural beauty. Spend peaceful time in a park or garden, surrounded by various plants with blooming flowers. Observe their patterns and colors, and inspire your creativity right there! We hope you had a great time discovering our collection of plant drawing ideas. If you have any thoughts or suggestions, feel free to share them in the comments below. Happy drawing, little plant enthusiasts!
Here are a few more inspirational Ideas Collection: