13 DIY Rey Costume Ideas For Star Wars Fans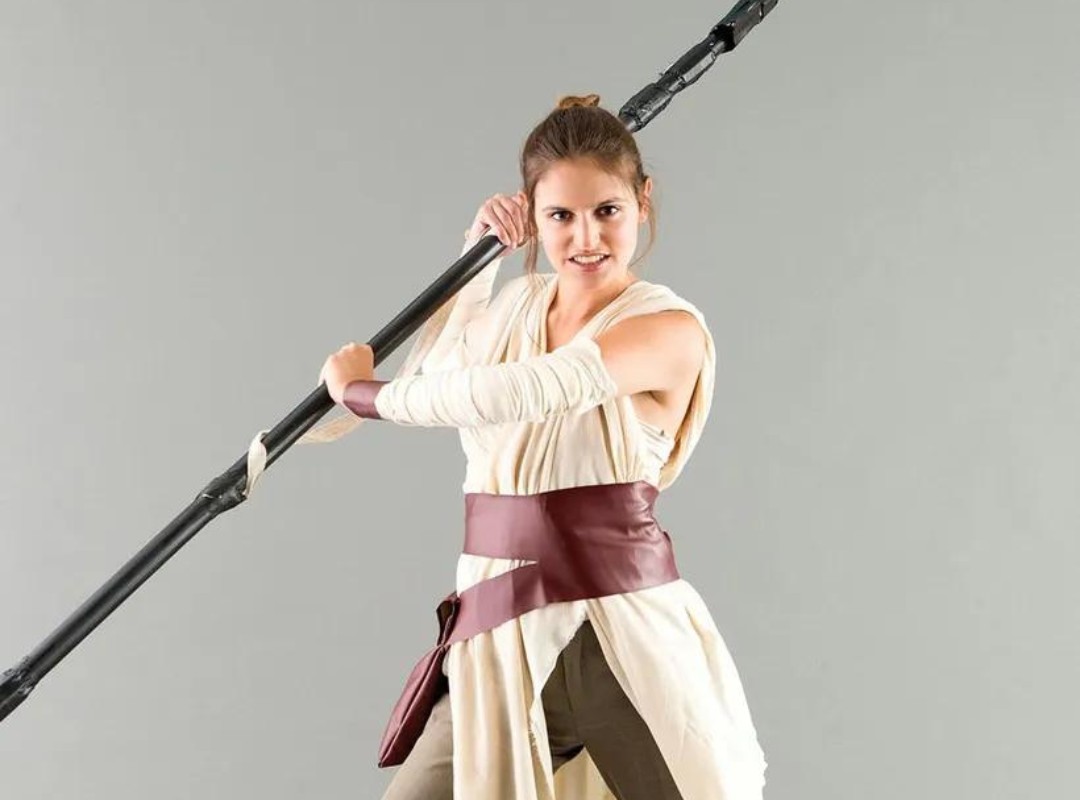 Creating DIY Rey costume ideas from the popular Star Wars series is an exciting way to show off your fandom and crafting skills. They are best to wear at any Halloween party or even if you want to be like Rey while attending a convention. They will be simple, easy, and quick to assemble if you need them at the last minute.
Epic DIY Rey Costume Ideas

We've got simple DIY Rey costumes for adults and kids that are simple, easy, and quick to assemble. These Rey costumes won't cost you much money since you can find the clothes you need around your house. Grab a few of your favorite Star Wars action figures and take off on an adventure dressed as everyone's favorite scavenger!
Rey Costume For Halloween
The Rey costume for Halloween is an awesome choice for fans of the Star Wars series. Rey is a popular character known for her bravery & skills. This outfit is easy to assemble and fits almost every body size. It can be great to spread the flair of Star Wars at your Halloween party and make you the talk of the night character. As a more pro feature, you can add glasses to this costume, making it look fun and exciting, plus everyone's favorite.
DIY Rey Costume Star Wars
With this guide, you can replicate Rey's iconic look while keeping expenses minimal and enjoying the filmiest appearance. It will be a decent masterpiece outfit, especially for those willing to look like a Star war inspired character; this costume will hit best for Halloween or any other cosplay event.
Materials You Need: 
Pants pattern: Simplicity 1663
1-yard cream 4-way stretch cotton jersey
1 ½ yards taupe or tan broadcloth, linen, raw silk, etc
1 ½ yards taupe or tan crinkle chiffon (I could not find the color I liked, so I opted to dye white)
1-yard brown pleather
½ yard brown canvas
1 package 1" no roll elastic
2 small silver D rings
4 silver slide buckles or D rings for the belt
Thread
An old t-shirt in your size to create your pattern
Aging and Distressing Supplies: Tea bags, brown spray paint, tan spray paint
Easy DIY Rey Costume
Get ready for Halloween with this DIY Rey costume! With the help of this easy tutorial, you'll be able to make a stunning Rey costume in less than 15 minutes. It's super easy, cost-effective, and great to dress up as Rey for the next cosplay event. You can put a fighter sword on your back and look like the real Rey came from the Star Wars franchise in no time.
Materials You Need: 
Simple Shirt
Vest With High Collar
Lounge Pants
Quilted Knee Pad
Long Fabric Tubes
DIY Lightsaber For Kids Rey Costume
This DIY Lightsaber For Kids Rey Costume will be a fun project for the parents and keep your child occupied for hours. So, if you're hosting a Halloween party in your backyard, these DIY lightsabers will let your kids reign as royalty for the day. You can go with multiple colors for this lightsaber, although for the ladies, the pink one suits best.
Materials You Need: 
Pool Noodles
Construction Paper
Flashlight
The Rise Of Skywalker Rey Costume Guide
This costume features the Rey cosplay look that is the talk of the town when she blows her mind out with a lightsaber. The costume features an amazing heroic look plus gives you a sense of admirability and stylization for the next Halloween party with minimal effort.
Materials You Need: 
Rey Cosplay Costume
Skywalker Lightsaber
Belt Blaster
How To Make An Awesome DIY Star Wars Rey Costume
Have fun with a neat and simple DIY costume that your kids would love. It's inspired by Rey's character, with a ladylike spin to match your daughter's natural hair color. The tutorial and the article will guide you in getting the supplies to make this fun costume for your daughter in no time. It will be a fun masterpiece addition to anyone's costume wardrobe, and surely, you'll fall in love with it.
Materials You Need: 
Primark vest top (grey).
Pair of old pajama bottoms (grey).
Pair of cheap Ugg-style boots.
A couple of rolls of crepe bandages.
At least 60cm of elastic (we used 1cm wide elastic)
A brown leather (or leather style) belt.
A cotton twill dust sheet.
Homemade Star Wars Rey Costume
This DIY Rey costume is ideal for Star Wars enthusiasts wanting to channel their inner hero or princess. It's a great fit for home gaming events, Halloween, or role-playing. The materials needed are affordable and easy to find in any craft or hobby shop.
Star Wars DIY Rey Costume
Create a unique adult Rey costume for Halloween or other occasions following this easier guide. It will channel the inner curiosity to create the famous Star war inspired fighter's look and always be ladies' favorite to look unique and attractive. You can put a pair of goggles on your head to make this costume look more dramatic, and the added bottles for the backpack and the side bag will add a lot to the appearance of this costume.
Scavenger Rey Cosplay
Reylo fans and Rey cosplayers, this guide is for you! Let's try a cosplay and fandom fashion with a beginner's tutorial on how to cosplay as Rey, and the article covered everything you need to become everyone's favorite Jedi heroine! So why wait? Get the blue lightsaber and dress up like Rey with minimal effort for your next Halloween functions.
Materials You Need: 
Bandages
Shirt
Dye
Pants
Lightsaber
Easy DIY Rey Costume
This Scavenger Rey Cosplay will be the perfect costume for any gal who wants to channel her inner warrior this year. The Scavenger Rey Cosplay Guide will show you how to make a simple costume that will turn heads with its authenticity and style. This costume guide will lead you through making this cosplay so you can be ready quickly!
Materials You Need: 
cream colored fabric
cream colored cotton long-sleeve shirt
brown faux leather
tan dress slacks
black booties
closet dowel
black tape
cardboard
black spray paint
Family Star Wars Rey Costume
Family Star Wars Force Awakens Costumes will be much more fun this year because we will be a family of Rey's! Dress up for Halloween or any themed birthday party; this simple and easy costume idea is perfect to pull together in no time. It would be perfect for your kids, your whole family, and even as adults, you could go out in style with a character like this.
Materials You Need: 
Fabric for draping
Arm wraps are self-adhesive medical wrap
Beige tank top
Grey banded knee pant
I got a steampunk double-strap belt messenger bag
Flat grey or beige low boots
Hair pulled back into three buns
Quick DIY Rey Costume
Star Wars fans, prepare for Halloween with the Family Star Wars Rey Costume. Dressing up is easy with this Rey Skywalker costume, which comes with all the pieces to turn any child into their favorite Star Wars character. It can be made easily in minutes, and your kids will be fans of your crafty skills after this project.
Materials You Need: 
1/2 Yard for a child or 2-4 yards for an adult.
1/4 Yard Hot Fudge Oly-Fun™ by the yard or 1 Hot Fudge Oly-Fun™ Craft Pack
1/2 Yard Snow Oly-Fun™ by the yard or 1 Snow White Oly-Fun™ Craft Pack.
1 Rey's Staff
White shirt
Neutral colored pants
Brown or neutral boots
Easy DIY Rey Costume
Our DIY Rey Costume is an adorable choice for any Halloween event. It's budget-friendly and simple to create, and you can alter its look by changing elements like fabric, backdrop, makeup, and accessories. What's great about this DIY Rey Costume is its versatility – it's perfect for Halloween but can also be a regular outfit.