12 DIY Mario Costume Ideas For Kids And Adults
Our amazing DIY Mario costume ideas offer a unique appreciation for the creativity and nostalgia that this beloved character inspires. They can be best for beginners to try and can be a fun and engaging idea for adding a touch of uniqueness to your Halloween costumes and other costumes using simple materials.
DIY Mario Costume Ideas

By crafting your costume, you don't just impersonate Mario; you also immerse yourself in the rich history of a gaming legend. It stirs up childhood memories, showing how far imaginative design can go. The red hat, the blue overalls, and the signature mustache – every detail adds a fine stroke to this vibrant picture of our gaming past.
How To Make a Super Mario Costume
For making a Mario costume, begin with some blue overalls and a red long-sleeve shirt, which form the base of Mario's outfit. Then, search for a red cap and sew or glue a white circle with a red "M" in the middle onto the front of it. This would become Mario's hat. Adding some white gloves and a mustache can be the finishing touches to bring this character to life. Lastly, don't forget the brown shoes for the full effect. With a little effort and creativity, anyone can transform into this beloved video game icon.
DIY Super Mario Brothers Costumes
Revive the iconic Mario characters with this fantastic set of costumes that perfectly capture the aesthetics of the Mario universe. The Halloween costumes involve general materials like felt or fleece and come together surprisingly quickly, ensuring a fun, hands-on activity for the entire family!
Materials and Making: This DIY Super Mario Brothers Costume involves using felt or fleece in the colors of the game characters' costumes, regular shirts, and a sewing machine. The creator outlines the child's existing clothes on the chosen material, cuts it out, leaving room for seam allowance, and stitches it together. Straps and details are added for the final touch. Make the yellow fleece shoe covers and pair them with the matching shirt and makeup.
Super Mario Family Halloween Costumes
Imagine your son and daughter going for trick-or-treating while wearing these Mario and Princess Peach costumes. These costumes are not only fun but also resonate with a family tradition of themed Halloween costumes each year. So, why not try them this Halloween?
Creating a Super Mario costume can be as simple as piecing together store-bought items. For Mario, gather denim overalls, a red shirt, brown boots, a faux mustache, a Mario hat, and a plush star.
For Princess Peach, consider purchasing a cosplay outfit or pairing a pink leotard with a poofy skirt, and accessorize with a yellow wig, long white gloves, pink shoes, and a crown. All the items can be found in the link below:
Super Mario Halloween Costumes Family
Whether you are hosting a Halloween party or attending as a guest with your family, there's no better way than to dress your entire family in a Mario theme. The costumes portraying Mario, Luigi, Princess Peach, and Princess Daisy can all be created using items present in your home. However, you can also purchase them from the provided link.
You'll need overalls, a red shirt, brown boots, a hat with an "M", and white gloves for Mario.
Luigi has a similar outfit but with a green shirt and an "L" on the hat.
Princess Peach's costume includes a tiara, pink sweater, blue pendant & earrings, leggings, a pink tutu, and pink heels.
To dress as Princess Daisy, gather a crown headband, yellow sweater, yellow tutu, green necklace, leggings, and silver baby moccasins.
Mario And Luigi Go Kart Costumes
Make your child's playtime more fun and entertaining with this set of Mario and Lugai characters. It is ideal for racing-themed celebrations, Halloween festivities, or enjoying a trip down memory lane. The costumes involve the painting of a cart, which could be a fun and engaging activity for your little learner.
Materials and Making: Making Mario and Luigi Go Kart costumes requires a white cardboard car that you can buy online or make yourself. Start by constructing the car inside out to allow for easier painting. Next, spray paint the entire car red and add details like racing stripes and Mario symbols using acrylic paint. Essential additions include fin and tail lights, wings made from scrap cardboard, and cardboard circles for tires, painted with further details.
DIY Super Mario Family Costume
Got a Mario-obsessed family? Honor their fascination by dressing the whole family in these Mario-themed costumes. In the DIY idea, you would portray Princess Daisy, your husband would take on the role of Luigi to signify your love, while your son would embody Mario, complete with a bag for storing treats garnered from trick-or-treating.
Materials and Making: The 'Super Mario Family' costume features Princess Daisy, Luigi, and Mario. The creator created the Princess Daisy outfit and mushroom treat bag from scratch, while the Mario and Luigi costumes were assembled piece by piece. This combination of homemade and store-bought components led to many compliments during their Halloween festivities. Get more information below:
Mario Kart DIY Mario Costume
Whether you want to dress for racing events or themed parties, this DIY Mario costume is a great choice. The costume offers two different looks: a slim appearance for mingling with the crowd and a Mario kart look that serves as a perfect photo prop while holding red balloons.
Materials and Making: The DIY Mario costume involves purchasing elements such as a Mario hat, a red long-sleeved shirt, and overalls. All items are readily available from online platforms like Amazon. No separate crafting is necessary for the costume itself, but for a more whimsical twist, one can consider making an additional Mario Kart car to complete the theme.
Cheap And Easy Super Mario Costumes
Looking for a fun Halloween costume to sport along with your little ones? This Super Mario Brothers-themed outfit is bound to be a hit! It's easy and affordable to create and allows you to channel the classic character Mario. Guaranteed to amuse your family, friends, and neighbors, this costume is a perfect mix of nostalgia and hilarity.
Materials and Making: Creating a Super Mario costume is simple. Dress your child in overalls, a red turtleneck, a mustache, and a red hat with a white 'M' cut-out glued on. Additionally, make an iconic question block costume by cutting holes in a large cardboard box for your arms and head, painting the box yellow, and sticking an orange paper with question mark print in the front.
Mario Family Costume
There is something remarkably fun and special about dressing the whole family in the same theme. In this regard, Super Mario is the perfect pick. The idea showcased includes Brick/Mushroom for the son, Green Yoshi for one daughter, Red Yoshi for another daughter, and Toad for the dad. However, you can tailor the costumes to any character look that suits each family member's preference.
Materials and Making: In this DIY Super Mario-themed family costume, the creator embodies the mushroom/brick with a reversible hand-painted hat and LED lights embedded. The two daughters, Green and Red Yoshi, wear costumes crocheted without patterns, including "egg" bags and croc covers. Dad plays Toad with a crocheted and felted face while the body piece attaches around the neck with elastic.For more information on each, visit the link below:
DIY Costumes Mario And Luigi
Here's a great and fun idea for busy moms looking to dress their children for Halloween. This costume idea is time-efficient and utilizes items that might already be present in your child's wardrobe. Thus, you'll have less time for crafting and more time for celebrating.
Materials and Making: The DIY Mario and Luigi costumes require overalls, red and green t-shirts, stick-on or drawn-on mustaches, and appropriately colored hats. Hats can be bought ready-made or created with felt letters on solid-colored hats. These costumes are versatile, easy to make, and can be repurposed for different characters or future use.
Easy DIY Mario Costume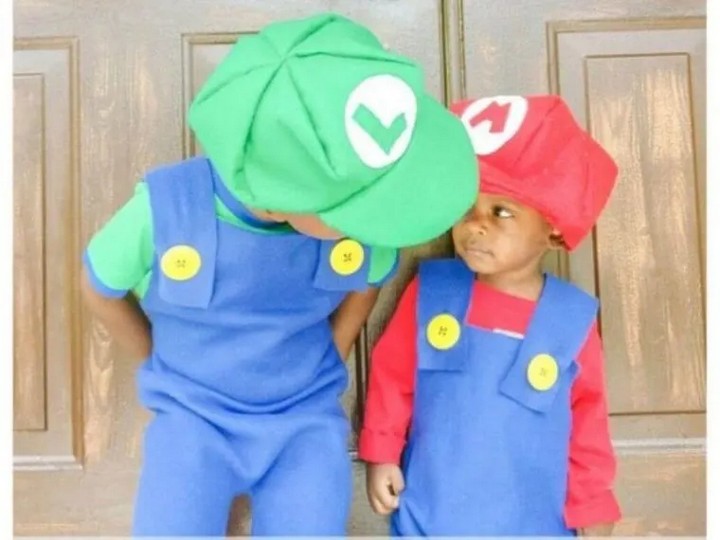 Try these Mario and Luigi costumes from The Purposeful Nest. They're simple, inexpensive, and utterly charming. Even with little to no sewing skills, you can easily whip up these vibrant outfits using materials already at home. It's about saving money and adding a personal touch that makes your costume stand out.
Materials and Making: The DIY Mario Brothers costumes involve crafting the hats using a free pattern found online and using felt material. Pairs of overalls use blue fleece, with straps attached by yellow buttons and Velcro. The costumes are completed with a long-sleeved red or green shirt and a faux mustache.
How To Make Mario And Luigi Costumes
Make your children's trick-or-treating special and memorable with this set of Mario and Luigi costumes. The entire costume is made using fleece, providing your little ones comfort, warmth, and coziness. Elevate the characters' festive charm by giving them plastic pumpkin baskets to hold.
Materials and Making: The Mario and Luigi costumes featured combine store-bought and handmade items. The costumes consist of blue felt overalls with big yellow buttons and long-sleeved t-shirts from Target. Dollar Store magic stretch gloves and felt mustaches are also part of the ensemble. The standout items are the iconic Mario and Luigi hats, handcrafted following a tutorial on the website.