16 DIY Flamingo Costume Ideas To Step On One Leg
Our amazing DIY Flamingo Costume Ideas are great for spreading the love of vibrant pink color and the graceful stride of flamingos around. If you're heading to a Halloween party or looking to be a cosplay character at the next event, following this list of costumes will surely be a blessing.
Easy DIY Flamingo Costume Ideas

We've gathered a diverse and energizing list of do-it-yourself flamingo costume ideas that will make you the talk of any event. Whether it's a themed party or a quirky Halloween outfit you're looking for, our list has something for everyone. So, suit up, gather your crafting materials, and prepare to stand on one leg, flamingo style!
The basic attributes of a flamingo costume are:
Color Palette:

 A typical flamingo costume primarily uses shades of pink, along with hints of white and orange. Incorporate these lively colors into your costume design.

Plumage Factor:

 Flamingos are renowned for their luxurious feathers. To imitate this, use materials such as feather boas or tufts of tulle to create the impression of feathers.

Legs & Beak:

  Consider using tights for the legs. For the beak, cardboard or foam can be painted and attached to a headband.

Graceful Neck:

  Create a neckpiece or integrate a long-neck design into other costume parts.

Their Stand:

Flamingos are famous for standing on one leg. You don't have to do the same. However, some costumes reflect this stance in their design for added authenticity. 
DIY Pink Flamingo Costume
This delightful DIY Pink Flamingo Costume is perfect for adults and kids who love feminine costumes! Showing the exact aesthetic of the flamingo, this versatile and playful costume is not only eye-catching but also easy to create, allowing you to unleash your creativity and enjoy the celebration.
Materials and Making: Unleash your inner flamboyance with this DIY Flamingo costume, ideal for Halloween or cosplay. You'll need a pink dress, fascinator, feather boas, foam sheets, googly eyes, hot glue, and elastic. Create a skirt from the cut boas and an elastic waistband, then fashion a flamingo face from the foam sheets and attach it to a half boa. Finish it off with a pink fascinator adorned with leftover feathers.
DIY Flamingo Halloween Costume
Discover an adorable DIY Flamingo Costume for Toddlers. Perfect for birthdays, Halloween, or other special occasions, the costume's cute aesthetics nicely enhance the sparkle and charm of your little princess!
Materials and Making: Turn your toddler into a charming flamingo for Halloween with a DIY costume using a pink dress, feather boas, and hot glue. The feather boas create a fluffy body, while felts are used for the flamingo face. You can also create a neckpiece with pink tulle and add a feathered bow for extra cuteness.
Pink Flamingo Costume
The cute flamingo costume is adorned with pink boas securely attached to a half tutu. Adding a pink hair bun embellished with feather clips exudes a fun, flamboyant vibe. Finished with creative face paint, this DIY outfit might seem simple in design, but it will make a significant impression on any dress-up occasion.
Materials and Making: For an easy and adorable Pink Flamingo costume, you'll need a full-length leotard and pink boas attached to a half tutu with safety pins. Add a touch of creativity with a pink-sprayed bun hairpiece adorned with feather clips. Top it off with fancy flamingo face paint, and voila, your child is ready to flaunt the DIY Pink Flamingo costume!
Easy DIY Flamingo Halloween Costume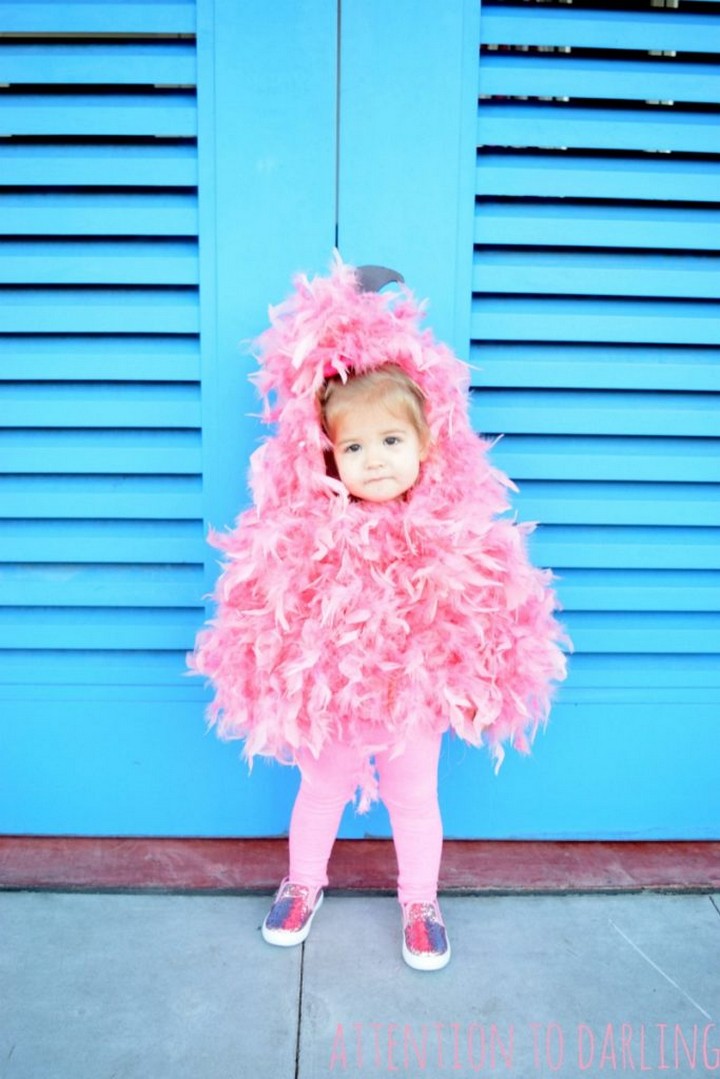 Have a look at this DIY costume idea that is cute enough to make your child the center of attention. Perfect for last-minute preparations, this sweet costume embodies a blend of creativity and convenience.
Materials and Making:  Craft a simplistic flamingo Halloween costume by gluing boas onto a pink hoodie and creating a beak from construction paper. Use a hoodie in your child's size, three pink boas, black and pink construction paper, a hot glue gun, and pink leggings. Trim boas and secure to the hoodie. Cut out a beak shape from cardboard and, cover it with black construction paper, attach it to the hood. Conclude by gluing a boa strip to a pink bow for extra charm.
Easy DIY Flamingo Costume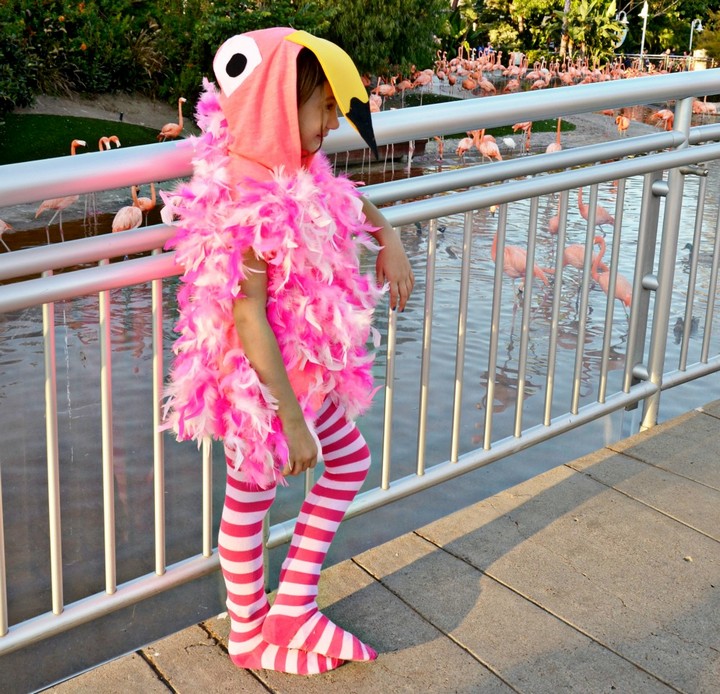 Everyone will be eager to snap a photo with your child in this fantastic, homemade flamingo costume! Sporting long, striped legs, a vibrant feathered body, and a headpiece showcasing an impressive beak, this costume is truly a work of art.
Materials and Making:  Creating a DIY Flamingo costume can be fun and simple. You only need a pink hoodie, feather boa, yellow foam, and some black and white felt. Trim the sleeves off the hoodie to make a vest. The beak is crafted from yellow foam, while the eyes are made from white and black felt. Attach these to the hood of the vest. Use glue to arrange the boa on the vest, careful not to obstruct the zipper. Pair your costume with pink leggings or a pink shirt to complete the flamingo look.
Cute DIY Flamingo Costume
Explore crafting a DIY Flamingo Costume using easily accessible materials like felt and fabric scraps. Perfect for Halloween or imaginative plays the costume incorporates a charming cape and hat easily worn over routine clothes.
Materials and Making: Start by making a cape from a felt half–circle, add feather rows for aesthetics, and then cut two pieces of elastic to attach to the cape corners. Construct the flamingo hat by sewing together felt rectangles that fit the head size, add felt circles for eyes, and create the beak from black and white felt. Pair the ensemble with a simple outfit of your choice!
Simple Flamingo Costume
The Simple Flamingo Costume is a delightful choice for all ages and possesses its own whimsical charm. The costume features a cape mimicking the wings, and your child will surely enjoy flapping it. This cute and simple costume is designed for imaginative play and unforgettable dress-up moments.
Materials and Making: Create an adorable Flamingo costume for any age using pink felt, black felt, light pink and white felt, pink fleece, black grosgrain ribbon, elastic, batting, and a hot glue gun. First, cut and assemble pink felt for wings, adding scalloped rows to mimic feathers. Attach wings together with felt and ribbon for the neckline. Add elastic loops for wrists. For the hat, sew pink fleece pieces together, glue felt eyes and sew the beak stuffed with batting. Enjoy this delightful and imaginative Flamingo outfit!
Flamingo Costume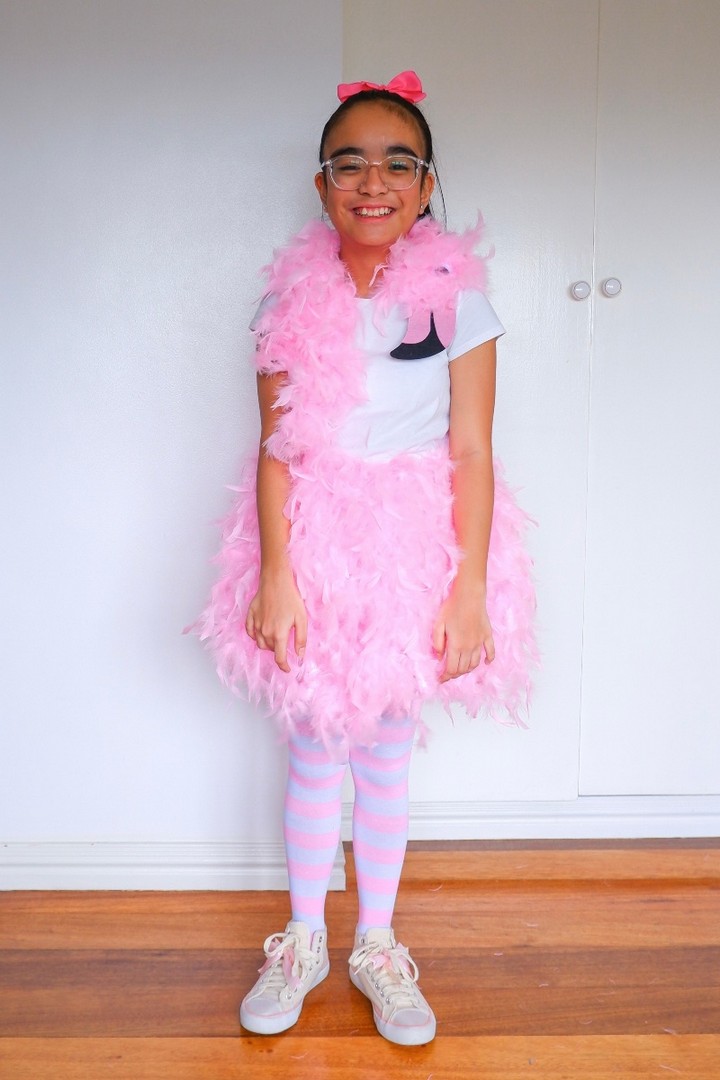 The DIY Flamingo Costume is a delightful and ingenious idea, serving as an extraordinary Halloween outfit. With its visually striking pink color scheme, the costume exudes a tangible sense of flamboyance. The best part is it's lightweight and fluffiness; it bounces while you walk, creating a charming vibe!
Materials and Making: First, make a tutu skirt with elastic and feather boas. Next, cut out a beak from the black felt and eyes from the white and black felt, attaching them to a feather boa strip for the flamingo head and neck. Wear a white shirt and shorts, and put on a tutu skirt. Drape the flamingo head around your neck and finish with pink and white striped socks.
The Pink Flamingo Costume
Capture your child's first special Halloween memories wearing this DIY flamingo costume. With a thick-furred body, raised paws, a faux flamingo face, and your child's cute expressions, this DIY costume is the perfect blend of cuteness, festivity, and creativity!
Materials and Making: The essentials are flamingo–colored feathers, a suit, and pink leggings. Begin by attaching feathers to the suit that you've sewn beforehand. For authenticity, create a handmade flamingo head and affix it to the suit. Finish off the look with rubber gloves cut and shaped into pink shoes. This is a charming and unique flamingo costume lovingly made by a mom.
DIY Kids Flamingo Costume
Unleash your child's playful spirit with this DIY flamingo costume, a delightful, no-sew project that is pitch-perfect for Halloween! Crafted in less than an hour, this ensemble requires just a few supplies. Quick, easy, and oh-so-adorable, your child will be ready to flamingle in the blink of an eye.
Materials and Making: Craft a playful flamingo costume, starting by hot gluing the eyelash and beak on the head. Measure the waist of the wearer, adding 10 inches, and cut a pink ribbon of this length. Halve four pink feather boas and attach them to the ribbon using hot glue, leaving extra ribbon to tie around the waist. Position the flamingo head over the shoulders and nestle the remaining feather boa into the skirt. Complete by adding hot pink ostrich feathers to the child's hair with optional hot pink sunglasses. The costume is now ready for Halloween fun!
Easy Flamingos Costume
Unleash your creative side with the DIY Flamingo Costume inspired by the unique pink bird. Made with comfortable kids' clothes and readily available supplies, this cute and handcrafted outfit is sure to delight you.
Materials and Making: Create a fun, flamingo-themed ensemble! Begin with crafting the head cut out white and black felt circles for eyes, and fix onto a pink cap, attaching a black beak. For wings, cut leaf shapes from pink felt, add smaller light and dark pink feathers, and stick them to the wings. Also, make armbands from strips of pink felt. Accessorize with a pink feather boa for a flamboyant finish. Don't forget the flamingo's iconic one-leg stance!
DIY Flamingo Costume For Halloween
Looking for an adorable and easy Flamingo Costume? It's perfect for kids and adults alike. Simply switch feather colors to create an ostrich version, or go as a couple, one as a flamingo and the other as an ostrich! You can add fake legs to the skirt for a quirky twist. Enjoy crafting this versatile and fun costume!
Materials and Making: Make a skirt with halved feather boas looped through an elastic waistband. Then, reshape and glue a foam visor onto a styrofoam ball to create the beak. Attach eyes, eyelashes, and feather boa to the head on a wooden stick. Finish by connecting the head to the costume with full-length boas. And you are done with this DIY flamingo costume!
Will Make You Want To Be A Flamingo Costume
With this DIY costume, spread your wings and be party-ready for Halloween! The sleek design accentuates your figure to perfection. The costume includes a white and pink skirt and a royal, feature-rich headpiece. Coupled with charming makeup, this outfit offers the perfect blend of style and celebration!
Materials and Making: For a standout flamingo Halloween costume, start with a pink leotard and tights. Next, trim a skirt hoop to a high-low design and spray-paint it pink. Attach pink boas to the skirt with a hot glue gun. Paint your fascinator hat pink, too, and affix large, pink feathers. To enhance the look further, apply face paint, shaping it like a flamingo mask and beak. Voila, a unique flamingo costume, is ready!
DIY Easy Flamingo Costume
Unleash your inner flamingo with this quick and fun DIY Flamingo Costume. This costume with the stylish pink dress and the fun flaming headpiece is perfect for any costume party, Halloween celebration, or themed event.
Materials and Making: Creating a DIY Flamingo Costume is simple and fun! Begin by making slits in a plastic flamingo head to accommodate a headband. Use twine to guide the headband through the slits. Paired with a hot pink dress, this inventive flamingo headband instantly transforms you into a flamboyant, feathered character for Halloween. This costume guarantees a unique and unforgettable look!
You can also see:
DIY Owl Costume Ideas:  In this wonderful blog post, we provide you with 12 special DIY owl costume ideas to spark your creativity and bring on the festive fun.
Easy Unicorn Costume Ideas:  Our Unicorn Costume Ideas let your kids have fun dressing up as their favorite magical creatures at parties, school events, or just for enjoyment. What a great way to share their love for these amazing creatures.
DIY Mermaid Costume Ideas: Making your own mermaid costume lets you use your creativity, show your style, and impress others. You'll feel a sense of accomplishment with your self-made outfit. We've got a cool list of DIY mermaid costume ideas for you!