13 DIY Bee Costume Ideas To Mimic Buzzy Friends!
Want to dress up like our buzzing friends? Here are some favorite DIY bee costume ideas for kids and adults alike that are quick and easy to come to life and demand the supplies you may already have in your wardrobe or art drawer. Several designs are simple, using everyday clothing like shirts, dresses, and tops with the addition of an antennae headband. Some require more art, with detailed headgear, extra limbs, and wings. One thing's for sure: dressing up as a bee is a fun way to thank these bees that make honey for us and help plants spread!

All these DIY bee costumes are molded into comfortable human clothes so you can wear them cozily all day! They are perfect for Earth Day, Environmental Day, or even Bee Day to call for their protection! You and your little one will love this new form of bee, as you are not dangerous, the bees are not dangerous anymore. There are plenty of written tutorials below in the list that will help you find the exact materials and assembly guides!
How To Dress Like A Bee?
With these necessities, you'll buzz around in your bee costume in no time! This ensemble is perfect for costume parties or any fun dress-up occasion.
Color Scheme: Although certain species of bees go beyond the black and white colors, you should stick to them as primary colors, as these are a bee's signature and more recognizable colors.
Top: Choose a black or yellow long-sleeved shirt, sweater, or dress as your base layer.
Bottom: Pair your top with black or yellow leggings, pants, or a frock skirt to match.
Stripes: Add horizontal stripes to your top and bottom using fabric paint, duct tape, or ribbons to emulate the bee's body pattern.
Wings: Create bee wings with wire and sheer fabric, or purchase a pair from a costume shop. Attach them to the back of your shirt.
Head: Fashion a bee antennae headband using a plain headband, pipe cleaners, and small pom-poms. Twist the pipe cleaners around the headband and glue the pom-poms on the ends to represent antennae.
Makeup: Consider wearing yellow and black face paint or makeup to further highlight the bee theme.
Accessories: Add black or yellow socks, gloves, or a bee-themed necklace to complete your costume.
How To Make A Bumble Bee Costume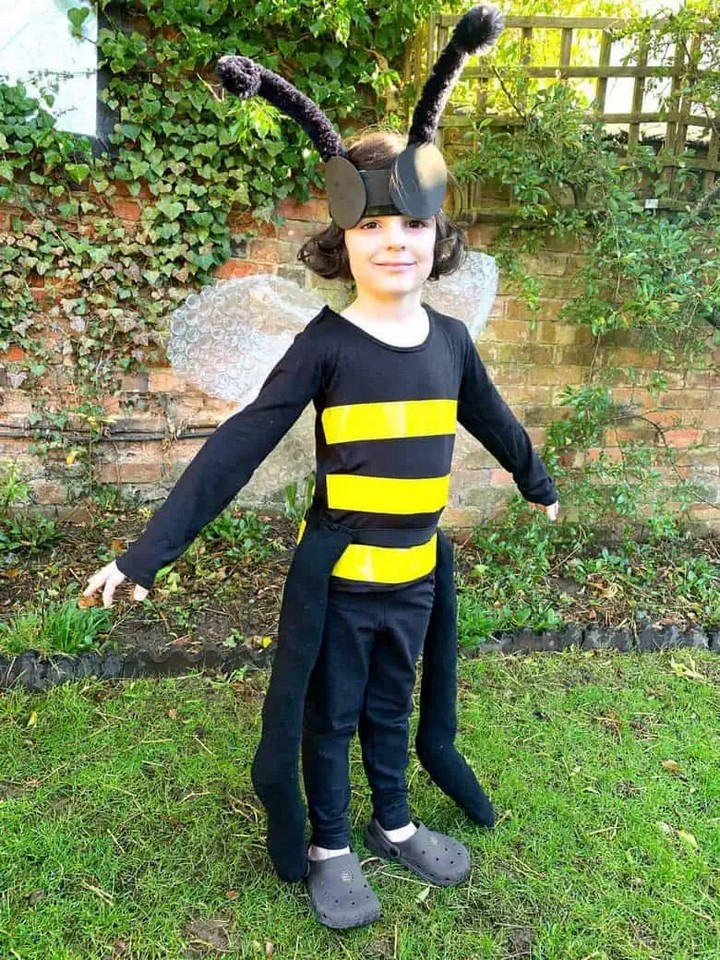 Create an adorable and budget-friendly bumble bee costume for your child, perfect for Halloween or playdates. Using a black long-sleeved t-shirt, add yellow stripes with Duck tape. Craft legs by folding newspaper into long socks and attaching them to a black elastic belt. Cut bubble wrap into wing shapes and secure them with black Duck tape. Complete the look with a headdress made from fluffy black pipe cleaners on a black foam band.
Materials: 
Black leggings
Black long-sleeved t-shirt
A pair of long, black socks
Newspaper
Yellow Duck Tape
Black Duck Tape
Bubble wrap
2 jumbo black pipe cleaners
Black foam sheets
A length of elastic
A needle and black thread
Glue
DIY Bee Costume
Transform your little one into a pretty bee using this DIY costume. The costume is perfect for any birthday girl or for preparing your child for school plays and costume-themed parties. The adorable costume is created by painting black stripes on a yellow t-shirt using paper tape for precision and pairing it with a yellow tutu. Finishing touches include yellow fairy wings and antennas purchased from a dollar store, completing the look.
DIY Bumble Bee Costume
The bee costume is a favorite amongst children, so why not create it for your little girl using this easy guide? You can make this dress using yellow and black elastic headbands, attached to a black tutu. Craft the antennae by attaching colored styrofoam balls to a hairband. For wings, form a skeleton with wire and cover it with tights. You can attach them by sewing them or using straps. And you're done!
How To Make No Sew Easy DIY Bee Wings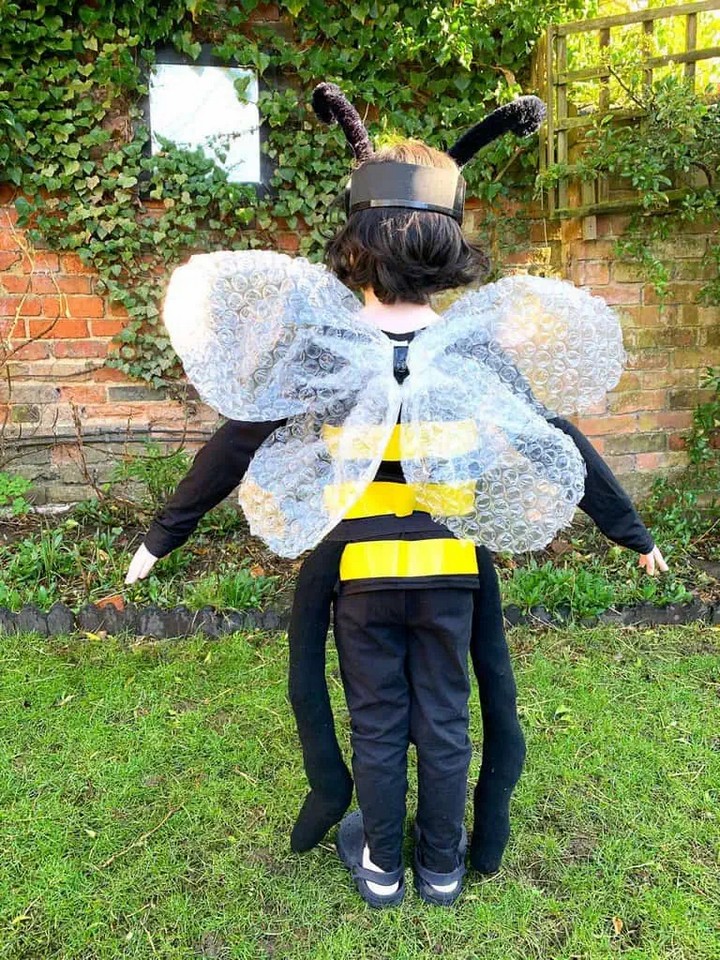 Save bubble wrap from your parcels and craft these fun DIY bee wings. The wings are not only adorable but also a perfect way to recycle your trash. The process is straightforward: take two lengths of bubble wrap, lay them on top of each other, draw an oval shape, and secure the middle with tape. Trim the 'wings' to your desired shape and attach them to the outfit with a safety pin or stitches. It's fast simple, and children love it!
Materials
Bubble Wrap
Tape (I used Duck Tape)
Safety Pin (or thread) to secure in place
Baby Bee Costume
Don't let the chill spoil your child's Halloween with this snug DIY bee costume. Adorably designed with a black and yellow striped baby romper, black wings, and a beanie with antennas, this costume will keep your little one cozy. Our guide will walk you through crocheting the romper and beanie. It also included bonus patterns for a honeycomb and beekeeper costume. Make this Halloween bee-utiful and warm!
Queen Bee & Beekeeper Costume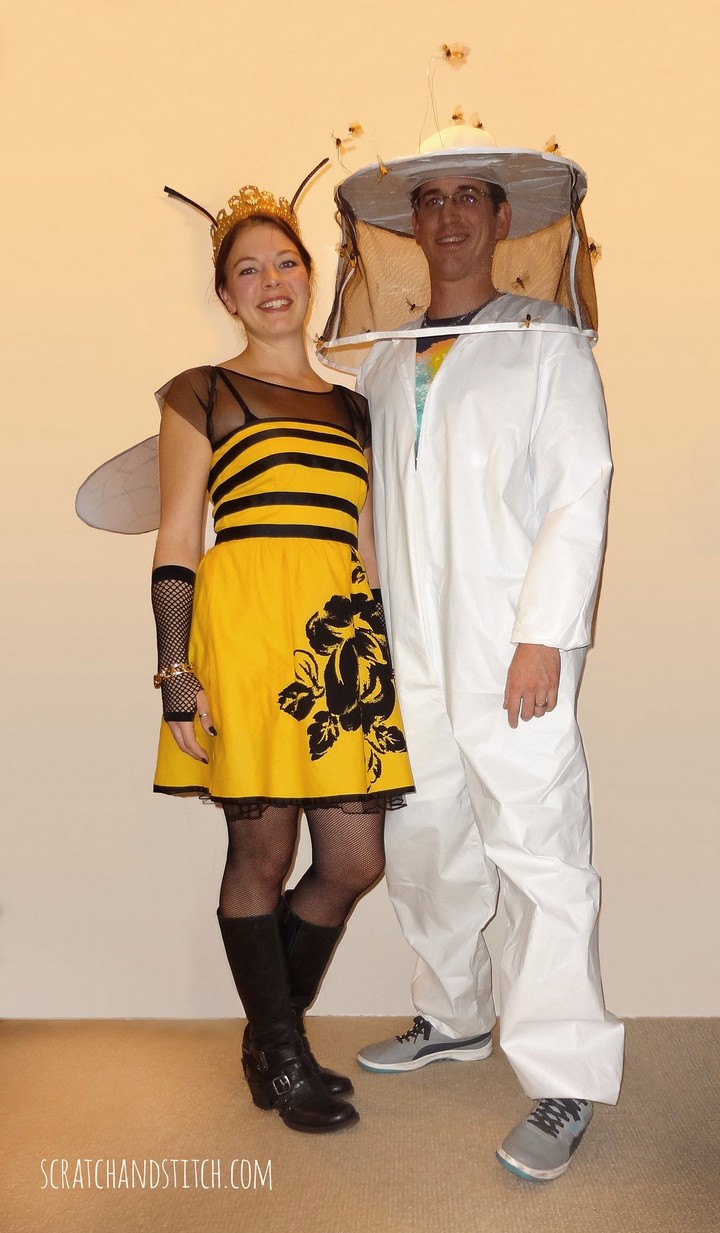 Enjoy Halloween with our unique and affordable Queen Bee and Beekeeper couple costumes. They're comfortable, practical, and true to character. The queen bee costume is simply made by adding black stripes on the yellow dress, competing with an antenna's crown, wings, and long black boots. While beekeeper outfit is a white pantsuit with a homemade mask consisting of a hat with a net and wire-attached bees.
Queen Bee Costume Materials:
1 metal hanger (or about 2′ of thick wire)
2 gold glitter foam sheets
1 black, wired headband
2 hair combs
gold wire
1 honeybee pendant
assorted gold and clear gems
gold embroidery thread
gold metal brads
glue
Adult Beekeeper Costume Materials:
white paint suit
white baseball cap
cardboard
white duct tape
white cord or string
netting fabric
wire
artificial bees
DIY Bumble Bee Costume
Make your child's first trick-or-treating unforgettable with this detailed DIY bee costume. It is easy to make a perfect gift for any little girl in your life. The creator styled a black and yellow tulle skirt with a black bodysuit, yellow flower clip, and matching leg warmers. Add homemade bumblebee antennae and store-bought wings for authenticity. To top it off, they crafted a playful beehive, making the look truly buzzworthy. The great part? The instructions are adaptable for any age, meaning adults can join in on the fun, too!
Materials for Costume: 
Headband Elastic
2 Yellow Pom Poms
2 black Pipe cleaners
Black Felt
Scissors
Hot Glue Gun & Glue
Materials for Behive: 
Yellow Paper Lantern
Bees
Black felt
Scissors
Hot Glue Gun & Glue
Wooden Dowel
Drill
Craft Wire
Black Paint
Easy Bumble Bee Costume
Dress your little one in this delightful, easy DIY bumble bee costume this Halloween. This DIY costume unleashes their inner buzz as they charm everyone with their adorable attire. The simple-to-create outfit will make your child the star of the festivities while showcasing your crafting skills. The costume uses a huddy as a base on which yellow stripes are sewn a beautiful hat having antennas made with wire mesh. The creator used the wire hanger, stockings, and colors for the wings to add details.
Tip: Twisting deco mesh can be quite a hassle and is needless. Using pipe cleaners, on the other hand, simplifies the process significantly.
Pairs of White stockings/Tights
Black sweatshirt and (1)Sweatpants
Black Bennie Hat
Yellow Fleece
Safety pins
Needle and Yellow thread (optional)
White Duck Tape
Silver Glitter Foam Sheet
Black Foam Sheet
Wire Coat Hangers
Black and yellow marker
Large Round Sunglasses
DIY Spelling Bee Costume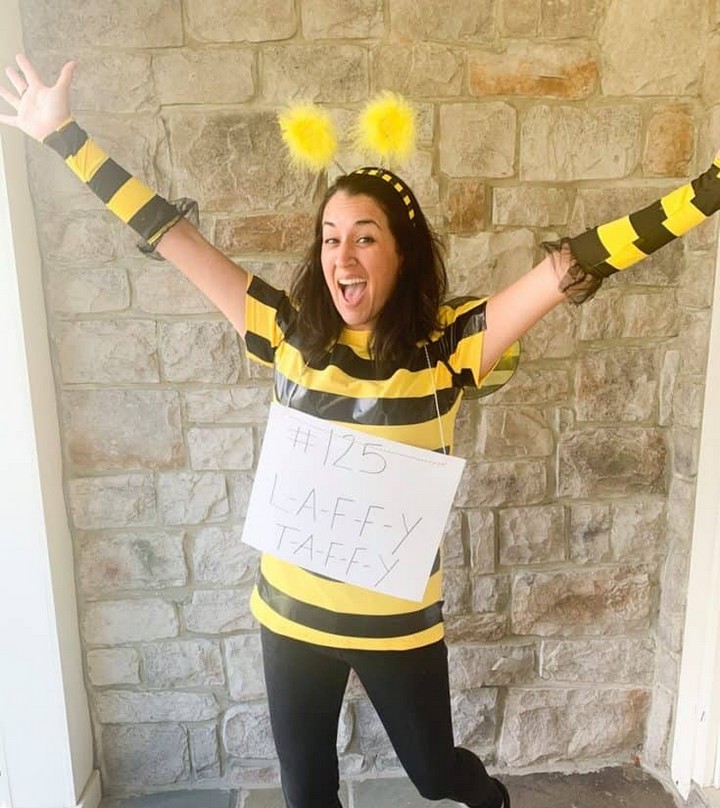 Whip up a fun, punny DIY Spelling Bee costume that's a buzzworthy hit for Halloween! Make it a group activity and have a complete spelling bee contest. Use a yellow shirt and black Duck Tape for stripes or reverse it with yellow tape or paint on black. Craft a contestant sign from the poster board, add a number, and tie it around your neck. Complete the look with bee accessories like a headband and wings for a touch of whimsy!
Materials:
Yellow Shirt
Black pants
black Duck tape or black paint
poster board
string or twine
Easy DIY No Sew Bee Costume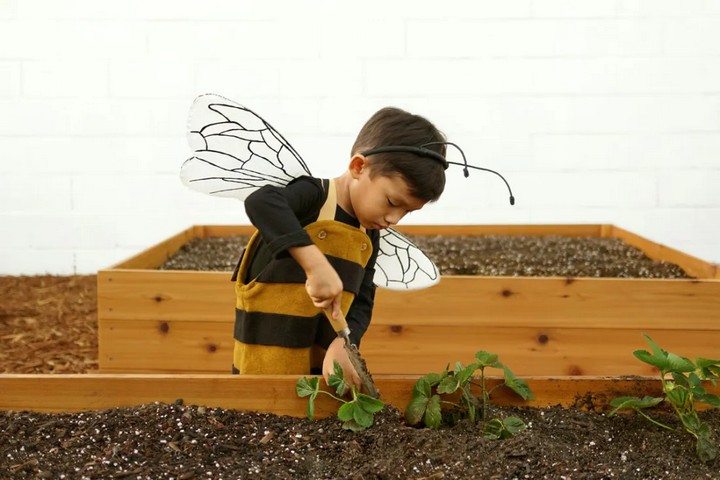 Seeking a simple, no-sew costume idea for Halloween? Craft this DIY bee costume using spare fabric, repurposed cardboard, and clothes from your closet! This costume is a tribute to our gardening helpers, the bees. All you need to do is add black stripes of black felt fabric to your outfit, while the size-adjustable wings are crafted from recycled cardboard. The best part? After Halloween, you can remove the stripes to reuse the clothing and keep the wings for playtime!
Materials:
For the costume body:
Yellow jumpsuit or yellow shirt/black pants
Black felt or fleece fabric
removable black fibre tape
For the wings
cardboard
elastic
paint
small piece of driftwood or bark
For the headband:
black headband
paper-wrapped floral wire
hot glue or fabric glue
DIY Bumble Bee Costume
For this Halloween photoshoot, create a buzz with this DIY bee costume that's prettier than you thought. This layered DIY bee costume combines a black leotard, a hand-stitched styrofoam stinger, and a lovely felt dress with homemade felt wings. Topped with store-bought antennae, the design offers both comfort and charm. The versatile dress design is a foundation for various costume ideas like kitties and ladybugs, fueling creative possibilities for themed transformations.
DIY Cute Bee Costume
Creating this DIY bee costume is quick and fun! The semi-homemade ensemble includes a charming ballet leotard and a hand-stitched skirt from yellow and black fabric strips. Wings made from reshaped hanger halves, covered with rainbow organza, and attached with electrical tape and elastic straps. The cute heart-shaped headband resembling the antennas and the added yellow pompoms completed this buzzing creation!
More Costume Collections