10 Bluey Perler Bead Patterns For Heeler Puppy Fans
Bluey Perler Bead Patterns are a fun and creative way to engage with kids' craft activities. These handmade creations can serve as cute decorations for rooms or gifts for Bluey fans, offering not only a fun crafting experience but also a unique, handcrafted piece of art at the end.
Easy Bluey Perler Bead Patterns

These amazing bead patterns are a fun and delightful way to engage with the popular children's TV show Bluey. You can match characters from the series and provide a perfect blend of creativity and fine motor skill development. From Bluey herself to her little sister Bingo and dad Bandit, these bead patterns help fans recreate their favorite animated characters in easier form.
Recap Of What Bluey Is?
"Bluey" is an Australian animated television series primarily designed for children but beloved by audience members of all ages. The show features the adventurous six-year-old Blue Heeler puppy named Bluey, who lives with her dad (Bandit), her mom (Chilli), and her younger sister (Bingo). These energetic pups spend their days playing elaborate, imaginative games that often teach essential life lessons, while their patient parents are always there to support and play along. It's a fun series for kids to try and even learn at the same time.
Best Bluey Perler Bead Patterns
Cause of this, such a huge fan base, and the amazing characteristics that Bluey possesses, we tried to put together this series for crafting various masterpieces inspired by Bluey.
These Perler Beads Patterns offer numerous fun ways to make admirable blue-inspired artworks using the most common color combinations. You can go with any of your favorite ideas we provided below with respect to your choice, and the given articles and video tutorials will surely help you in this regard.
Cute Bluey Perler Bead Pattern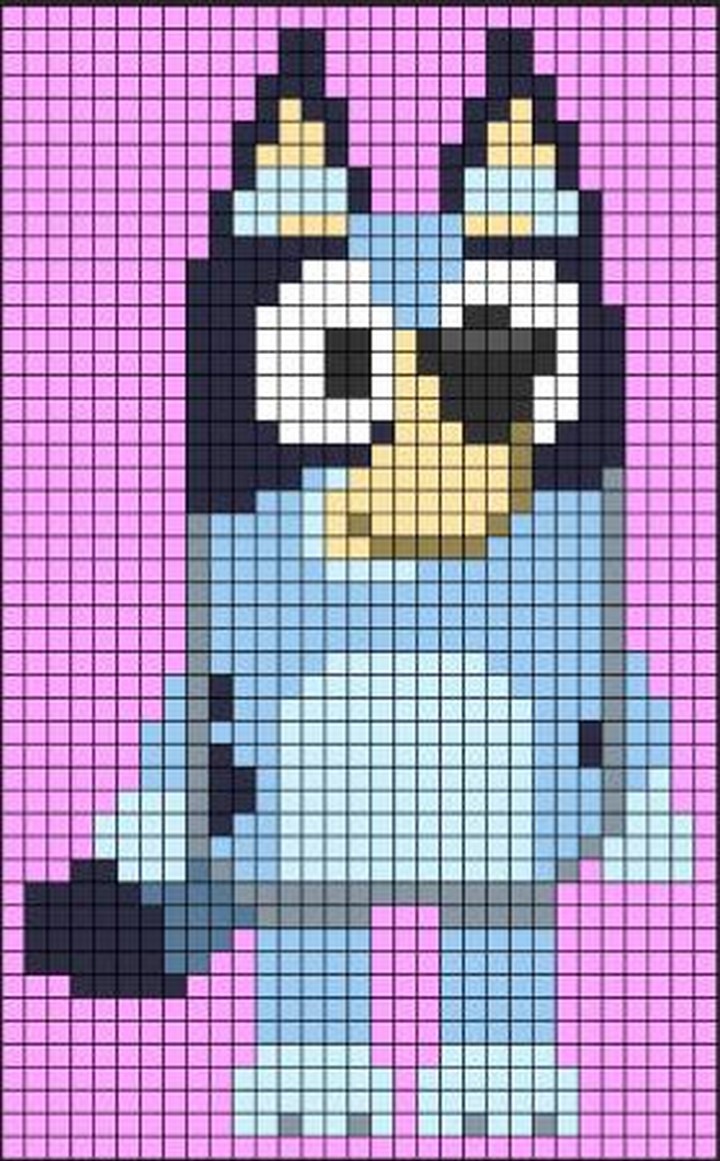 Recreate your favorite animated pup, Bluey, with simple, small beads. The Cute Bluey Perler Bead Pattern is a charming, easy-to-follow design. Sparkling in stunning shades of blue, this pattern is perfect for kids and adults alike who love crafts.
This amazing Bluey perler bead is made using the following color combination:
Colors To Be Used: 
Blue In Different Shades
White
Black
Skin color
Bluey Perler Beads Pattern
The Bluey Perler Beads Pattern is a fun, easy-to-make design that kids and adults will love. It features Bluey, the lovable Australian dog from the popular TV show, in bright, eye-catching colors. This pattern is perfect for crafters of all ages and skill levels, thanks to its simple instructions and clear image. The final product is ideal as a gift or decoration and will surely put a smile on any Bluey fan's face.
You can make this bluey perler beads pattern in an amazing combination of:
Colors To Be Used: 
Yellow
Blue
Black
White
Brown
Bandit Heeler Bluey Perler Beads Pattern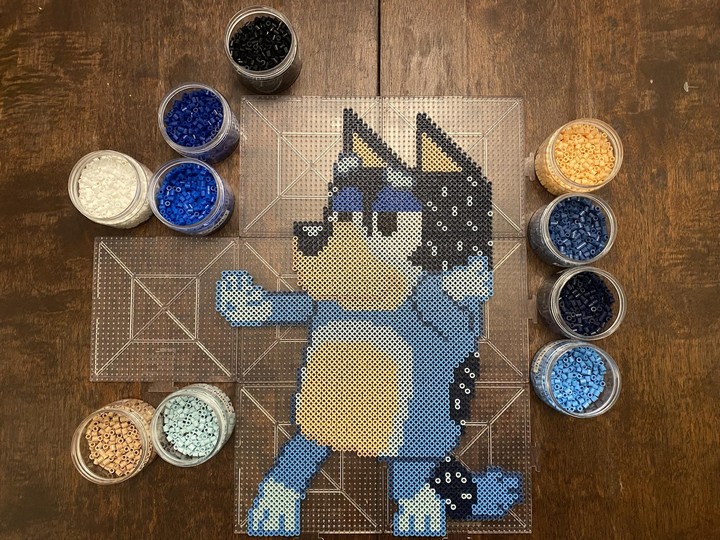 The Bandit Heeler Bluey Perler Beads Pattern is a playful and creative design for making beautiful bead art. The pattern features Bluey, a charming bandit heeler dog, and is perfect for fans of the popular Australian cartoon. With simple colors and easy-to-follow steps, this pattern is suitable for beginners and experienced beaders alike. Grab your Perler beads, create this adorable character, and let Bluey bring joy to your art collection.
You can go with the combination of different colored beads as we suggested below to end up in a decent masterpiece like this:
Colors To Be Used: 
Different Shades Of Blue
White
Skin Color
Yellowish
Black
Large Bluey For My Daughter's Room
The Large Bluey is ideal for your daughter's room. It's a big blue toy that children love very much. It's incredibly soft, making it a fun and comfy toy. The large Bluey not only provides comfort but also brings a cheerful vibe to your daughter's room.
This stunning beads artwork will make using the simplest color combination as given below:
Colors To Be Used: 
midnight
pastel blue
robin's egg
light blue
sand
light brown
Bluey And Bingo Perler Bead Pattern
The Bluey and Bingo Perler Bead Pattern is a fantastic project for kids. It's a bead craft activity where they can create patterns of Bluey and Bingo characters using colorful beads. This task keeps children very quiet and concentrated, making it an excellent choice for days when they can't go outside due to bad weather.
This beautiful pair of bluey will work in two different combinations that are:
Colors To Be Used:
 Different Shades Of Blue
Mix Of Skin Color Shades
Black
White
Bingos Made With Perler Beads
These beautiful Bingos made with Perler Beads offer a colorful and unique way to create stunning art pieces. These versatile beads can be arranged in a variety of patterns, and when gently heated, they fuse to form eye-catching designs. Newcomers and experts alike can create remarkable artwork with these delightful beads, adding a touch of charm and creativity to their living spaces.
You can make some admirable bingo beads masterpieces following the amazing blend of colors:
Colors To Be Used: 
Light Brown
Black
White
Purple
Bluey Perler Bead Pattern
The Bluey Perler bead pattern is a fun and easy craft for kids and adults. Using small, colorful beads, you can create a cute Bluey character from the popular children's show. Just arrange the dots on a pegboard, following a pattern guide, and then use an iron to heat them until they fuse. In no time, you'll have a fantastic Bluey decoration or gift for your loved ones.
If you wanna greet your loved ones with a smiling bluey waving at them then following this pattern will be the best choice for you.
Colors To Be Used: 
Yellow
Dark Blue
Light Blue
White
Black
Made Some Bluey Perler Beads
The Bluey Perler Beads pattern is both cute and colorful. With a standing pose and a joyful smile, it draws the eye and warms the heart. This easy-to-make design inspires creativity and fun. Its bright, inviting colors combined with its playful, welcoming smile make it a charming piece. Whether you're a beginner or an expert in bead crafts, it's a delightful project to create.
These miniature bluey beads masterpieces will craft using:
Colors To Be Used: 
Dark Purple
Light Purple
White
Yellow
Orange
Bluey Bead Dog Pet Perler Bead Pattern
The Bluey Bead Dog Pet Perler Bead Pattern is an adorable way to create a special pet-themed design. This charming dog character comes to life through the delightful color combination and pleasant pattern that make it a fantastic craft project. Easy to follow, even for beginners, it brings happiness and joy to those who make it. As a thoughtful gift or a fun decoration, this beaded canine friend is perfect for any occasion.
You can with the shiny beads in the color range of:
Colors To Use: 
Dark Blue
Sky Blue
Ocean Blue
You can also see:
Halloween Perler Bead Patterns: These Halloween perler bead patterns allow you to create lovely Halloween decorations for your house, school, or even as gifts. For instance, make a ghostly decoration for yourself or a spooky pumpkin for Halloween parties.
Hexagon Perler Bead Patterns: Our amazing Hexagon Perler Bead Patterns are a great activity for children and adults alike to create beautiful shapes which can be used for decorating, crafts, or anything else you can think of!
Ghost Perler Beads Patterns: These ghost perler bead patterns are so fun to create, and the motifs add a dash of style to any home or event.