17 Easy Cloud Drawing Ideas – Cute Cloud Drawings
These amazing and unique Cloud Drawing Ideas offer many creative options to fill your sketchbook with unique and captivating cloud drawings to explore the beauty of the sky and bring our inner craftsman.
Cloud Drawing Ideas

You will feel greatly inspired by our collection of easy-to-draw cloud ideas. With options ranging from dreamy cloud houses to storm clouds packed with rain and from highly detailed sketches to fun and adorable cloud cartoons, there is no limit to what you can create with cloud illustrations. Let your pencils glide into these fluffy shapes and spark your imaginative powers as you explore our engaging cloud-drawing themes!
How To Draw Clouds
Get ready to explore the world of cloud drawing! In this guide, we'll learn how to draw various clouds. Each cloud is different, just like our artistic styles. If you're a beginner trying to draw a fluffy cloud on a sunny day or an experienced artist aiming to create a powerful storm cloud we're here to help you improve your skills.
How To Draw A Landscape With Clouds For Beginners
This amazing tutorial unlocks the magic and wonder of creating your fluffy clouds. For all the beginners out there who've ever gazed at a lovely sky and yearned to capture its charm, this guide is for you. Together, we'll break down the process into manageable steps, transforming a daunting scene into a fun, enjoyable project.
How To Draw Easy Clouds
Get ready to float effortlessly through the sky as we dive into the world of drawing simple and delightful clouds. This guide is designed for artists of all levels – beginners looking for an easy introduction to seasoned illustrators seeking a way to unwind. Set aside your worries, drop your anchor, and let your pencil wander freely in the blue sea above us.
How To Draw Clouds And The Sky
Awaken the artist within as we immerse ourselves in the celestial dance of the skies. This guide will explore the art of capturing the delicate display of clouds and the vast sky. You can make 4 different types of cloud screen drawings, and I hope you'll find it useful.
Wanna Draw Clouds
Ever gazed at the sky and felt a pang of curiosity to create your version of those dreamy, fluffy clouds? Now's the time to unleash your inner artist and learn the joy of sketching clouds! This playful guide will make cloud drawing exciting and intriguing, just like the mysterious shapes we see above us.
How To Draw A Cloud Easy Step By Step
This tutorial will show you how to draw a cloud using simple shapes and some shading. It's easy to do and you should be able to do it quickly. You will learn to draw an oval shape and add three more circles to the first one. The result is a cloud that looks gorgeous!
How To Draw Anime Clouds
Enter the exciting world of anime, where the clouds are more than just background; they add to the story. Bright and attractive, anime clouds have a special appeal. With this guide, you'll be able to draw these clouds and make your drawings more engaging and lively, adding to the spirited nature of anime.
How To Draw Clouds For Kids
Drawing clouds for kids can be a simple yet thrilling adventure. This guide aims to provide an exciting journey where kids can explore, learn and have fun. This amazing drawing is easy to make and the process is playful and creative as possible. It will be the best drawing tutorial, and I hope you'll love it.
How To Draw Easy Clouds
Drawing clouds can feel like breezing through a puffy dream; the best part is that it's easy! With this simple guide, you'll soon create fluffy clouds in various shapes and sizes without breaking a sweat. Let's whisk away to the sky and start sketching these cotton masterpieces with minimal effort.
How To Draw A Cloud
Capturing the essence of a cloud within a few lines and shapes is much easier than you may think. With this straightforward guide, you can sketch cotton-like clouds and add an atmospheric touch to your artwork. Let's start this creative journey and have fun drawing with minimal effort.
Cute Cloud Drawing
Imagine your canvas turning into a parade of fluffy, adorable clouds, each flaunting its unique charm. With playful curls, cheerful expressions, and perhaps a splash of color, your cute cloud drawings can come alive, ready to fill your art with a delightful spirit.
Easy Cloud Drawing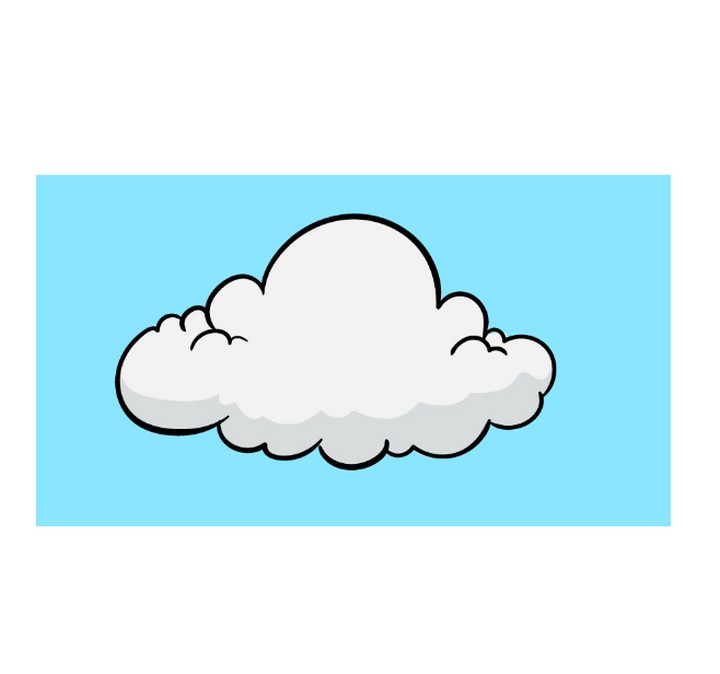 Drawing this beautiful cloud should be a joyful and easy exercise. By keeping your lines light and your hand relaxed, you can create stunning cloud artistry in no time. So, float away into easy cloud drawing and have fun.
How To Draw A Cloud Step By Step
Here's an easy way to draw a cloud! Follow this step-by-step tutorial and learn how. This tutorial shows you how to draw a cloud in four simple steps. It also suggests some easy ways to shade your clouds so they look more realistic when you're drawn them.
How To Draw Rain
Drawing rain can be an excellent way to add atmosphere and depth to your art. You can capture the essence of falling raindrops in your drawings with just a few simple techniques. So follow this guide to draw the perfect rain shower and have fun.
Easy How To Draw Clouds Tutorial
Creating stunning cloud drawing doesn't have to be complicated. You can easily sketch realistic and eye-catching clouds with just a few strokes of your pencil! This easy tutorial will walk you through a quick, simple way to draw clouds.
Create A Fluffy Cloud Sketch
If you want to capture the ethereal charm of the sky on your sketch pad, drawing fluffy clouds is a great way to do it. Combining relaxed curves with a little detailing, you can easily create light, airy, and incredibly fluffy clouds! So, Let's get started on crafting your fluffy cloud sketch and have fun.
Cloud Drawing Easy And Cute Cartoon Methods
Bring out your inner cartoonist with this super easy and adorable method for drawing cartoon clouds. With simple, swooping lines and a dash of cuteness, you'll learn how to doodle fluffy cartoon clouds in just a few steps.
More Drawing Ideas: