10 Easy Ice Cream Perler Beads Patterns To Spread Joy Around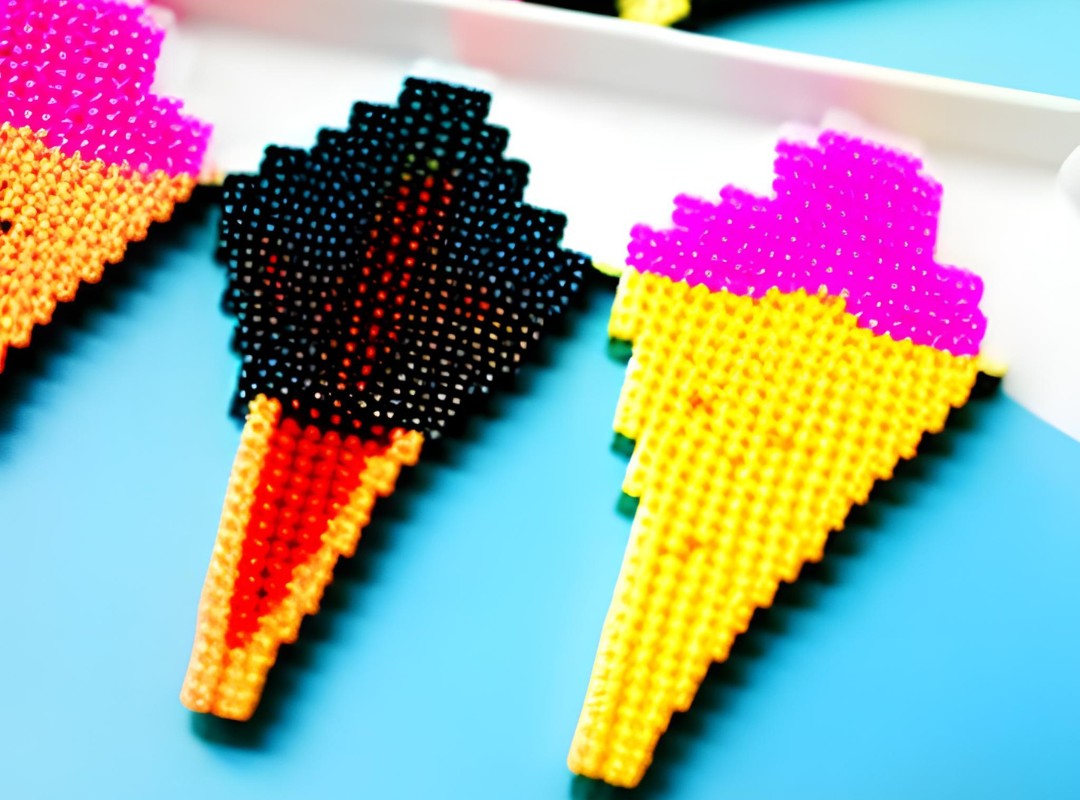 Ice Cream Perler Beads Patterns are a delightful and colorful way to create fun, easy-to-make crafts. With a wide range of colors and creative designs, such as cones, sundaes, or popsicles, these patterns bring a sweet touch to any project or can also be used as amazing decoration pieces on their own. They are perfect for kids and adults alike and offer a simple yet entertaining craft activity for everyone to enjoy.
Ice Cream Perler Beads Patterns

These delightful Ice Cream Perler bead patterns are perfect for sparking your creative energy. This list features numerous charming and vibrant design inspirations that'll assist in crafting attractive masterpieces in an instant.
With adorable smiling faces and eye-catching color combinations, these ice cream bead patterns are sure to melt your heart. So, why to wait? Put your hands on these easy-to-follow ideas and transform simple beads into delightful ice cream-themed works of art that you can cherish forever.
3D Ice Cream Corn Perler Beads Pattern
Follow this realistic and fun perler beads pattern to make a loveable and unique addition to your home decor and also to show off your mastery of working with beads to create stunning artwork. It can be a perfect gift for the ice cream lover in your life or just a fun decoration for your kitchen. In this particular pattern, the creator focuses on making two beautiful pepper mint and strawberry ice creams using beads, but you can go with your preferred color combinations, too.
Happy Strawberry Ice Cream Perler Beads Pattern
This bright and cheerful ice cream perler bead pattern is great for making fun artwork for adding to your breakfast or dessert. It will be great to spread a beautiful, charming smile on your face and your loved ones, so why wait? Get the supplies in hand and start making this fun masterpiece in no time with minimal effort.
Yummy Ice Cream Perler Beads
Do you love to experiment with new ideas? If yes, and you're interested in trying new things, then following this pattern will surely be a blessing for you. This Ice Cream Perler Bead is easy to make, lots of fun, and very colorful! You can make unlimited ice cream, bubblegum, chocolate, and other flavors by using these lovely beads and surely end up making beautiful artwork for every person around.
Rainbow Popsicles Perler Beads Pattern
This Rainbow Popsicle Perler Beads Pattern is a fun, colorful, and easy DIY project perfect for kids and adults alike. You'll love how quick they are to make, as well as how cute they look on a fridge or how fun these little popsicles would be hanging from your keychain. It can be great to make an admirable addition to your craft set and also a great blessing for a kid to spark their creative bead-by-bead spirit.
Creepy Ice Cream Cone Perler Beads Pattern
This is a cool pattern to create cute decorations, including Scary Ice Cream Cone Perler Beads. The best part is that it's not too hard to make. You can use many different materials to make your unique design. It's an excellent craft to decorate any room and unleash your creativity.
Cool Ice Cream Eating An Ice Cream Perler Beads Pattern
This Cool Ice Cream Eating An Ice Cream perler bead pattern is very simple, but it will allow you to make beautiful and unique artwork for your kid's room walls and your perler beads collection. You can go with multiple coloring options or prefer working with different bead arrangements to end up having stunning artwork and surely thank me later.
Fun Ice Cream Perler Beads Pattern
Make some charming ice cream-shaped perler bead masterpieces using a simple combo of pink and other colored beads following this amazing pattern. This pattern is simple but very effective, which makes it fun for kids to learn and take inspiration to make new things and enjoy.
Unique Ice Cream Necklace Perler Beads Pattern
Here, we bring a fun, unique idea to add playfulness to your bead artwork. This necklace has an ice cream cone design with swirls and colors. It's made from Perler beads, so you can adjust the length or use it in other projects. Enjoy it as a craft activity or a cute decoration on your dressing.
Quick And Easy Hama Bead Designs Ice Lollies
Here we come with a special Ice Cream Necklace that adds a touch of your favorite dessert to your home decor on walls or other areas. Made of strong beads, it suits any neck length. Customize the colors or keep them as natural as you like!
Ice Cream Perler Beads
This Ice Cream Perler Beads Pattern is a fun, cute, and easy way to use as a decoration piece and make fun artwork. It is created using a simple pattern that can be done easily and quickly, plus helps you bring out the creative bead artist inside you.
More Perler Beads Patterns:
Halloween Perler Bead Patterns: Our Halloween Perler Bead Patterns are the perfect accessory to your next crafty project. With a myriad of patterns, you will never be bored.
Ghost Perler Beads Patterns: These cute and fun Ghost Perler Beads Patterns are enjoyable and simple to create, which will impress everybody's favorite
Hexagon Perler Bead Patterns: Hexagon Perler Bead Patterns are a creative activity combining fun color perception and fine motor skills, providing a lot of fun for everyone. They are a great gift for children and almost everyone to try.