11 DIY UFO Costume Ideas To Look Like An Alien Coming From Other Galaxy
If you're on the lookout for a fun, unique, and out-of-this-world outfit for your next event, then why not try DIY UFO costume ideas? Whether for Halloween, a themed birthday party, or even a sci-fi event, your homemade UFO costume will surely garner more than a few impressed looks and compliments.
DIY UFO Costume Ideas

These superb UFO outfit ideas offer a unique, fun, cost-effective alternative to off-the-shelf options. Whether you're planning a Halloween party or a themed event or want something extraordinary to wear, these costume ideas will allow you to bring out your inner artist and create something unique. The materials you need might already be in your home, meaning you can make something magical from everyday items.
The basic attributes of UFO costume will be:
Materials: This would include cardboard, silver foil, LED lights, paint, duct tape, etc.
Shape: The costume generally mimics the traditional flying saucer shape, round or disc-like structure.
Size: The costume is usually large enough to surround the wearer's waist or entire body, depending on the design's complexity.
Color: Typically, the theme leans towards silver, grey, or metallic finishes to give an alien spaceship-like look. However, colors can be adjusted based on personal preference.
Appearance: The costume may include attached aliens, windows, and lights to suggest a spacecraft's control room.
Lighting: LED lights or glow sticks are commonly used to create an otherworldly glow effect and give the illusion of a flying UFO.
UFO and Alien Couples Costume
Get ready for an otherworldly experience with the UFO and Alien Couples Costume. Ideal for Halloween celebrations and last-minute parties, these costumes are a breeze to put together using common household supplies and show the strong bond you have with your partner!
UFO Costume: To create your UFO costume, cut a large circle from cardboard for the base. Cut out additional small circles for a UFO's raised features. After spray painting these components silver, adhere the smaller circles onto the large ones for added detail. Decorate with colored paper cut-outs. Pair this UFO prop with a green outfit and secure the UFO using a string or belt.
Alien Headband: Transform foam balls into alien eyes by painting them green and allowing them to dry fully. Proceed to fasten the painted balls onto a headband, ensuring they sit atop when worn. Ensure the glue is completely dry before use.
This Abducted By An Alien In UFO costume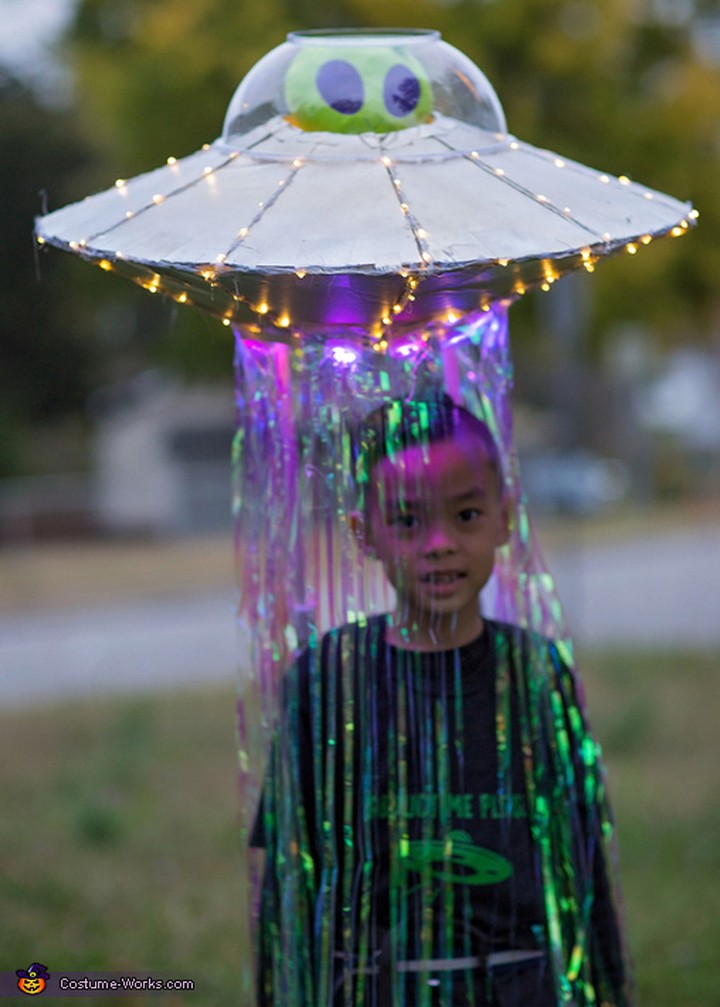 Prepare for an alien encounter with the inventive Abducted by an Alien in a UFO Costume. A hit at events, this fun DIY idea creates the illusion of a spaceship floating above the head. It is an innovative choice for kids or adults fascinated by extraterrestrial life.
Materials and Making: For an extraordinary Halloween costume, consider an abducted alien design. Create a UFO using foam boards cut into circular sections and spray-painted metallic. The UFO includes a seat for an alien sitting on a clear punch bowl. Use hot glue for assembly and fairy lights for visual effects. Iridescent streamers and circular lights mimic rays. To make it wearable, attach the UFO to PVC pipes linked to a backpack. Complete the look with an "Abduct me, please!" shirt.
Alien Abduction Costume
Looking for a winning Halloween outfit? Look no further because this costume includes lights, flair, and even a cute little alien creating a realistic video for the child trick or trick-or-treating nights!
Materials and Making: To craft an exciting alien abduction costume, commence by forming a spaceship from foam core sheets taped and cut into a circular shape. Fix this structure into a backpack with dowels for support. Enhance your UFO using silver spray paint and secure LED light strips for glowing effects. Delight attendees with an Alien figure and a clear bowl as the spaceship dome, attached with adhesive. In the end, add green strips to mimic the abduction rays.
DIY Cardboard Spaceship
Crafted with love and creativity, this DIY Cardboard Spaceship offers a stellar Halloween option. Crafted with patience and imagination, this DIY  costume is not only festive allure but also allows you to convert the cardboard into treasure!
Here's a marvelous costume to spook everyone this Halloween.
Materials and Making: Creating your very own DIY Cardboard Spaceship is pretty straightforward. Cut eight panels from single-walled cardboard in the given dimensions and score indicated areas. Punch holes along the sides using a tool provided by Makedo and then join panels using Makedo screws. Cap the final assembly over a clear bubble umbrella and secure it with tape. Your spaceship costume is ready, as simple as that!
Ufo Costume
The sheer brilliance of the DIY UFO Costume on 'Oh Happy Day' cannot be overstated. With balloons for an alien underflow and a metallic ring mimicking a spacecraft, this costume takes DIY to a new galaxy of creativity. Whether for Halloween or a costume party, be sure to leave onlookers awe-struck as they encounter close encounters of the third kind.
Materials and Making: Crafting a funky UFO costume is a fun project! Start with a baby spring float, adjusting the center for your head. Cover it with a grey plastic tablecloth, taped beneath to form the UFO base. Inflate a small swim ring and, cover it with metallic duct tape, and inflate long skinny balloons to attach underneath the base. Position the base on your shoulders, followed by the swim ring, and top it off with goggles and a large plastic bowl on your head for an out-of-this-world look!
Super-Easy Space Alien Costume
​If you want a that is both budget-friendly and quick to assemble, then this DIY spaceship costume is just perfect for you. Having lighten Suspenders made from the invisible fishing lines are used to secure the costume, ensuring comfort and ease of movement while trick-or-treating.
Materials and Making: Construct an effortless space alien costume with a few supplies and cool adhesive LED lighting. Inflate an inner tube and apply LED lights around its edges. Secure the battery pack on the underside with packing tape. To wear the costume, place the inner tube over your head using fishing line suspenders and protect your shoulders with padded cloth or moleskin strips. Complete the look by donning alien sunglasses and an alien bobble antennae headband. You're now all set to dazzle the neighborhood with extraterrestrial eeriness!
Easy Ufo Costume
This DIY costume idea demonstrates excellent use of household items, recycling cardboard boxes, and the ability to construct a visually impressive costume without excessive expense or complexity. The idea of incorporating lights beaming down to earth from the UFO is particularly inventive, bringing alive the fantastical element.
Materials and Making: Set out on a fun DIY journey with a UFO costume, starting with lots of cardboard cut into the template provided. Glue on supports for stability, and wrap your construction in kitchen foil for a metallic touch. Enhance your UFO with battery-operated lights taped to a borrowed umbrella. Next, attach strips of green and blue cellophane with glue. It's crucial to be gentle with the foil-covered structure to avoid tears. Conclude your look with a headband decorated with green pipe cleaners shaped to resemble alien antennae, and you're an out-of-this-world alien!
Alien In His Spaceship Costume
The DIY costume has an innovative design, including a front lid that opens and radiates light through glow sticks a fun twist that serves as a candy collector during trick-or-treating. A testament to resourcefulness and imagination, this costume is perfect for an out-of-this-world Halloween experience.
Materials and Making: Creating an Alien in his Spaceship costume involves simple steps. A cardboard structure forms the spaceship, which you bring to life with a coat of spray paint. The spaceship features a front lid, which not only opens and lights up with glow sticks but is also perfect for collecting candy. Seal the spaceship onto the wearer with suspenders, and there you have a vibrant Alien Spaceship costume perfect for Halloween and beyond!
DIY Alien Abduction Halloween Costume
This DIY Alien Abduction Halloween costume brings a playful twist to the classic extraterrestrial theme. Designed to look as if a jovial UFO has swept you away, this outfit uniquely uses your PJs as the main costume because, as we all know, aliens abduct people at night! Simple, fun, and easy to create, this costume guarantees a memorable Halloween night filled with laughter and alien antics.
Materials and Making: For a playful alien abduction costume, begin with an open umbrella. Fasten a green plastic bowl on top with glue dots to form the UFO. Outline the umbrella's bottom rim with an iridescent fringe curtain strip and add cut pool noodle pieces to the edges. Illuminate your contraption by circling LED lights around the top of the noodle strip. Decorate the costume with circle stickers for 'windows' and complete the ensemble with a miniature alien attached to the structure. Complete the look with comfy PJs!
Tween Homemade Costume
Looking to charm your way to an unforgettable Halloween? It features a vibrant green-colored, spray-painted intertube, worn as a spaceship using suspenders. It's a funky choice that not only guarantees you'll stand out but also encourages engaging creativity. It's a fantastic Tween craft project!
Materials and Making: Initiate the process by attaching a spray–painted innertube to the body with green ribbons acting as suspenders. The alien's clothes are neon green tights and shirt. An enchanting eyeball headband can be made by fixing ping pong balls onto a green boa with pipe cleaners and hot glue. With some green makeup and a dash of white around the eyes, top off this spacely attire with a touch of green spray-on hair color.
DIY UFO Costume Is Out Of This World
This guide offers a fun DIY project for crafting a UFO costume, ideal for tweens intrigued by the cosmos. The costume even adds a touch of realism with a ring of iridescent party streamers and spray foam for structural integrity. Once crafted, it's easily worn as a backpack.
Materials and Making: Forge an amazing UFO costume for your tween using two cardboard circles. Transform one circle into a shallow cone by cutting it into wedges and taping it together while the other serves as the spaceship's base. After painting the structure silver, position a toy alien peeking out from the cone and cover it with a plastic bowl to form the cockpit. Embellish the spaceship with LED lights and iridescent streamers. Insert PVC pipes in the base for attaching to a backpack used for costume wear. Let the cosmic fun begin!
You can also see:
Easy DIY Ninja Turtle Costume Ideas: Literally, become a 'ninja turtle' with these DIY ninja turtle costume ideas for kids and adults. Unlike the accidental creation of the Teenage Mutant Ninja Turtles, making these fun, human-like creature costumes will require some planning, designing, and putting together.
DIY Han Solo Costume Ideas: Our DIY Han Solo costume ideas promise more than just wearing themed clothing; it's about capturing the same spirit and charm of our much-loved space rogue displays.